43 Best Websites Designers Love for Finding Design inspirations
Always craving for more design inspirations but don't know where to start? We have curated a collection of best design websites loved by many designers whether you are looking for new project ideas, research for art reference, latest design trends, recommendations on how to choose a good laptop for web design, or just simply adore pretty designs, these websites can:
Help you find UX and UI inspiration, color schemes, and elements
Learn the latest industry preferences
Improve your design skills from award-winning designs
Get insights from well-known designers interviews
Whether you're a seasoned designer or just starting out, these websites are the must-have tools in your arsenal. Let's discover a curated collection of web design inspiration sites and unleash your creativity like never before. Happy reading!
Related Articles: 4 Tips on How to Find & Organize Inspiration Ideas for Designers
---
Best Websites for finding Design inspirations
Inspiration platform
Eagle App is an Inspiration Organizer tool for PC to help you organize inspiration materials, whether you have image or reference files that you couldn't find, don't know how to categorized or even forget you have downloaded. Eagle App is there to help you with all the file organization struggles.
Eagle Extension can batch save, capture full page and screenshots whenever you browse your favorite sites. On top of that, while collecting, it also auto save the original URL if you ever happens to revisit the resources. Best of all, its color management is brilliant!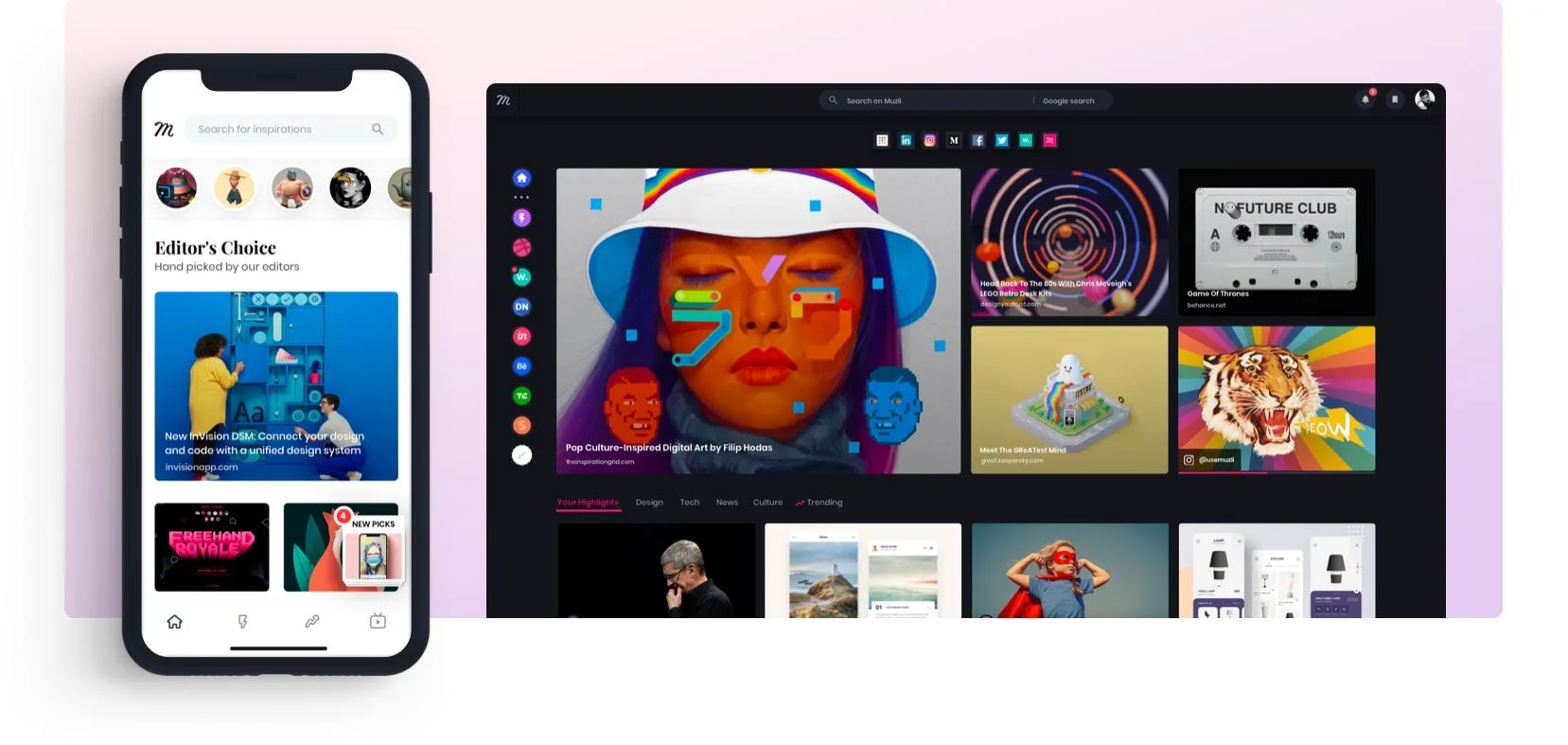 Image from Muzli
Muzli is a browser for designers that provides you with anything about design! You can instantly receive cutting-edge design ideas and news each time a new tab is open in your browser. It also puts in fast loading feed from tons of popular websites so you can always stay up to date!
---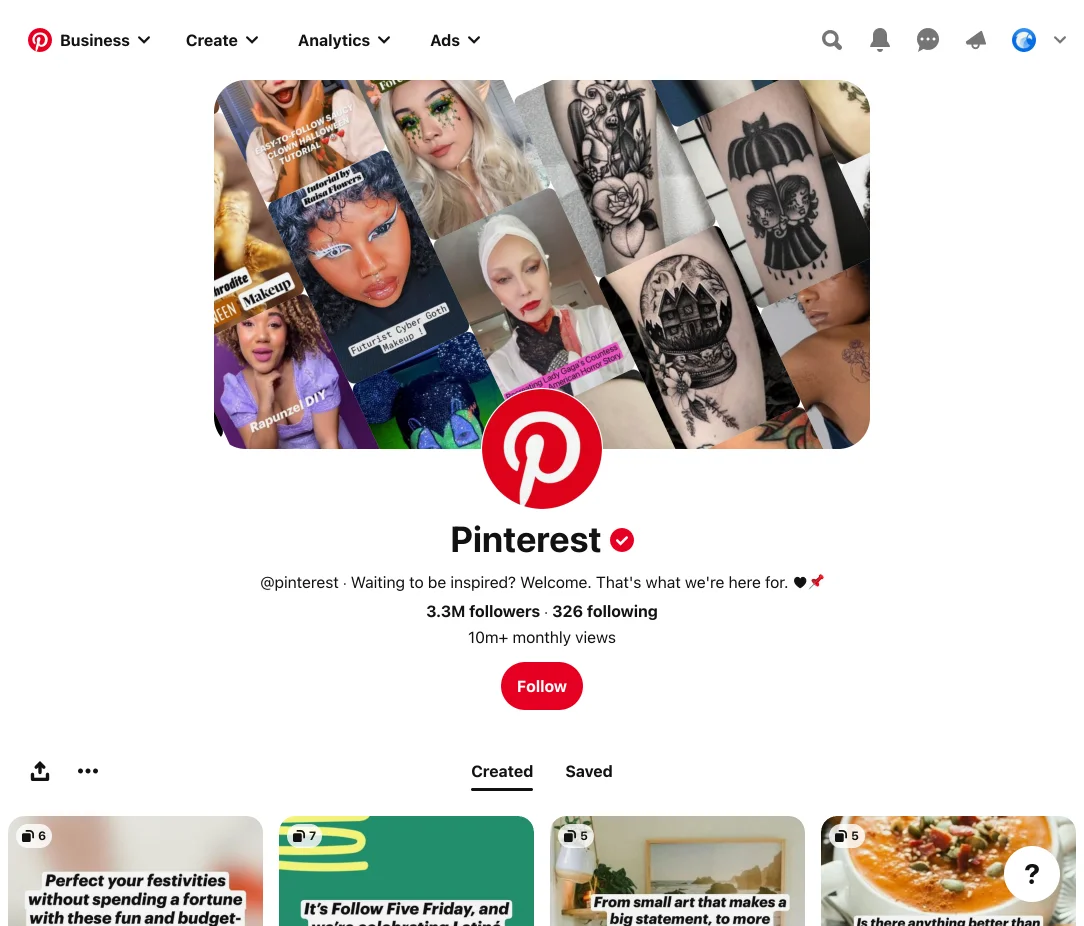 Image from Pinterest
Pinterest is an image sharing and social media service designed to enable saving and discovery of information on the internet using images, animated GIFs and videos in the form of pinboards. Not only can you find different design inspirations even home deco, recipe, style and other ideas as well!
---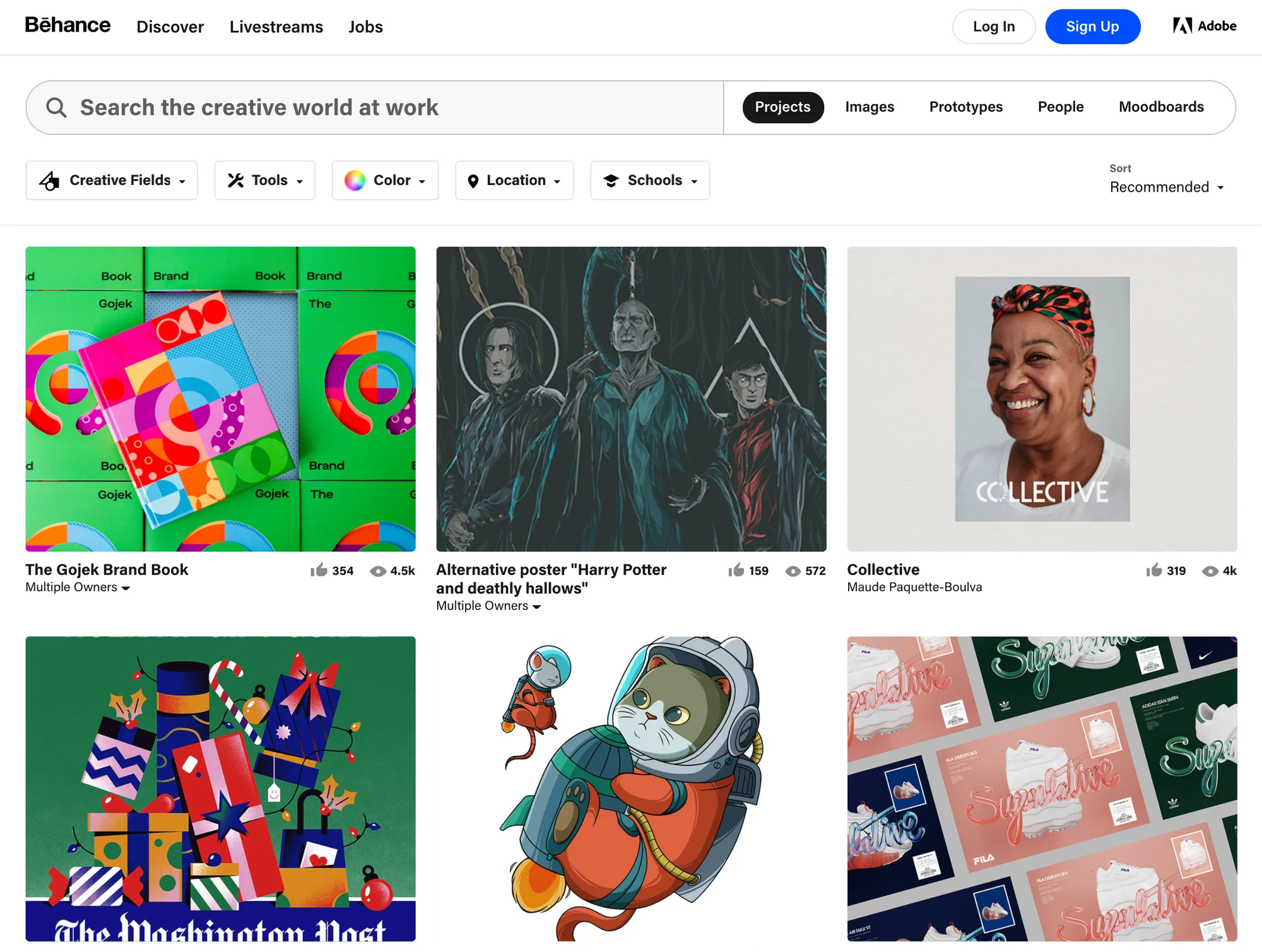 Image from Behance
Behance is a popular social media platform owned by Adobe to showcase & discover creative work. You can find designers' original work and creative processes from all over the world.
---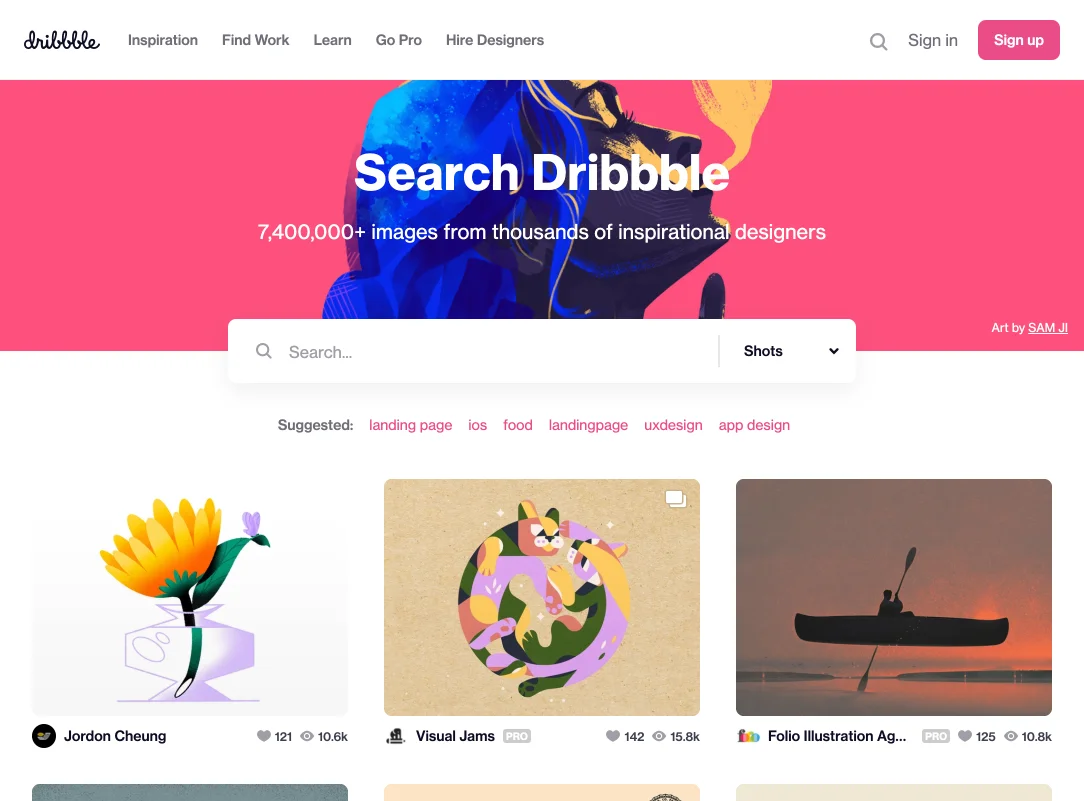 Image from Dribbble
Dribbble is a social networking platform for designers and creatives to showcase portfolio platforms, find jobs and recruit, enhance design skills and is one of the largest platforms for designers to share their work online.
---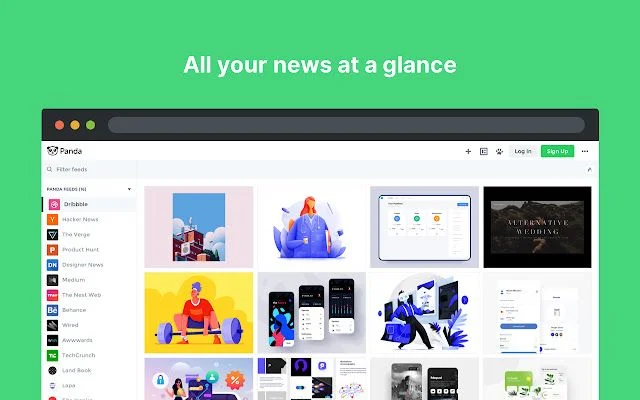 Image from Panda
Do you wish to put your favorite design website and find everything in one place? Panda brings design websites and other communities together all at one place, you can customize your homepage with your favorite websites, discover the best tools, resources and inspirations.
---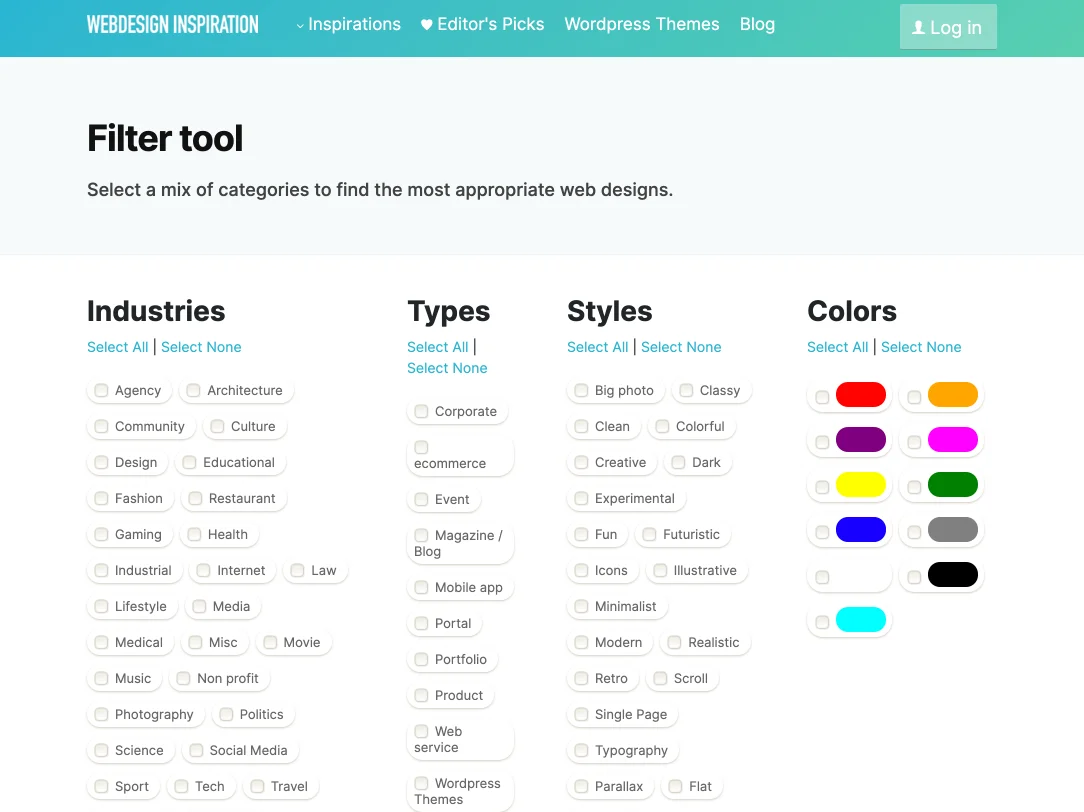 Image from WebDesign Inspirations
WebDesign Inspirations is a place that showcases web design inspirations and trends. Every day, they publish fresh and creative new websites ideas made by creative agencies and web designers from all over the world. You can filter different categories according to your preference!
---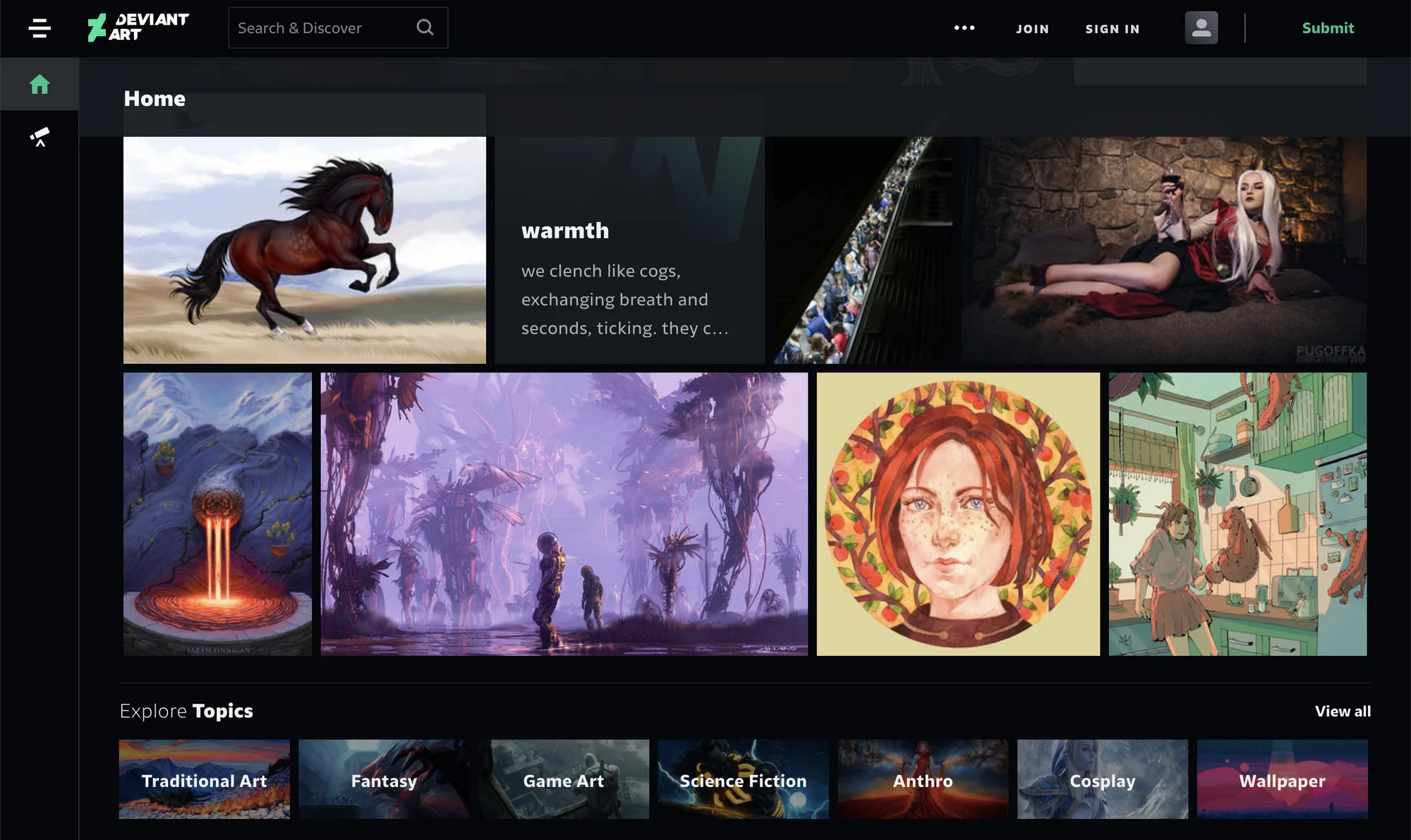 Image from Deviant Art
Deviant Art is a bit similar to Behance, Dribbble, and Pinterest. They are both social platforms for designers to showcase their design projects. However, the style here is more of hand-painted style, comic style, and drawing concept from many amateurs.
---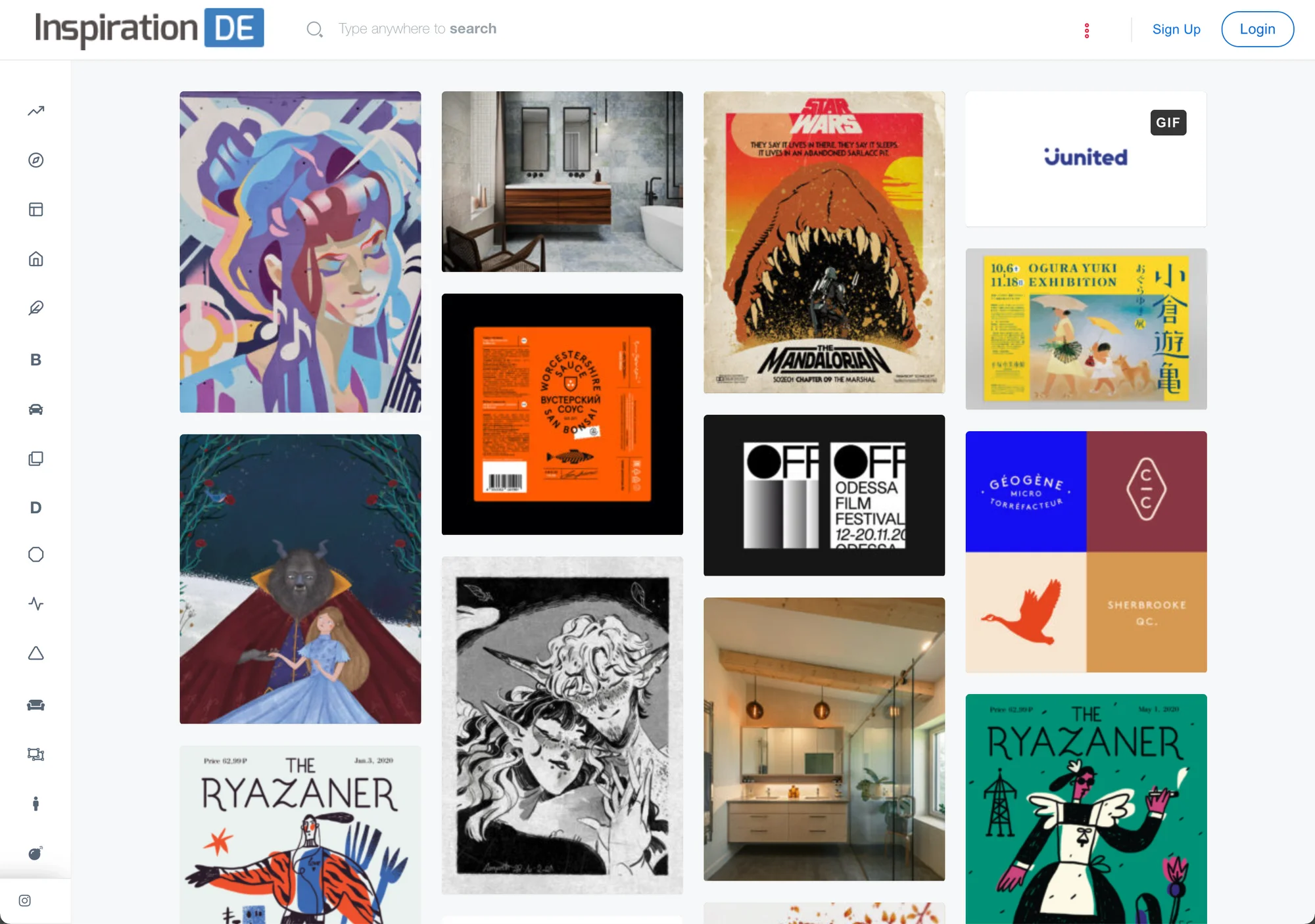 Image from Inspiration DE
This is also an inspiration platform, which mainly provides inspiration for design, photography, fashion, interior design, web design, illustration, etc. Just type the keywords in the search bar and you will find the matching content. Click on the icon on the left to find different design styles.
---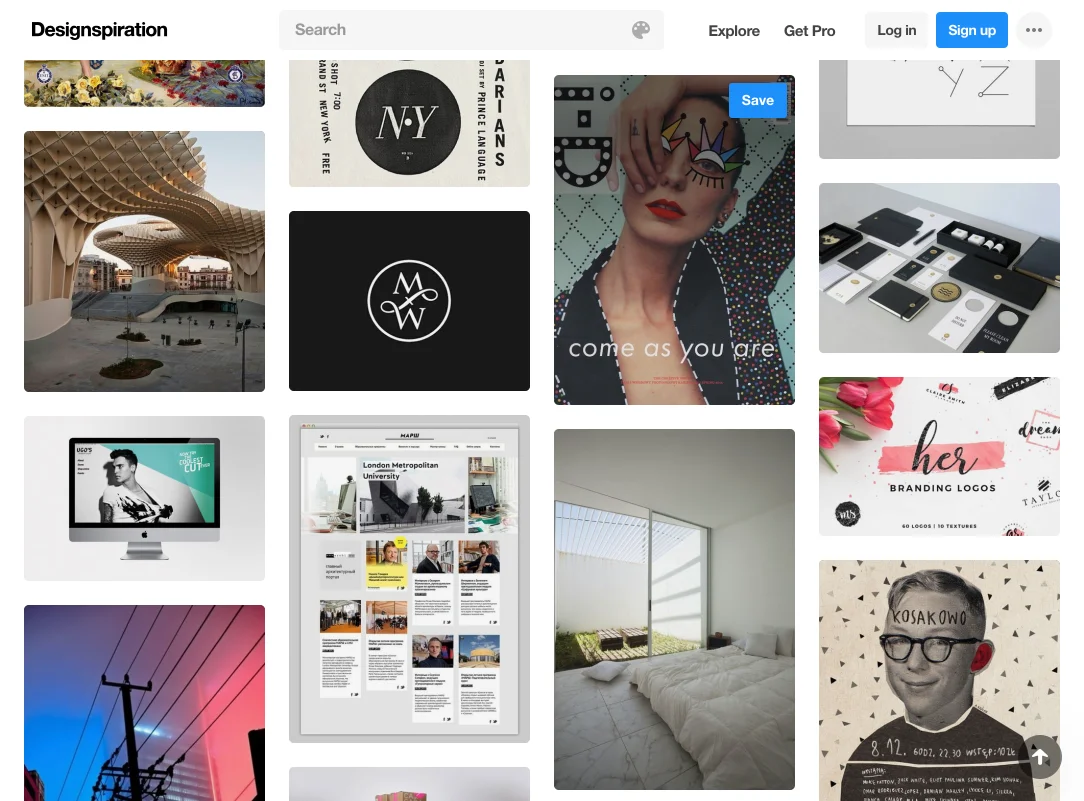 Image from Designspiration
Designspiration is a place for you to share and discover designs, you can even search up to five colors with their color palette.
---
Awesome Projects, Portfolios and Winning Designs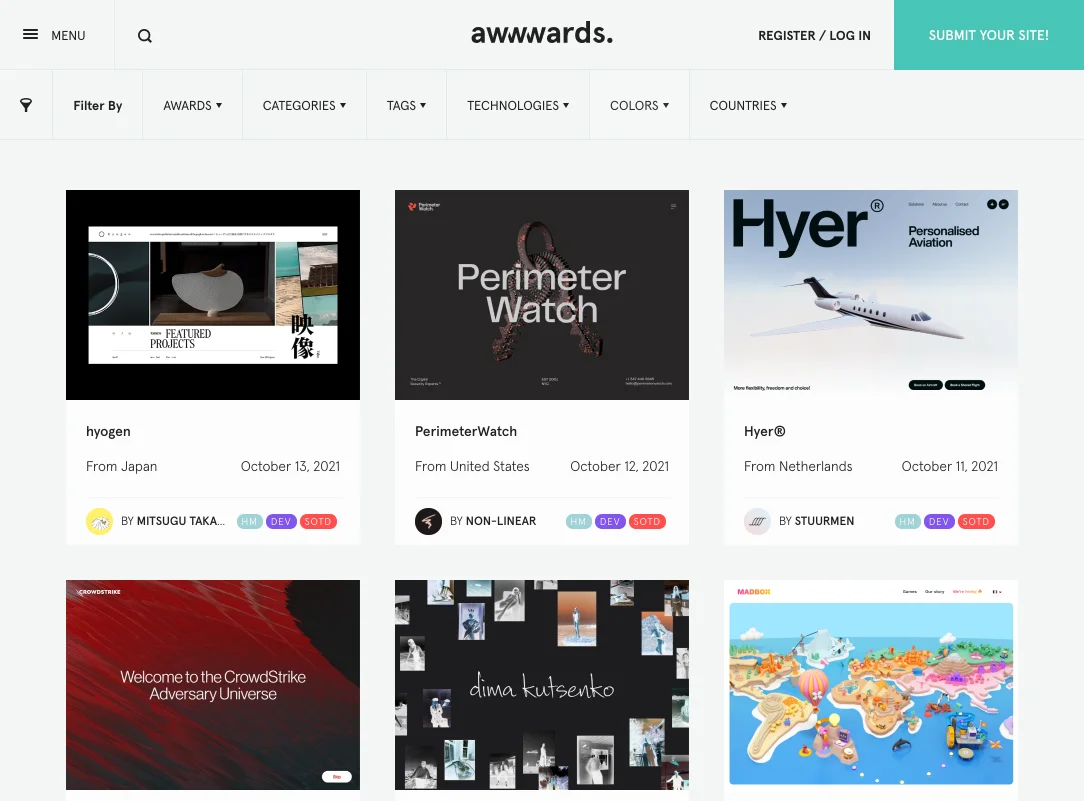 Image from awwwards
Awwwards is a professional web design and competition website. It aims to recognize and promote the best innovative web design from web designers, developers and agencies in the world.
Having trouble previewing your video bookmark? Try Eagle to preview all your inspirational files formats that your original PC couldn't! All in one place to organize your work & inspirations!



---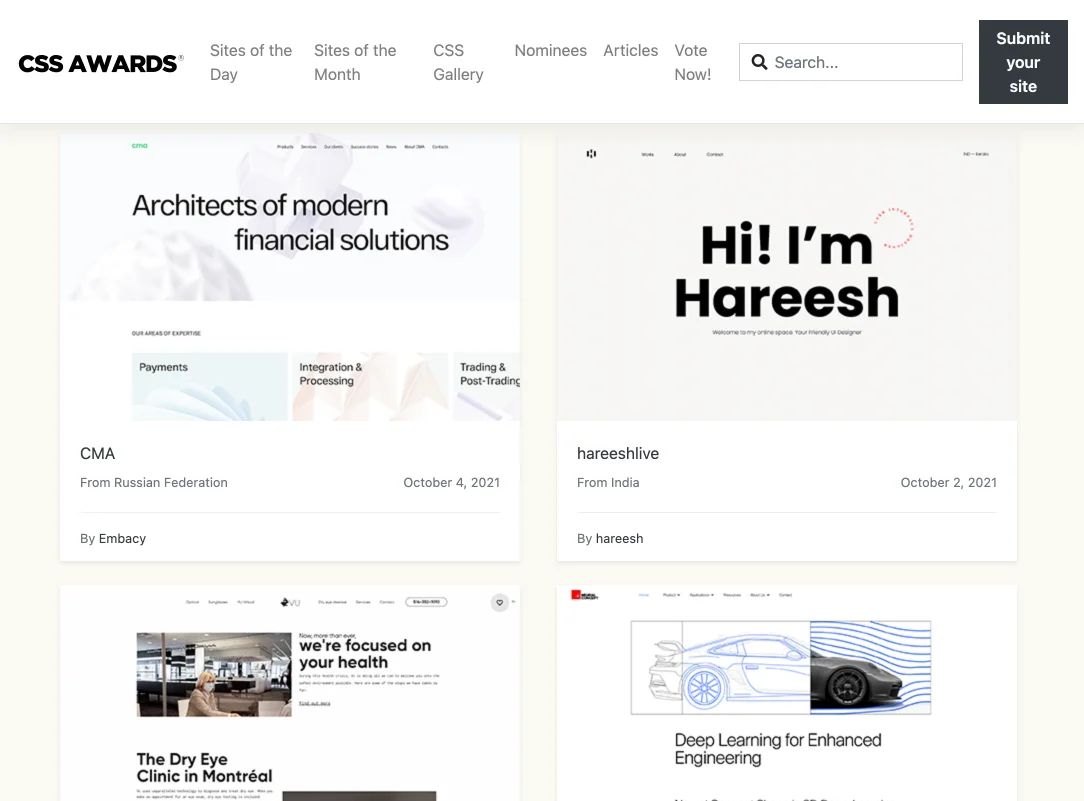 Image from CSS AWARDS
CSS Awards is a web designer, agency and studio inspiration gallery, where a high quality of CSS websites placed from around the world.
---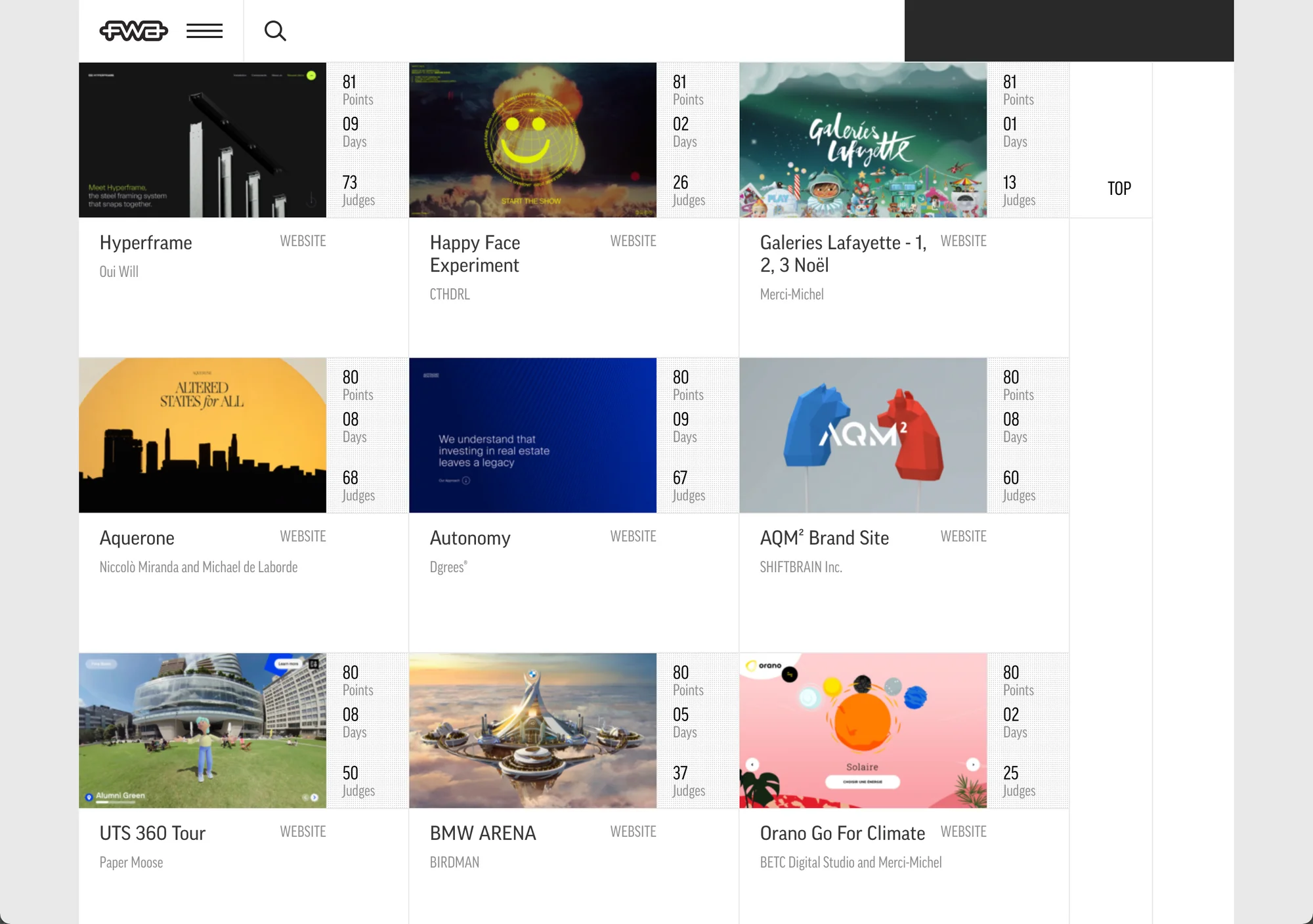 Image from FWA
FWA has some similarities with Awwwards. They are both platforms that showcase award-winning projects. Each winning design is voted by 500 well-known designers from all over the world, therefore the quality is promised. Some people even commented, don't use the above works as inspiration to show your clients, otherwise, you will be very very busy!
---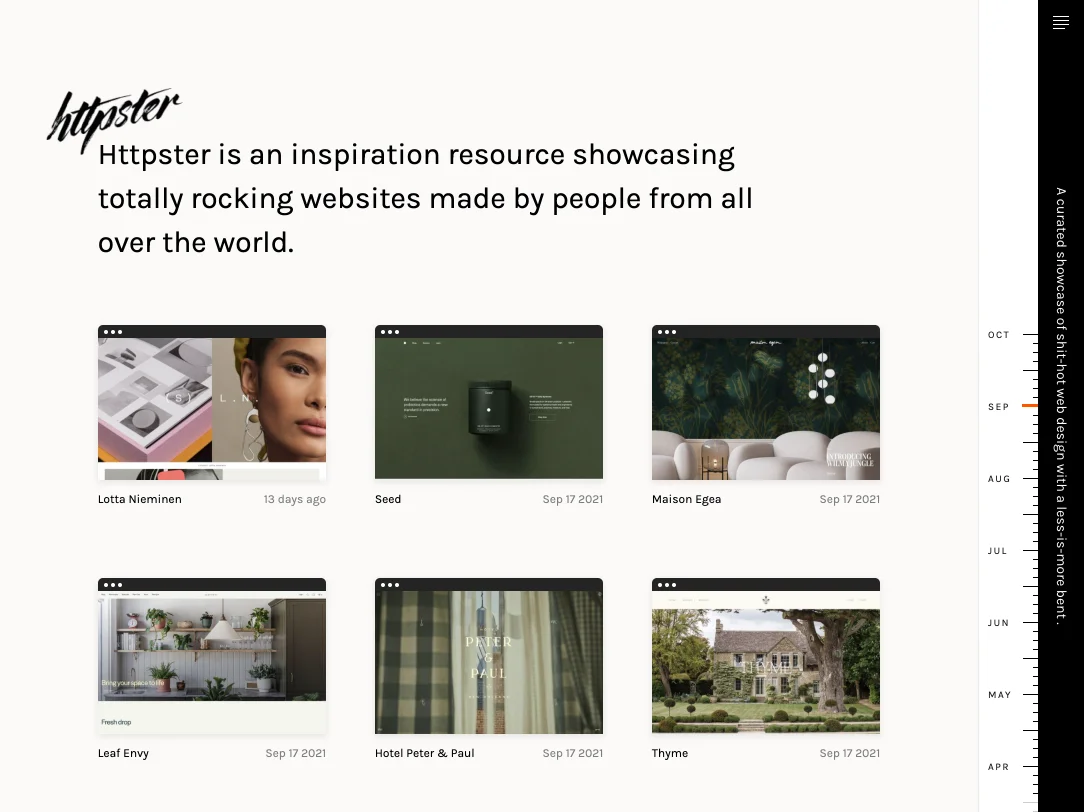 Image from Httpster
Httpster is an inspiration resource showcasing totally rocking websites made by people from all over the world. You can find simple website ideas executed perfectly in typography and unpretentious designs.
---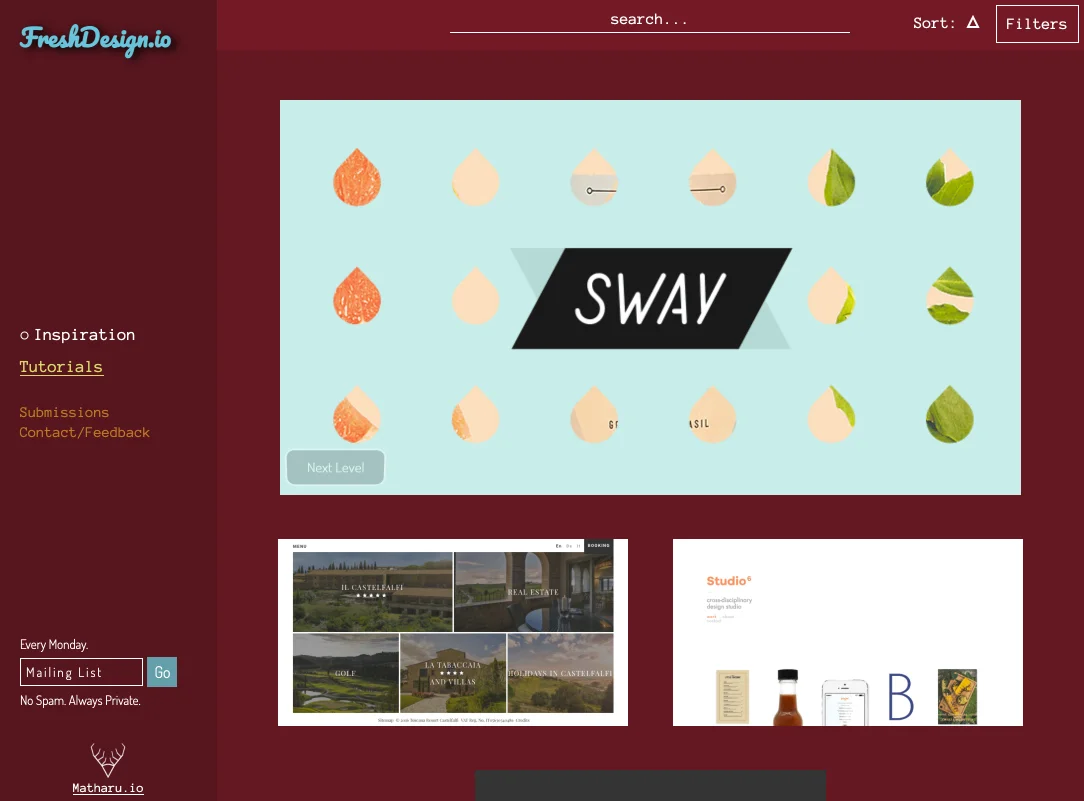 Image from FreshDesign
A curation of beautiful websites and designer resources. Include some quick and easy design tutorials for you to sharpen your design skill.
---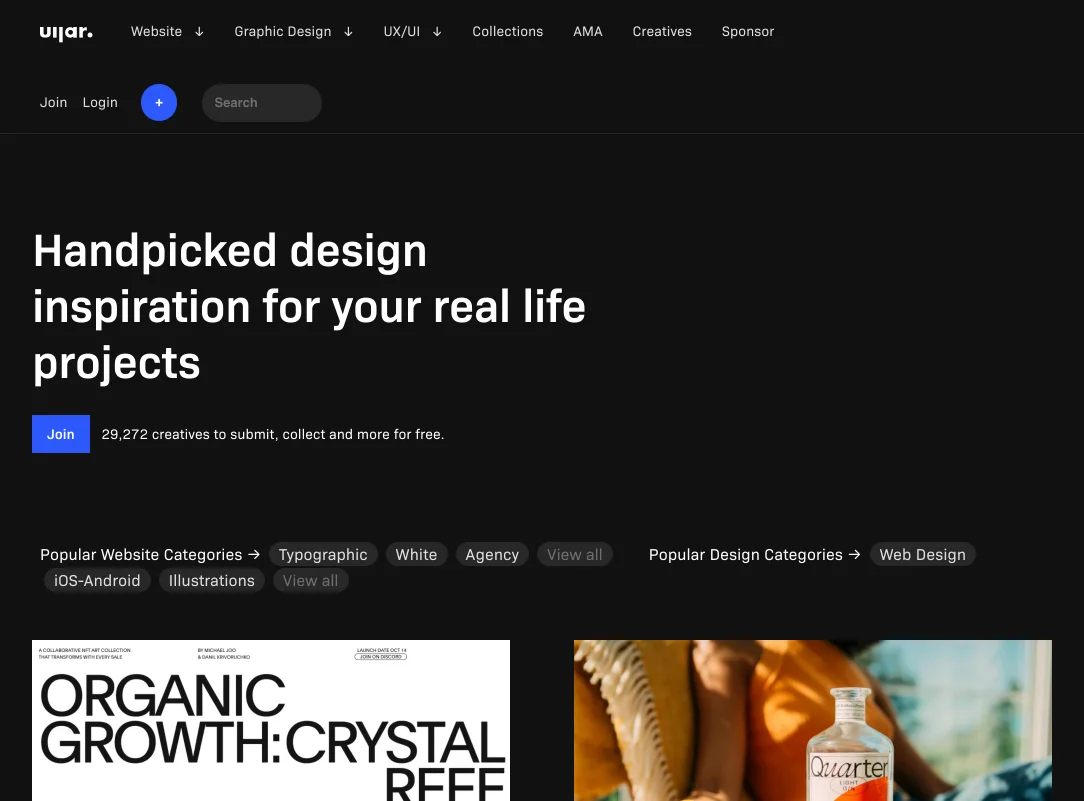 Image from UI Jar
As much as we love trendy designs and inspirations but many of them are concepts that can't be applied to real-life projects. UI Jar provides designers & developers to explore hand-picked inspiring designs from Dribbble that can actually work!
---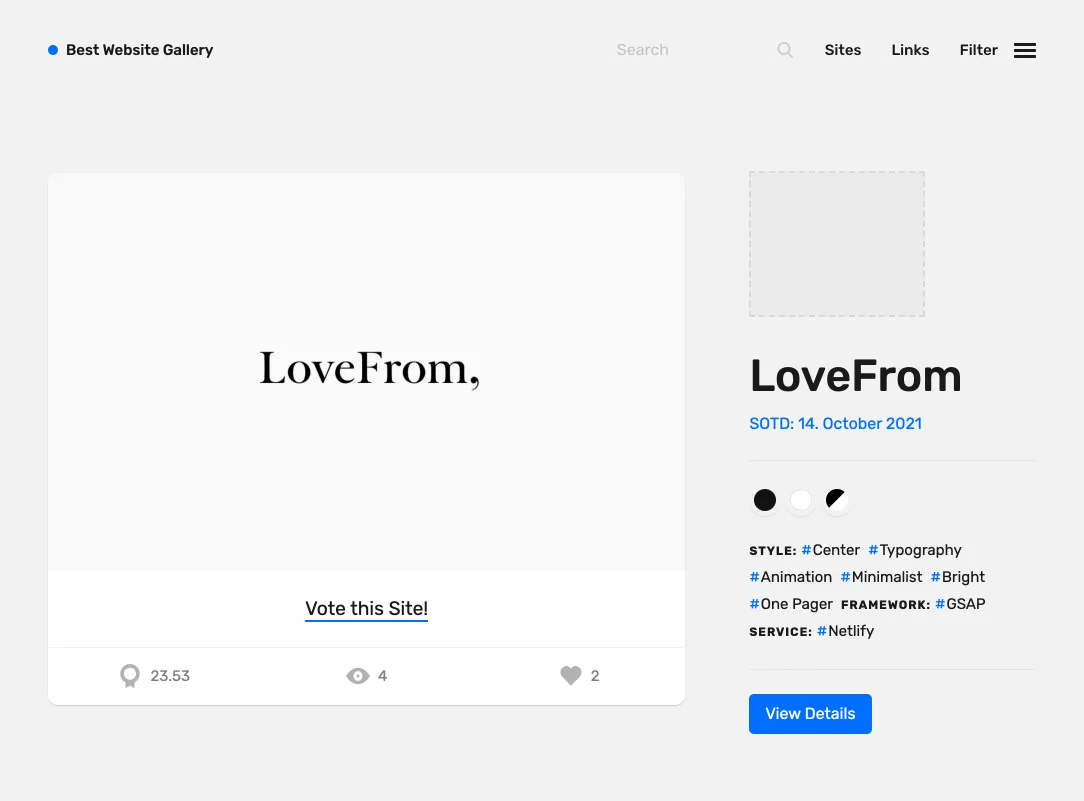 Image from Best Website Gallery
Since 2008, Best Website Galley has been bookmarking interesting websites, and it hasn't stopped until today. If you want to go back to see interesting websites from a certain period of time check out this place! You can filter out website inspirations by color, CMS, style and production framework.
---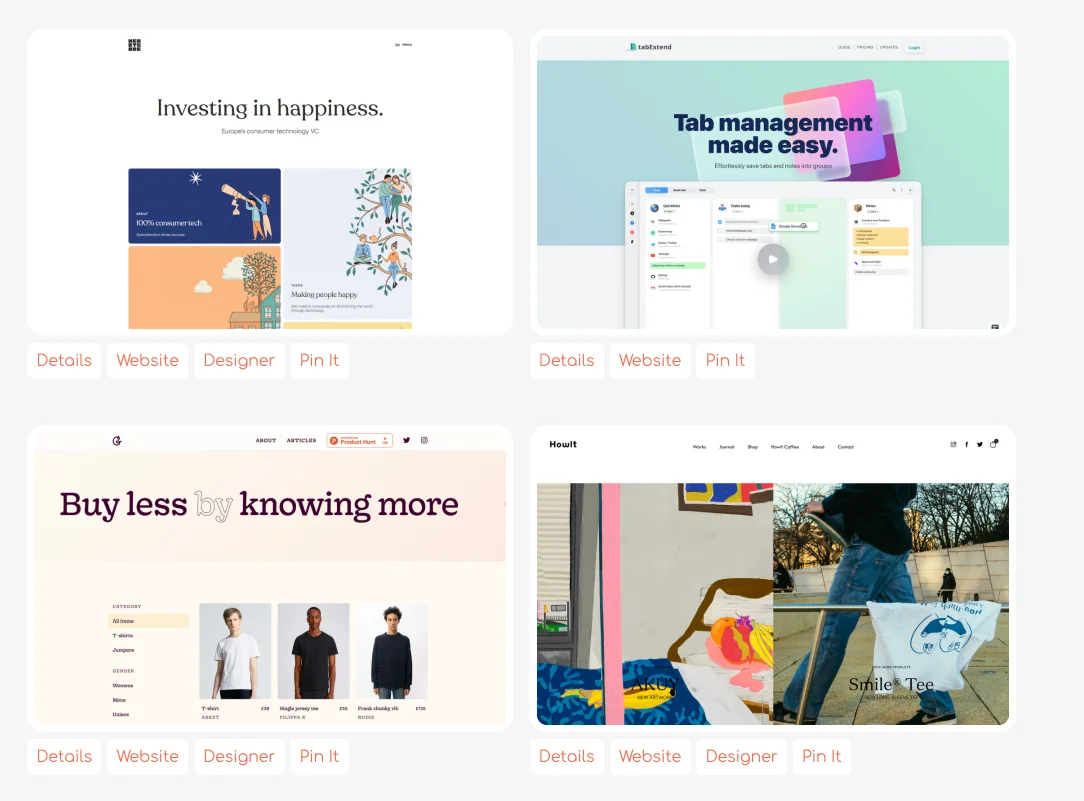 Image from The Best Designs
Collection of common website layout and works, there are also resources such as web designer learning area and web design books recommendation.
---
Web Design Reference & Inspiration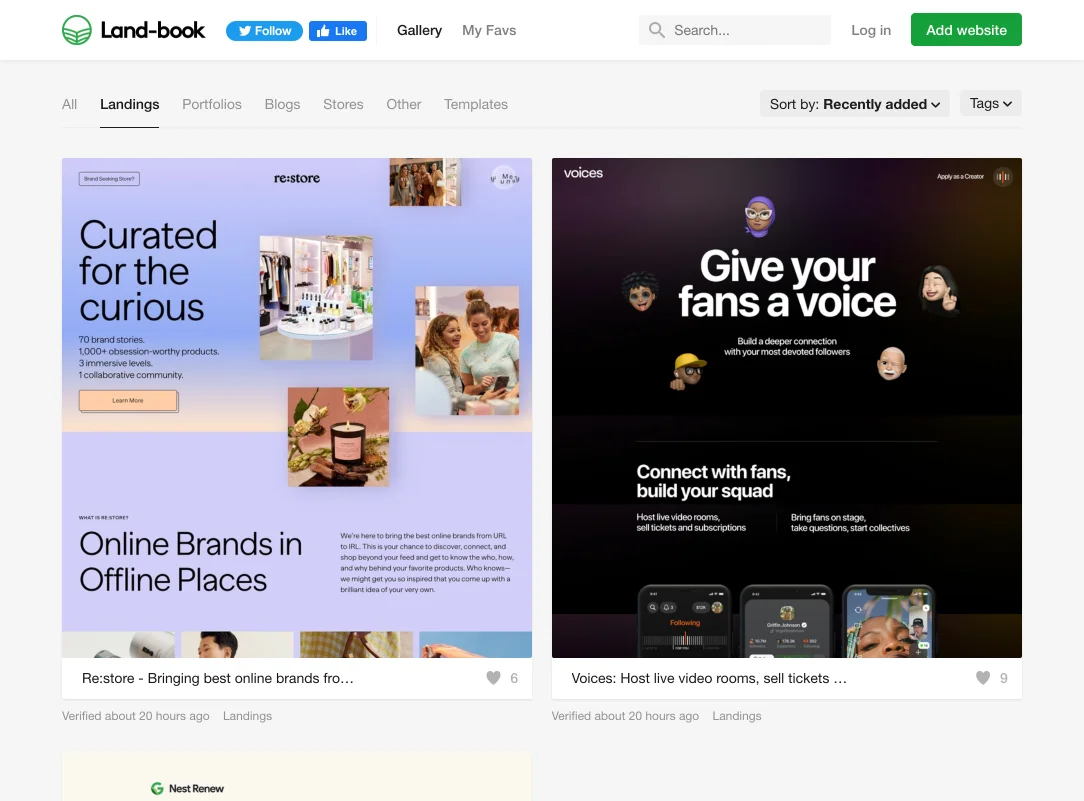 Image from Land-book
Land-book is a design gallery provides beautiful and carefully collected websites to help creatives find inspiration & motivation to do rad stuff. It includes beautiful landing pages, blogs, stores and many other website for you to discover.
---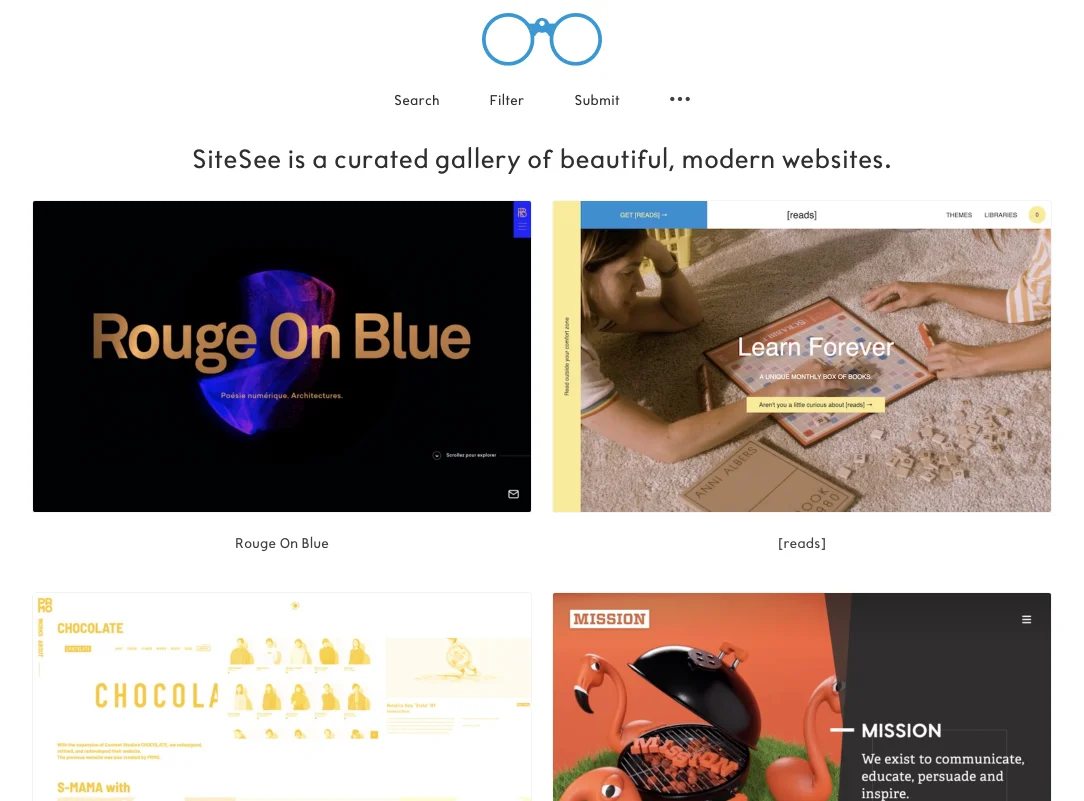 Image from SiteSee
A curated gallery of beautiful, modern websites for web developers and designers. SiteSee also provides an extension that is able to replace your default tab, turning your homepage into a wallpaper-like gallery of beautiful websites.
---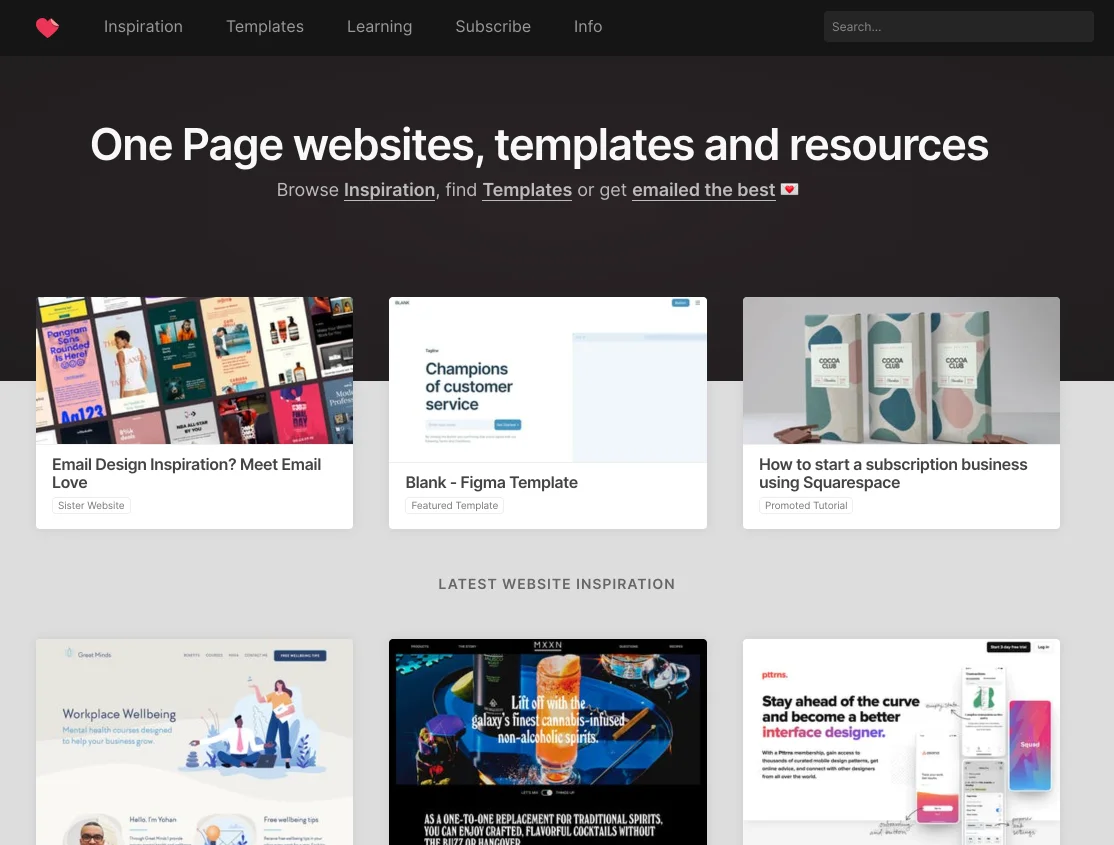 Image from One Page Love
One page means all the content sits within the same webpage, traditionally in a long-scrolling layout. One Page Love showcases many beautiful one-page websites, templates and resources. If you are looking to create a one-page website, don't miss out!
Eagle App the Inspiration Organizer

Batch download inspiration files on your favorite website? No problem!

Batch filter inspiration files with size? No problem!

Eagle is your super inspiration organizer to help you speed up your creation! Try Eagle!




---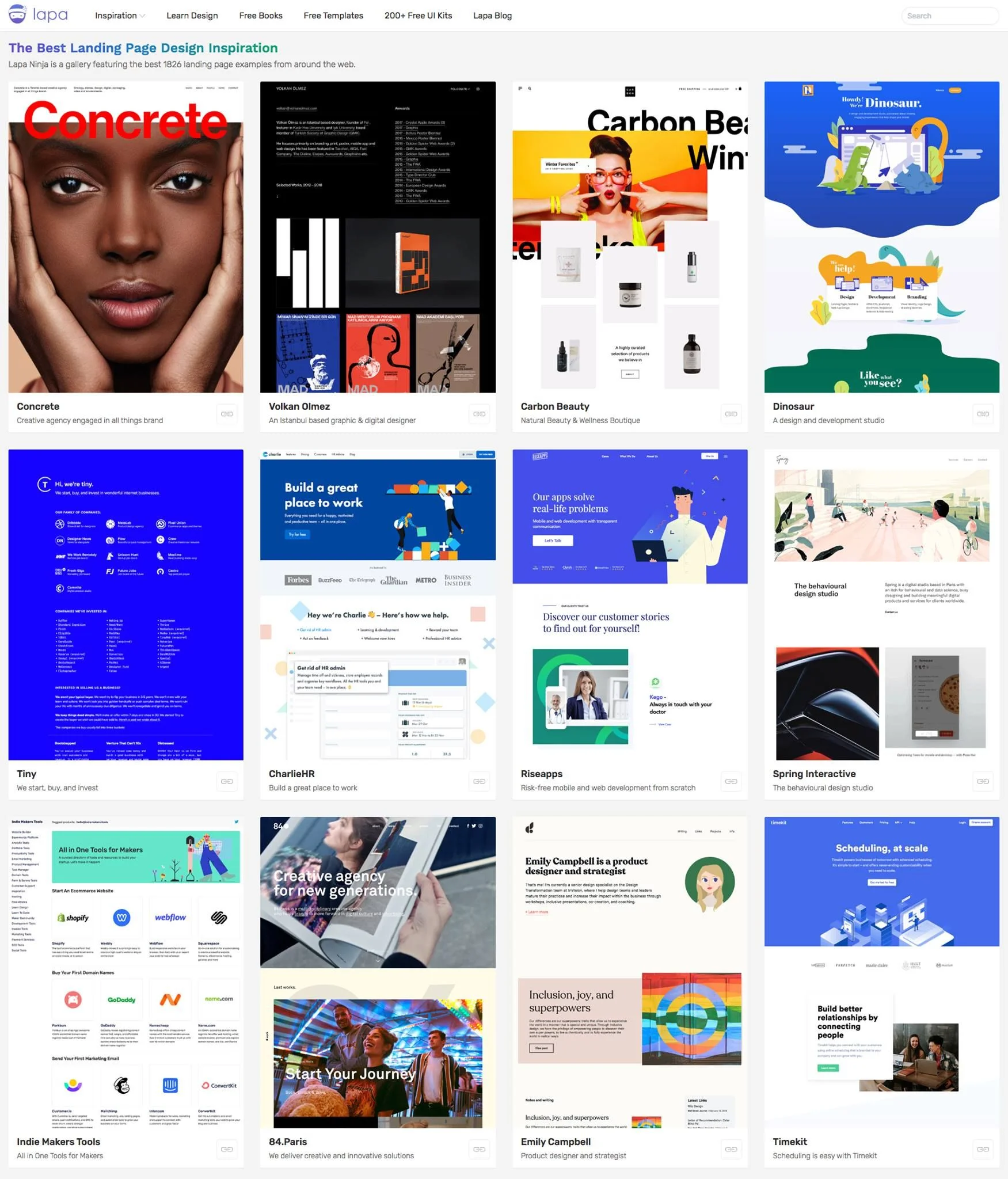 Image from Lapa Ninja
Are you looking for awesome landing page inspirations? Check out Lapa Ninja a place full of landing page designs collections!
---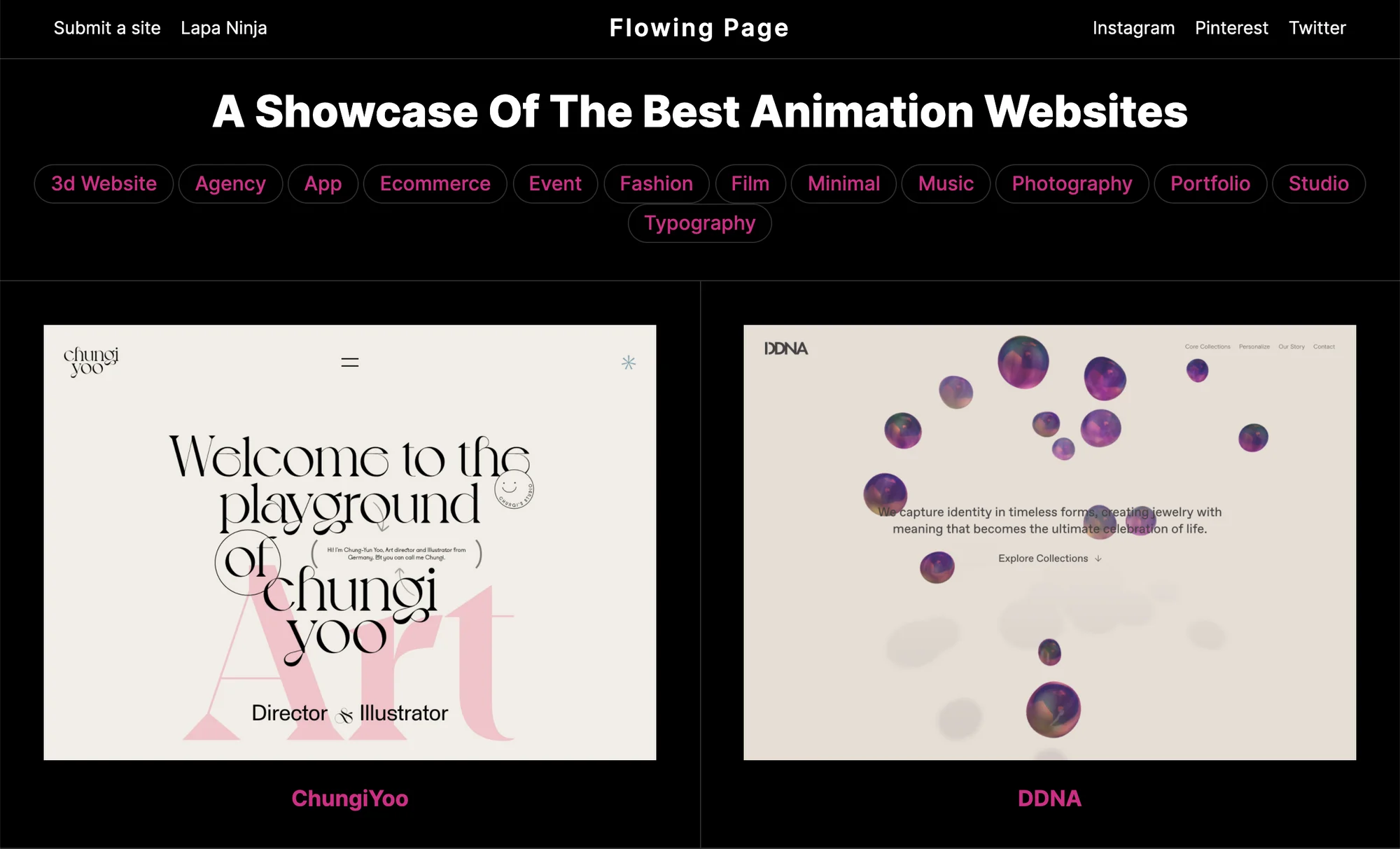 Image from Flowing Page
Flowing Page is a sister site from Lapa Ninja where dedicated to organizing web design with animation. If you want to design a 3D-style website, you can find a lot of demo and reference materials here.
---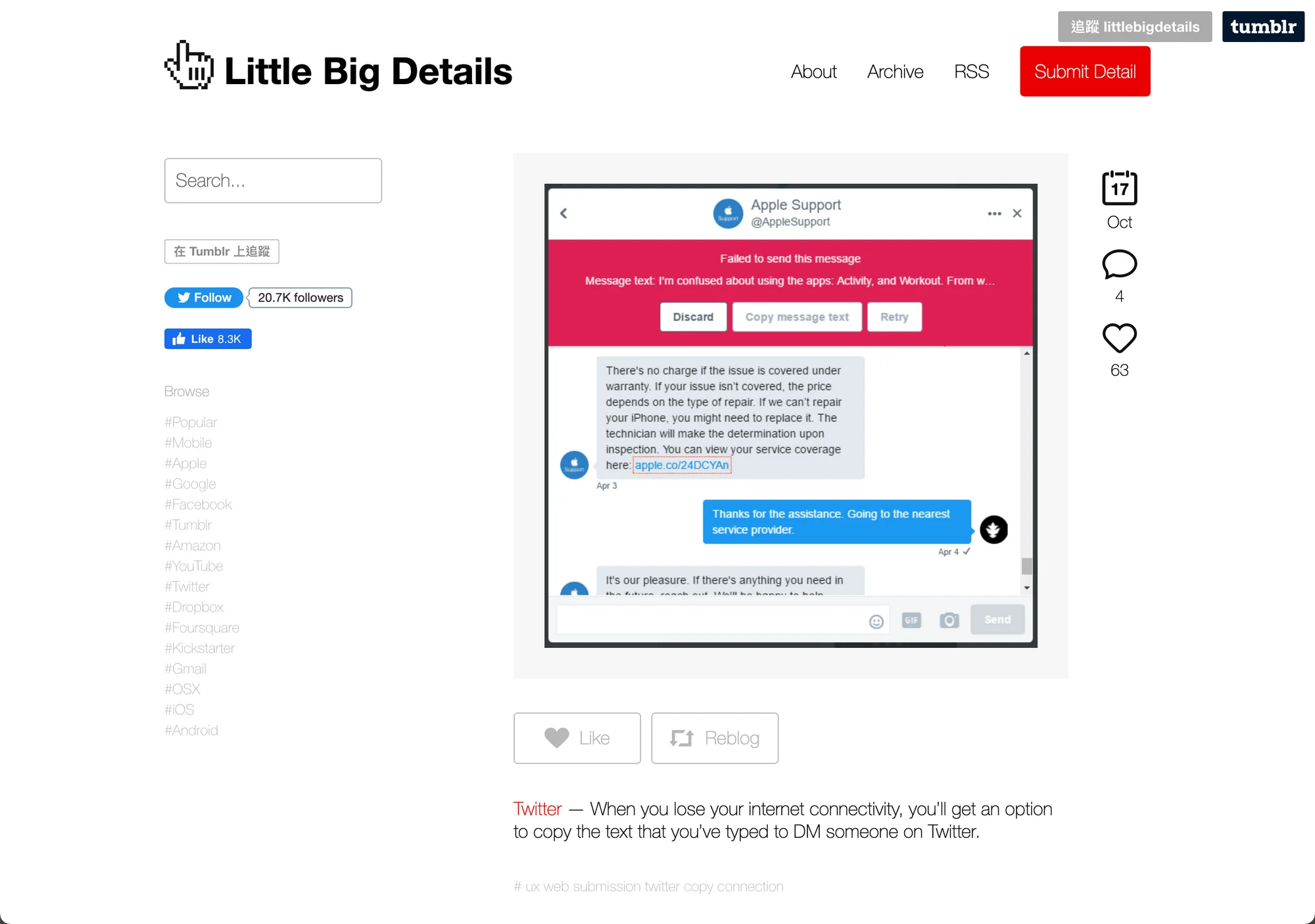 Image from Little Big Details
The small details or small functions of some products can often make a product increase productivity or performance. Little Big Details is a platform that specializes in collecting useful features of products. You can see some amazing small features of mobile phones, web pages or tools. If you want to optimize the design of your own products, come here to find inspiration!
---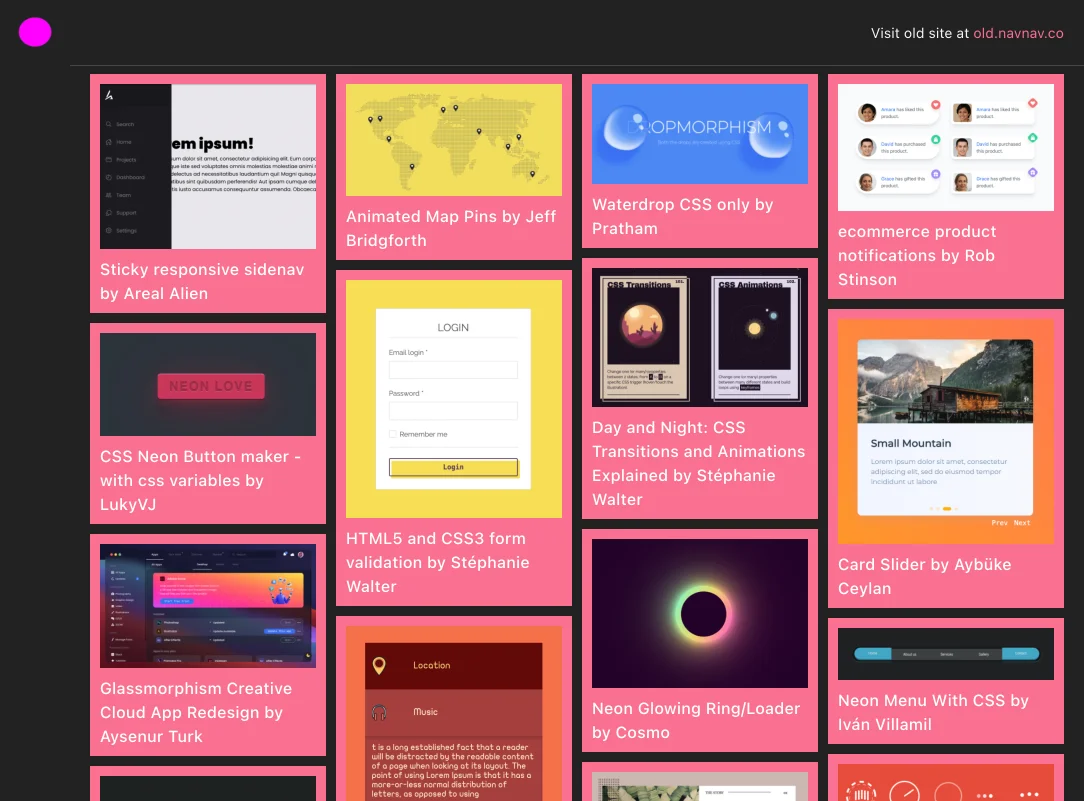 Image from NavNav+
Putting motion design as a website element has been a trend in recent years. NavNav+ collects everything about navigation design on a website or app, many different types of dynamic graphics effects have been fusion into the website to have you inspired.
---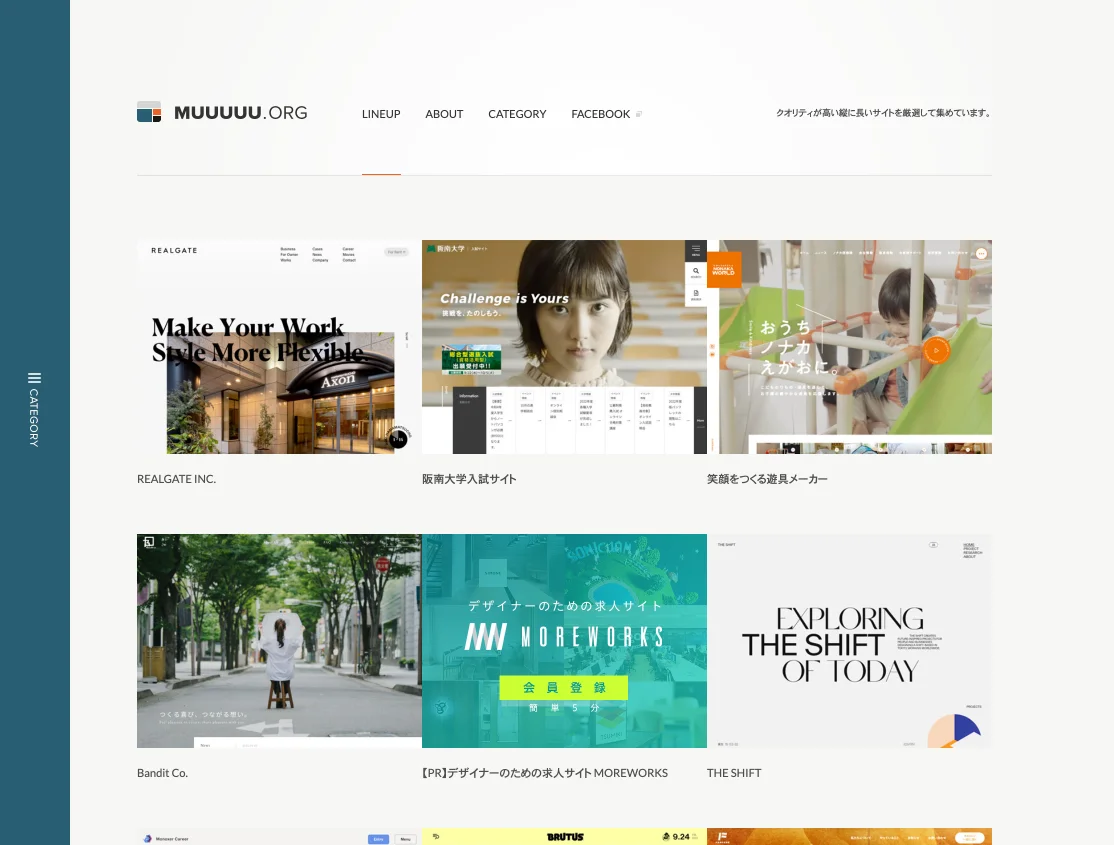 Image from Muuuuu.org
Are you looking for ideas from other countries? Here's a collection of beautiful websites designs from Japan to satisfy your exotic cravings, the website content doesn't involve many words so even if you don't understand Japanese, you can still browse the website easily!
---
Image from Collect UI
Just like the title name, it collects UI from dribble and some other major design websites such as login page, checkout page, 404 page, etc., and organized them into 160 categories! This website also provides daily UI challenges to help you continually refine your design capabilities.
---
27. 4db.cc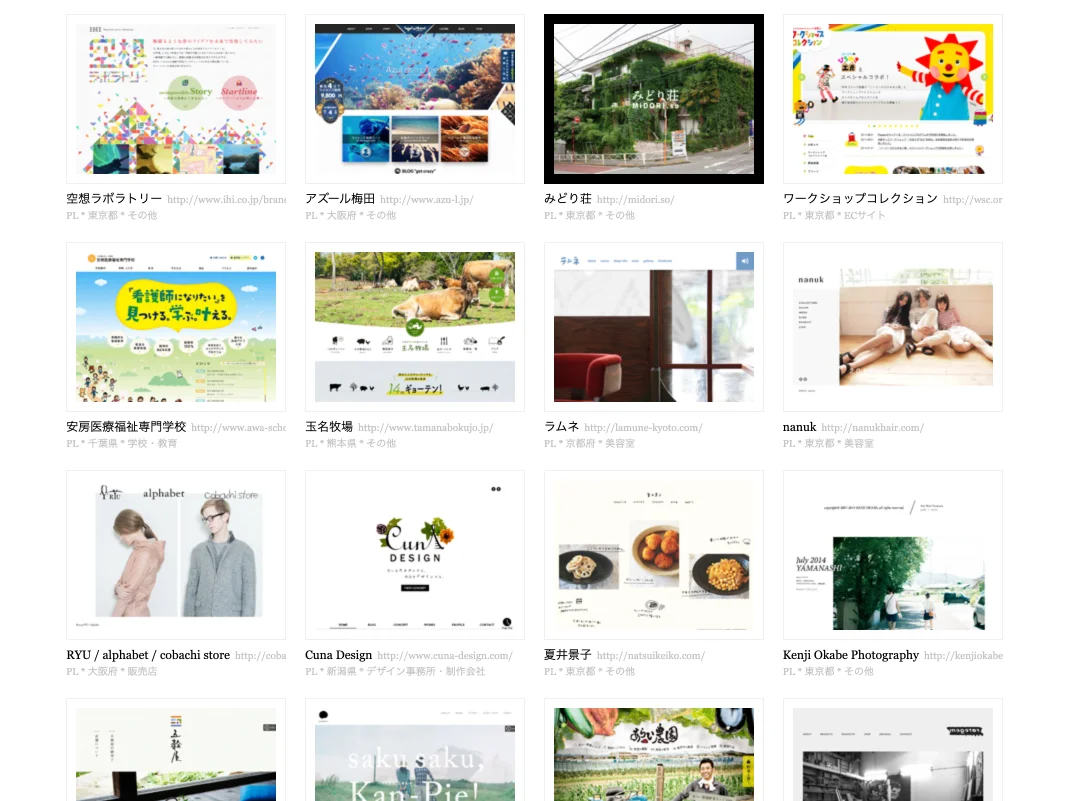 Image from 4db
If you are looking for a simple and Japanese-style design layout, then come check out the website called 4db, you will be amazed by its Japanese collection.
---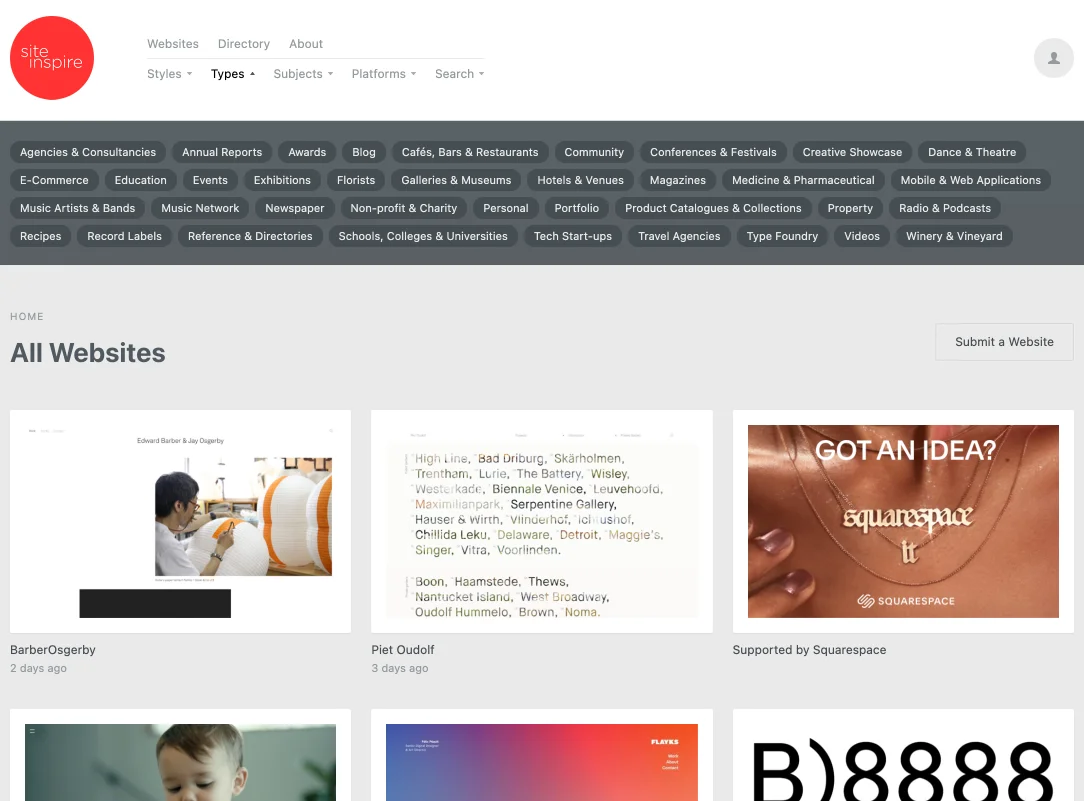 Image from siteInspire
siteInspire is a place showcase the best web design today, highlighting examples of exciting visual and interface design and is a resource of inspiration for your next web design project. The websites here are chosen by cleanliness and simplicity without excessive gimmicks or decoration.
---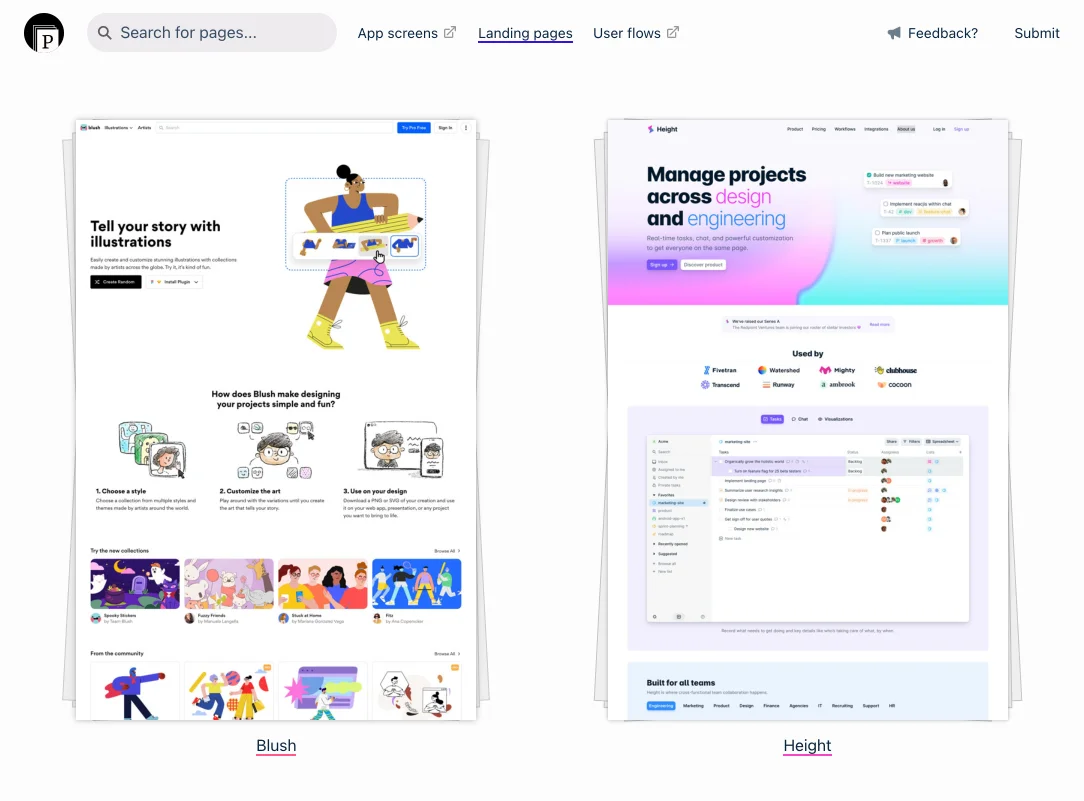 Image from Page Collective
Page Collective is a website collection platform. You can find a lot of industries and beautiful web interfaces here.
---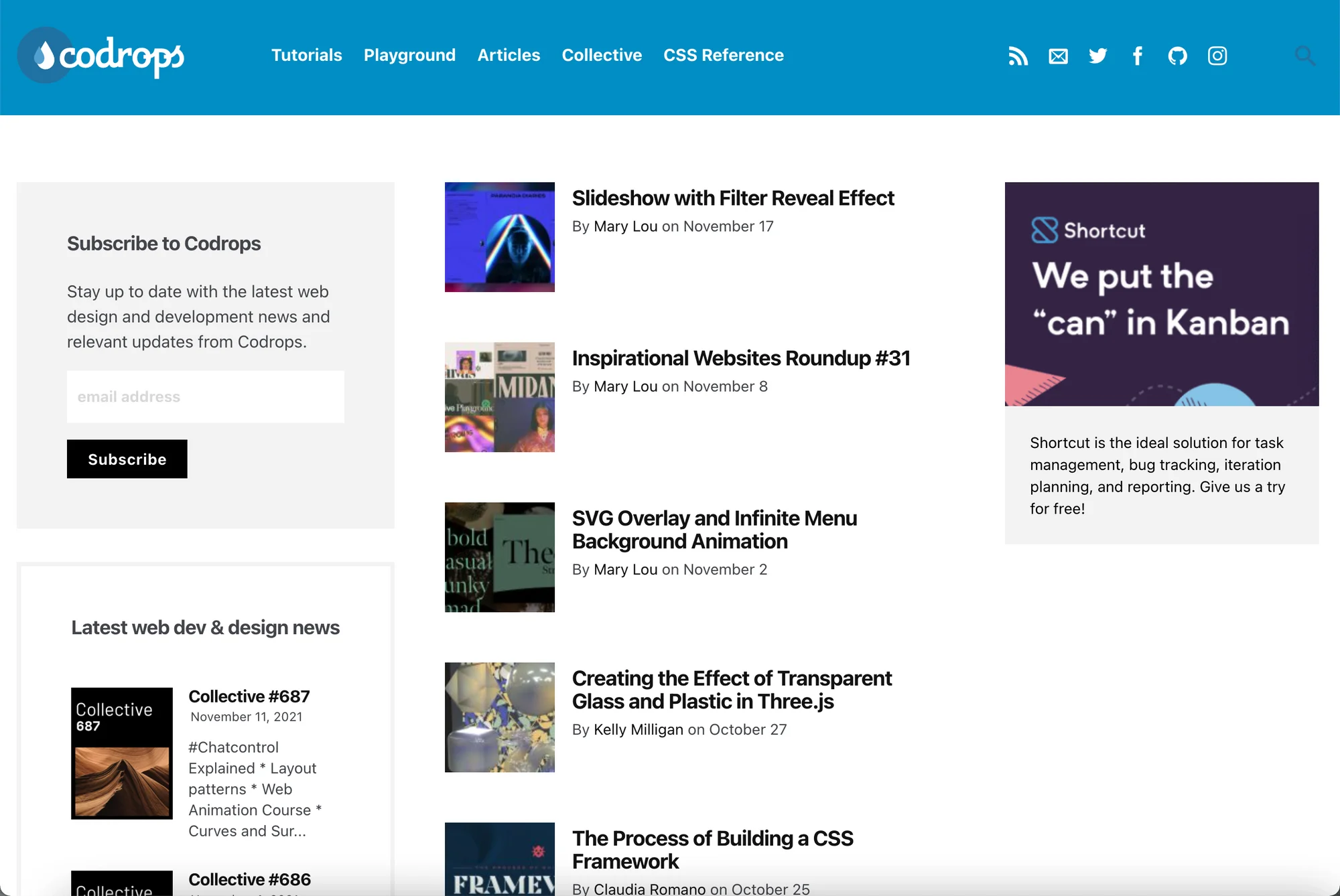 Image from CodeDrops
Motion designs are not only seen in movies, videos, or advertising exclusively anymore nowadays it has influenced website layouts and mobile apps. CodeDrops focus on web design effects, you can find many dynamic special effects demo and best practice from all the designers.
What I like the most are the article and playground section where designers give an introduction of used technology, opinions, new ideas, and how they solve problems and tackle challenges…etc which you can feel the blood and sweat to avoid making the same mistake in your design!
Eagle App the Inspiration Organizer

Too many Inspiration? or overwhelming reference files? Tag & Cross reference in folders all of them as easy as it is with Eagle! No more messy files & don't ever have to duplicate files in your PC!



---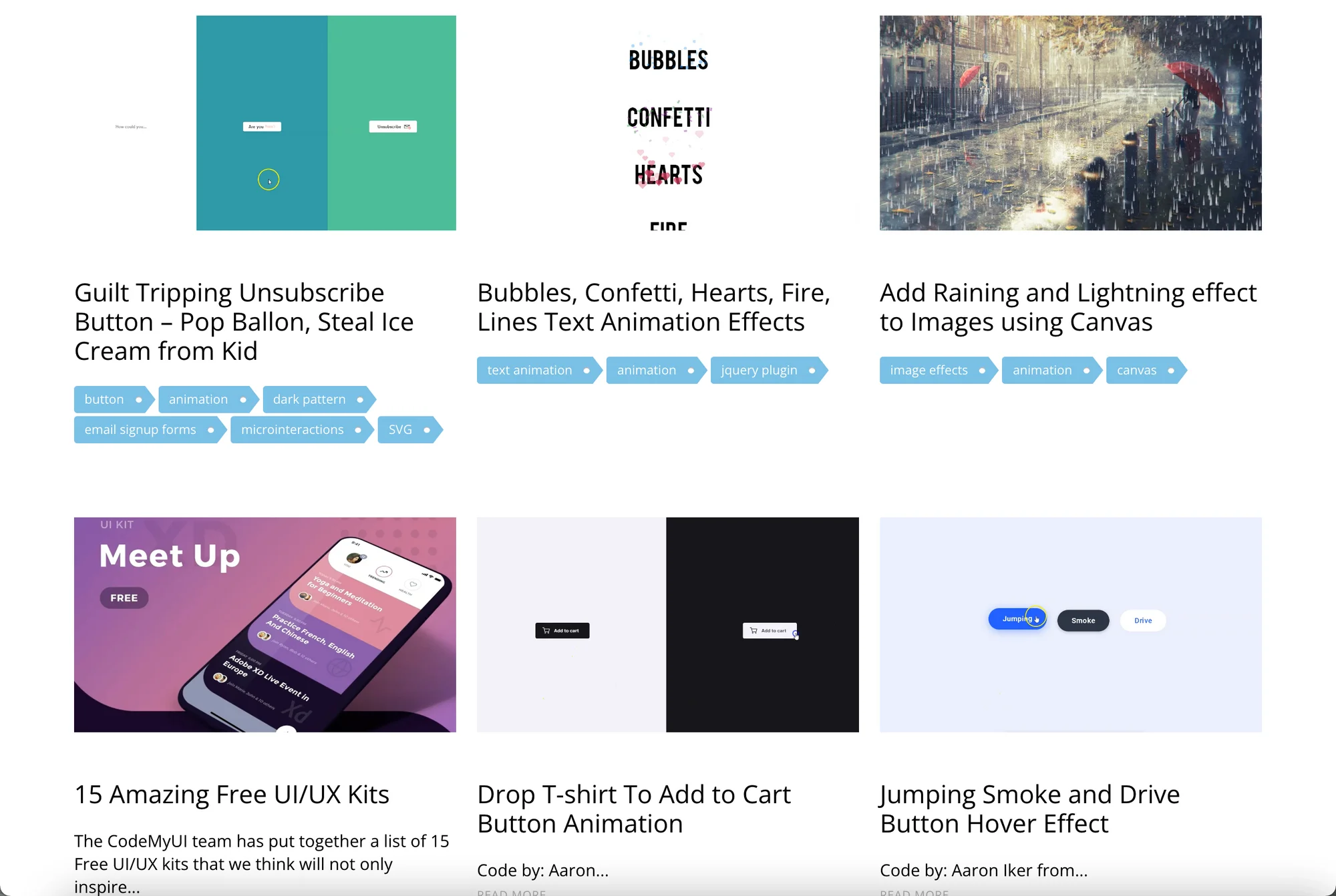 Image from Code My UI
If you are looking for animation resources for the elements of your website such as Page, Design, HTML,…etc make sure you check this place out! It shows a variety of demos of web design and UI inspirations integrate with motion design. All of them are very practical and you can try to put them into your design project as well.
---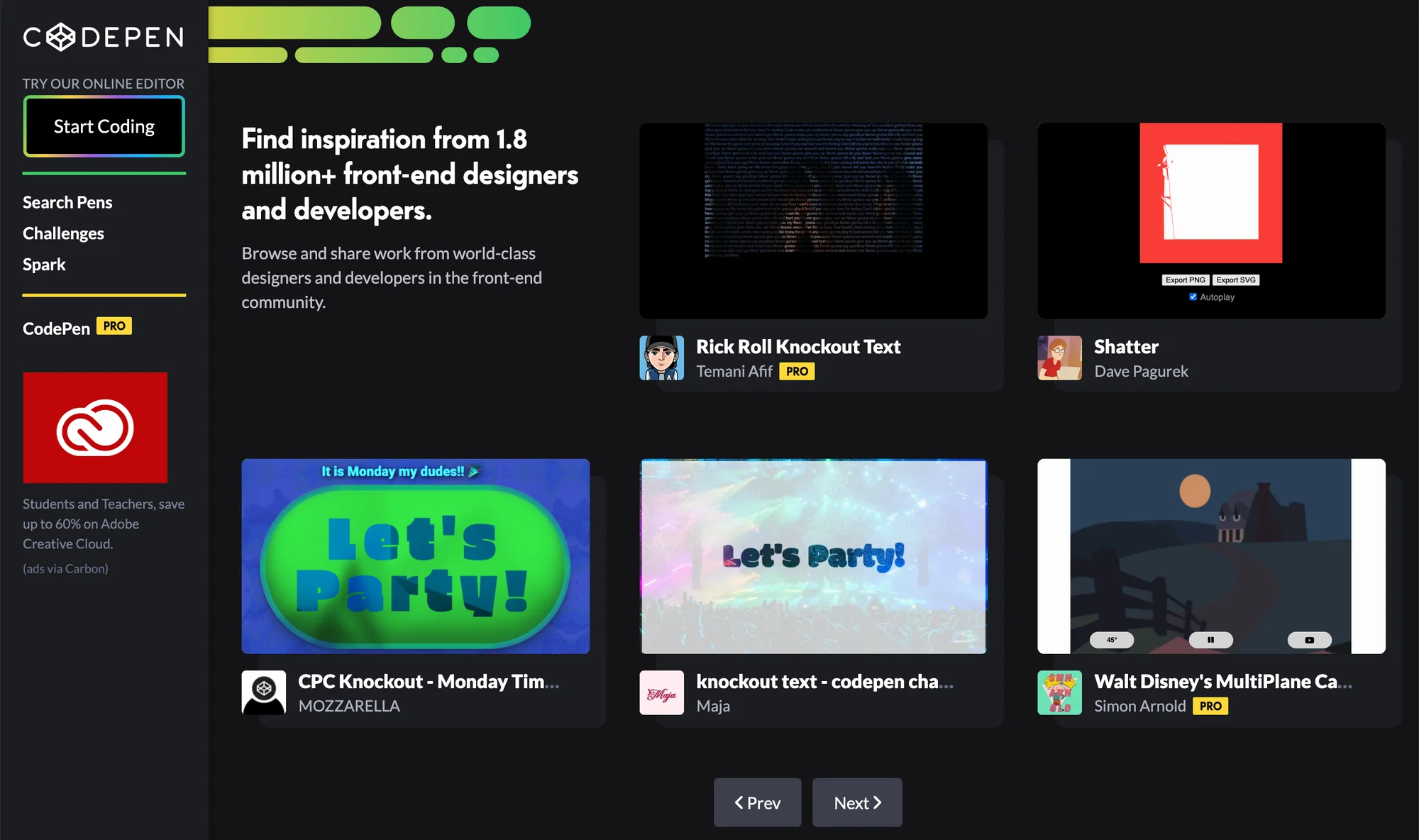 Image from CodePen
CodePen is one of the world's leading dynamic special effects collection platform. Whether is strong, weak, trending and popular you can find all the demos here. In addition to viewing the Demo directly on the web, you can also directly open the code editor to edit and view the results in real-time, which is very convenient!
---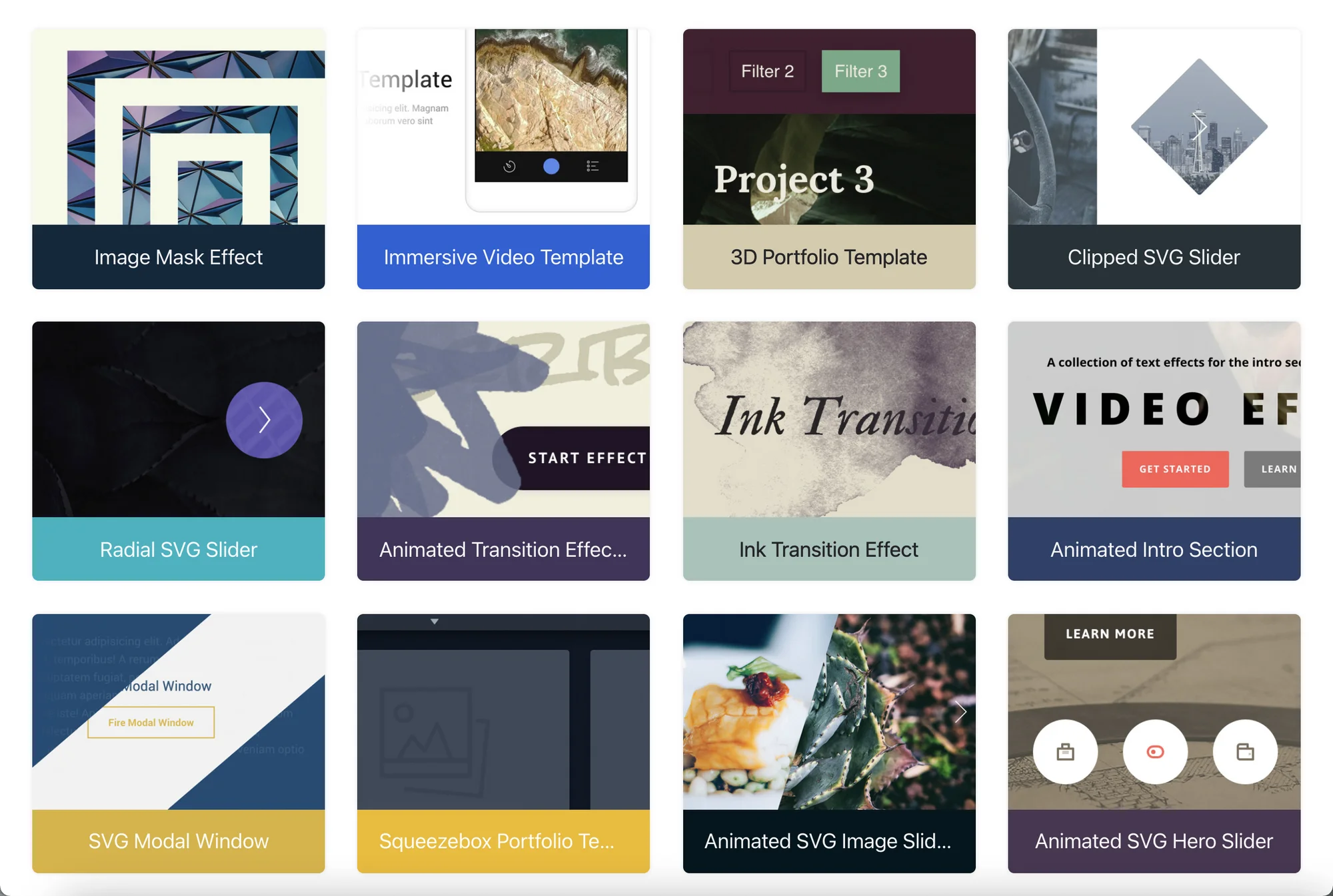 Image from CodyHouse
Compared with the platform website introduced earlier, the resources here are more basic and suitable for beginners or web designers who are just getting started with dynamic effects. Many animation demos and special effects elements are displayed on the website. You can also download them in your design.
---
Design Blog, Industry News and Interviews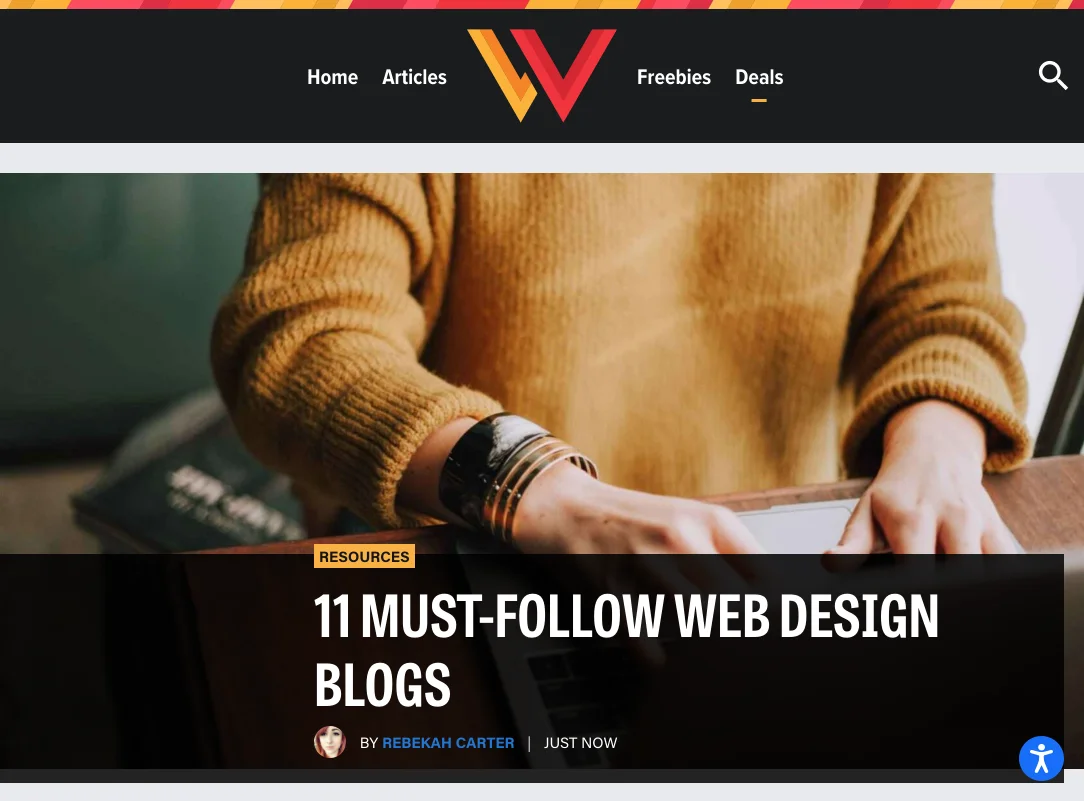 Image from Webdesignerdepot
Webdesigner Depot is one of the most popular blogs that talks about web design trends, tutorials, tools, tips and much more.
---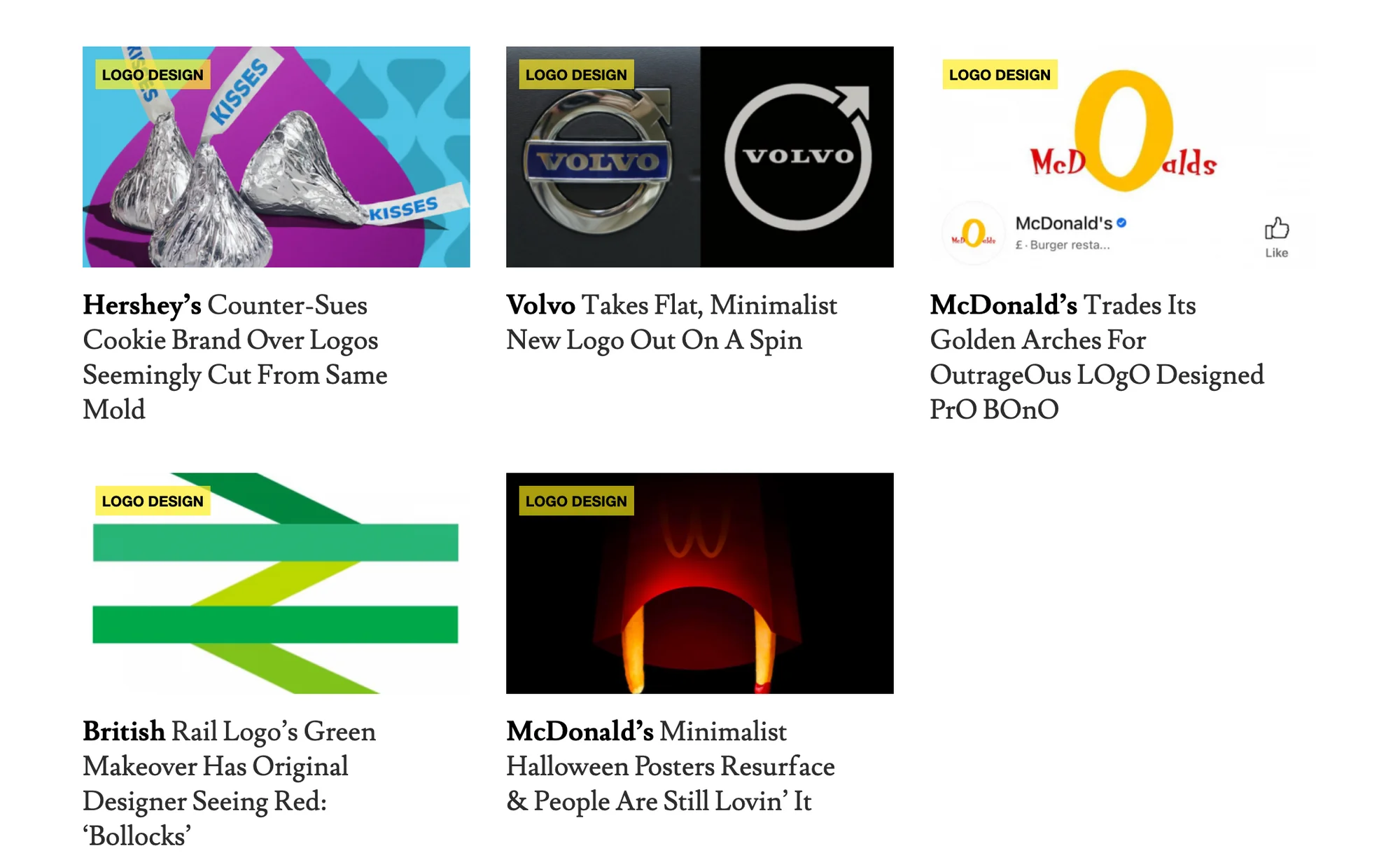 Image from DesignTAXI
DesignTAXI is the reference source for the global creative industry. They share ideas and talk about Design, Art, Photography, Advertising, Architecture, Style, Culture, Technology, and Social Media. Anything creative or innovative.
---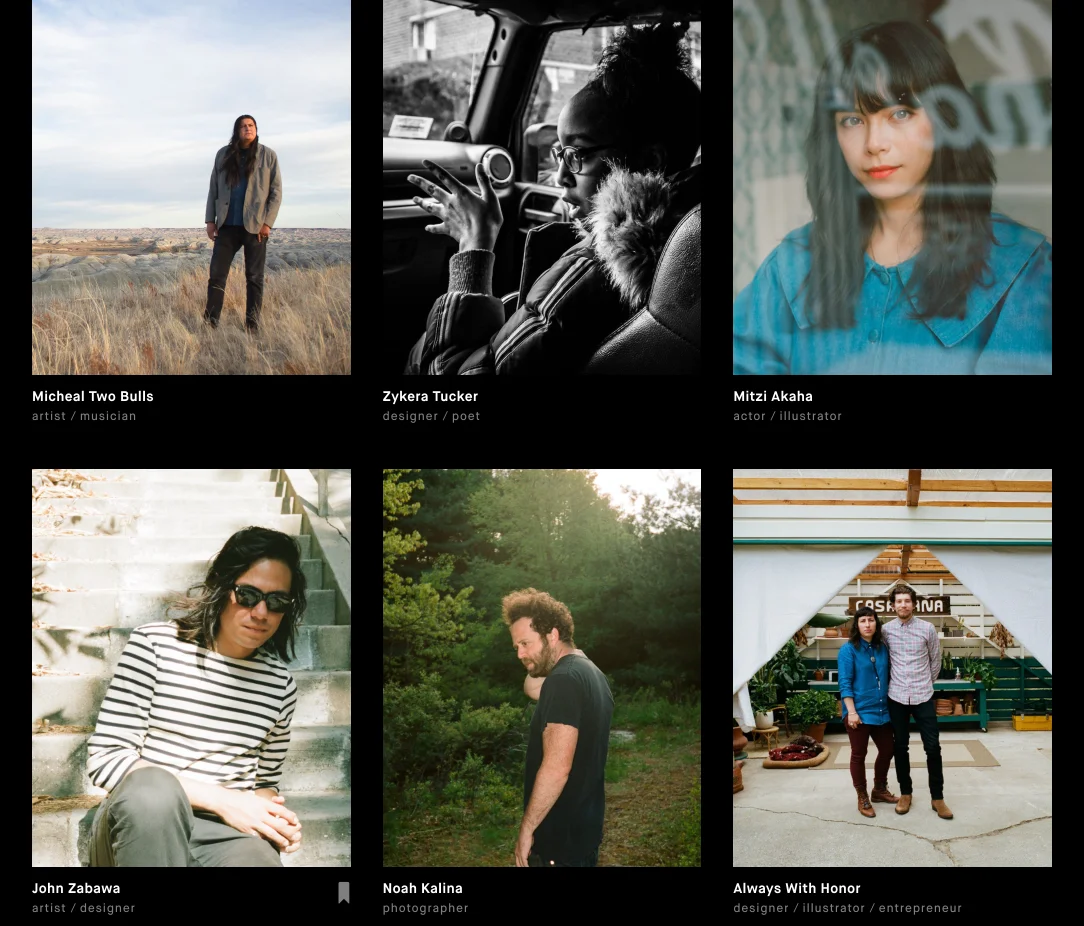 Image from The Great Discontent
If you are tired of looking for inspiration come check out The Great Discontent, it is a media company and thriving community committed to celebrating the untold stories of today's artists, makers and risk-takers. Focusing on beginnings, creativity, and risk. You may stumble upon something new along the way while reading their design struggles.
---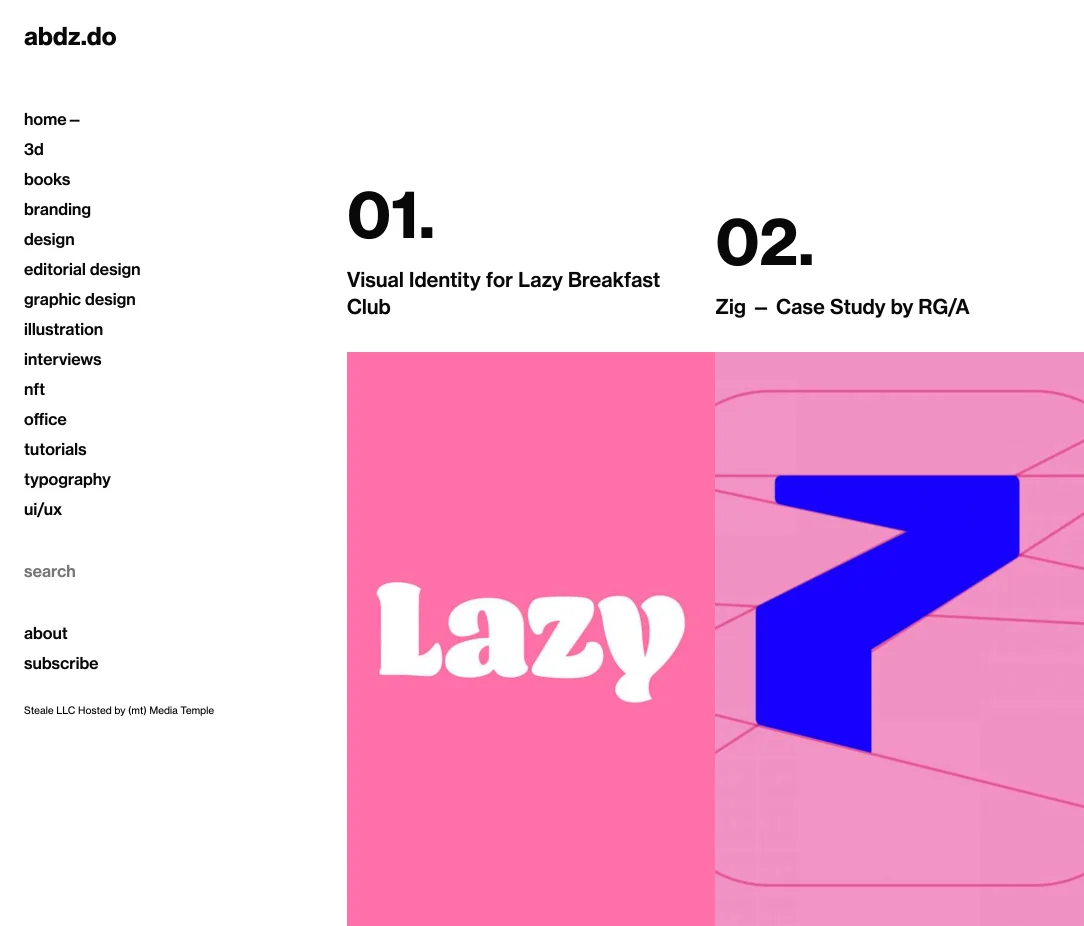 Image from Abduzeedo
Abduzeedo is a collective of individual writers sharing articles about design, photography, and UX. It was founded by Fabio Sasso in 2006 as a personal blog, later growing to become a digital publication. You can find writers analyzing design projects, case studies, and many more!
---
Mobile References & Inspirations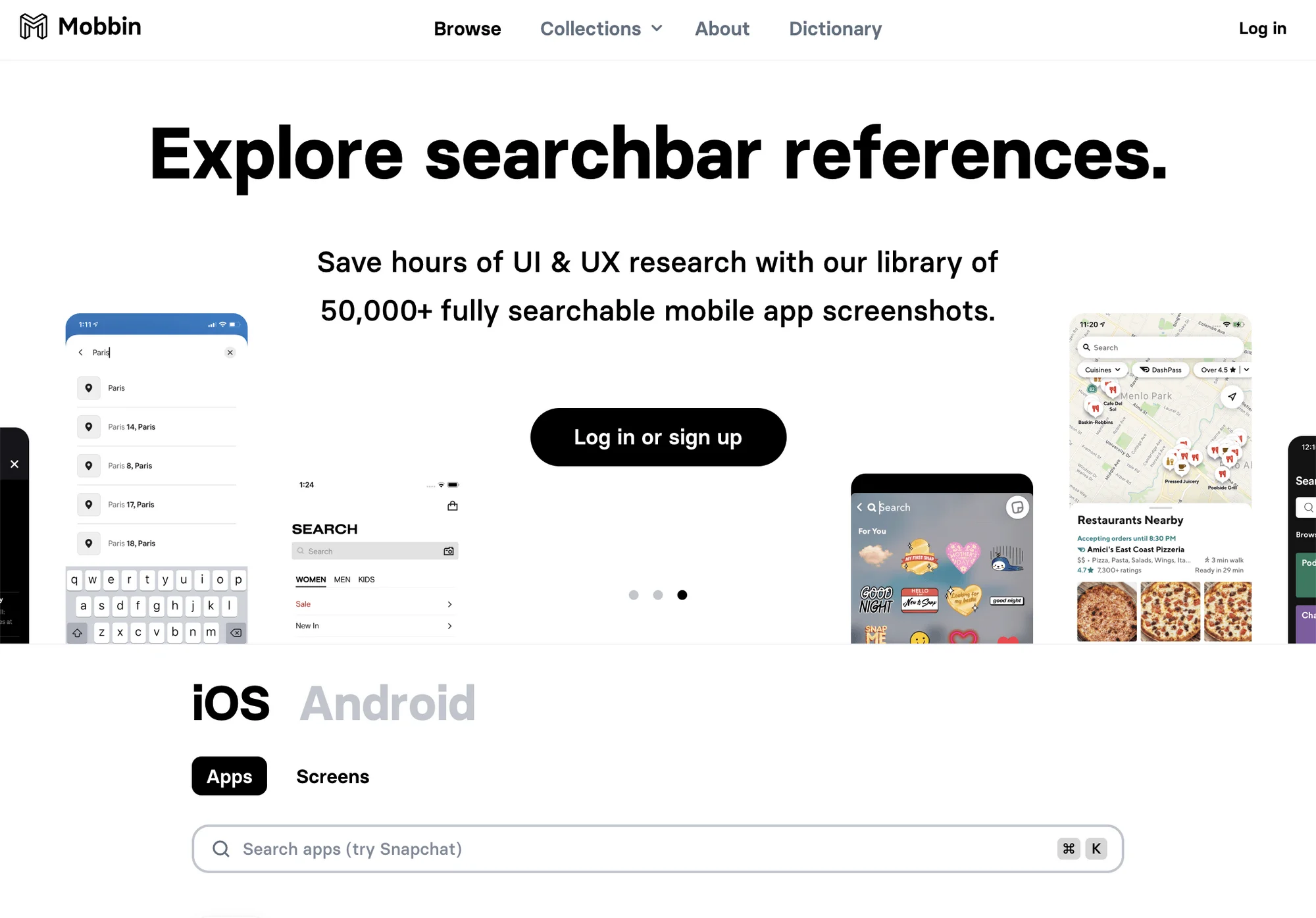 Image from Mobbin
Mobbin is a website that collects excellent mobile app UI and patterns. You can save hours of UI & UX research to find a library full of searchable mobile app screenshots.
---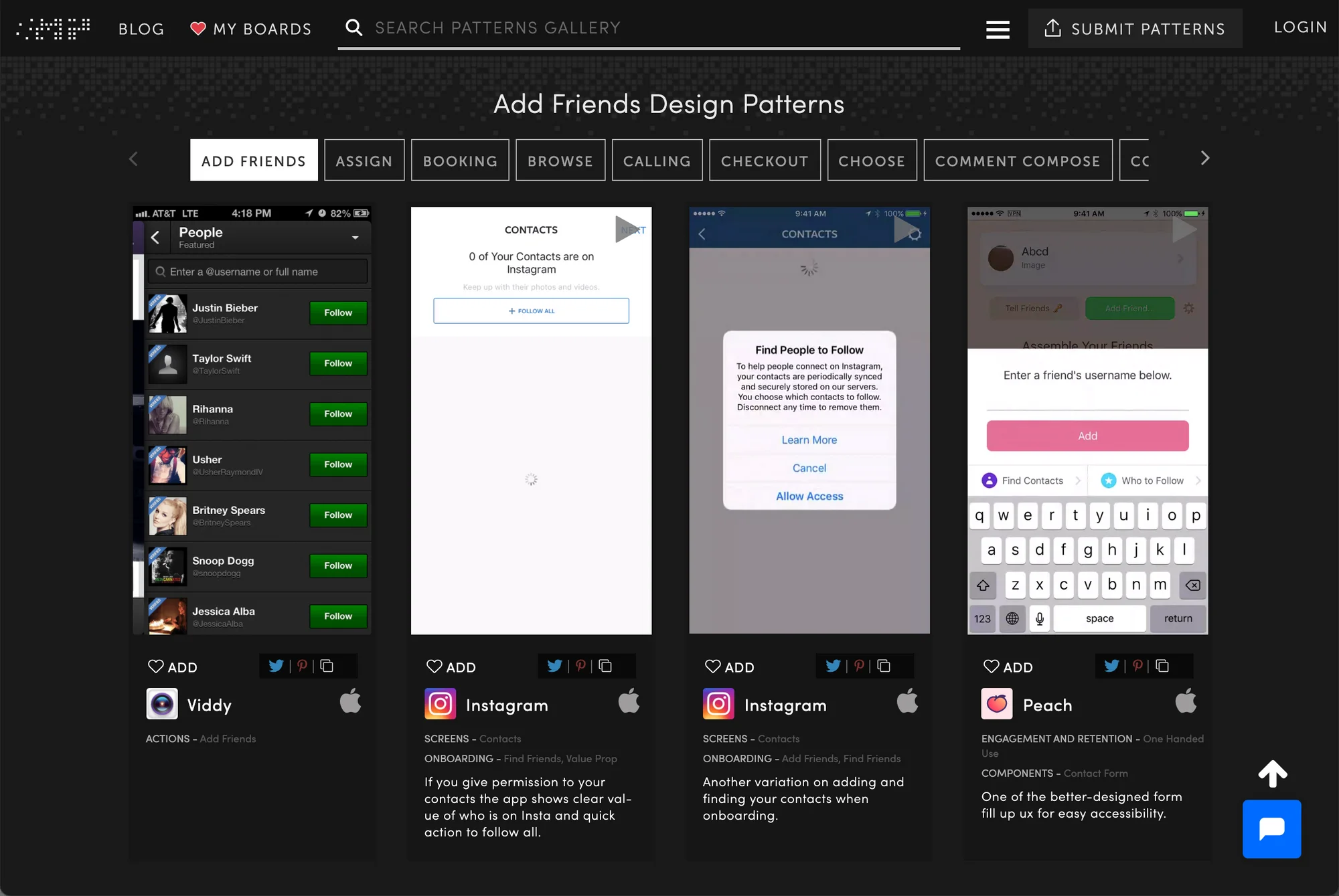 Image from Mobile Pattern
If you want to know the mobile phone interface or function reference, please take a look at Mobile Pattern. There are many screenshots versions from well-known mobile apps. If you want to find historical data from several years ago, come here for treasure hunting!
Eagle App the inspiration Organizer

Want to take notes for your reference materials? Eagle allows you to take notes and search by notes if you ever forget the exact file names or storage paths! So easy!



---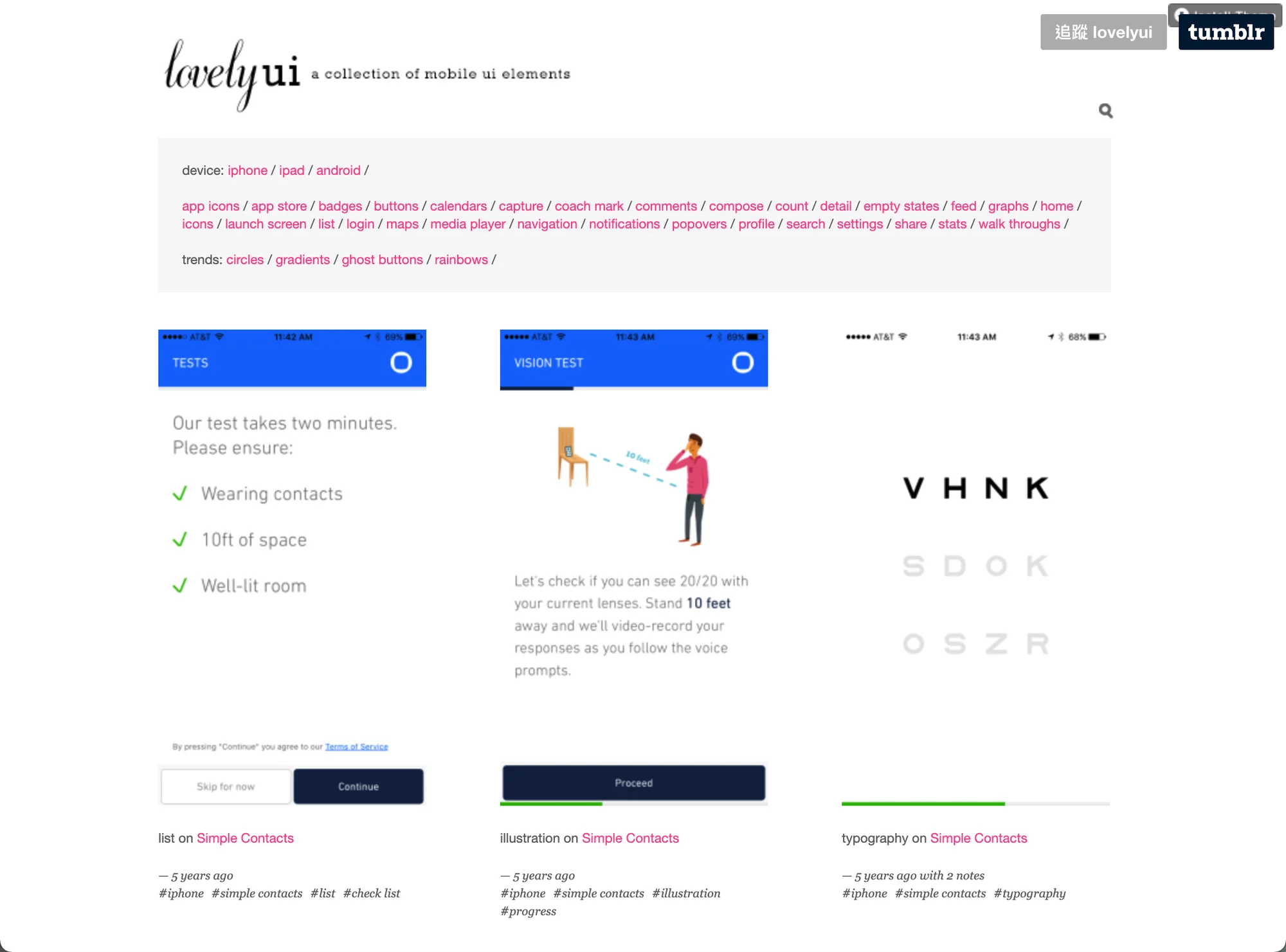 Image from Lovely UI
This website has collected many inspirations for the mobile version UI elements. In addition to iPhone and Andriod, you can also find screenshots from iPad.
---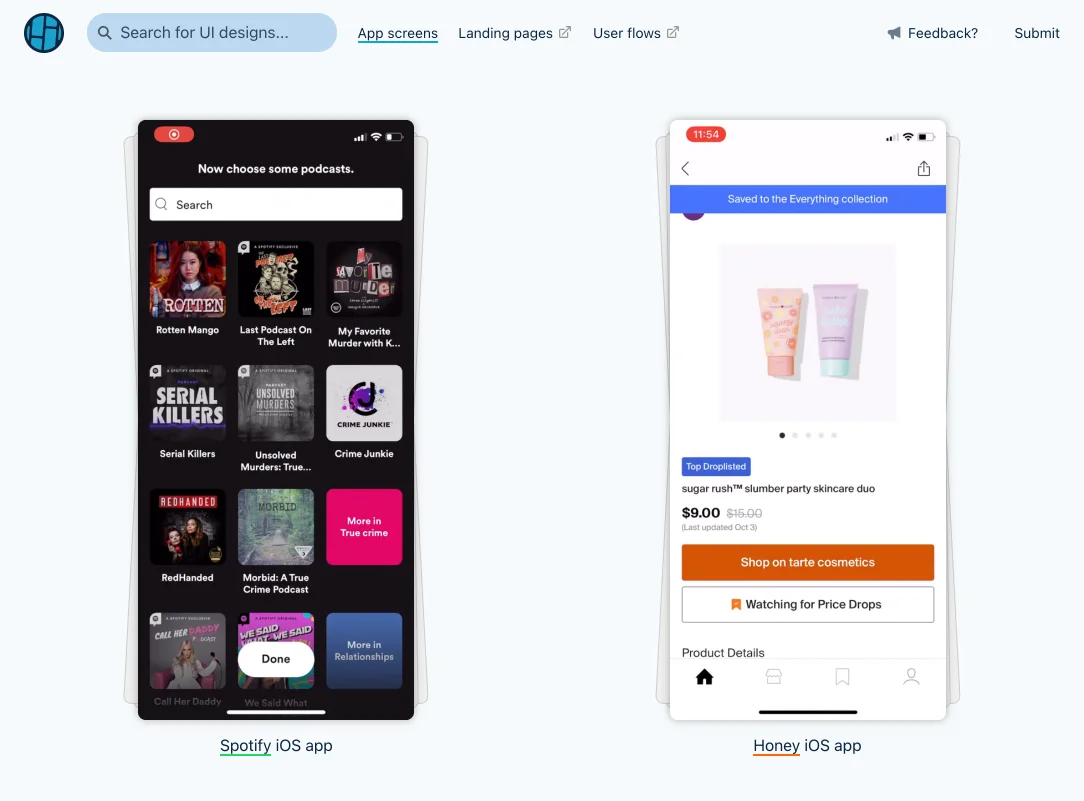 image from Screenlane
Screenlane is a website and newsletter that features the latest mobile design inspiration. Each new design was tagged so that you can easily find the most popular design animations for whatever design element you're interested in.
---
Game Design References and Inspirations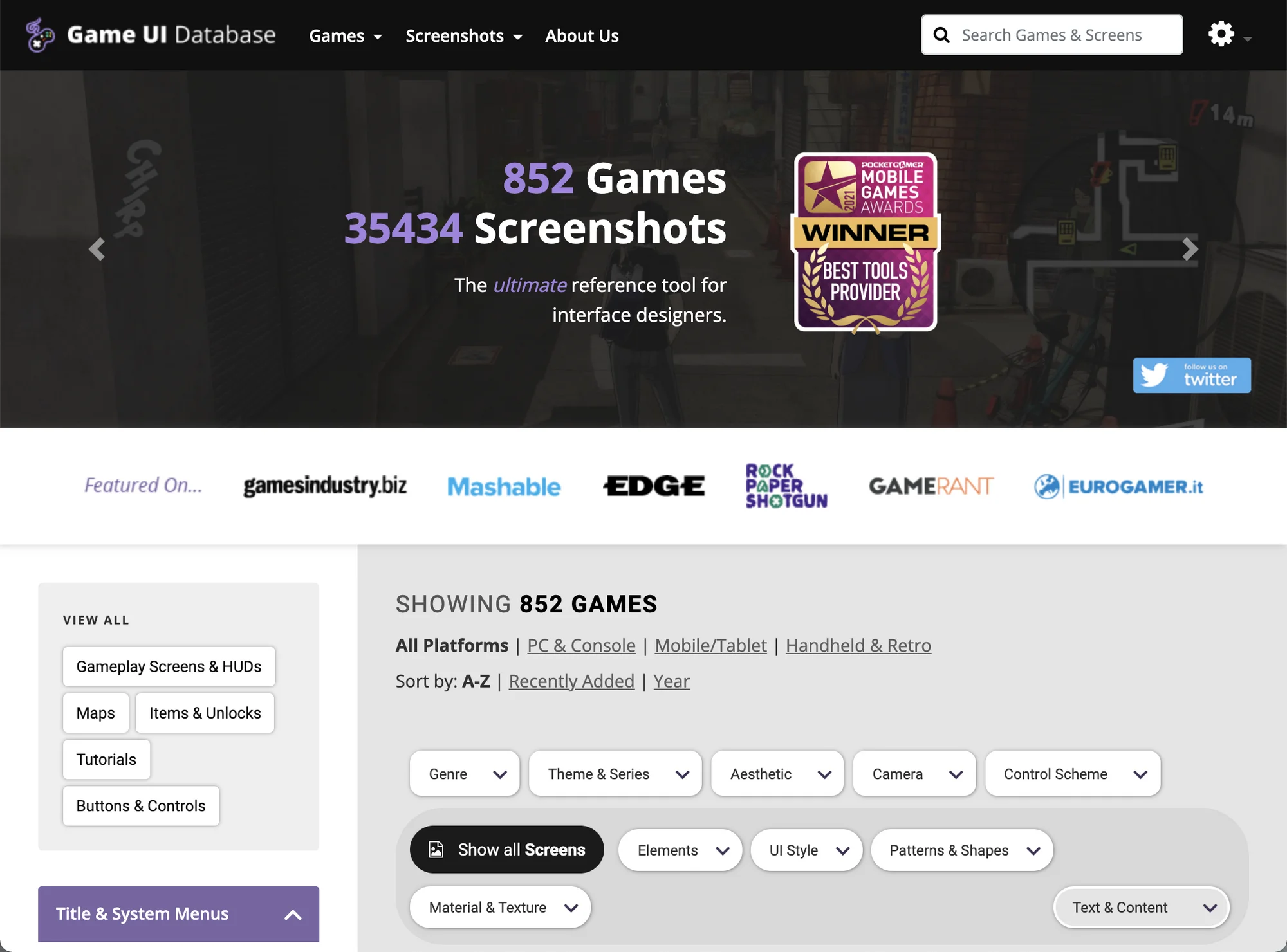 Image from Game UI Database
Are you a game designer and special effects artist? There are very few platforms that provide perfect game interface screenshots, elements, layouts and other reference inspirations. In Game UI Database you can find a variety of screenshots from various games without downloading every game. say goodbye to collecting information one by one!
---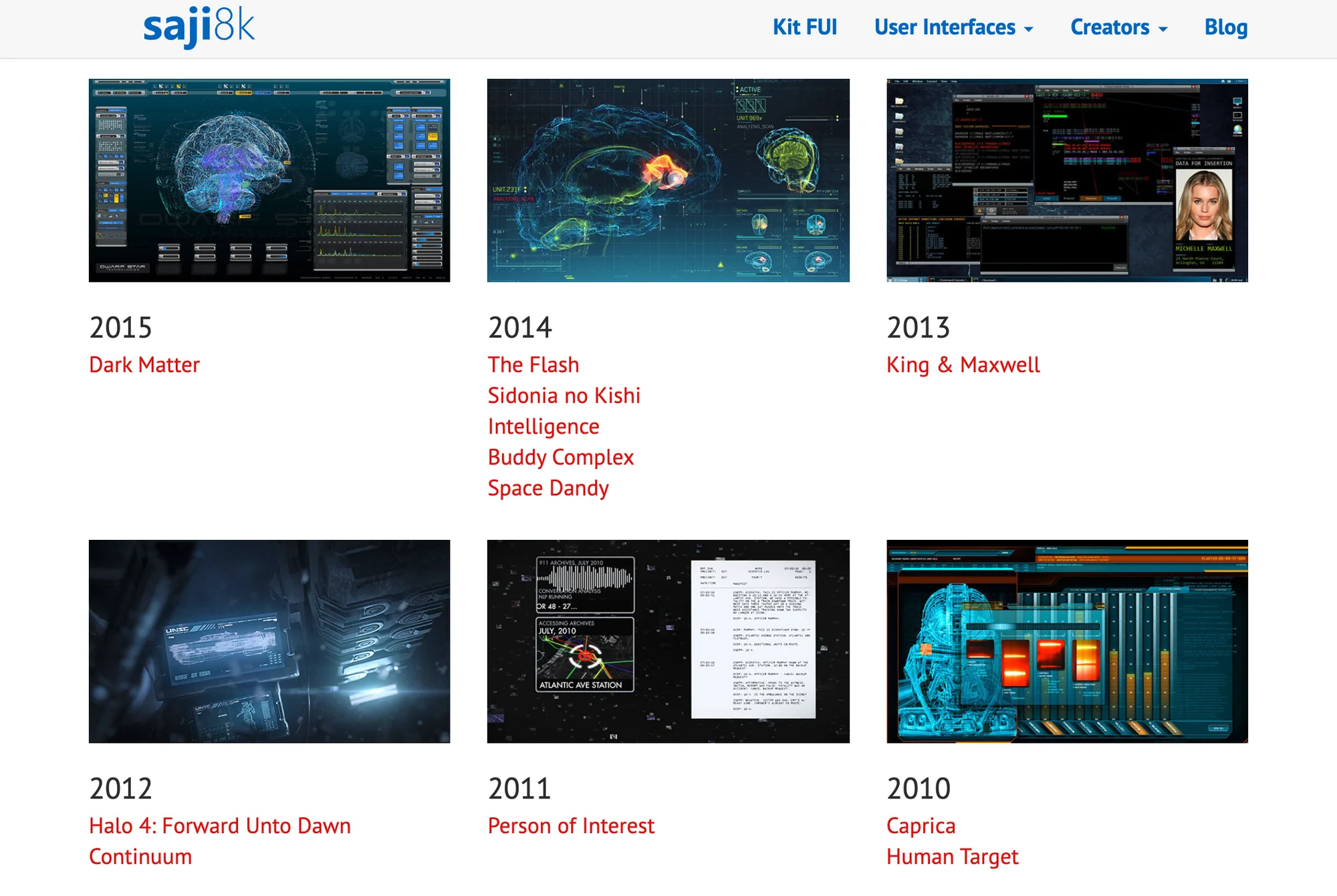 Image from Saji8k
If you are looking for sci-fi styles for your design Saji8k collects a series of screenshots and videos of user interfaces that are found in movies, game UI, TV shows, and films.
---
Organize all your design inspirations with Eagle
Have you found any sites that spark a few ideas for your next design projects? There are so many website options out there to help you kindle fires and improve your designs, make sure you have a place to store your design and organize them easily. If not, install Eagle to do it for you!
Eagle offers remarkable features such as tagging, rating, and color search system which help you organize all your design assets and reference x10 times faster and all in one place! Let Eagle assist you to stay inspired and focus on creating a better design project!
💡 Organizing Your Design References with Eagle: https://eagle.cool/
Lastly, if you are eager to learn more design information and resources, visit and bookmark Eagle blog to become a better creative professional!

If you are still lacking inspiration and incentives to create something new, feel free to dive into Eagle Community to explore stunning assets shared by thousands of designers worldwide. Let Eagle be your best design assistant!

Read also