Top 22 Must-have Apps to organize your design files
Do you always spend a lot of time finding a specific design file?
Now, you better organize them before your files get piled up like a pyramid. However, how do you keep all your design-related files organized and avoid cluttering your desktop or download folders? You should try to have a tool to manage them in an organized way.
Today we'd like to introduce you to the Top 22 Must-Have organizational tools that are especially helpful for designers to efficiently manage design files. Each of them has different sweet features that can give you a whole new world of file tidiness! May you can organize assets and design happily!
In this article, the following organizational tools will be grouped into 4 major types:
Design File Management Tool
Ideas&Inspiration Organizer
Image Organizer
Other Tools for Enhancing Organizing Skills
So without further ado, let's get to know these amazing tools now!
---
Top 22 Organizational Tools to Manage Design Files
【Design Files Management Tool】
Key features/Brand


Eagle👑


Adobe Bridge


Dropbox


Filecamp


Daminion


Connecter


Reference.Design
Reverse image search

✅

❌

❌

❌

✅

❌

❌

Search filters

✅




by color, date, etc.

✅

✅

✅

✅

✅

❌

File syncing

✅




with cloud services or external hard drive

✅

✅

❌

✅

✅

✅

Supported formats
90+


images, RAW, .psd,




.ai, .pdf, svg, gif, 3D, figma, C4D, videos, fonts, xmind, etc.

image files and




adobe file formats

image, raw,
text files, etc.

.pdf, .psd, .ai, .eps,




.jpg, .tif, .mov, .avi, .mp4, .swf, .flv

100+
3D files, BIM files, etc.
image files
Browser Extension
✅
Chrome, Edge,
Firefox, Safari
❌
✅

❌

❌

❌

❌

Pricing

One time payment


$29.95

Free

if Register Adobe Creative Cloud

Basic: Free




Plus: $11.99/mo




Family: $19.99/mo

Basic:

$29/mo


Advance:

$59/mo


Pro:

$89/mo

$249/mo

Free

Free

Trial
30 Days
N/A

30 Days

30 Days

✅

N/A

N/A

Platform
macOS, Windows
macOS, Windows

macOS, iOS, Android,

Web

macOS, Windows, iOS, Android, Web

macOS, Windows

Windows

macOS, Windows

Website
Download
Eagle👑
Download
Adobe Bridge
Download
Dropbox
Download
Filcamp
Download
Daminion
Download
Connecter
Download
References.Design
Eagle is a feature-rich tool for organizing and collecting digital assets. If you are working mostly on PC, then Eagle is the one you are looking for. Eagle allows you to import your local folders and sort your files manually or automatically. It supports tag, rating, color search, and annotation, which is really helpful in finding design files without making a mess on your PC, its extension allows you to gather ideas, and collect all reference images from the web.

For a starter, Eagle supports a wide range of formats such as images, raw, fonts, icons, 3D, videos, and audio, which is a super friendly tool for all kinds of designers and those who want to manage various files in one place.
Key Features of Eagle:
Identifying duplicates
Supporting 90+ file formats
Smart Folder can help you automatically find and organize design files
Providing 3 types of layouts to display files: Justified, Waterfall, and Grid Layout.
Browser Extensions allow you to easily save web page images&screenshots to Eagle.
Pricing: Free Trial 30 days
One-time purchase with free updates: US$29.95 (One license for two devices)
Platform: Desktop macOS and Windows. Extensions are available for Chrome, Safari, Firefox, and Edge.
---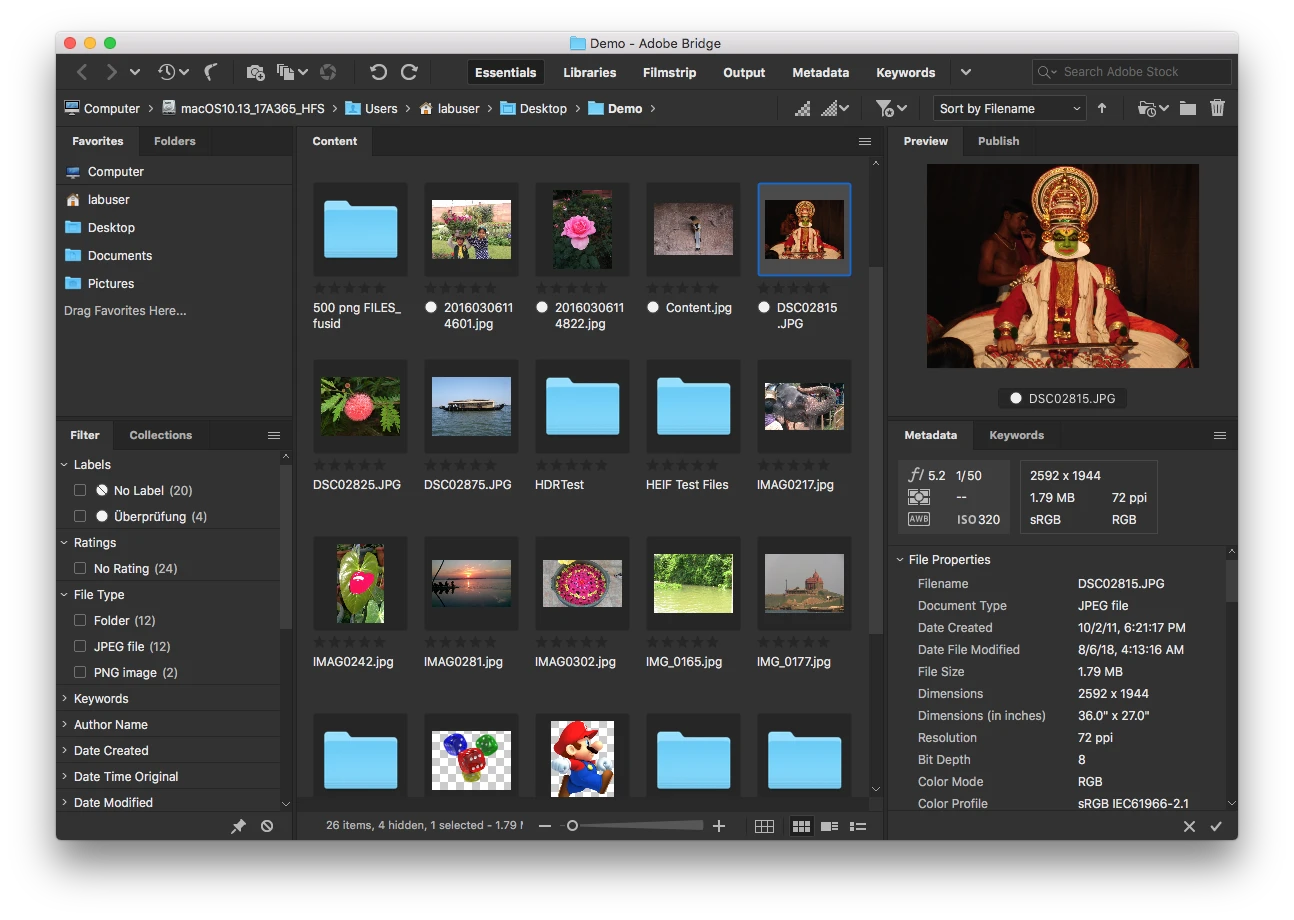 Image from Adobe Bridge

Adobe Bridge is a design asset management tool and is a part of the Creative Cloud ecosystem. If you're working exclusively with other Adobe products, Bridge is the gem design resources organizer for you, it provides sorting, search, ratings, tagging, and even built-in photo editing capabilities. One of the things you have to look out for is its importing files can sometimes take quite a while!
Key Features of Adobe Bridge:
Managing bulk workflows
Export images in multiple formats
Edit assets by opening them right inside Creative Cloud apps
Organizing assets with labels, ratings, metadata, and keywords
Use advanced filters, collections, and search to find the assets you're looking for
Visualize all your PS, Ai, AE, InDesign, and 3D files with thumbnails and rich previews
Pricing: Free if you have Adobe Creative Cloud Account
Platform: Desktop Apps for Windows and macOS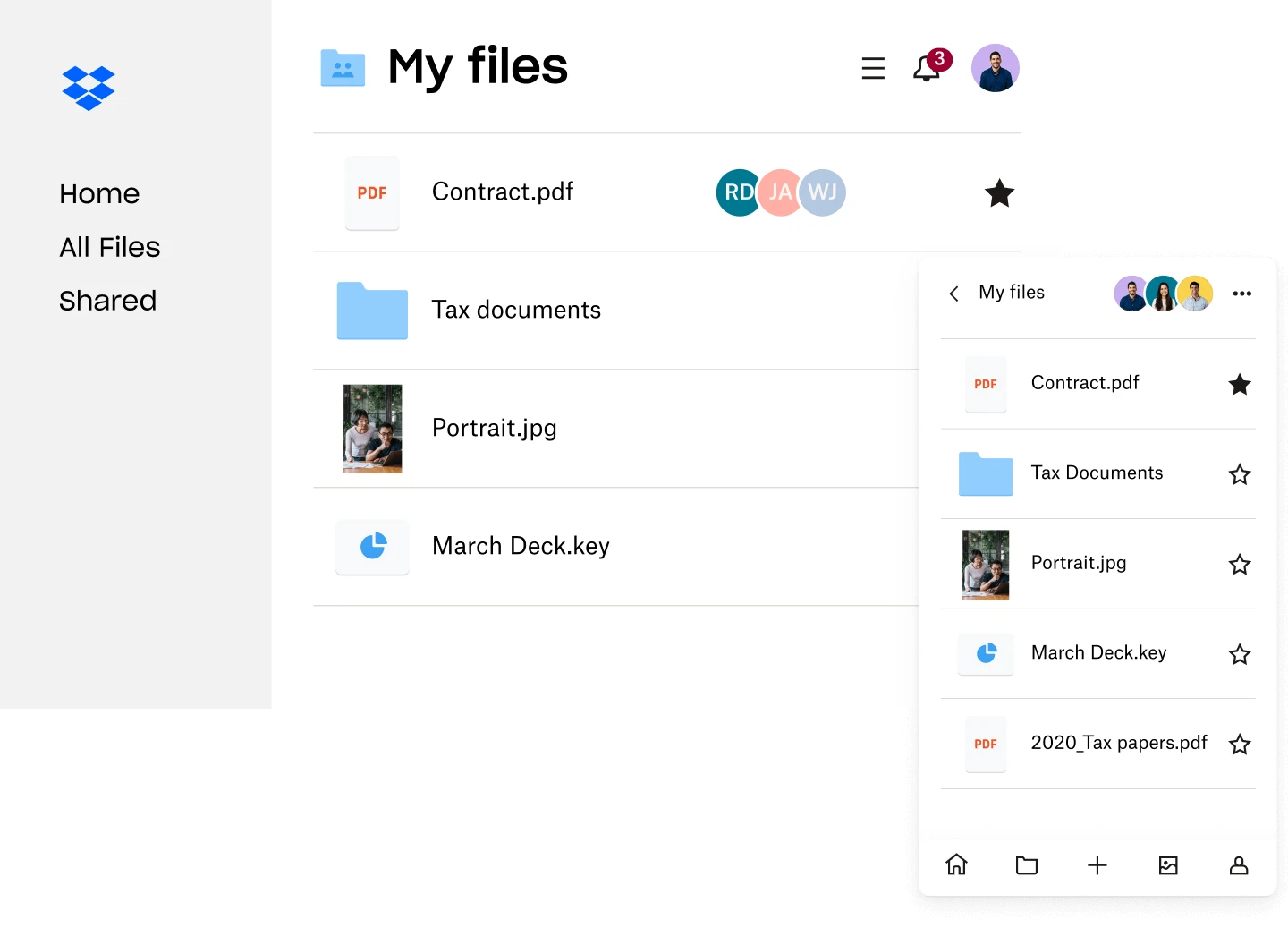 Image from Dropbox

Are you looking for a simpler place to organize, store and share your design files with your clients or co-work with your colleagues? Dropbox is an easy solution for your team! How you store your files is an equally important organizational practice, Dropbox is an online storage locker that keeps files, pictures, documents, videos, and more so that you can access them anytime and anywhere!
Key Features of Dropbox:
Easy file syncing
Team collaboration
Files sharing by just sharing a link
Creating and eSigning documents
Saving design assets safely in cloud storage
Sending and tracking multiple documents with a single link
Pricing:
Basic: Free
Plus: $11.99/ month
Family: $19.99/ month
Platform: Web, MacOS, iOS & Android mobile apps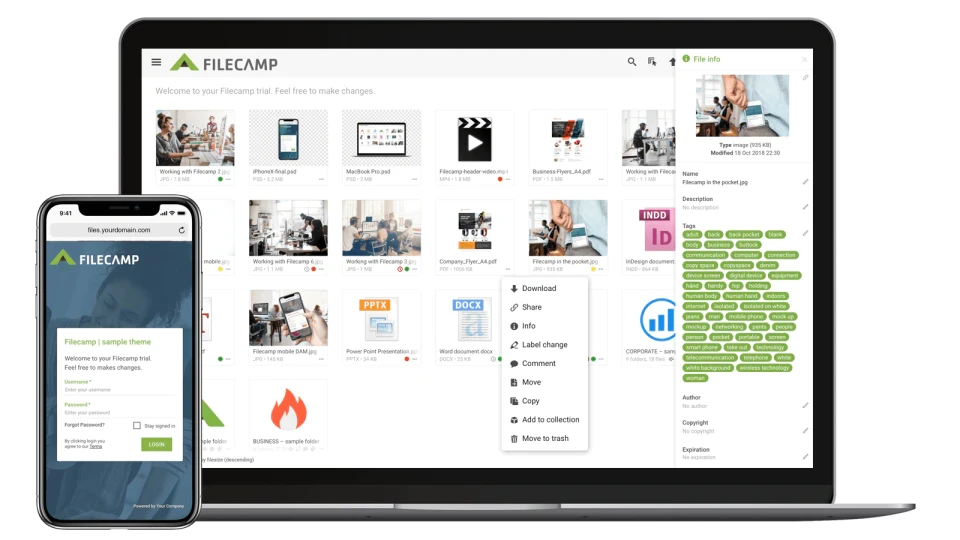 Image from Filecamp

Filecamp is a cloud-based digital asset management software that helps designers organize and share their design assets such as images, logos, colors, and inspiration. With advanced search filters, you can instantly find the necessary design files by keywords, tags, type, and expiry date. Besides that, if you want to review creative works, it also offers built-in commenting tools.
Key Features of Filecamp:
Auto tags
Fast search filters
Creating custom pages
Organizing files with keywords and labels
Easily share and distribute files with teams and third-parties
Offering online communication tools that allow commenting, real-time alerts and approvals.
Pricing:
Basic: US$29/ mo
Advanced: US$59/ mo
Professional: US$89/ mo
Platform: Web, MacOS, Windows, Android, iPhone, iPad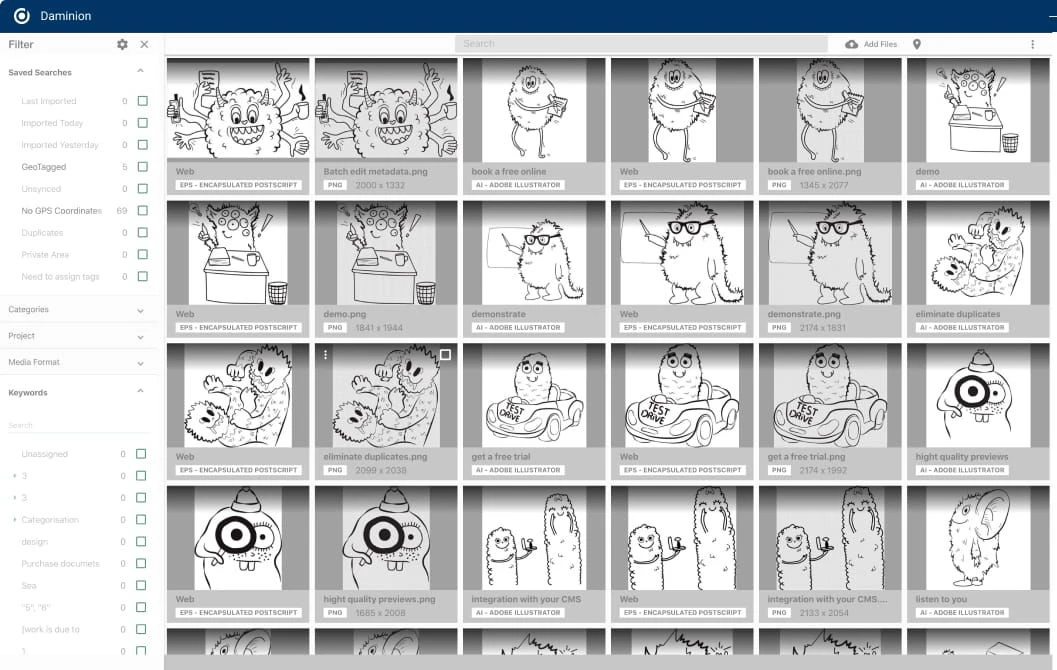 Image from Daminion

Daminion is like Eagle and Adobe Bridge, it helps you centralize and organize your digital assets all in one place. It can sort your files by several different criteria: image color, automatically detected tags, image size, license type, and a range of other technical and descriptive tags.
The difference Daminion differentiates from others is its Geotagging feature, it can visually locate and display your images on the map. Especially useful for interior designers or photographer professionals who need to check out their image location now and then.
Key Features of Dominion:
Automatic AI tagging
Search by dominant colors, keywords, tags
Organizing by hierarchical and custom tags
Find images or similar images on the Internet
GEO tagging: Images with GPS coordinates will be displayed on a map
100+ media formats are supported (images, documents, 3D, Camera RAW, and audio files)
Pricing: Free trial available, US$249/mo for up to 5 users.
Platform: Desktop app for Windows, Mac needed an additional application to launch. Cloud version.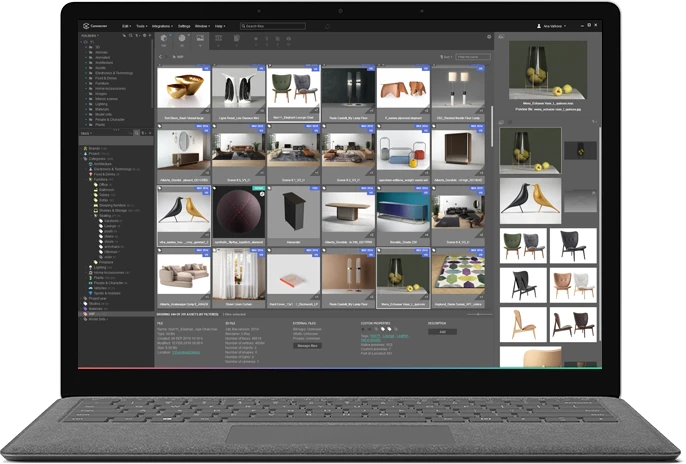 Image from Connecter

Connecter is a free and visual creative assets management software, integrating with a growing range of popular software to offer streamlined workflows based on effortless drag-and-drop interactions, smart merging, batch previews generation, and easily adding and updating existing assets.
However, their Connecter Libraries sometimes get corrupted and without the possibility of recovering the corrupted data. Another regret is that it can only organize 3D models and textures, thus, if you want to manage more types of design files, it is worth trying Eagle to organize over 90 formats in one place!
Key Features of Connecter:
Image files, videos, and 3D assets previewing
Team collaboration
Organizing assets by adding tags, stars, and description
Find duplicate assets
Fast search and Powerful filters
Pricing: free
Platform: Windows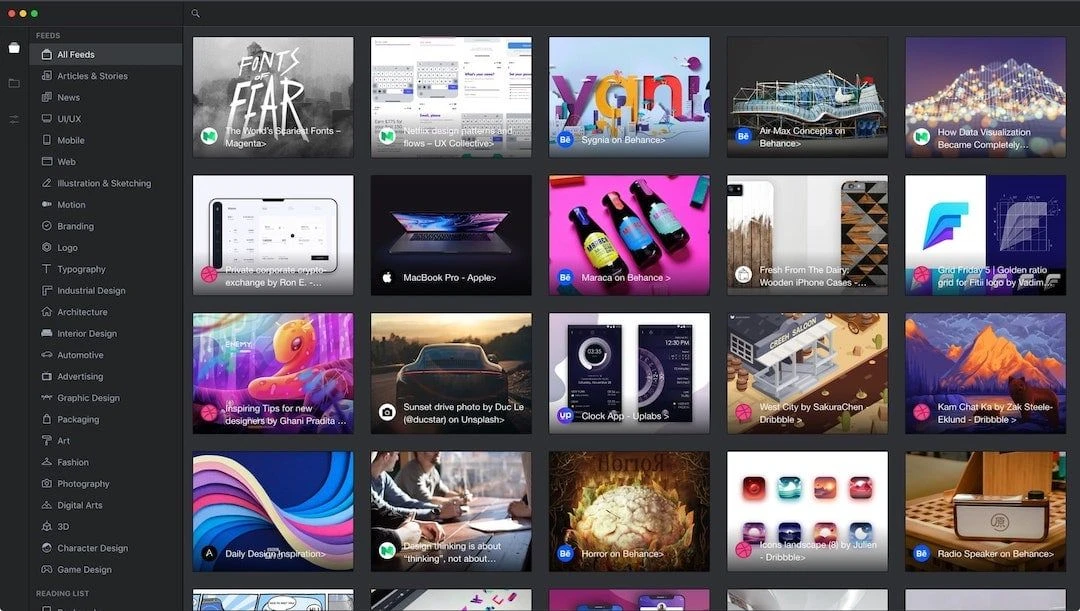 Image from References.Design

Similar to Eagle, "References.Design" is a digital asset management tool dedicated to getting the latest inspiration from all over the popular design communities, as well as importing your personal collections. You can easily manage both your online and offline assets in one place.
Unfortunately, it was deprecated not long ago, however, you can still find an alternative from the rest of the tools in this article!
Key Features References.Design:
Link with folders
Team folder and offline access
Sync with your favorite cloud service
Browsing design inspirations and stories
Organizing all the online and offline content in one place
Pricing: free
Platform: Mac, Windows
---
【Ideas&Inspiration Organizer】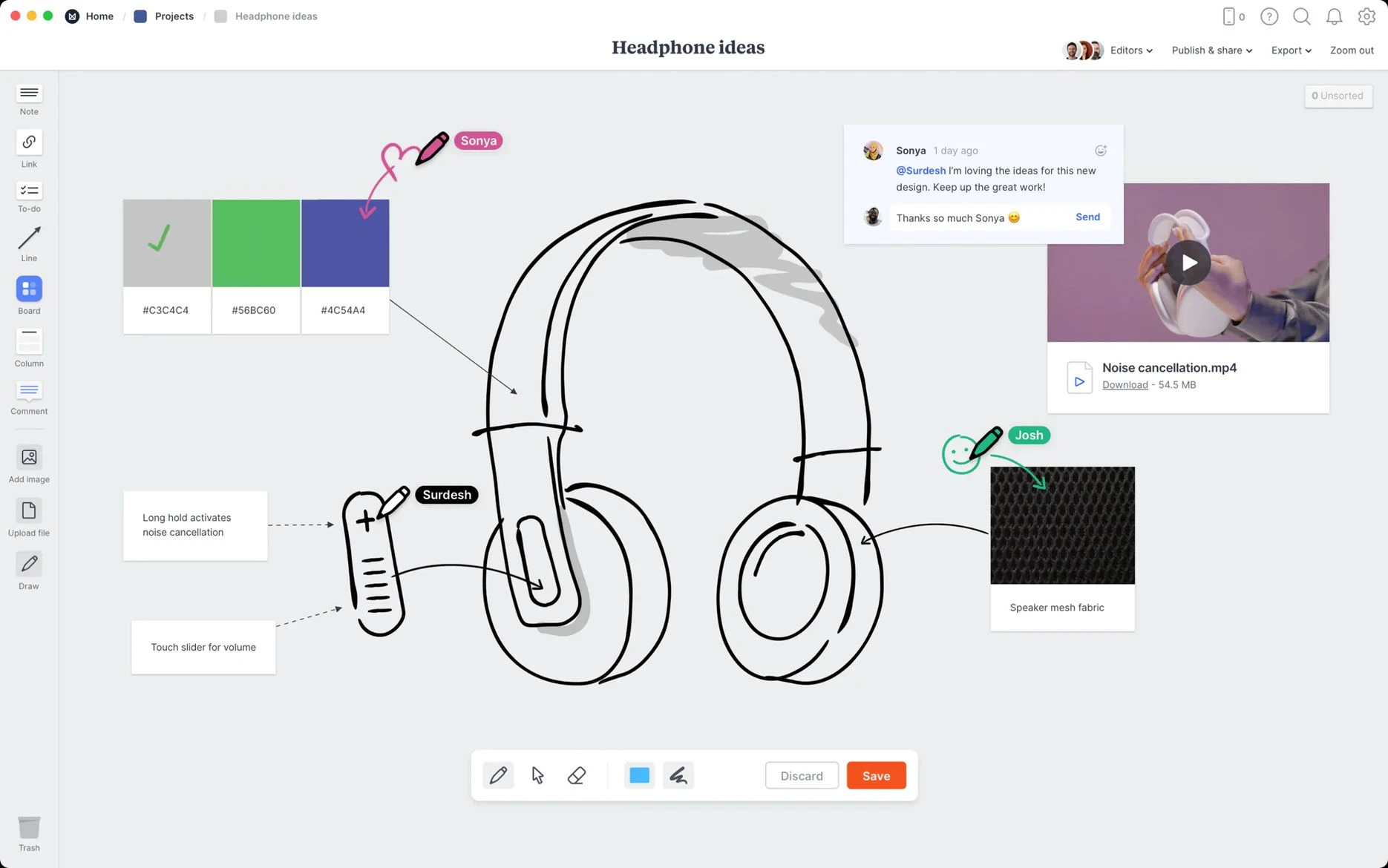 Image from Milanote

Milanote is an easy-to-use tool to organize your ideas and projects into visual boards. If you are working with team members on a large project then this might be the one for you! It is very useful to give annotation on your inspirations files or links, and you can even send an invitation to other people to collaborate on the same draft. It also allows users to export the content as well as Word or PDF. The best thing is that it supports mobile applications.
Key Features of Milanote:
Team collaboration
Write notes & to-do lists
Add notes and photos from your phone
Save text, images and links from the web
Drag-and-drop interface makes it easy to arrange design projects
Pricing: You can use a limited version for free.
Personal paid plan: US$9.99/mo (billed annually) or US$12.99/mo (billed monthly).
Team subscriptions are available for groups of up to 10 or 50 people.
Platform: Web, mobile applications for iPhone and Android.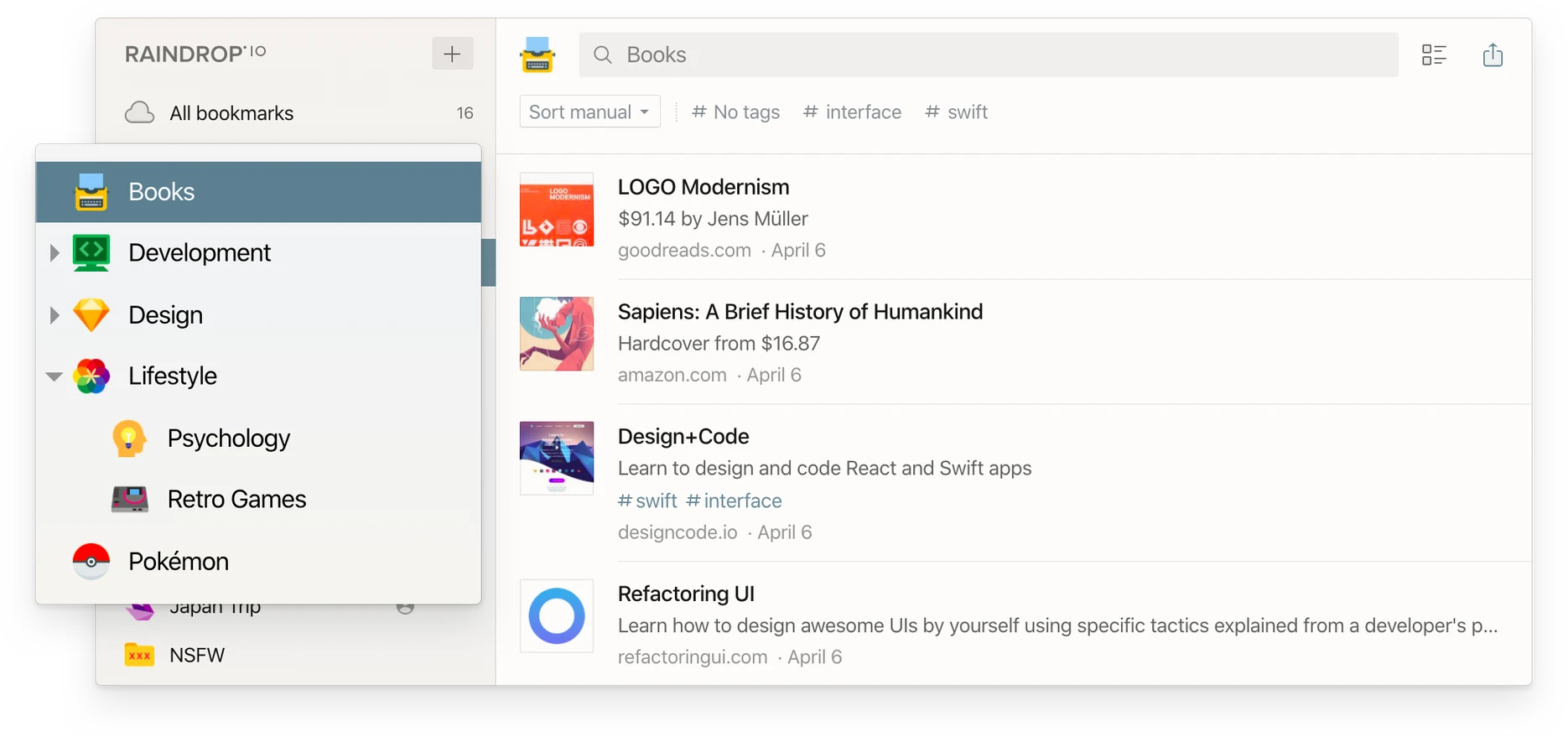 Image from Raindrop

Raindrop.io is an all-in-one tool to help you manage your bookmarks, images, videos and song ideas. The best part of the tool tags, you can tag your bookmarks and search for them using those tags. The facility to assign icons to folders is a great feature you can visually get to your targets with ease. For designers, working with bookmarks, you can find duplicates of inspiration links with thousands of bookmarks in your library.
Key Features of Raindrop:
Team collaboration
Add tags to classify items
Instant preview and Multiple views
Providing thousands of predefined icons
Search efficiently by type, tags, or domain
Identifying duplicates and pages that are no longer accessible
Pricing: Free version with essential features. Pro version: US$29.40/yr.
Platform: Windows, macOS, Android and iOS. Extensions for Chrome, Safari, Firefox, Opera, and Edge.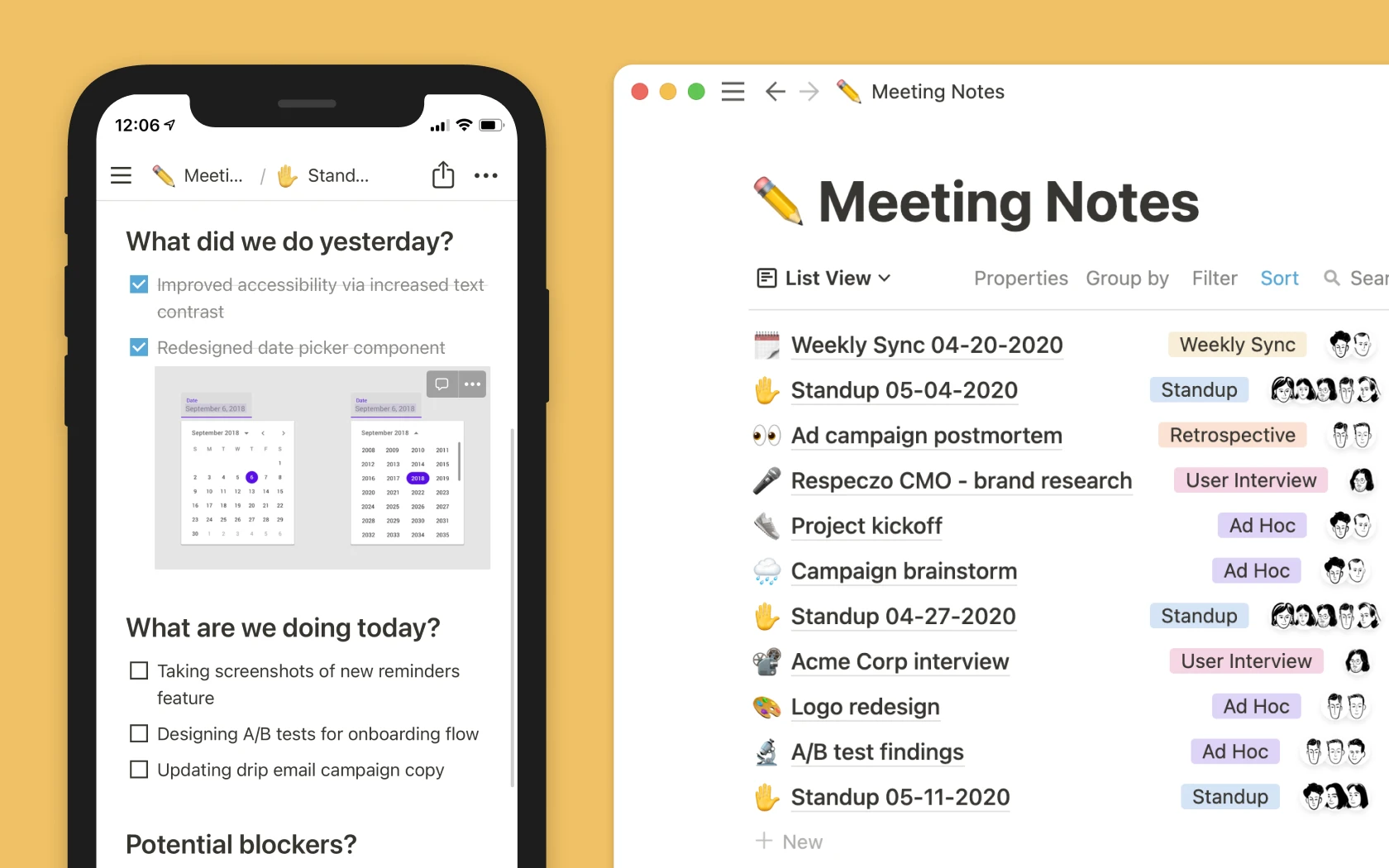 Image from Notion

Notion is an all-in-one workplace where you can write, plan, collaborate and get organized. It allows you to take notes, and manage design projects by building blocks and creating personal layouts & toolkits. In this way, you can easily capture all workflows and any details during your work.
On top of that, Notion offers team functionality for real-time collaboration and provides the ability for teams to share, comment and assign tasks and reminders. If you are looking for a tool to record design workflows instead of managing large types of file formats, then Notion is suitable for you!
Key features of Notion:
Team collaboration
Sync data between devices
A web clipper browser extension
Providing thousands of community-made templates
Crafting the dashboard, website, doc, or system in Drag & Drop Interface
Using Pages, Blocks, Tables, and Databases to categorize your data and workflow
Pricing:
Personal: Free
Personal pro: US$4 /mo (billed annually) or US$5/mo (billed monthly)
Team: US$8 per user /mo (billed annually) or US$10 per user /mo (billed monthly)
Platform: MacOS, Windows, iOS, Android, and Web clipper.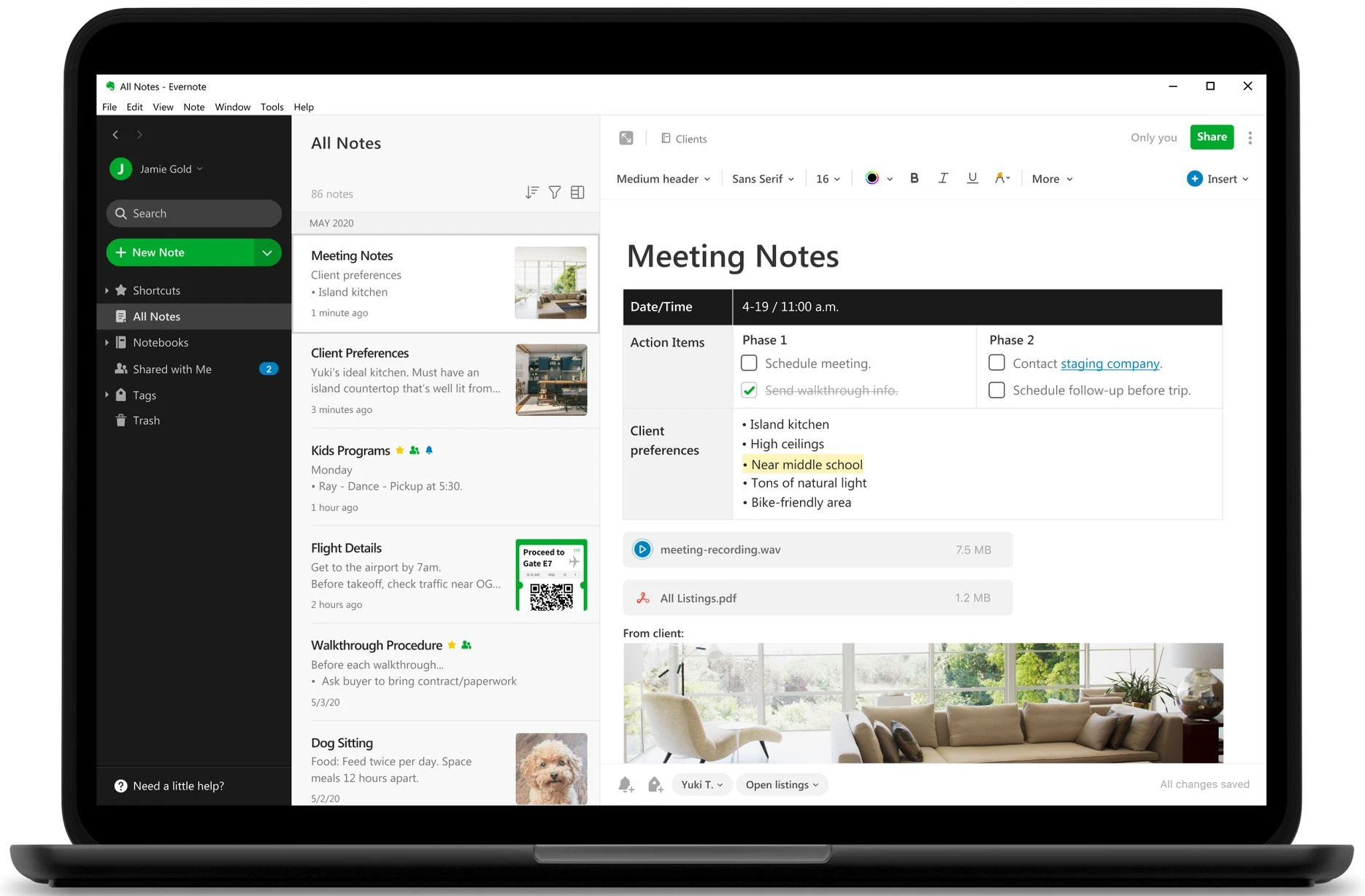 Image from Evernote

Evernote can be used to manage important business documents like images, video, digitized files including business cards, receipts, PDFs, voice memos, website content, email campaigns, etc.
Rather than keeping all of your important bits and pieces in the different cabinets, Evernote allows you to document anything and everything visually, and access it from anywhere. You can quickly centralize everything to create a single access point. There's also an integrated iPhone app for capturing data and images on the go.
Key Features of Evernote:
Offline access
Third-party Integrations
Team collaboration
Web clipper and document scanning
Workflow tracking with tagging and sorting
Note-taking & organization (customizable templates)
Advanced search features, such as search handwriting, PDFs, and documents
Pricing:
Free
Personal: US$7.99/mo
Professional: US$10.99/mo
Teams: US$14.99/mo
Platform: Cloud, SaaS, Web, Mac, Windows, Android, iPhone, and iPad
Image from mymind

If you are bothered with folders, labels, and systems, mymind is for you!
mymind is a new way of saving things to your mind without wasting time organizing and categorizing. With one click, you can save text highlights, images, articles, products or any inspiration to your mind. Just like building an online brain, where you can systematically manage your design ideas!
Key Features of mymind:
Smart bookmarking
A clear reader mode
Optical character recognition
Build a person's knowledge graph
Managing all the notes, bookmarks, inspiration, articles, and images.
Pricing:
Student of Life: US$5.99/ mo
Mastermind: US$11.99/ mo
Platform: iOS, Android (MacOS and Windows are coming soon.)
---
Want to Organize All Inspiration In One Place? Extension of Eagle is the best tool for you!

Video from Eagle
---
【Image Organizer】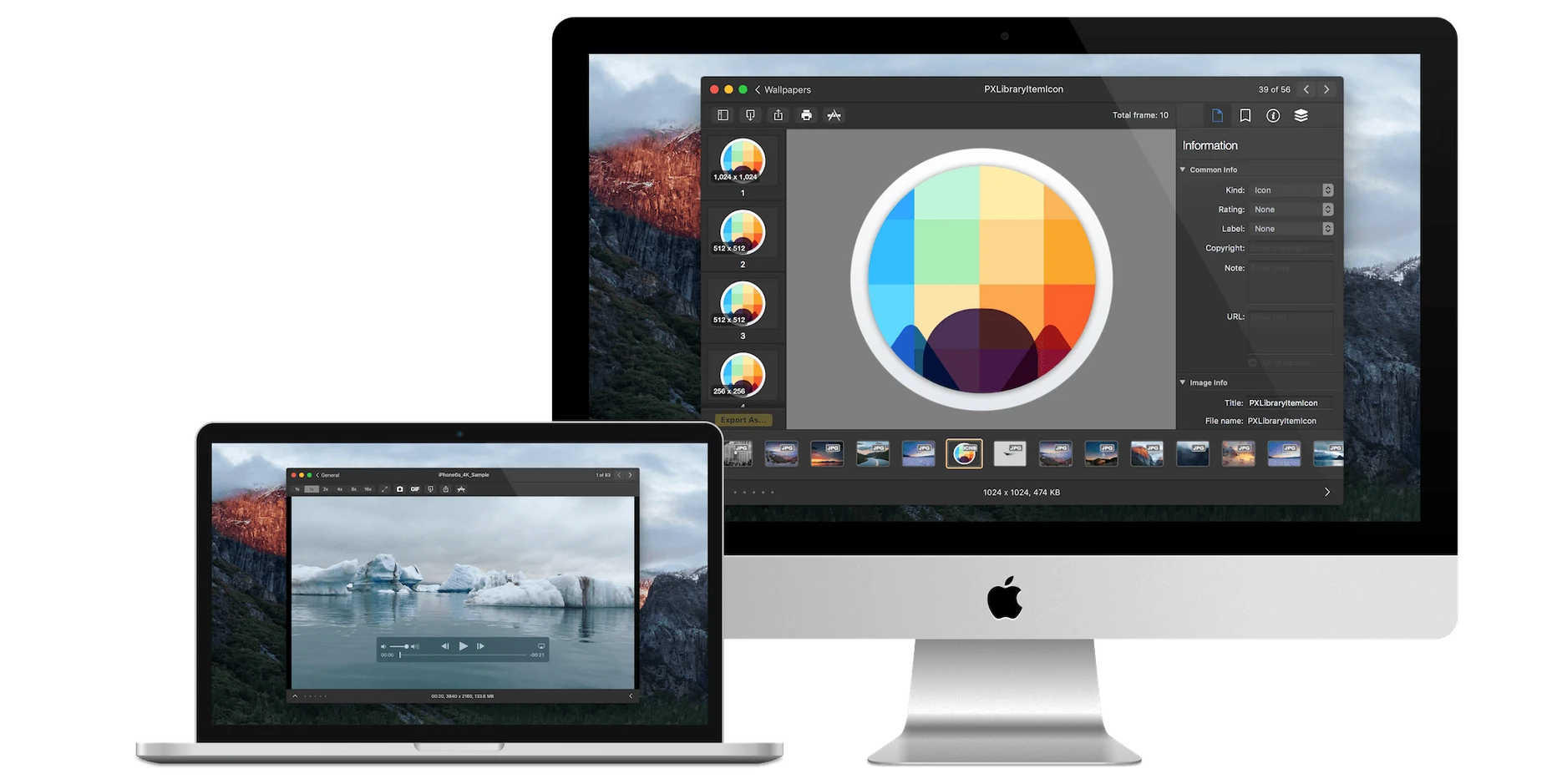 Image from Pixave

Pixave is really a nice photo management app for Mac and iPad devices. It stores all your photos in one clean, concise library with no added fuss. One of Pixave's wonderful features is its Web Capturing ability, it allows you to save a desired webpage as an image. Perfect for those designers who find inspirations online as a screenshot. Just some user says if your libraries are too big you might encounter constant breakdown but if you are on a budget and don't mind some breakdown, this is yours to go! (Rarely updated at the moment, June 2022)
Key Features of Pixave:
Extensions for web capturing
Adding and searching for tags
Setting cue points to split and save as just videos or audio
Specified media, along with tags, can be automatically imported from a designated folder
Over 40% more formats are now supported: GIF, JPEG, PNG, AI, PSD, Font, MP4, and 3D objects
Pricing: Free
Platform: Desktop app for Mac and iPad app. Web browser extension for Chrome.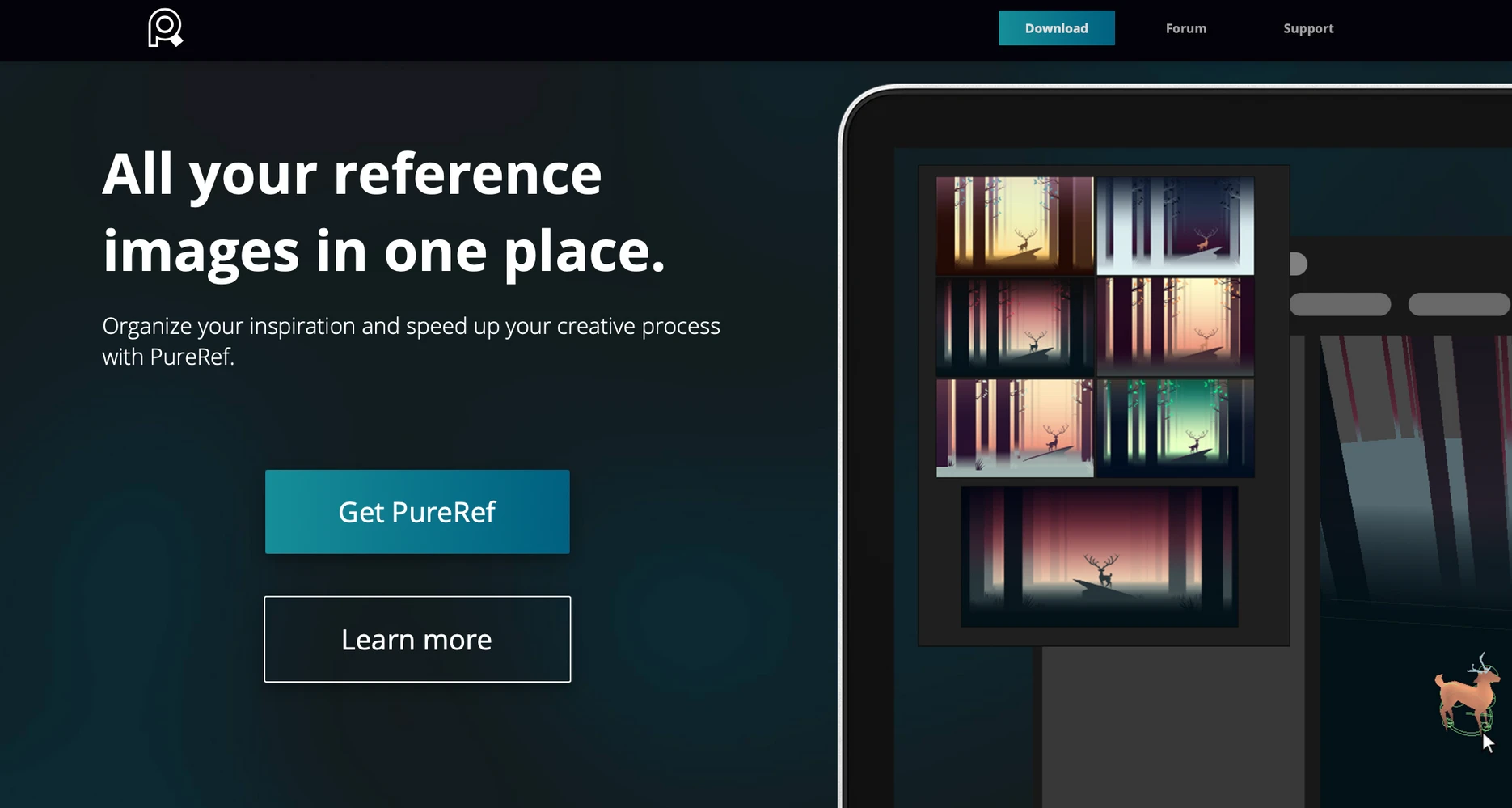 Image from PureRef

PureRef is a straightforward utility desktop software that can help you keep track of your reference images. It isn't limited to images that are stored on your computer, you can add pictures from the internet or the ones that you have copied to the clipboard.
Whether you're gathering inspiration, making mood boards or need reference images for your painting or 3D model, PureRef is there so you can focus more on creating!
Key Features of PureRef:
Add notes
Drag and drop
Control opacity
Auto-reload images
Quick image editing
Embed images for sharing
Pricing: Free (or pay what you want to donate this software)
Platform: MacOS, Windows, Linux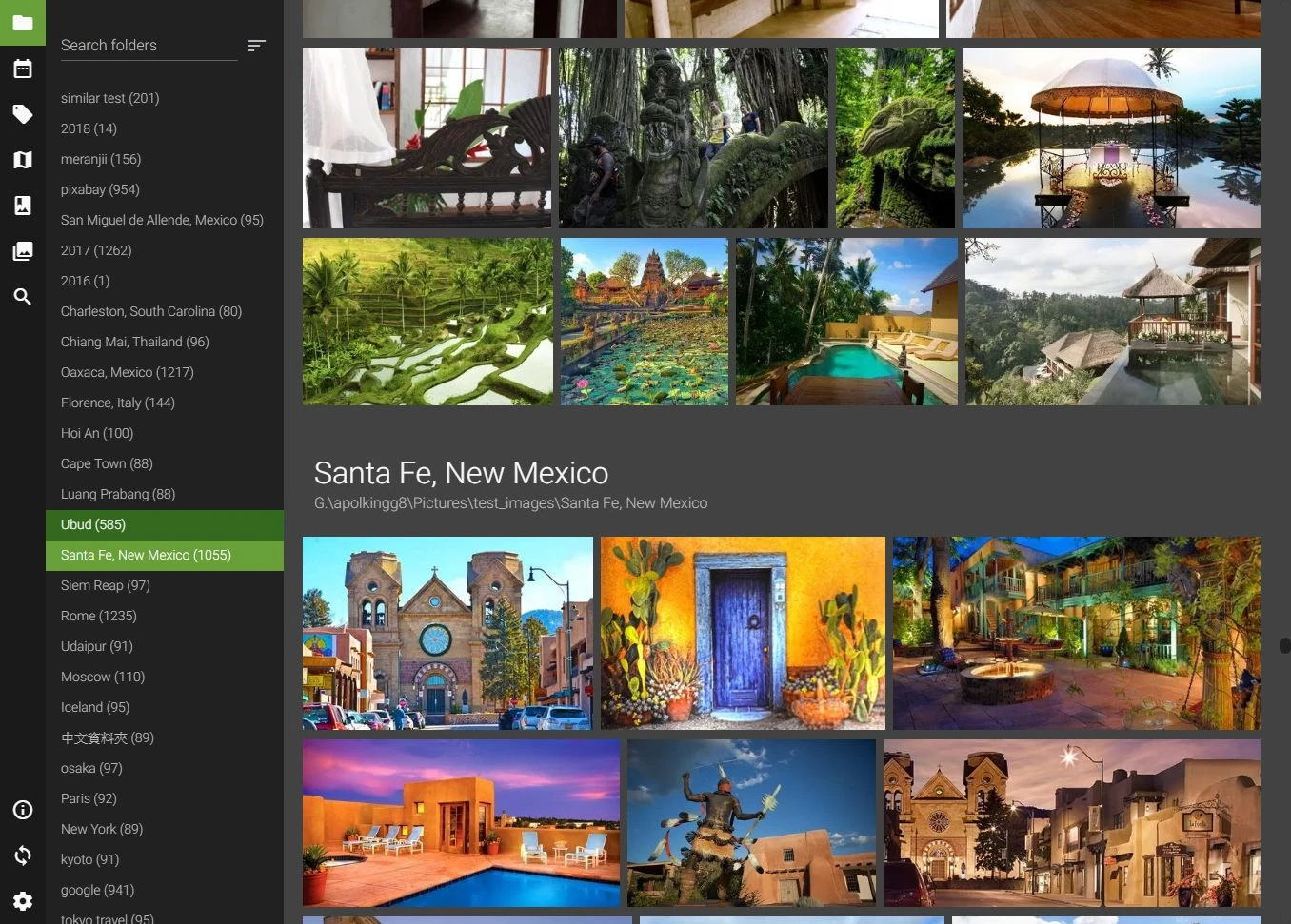 Image from Tiat

Do you need a personal assistant to help you with all your image management?
Tiat provides lots of search methods. In addition to basic names, labels, and comments, you can also search based on advanced data such as colors or EXIF information. You can also search with similar pictures, or by drawing them! This saves time and makes it easier for you to find the exact image you are looking for and focus on doing the work instead of getting lost in messy files. If you possess mostly image files, then check out Tiat!
Key Features of Tiat:
Browsing all files simply scroll up and down
Searching filters (names, labels, comments, colors, or EXIF information)
Adding annotations to the pictures, including tags, annotations, stars, etc.
Smart Collection will automatically update every time you synchronize files
Pictures with GPS information will be automatically read and displayed on the minimap
Pricing: Free
Platform: Windows, macOS, and Linux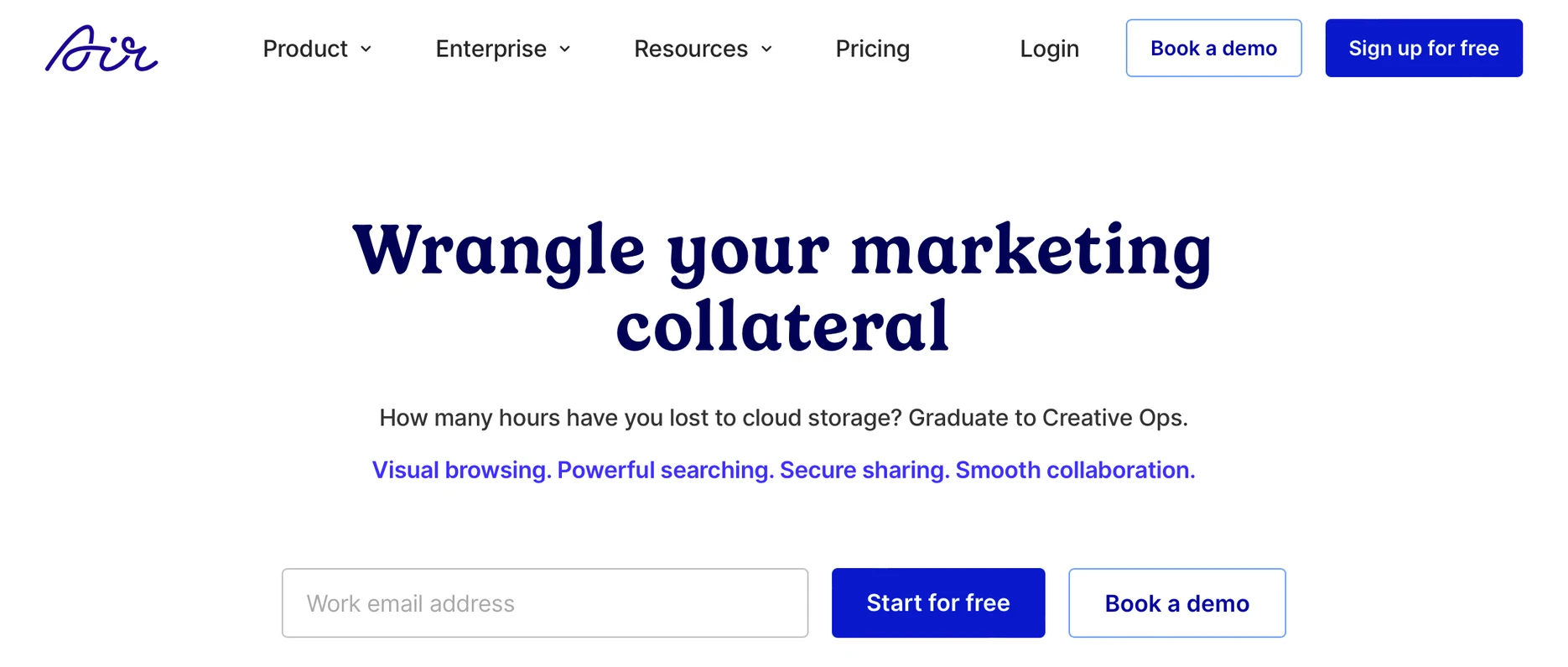 Image from Air

Air is an image management tool, designed with creators in mind, and has many practical features you need to keep your image and design files organized and easy to access.
Smart Search is one of its common functions, which helps you find the design assets you're looking for at the moment. This feature works a lot like a search engine, allowing you to use smart tags and image recognition to find the assets you need quickly and easily, giving creators back time to focus more on their design work.
Key Features of Air:
Auto-tag
Create a version stack
Automatic duplicate detection
Timestamp and point-based comments
Organizing assets for personal workflow
Powerful search filters, including keywords, file types, color, resources, and tags
Pricing:
Free
Plus: US$10 per user/ mo
Pro: US$25 per user/ mo
Platform: Web, iOS, Android, MacOS, Windows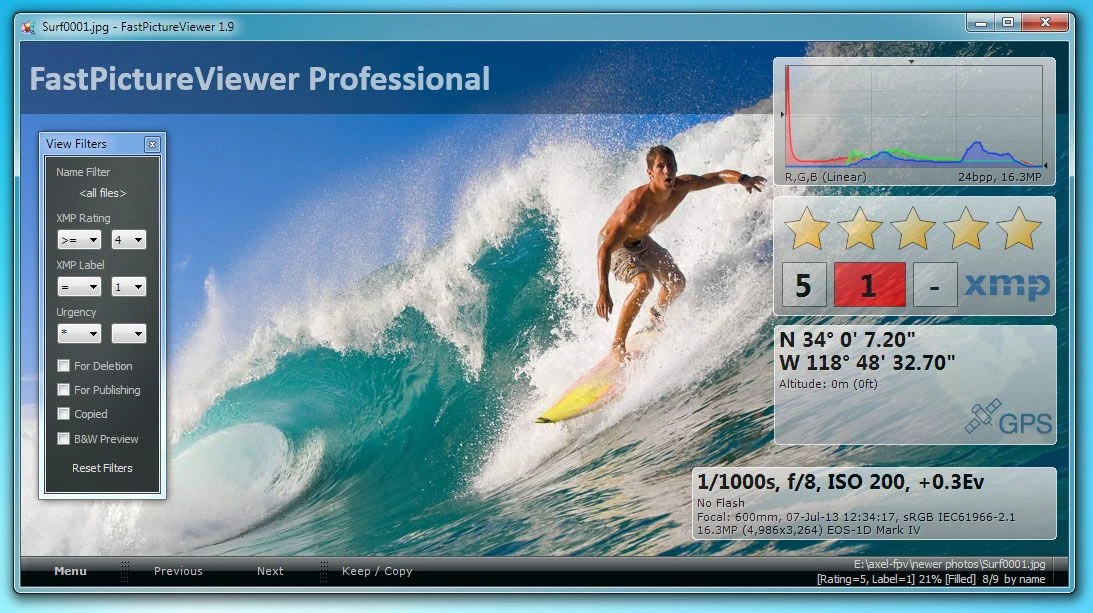 Image from FastPictureViewer

FastPictureViewer is designed for photographers, editors, or anyone needing to quickly review, label and rate large amounts (thousands) of digital photos on a regular basis. Saving your time to organize while doing it. It supports rating and copying images on the fly, as you view them either in windowed mode or full screen.
Key Features of FastPictureViewer:
Sort by folder & file name, tags, or date
Fast previewing, culling and rating pictures
Organizing photos with tags and star ratings
Full support for 4K & 5K monitors and beyond
Pricing: Free with limited format available, US$49.99 for one device
Platform: Windows
Image from Allusion

Allusion is a recently released open-source tool built for designers and creators, with watched folders, image tagging, and advanced search features. Allusion helps you organize your images, collection of references, and inspiration and keep them under your control.
Key Features of Allusion:
Tag Hierarchy
Using Watched Folders to access your library
Filtering digital assets by source folders, tags as well as other metadata
Pricing: Free
Platform: Windows, MacOS and Linux.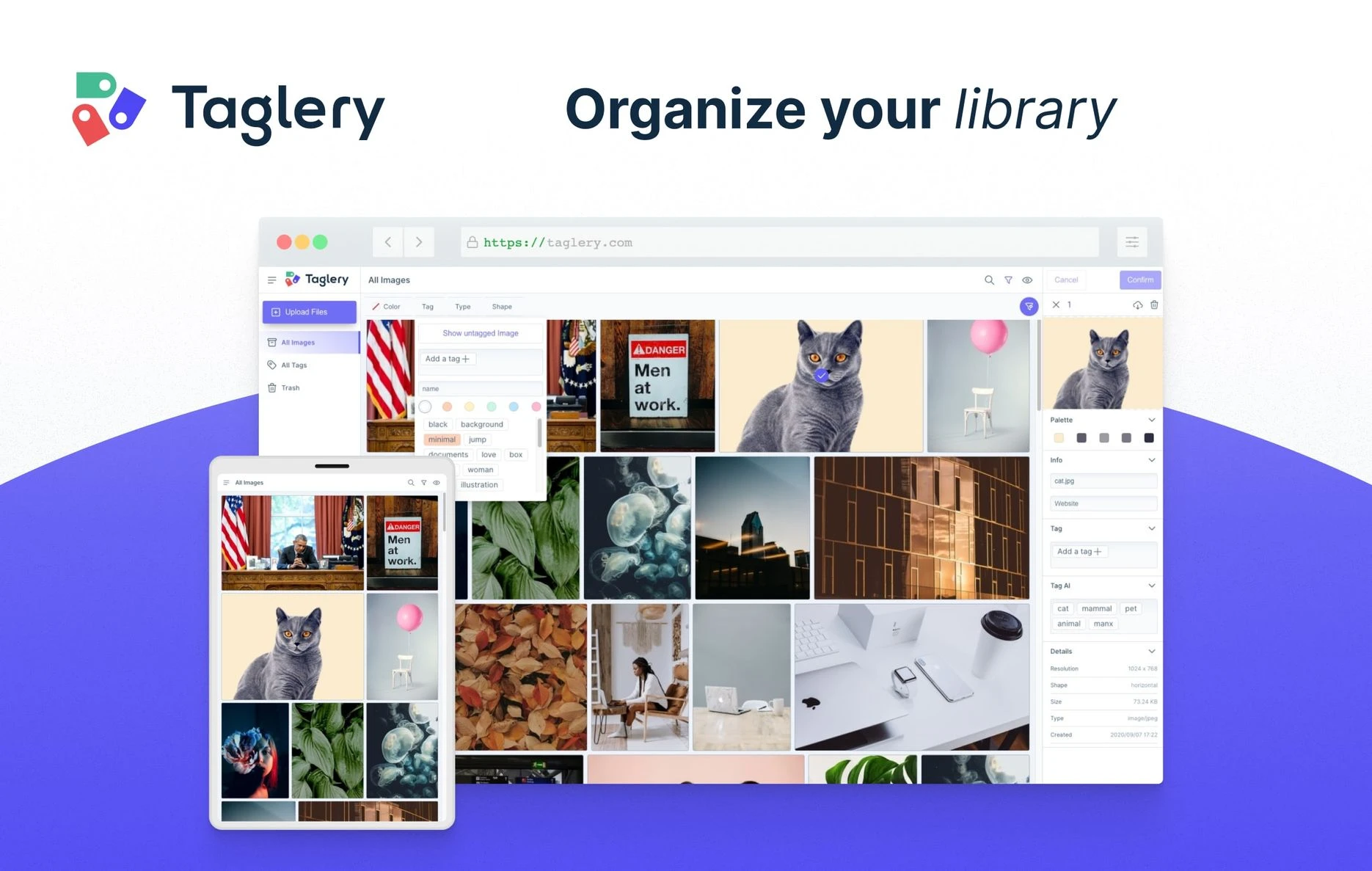 Image from Taglery

If you are keen to store images in the cloud maybe you'd like to try Taglery. It is a complete, simple and intuitive library to collect, classify and find your reference images in a single space where you can catalog different types and formats of content, label your design files to facilitate subsequent searches, view color palettes and many other image information all in one on the cloud!
Key Features of Taglery:
Web-based (SaaS)
Cloud e Machine learning
Supporting the main and vector files, such as JPEG, PNG, SVG
With the AI detection of objects, animals, scenes, famous people&faces, and text in the images
Pricing: US$18 (one-time purchase)
Platform: Mac
More comparison of the image organizer can be found at: 10 Best Photo Management Software to Help You Organize Images
---
Want to view your reference images UX-friendly? Try different display layouts in Eagle!

Video from Eagle
---
【Other Tools for Enhancing Organizing Skills】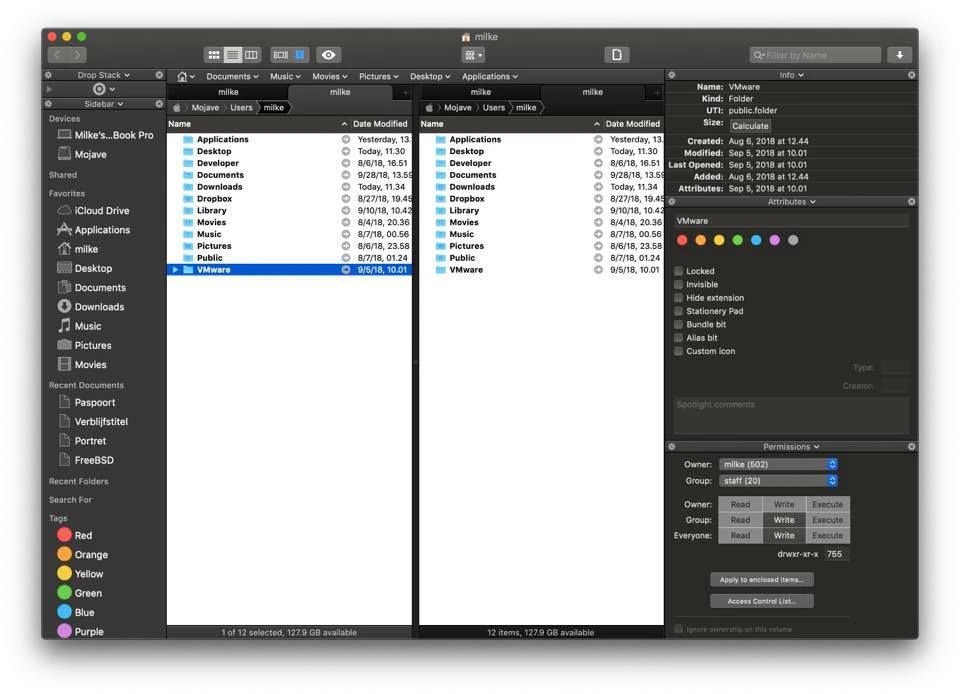 Image from Pathfinder

Do you have time when you just needed to open two finder windows?
With Pathfinder it's much easier to organize all your digital assets, you can also open up tabs in finder, just like in Chrome or Safari, to quickly navigate between different folders without opening multiple windows. Also, or Pathfinder offers a Windows-style address bar in the Finder application you can easily copy-paste the full address of the file/folder and jump directly to it.
Key Features of Pathfinder:
File Tagging
Smart Sorting
Dual-pane Browser
Customizing browser windows with drag-and-drop module system
Working with a variety of archive types including zip, gzip, dmg, sit, etc
Browsing files and performing file operations on USB connected iOS devices
Pricing: Free 30-day trial, then USD$ 36 for one-time purchase
Platform: Desktop macOS and Experimental Mobile app version on Android
2. Synchronize! Pro X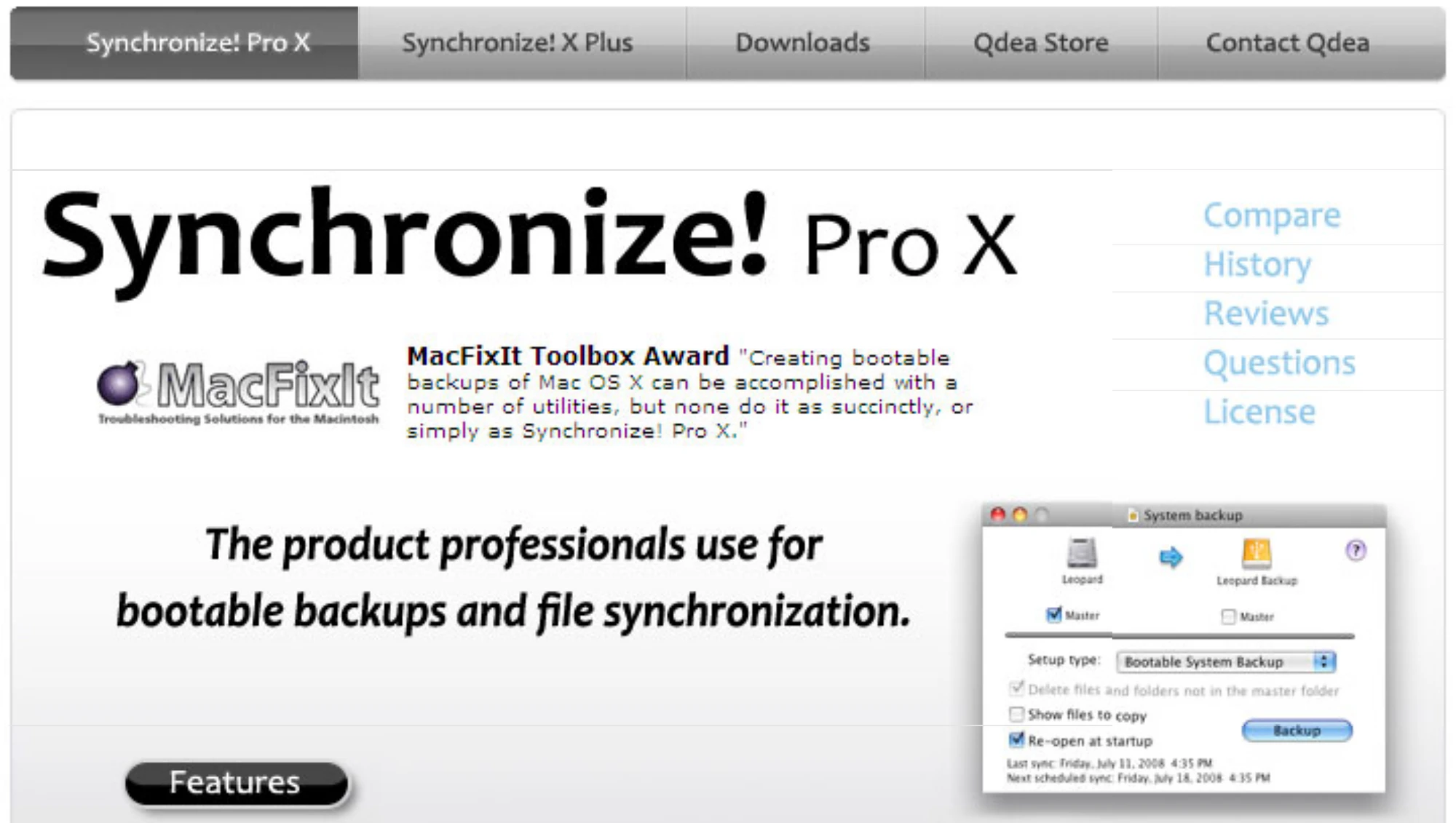 Image from Synchronize! Pro X

When you are organizing your files, sometimes you just want to synchronize them across your mac devices. Synchronize! Pro X is a professional-strength file synchronization and backup utility for Mac OS X. It allows you to copy your system so that you can start up any Macintosh from the backup, or move your current OS X system from one computer to another - even to a different model Macintosh. It also keeps old files in an archive, so that you can go back to them if you need to or protect against accidental deletion.
Key Features of Synchronize! Pro X:
Archive old files
Bootable Backup
Working on XServe
Hierarchical display of files
With Fast Scan, incremental backups or syncs are 10X faster.
Pricing: Free
Platform: Desktop MacOS
---
FAQs
1. What is an Organizational Tool?
Organizational tools are things that help you organize your space, time and tasks to make your work more productive. There are several different types of tools you could encounter, including digital asset management software, note-taking programs, journals, and day planners.
---
2. Why Do Designers Need an Organizational Tool?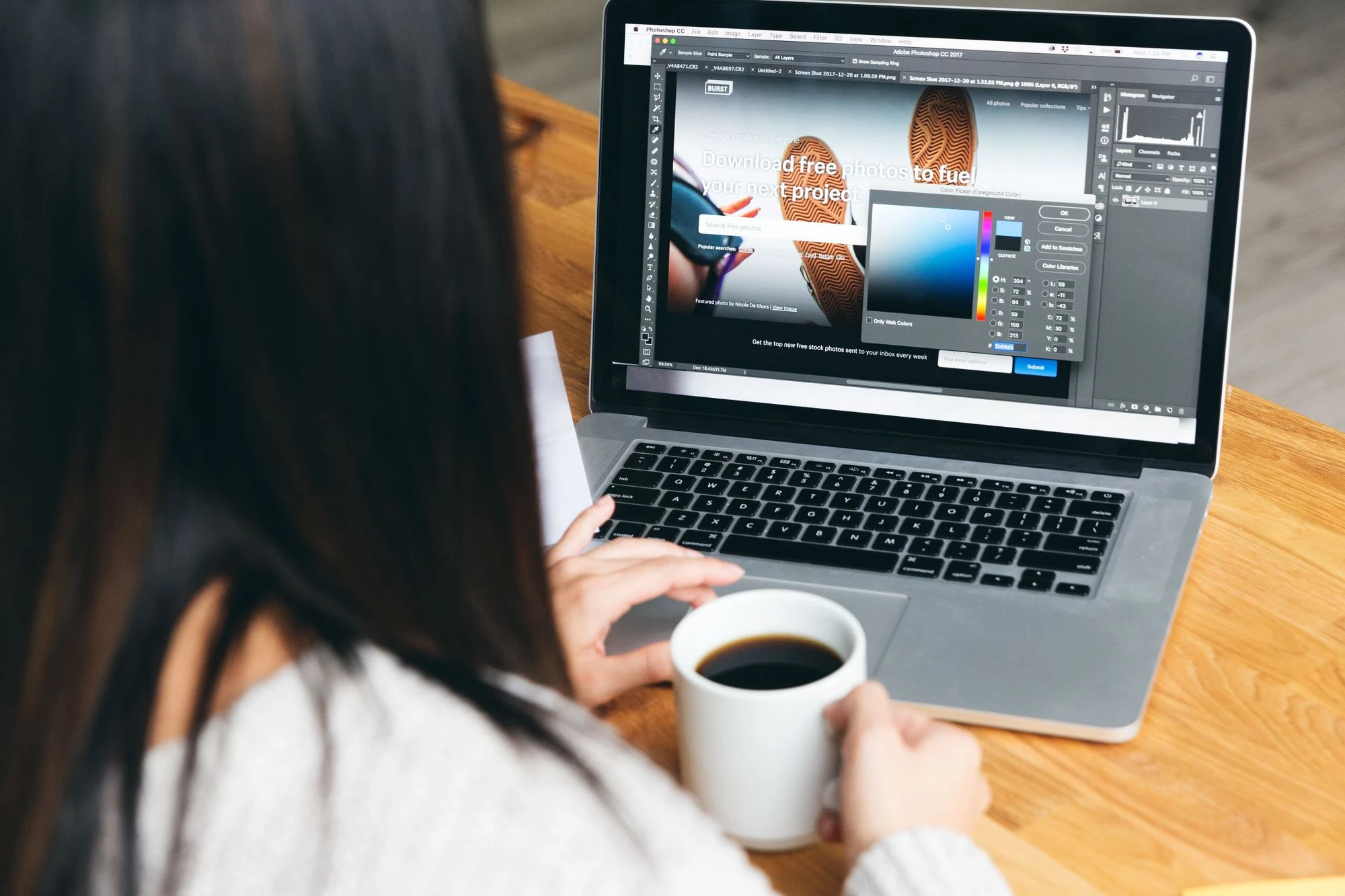 Image from Burst
Increasing Design Productivity:

By staying organized, you'll be able to save time when looking for different images, inspiration, or design projects, and be able to focus more on what you have to do. Additionally, you'll become more efficient when allocating different resources, as they will all be neatly classified in the organizational tools you choose. It also goes without saying that this will greatly improve your and your team's productivity, and help you get more done.

Everything in One Place

Having a powerful organizational tool can help you keep all the design assets organized in a single place, without having to waste time switching between various tools. This goes hand in hand with productivity, and will definitely save you a lot of time and nerves in the future.

Easier Progress Tracking

With a clear overview of your design projects, activities and resources, you'll be able to make important decisions with more ease and allocate your resources better. Besides, your team members will know at all times what they're working on, where they're at with their tasks, and where their priorities lie.

Better Team Communication

Collaboration becomes much smoother with online organizational tools. Many of them have combined the function of chat and commenting that you can use to communicate with the rest of the team in real-time. Plus, with the ability to assign tasks, your team members will know better which tasks belong to them.

Reduced Stress Levels

At the end of the day, however, it all comes down to being more efficient and stress-free. If you opt for the right organizational tools, which will be able to reduce your own and your team's stress levels, everyone will have their media files, inspiration, and resources managed in one place and done more efficiently.
---
3. Why Should You Pick Eagle to Organize Your Design Assets?
Video from Eagle
As a designer, do you often spend a lot of time finding a specific design file among thousands?
Here's a powerful desktop digital asset management tool—Eagle, which combines 4 major designers' daily workflow, including Collection, Organization, Search, and Browse. It has developed a series of robust and intuitive functions that can help you keep all your inspiration and design works organized. With Eagle, managing design files will no longer be difficult!
The following are the reasons I like to use Eagle as my organizational software:
Easy-to-use interface
Powerful Search Filters
90+ file formats supported
Files with customized icons
Using tags, ratings, and notes to organize design assets
Managing images, raw, fonts, icons, 3D, videos, and audio in one place
Browser Extensions make it easy to capture all inspirations everywhere
What's more, it only takes you US$29.95 with free updates for life!
Learn more with Eagle App! Why Eagle? The story behind the Best Design Asset Management Tools
---
Conclusion
All of the above-mentioned tools may help you organize and manage your design assets and image libraries, but they can't do it all for you. You still have to, at the very least, save and organize design resources yourself. If you still don't know where to start, just ask yourself :
What kind of device do you work on the most?
What is your budget?
What format and source tool do you usually work with?
I believe with these questions you already have a clear answer to your mind! Try out the software mentioned above to see if the app suits you, eventually, you will know what you need!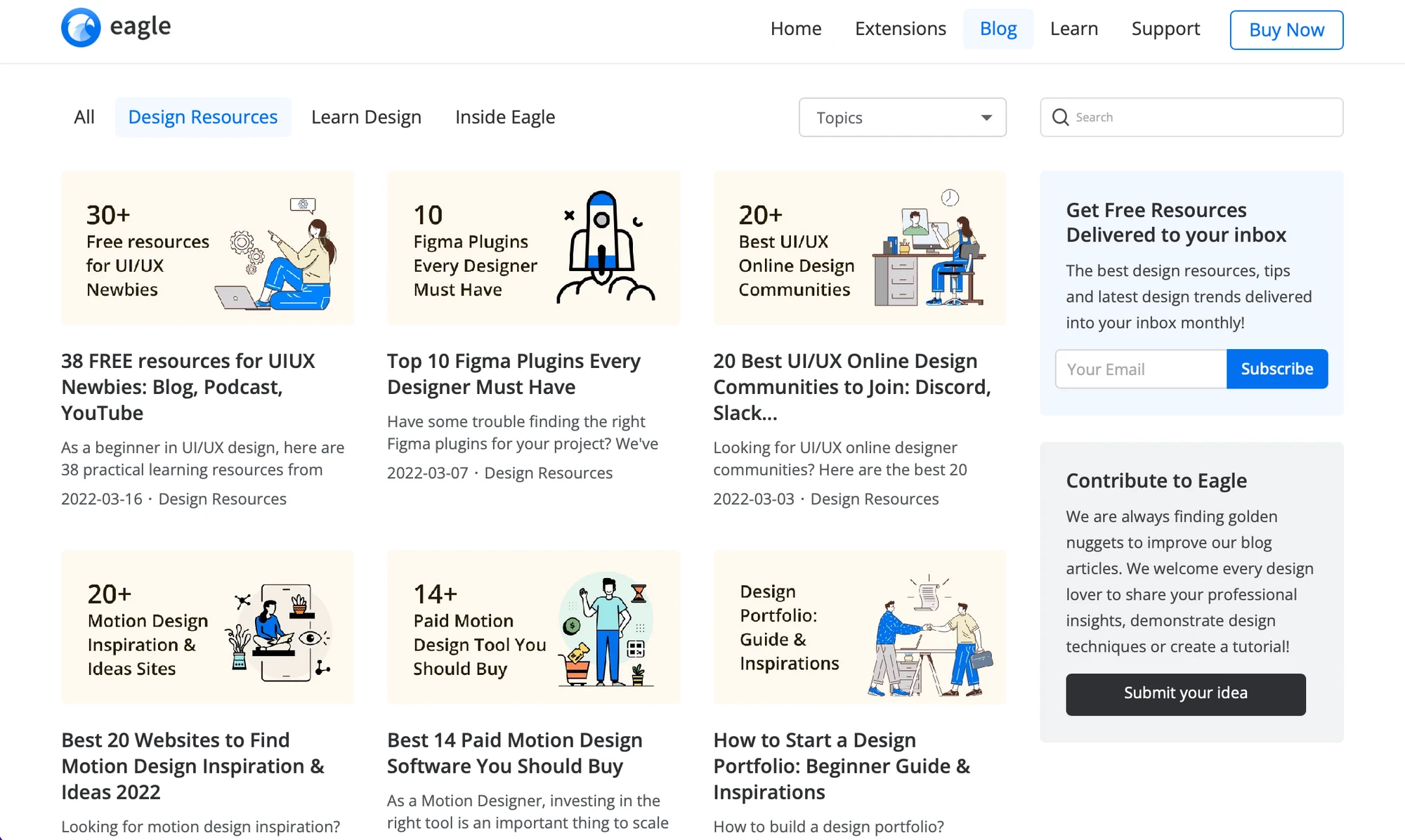 Image from Eagle Blog

Lastly, if you are eager to learn more design information and resources, visit and bookmark Eagle blog to become a better creative professional!