How to Organize Concept Art Reference & Assets Eagle App Review
My profession is Concept Artist. For me Eagle turned out to be an amazing tool that has made my work so much more efficient, enjoyable and structured. In this article, I want to share with you what tasks I use Eagle for, as well as my frameworks and life hacks which help me a lot. Along the way, I will illustrate the difference in my approach to a specific problem "before Eagle" and "after Eagle". Hope the article is helpful!
👉🏻 Eagle App: en.eagle.cool
Image Manager for Concept Artist
To create interesting characters, I, like most artists, get inspired by the works of professionals and masters, and also draw ideas from photo references (poses, characters, clothing and armor design, character proportions, etc.), including the Alchemy Stars character design reference. But before I got acquainted with Eagle, I couldn't make a convenient and thoughtful library out of all these references.
Before Eagle
Images saved from Pinterest and Artstation used to be scattered around in folders in various places on my PC.
I couldn't use the saved images properly, because I almost never could find anything. The very thought of looking for something in that mess led to the fact that I just ended up with searching for new references on Pinterest or Google again, because in the end it just seemed to be faster.
I often forgot that I already had a particular image in my library, thus saving it again and creating unnecessary copies.
Sometimes, when I could not decide on one category, I had to duplicate files on purpose when I tried to sort images into different thematic folders.
I used to have a "Sort later" folder, but in the end it would be just clogged with tons of unsorted images, which I always put off sorting, because I knew that it would be long and hard. As a result, the images accumulated in a general dump and did not bring me any benefit. They only took up space on my PC.
Using other apps, I tried several times to create some convenient structure with folders, but I just couldn't find the right software for this. Each time I quickly stopped using it, because in the end it was either too difficult to find the right image there, or it was too troublesome to keep my library neat and sorted.
After Eagle
Working with references literally turned into "before" and "after". The folder system and smart folders in Eagle, as well as its speed and friendly and intuitive interface, allow me to keep all my images in a convenient, tidy, and space-saving structure. In addition, Eagle is so pleasant to use that I just want to use it, so my library never gets abandoned.
There is no longer the problem of physically duplicating an image if you need to put it into more than one category. When placing an image in several folders, the file itself remains in a single instance, but is displayed in multiple places at once. This can be done either through the "Add Category" button, or simply by dragging the image to the needed folders while holding Alt. You can also do this through the context menu of the image ("Add to Folders… — Choose Folders…"). As a result you save your disk space, as well as your time and energy, as there is no more pain of deciding which folder would suit your image better (to avoid duplicating).
Thanks to the "Notes…" field, I stopped forgetting what exactly I liked about any particular image added to the library long ago. Now I often make notes to point out what I find interesting about this or that image. Sometimes, for greater clarity, I also use Eagle's feature to comment on a specific area of an image. It can be a peculiar clasp design or a curious artistic solution in some area of the image, etc. No more questions like: "Why on Earth I have decided to save this image??".
Image from Tony Atlas, Commenting on a specific area of an image
I've created a "TEMP" folder that displays files from different sections of my library and which I'll need in the near future for work or study. There are also files in this folder which I may need only now, and which will deleted from my library later.
Eagle helped me implement one idea of mine that makes my concept work even more efficient and enjoyable. I called it Character Builder. Let me tell you more about it.
Concept Art Character Builder Tool
One of the most important and useful things in Eagle for me was the creation of the "Character Builder" section. It helps me, using references, design a character step by step, starting with the most basic characteristics and finishing with the final details and nuances.
Perhaps my invention will be useful to other concept artists, so I will describe my system in more detail.
So my Character Builder consists of such categories:
Setting (fantasy, sci-fi, medieval, etc.)
Race (elf, orc, human, goblin, etc.)
Archetype, profession (pirate, warrior, princess, etc.)
Physique (beefy, skinny, normal, etc.)
Posture, stance (combat, idle, jumping, etc.)
Clothes, outfit (larger shapes)
Detailing, adornment (smaller shapes)
Color schemes (working color combinations)
Materials (metal, plastic, stone, wood)
So as you can see, each category (folder) has its own subcategories (subfolders) (i.e., for example, "Race" consists of subfolders "elf", "orc", "human", etc.)
Moreover, I tag all the images within these categories either "man" or "woman", which makes it very convenient to immediately sort the images according to the would-be character's gender, and only then examine the references.
Image from Tony Atlas, Sorting images according to gender tag
Each of the categories (folders) helps me solve one of the specific tasks in drawing a character and lets me do everything systematically and in order.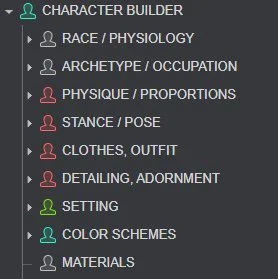 Image from Tony Atlas
After deciding on the setting, gender, race and archetype, I choose the right physique for my character, put him/her in the right pose, design a costume and attributes for the needed archetype/profession, and then color the drawing in one of the picked color schemes. In the end I render materials present in the character's costume, referring to the folder with various materials.
Thus, Character Builder became an essential part of my Eagle library, so now, when I want to add some new image to the library, I ask myself : "Which category of the Character Builder will this image fit in? Do I need to leave a note for this image, or is everything clear?" This way, I now always keep my library clean and organized, and there's no longer any "Sort later" stuff.
Workspace Project Management
In addition to working directly with references, I also effectively use Eagle as a repository for all my project documents. Taking orders from clients, I have to manage all sorts of files:
My PSD files and their backups;
References from clients with examples of style and specific preferences;
PDF documents (contracts, technical tasks and other necessary data);
Temporary images from the Internet which I've picked for specific tasks.
All these files are generated with every new project. And it is especially crucial to keep them in order when taking several orders at the same time.
Before Eagle
Everything was scattered in separate folders on my desktop or somewhere on my PC and I constantly failed to find the needed document at once.
It was also inconvenient to navigate through my numerous PSDs or PDFs because there was no thumbnail view for these files.
All this slowed down my workflow greatly and interfered with quick and easy file interaction.
After Eagle
Now each project has its own folder with a clear structure.
PSD and PDF documents have thumbnail view, which makes the needed files easily spotted and allows me to quickly navigate through the project files in general.
With the "Pin to Top" function, I always pin the PSD file in which I am currently drawing to have an instant access to it in the project folder. It is very convenient, especially when there are a lot of PSDs and other documents in the same folder.
I use a project related "TEMP" folder to temporarily keep some references that are stored in other sections of my library, without actually moving them or duplicating them.
Social Media Posting Platform
Another task that I could not solve until I got Eagle was a convenient system for publishing my art in social networks and forums for artists.
Most often I post one and the same artwork on several social media, but sometimes I can skip some media, or post one work on all the media but not at the same time.
Before Eagle
Again, there was a messy folder structure with heaps of my drawings.
I kept forgetting which artwork I have already posted on a given social network, and which I have not. I had to open numerous websites to check it.
Often I wanted to prepare a comment and tags for a drawing beforehand, but there was no convenient way to do this.
I was lacking a simple and convenient pipeline, through which I could consistently publish my works.
After Eagle
I created a simple and clear publishing system via Eagle:
Using the "Set Auto-Tag" feature, I made all my drawings added to my drawings folder automatically acquire tags that represent all social media where I post my artworks.
Then I decide whether I'm going to publish my work in all social media or skip some. If I decide to skip, I will remove the corresponding tags from my work.
For greater clarity and convenience, I created a system of Smart Folders, each named as one of the social media I publish on. And if an image has one of the social media tags, it will be automatically filtered into a corresponding Smart Folder.
Now, when I want to post anything to a specific social network, e.g. Artstation, I go to the "Artstation" Smart Folder and decide which of my drawings I'm going to post. The drawings are already waiting for me there, automatically sorted, because all of them have been tagged "Artstation".
Image from Tony Atlas, Viewing social media Smart Folders
Having posted the image on the social network, I remove the corresponding tag from that image. As a result, it immediately disappears from the Smart Folder representing that social network. No more trying to remember where I have posted my work and where I have not.
It is also very handy to pre-write all the text necessary for publication, including tags, in the "Notes" field of the image. Now this can be conveniently done beforehand and not at the moment of publication.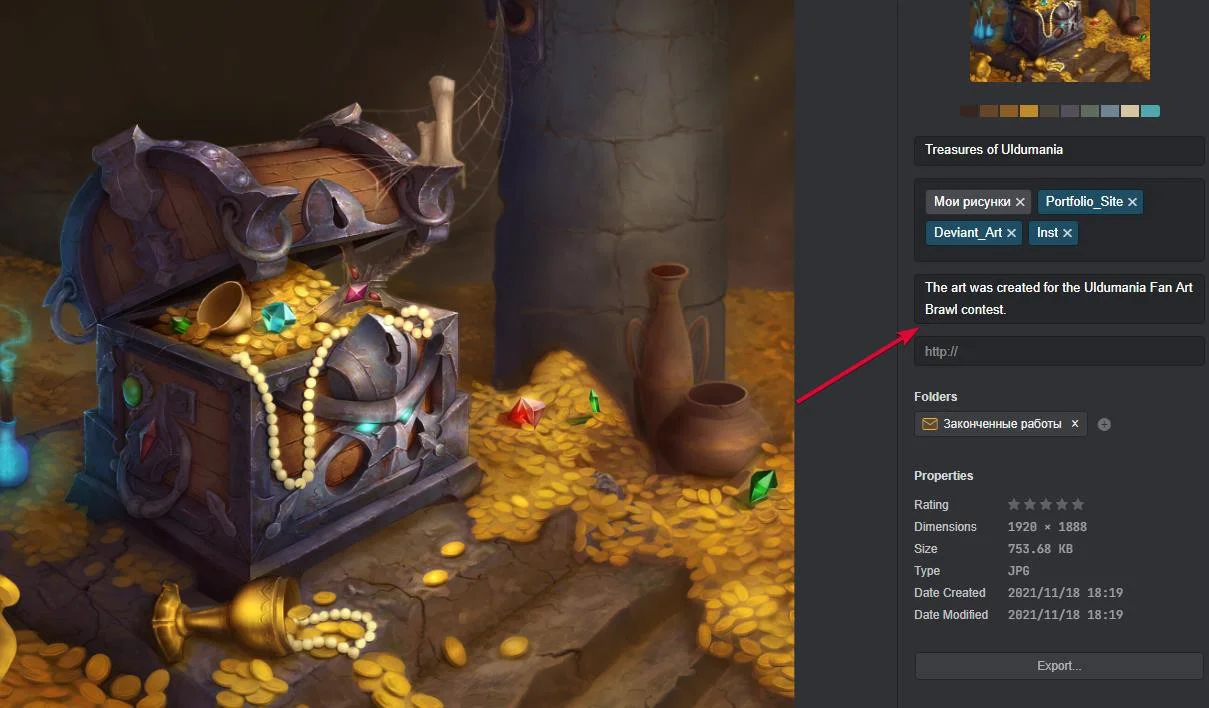 Image from Tony Atlas, Using "Notes" field to pre-write the publication text
This system allows me to quickly see what and where I have to publish, without getting confused with what and where I have already published. And no work is skipped anymore.
My Art Storyboard
I sometimes want to open all my drawings and look at them in chronological order to evaluate my overall progress, and also to see what my art looks like in a certain period of time.
Before Eagle
Because all my drawings consist of full-fledged works, sketches, drawing stages and alternative variants, they all had to lie in different folders, which made it impossible for me to see all my works as a whole.
I tried to implement my storyboard idea in Google photos, but this turned out to be not very convenient because:
The drawings were constantly mixed with my personal photographs. And although I tried to separate them, somehow they still managed to appear somewhere where I didn't need them, resulting in a mess and confusion.
Keeping my works in the cloud and the need to use a browser in most times was inconvenient to me due to the loading time and the necessity to go the website. In addition, I prefer to store my works locally on my PC.
After Eagle
I created a Smart Folder that automatically collects all my drawings from all relevant folders in chronological order. Eagle has a very flexible filter system that makes it easy to create such a folder.
My Favorite Artists Gallery
I like to save the works of my favorite artists to have them in my library, for future inspiration or study.
Before Eagle
All saved images just ended up somewhere in the folders of my PC. Plus, inevitably there were some duplicates from time to time.
Sometimes I also wanted to sort some of my favorite artists works into folders within the Character Builder system, to serve as references. And again there was a problem of image duplicates.
After Eagle
All artists works are now neatly stored in the corresponding folders in a separate section, and some of them are also added to the needed categories of the Character Builder.
Folders of favorite artists have their own pretty covers, which adds a sense of aesthetics and even helps to navigate among these artists more quickly.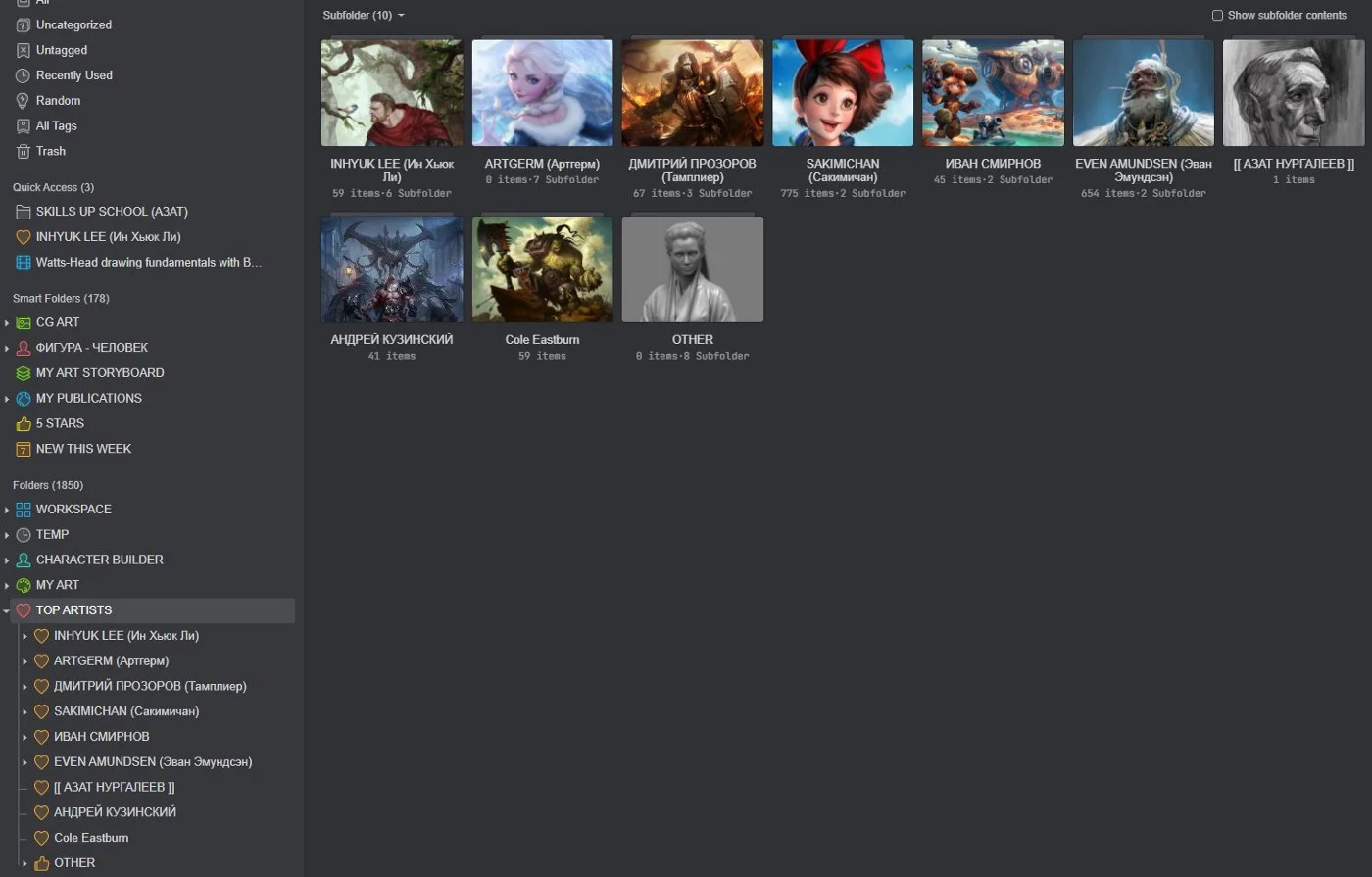 Image from Tony Atlas, Favorite artists galleries with their unique covers
Image from Tony Atlas, Favorite artists galleries with their unique covers
I also started collecting PDF art books made by my favorite artists or related to my favorite universes, and I prefer to keep them all in Eagle, as I really like its built-in PDF viewer.
Tutorial Videos Library
I've always wanted to have an order among all my tutorial videos to have quick access to them.
Before Eagle
The videos were scattered randomly in different folders as I didn't know how best to organize them: by topic or by author.
My YouTube video library was a mess too. I tried to organize it using playlists but in the end it didn't work and seemed inconvenient. The playlists were confused and cluttered.
As a result, some tutorials were in an incomprehensible structure on YouTube, while others were in a chaotic order in folders. I could not come to a common global structure.
After Eagle
I created a section in Eagle where I keep all my video materials, separating them somewhere by author, somewhere by section, based on where and how it is more logical to separate them. Previously, this was not possible, since it often happened that one video wanted to be attributed both to a specific topic and to a specific author at the same time. Eagle gave me that opportunity.
Now videos can be easily divided according to different criteria and it doesn't matter if it's on YouTube or on my PC. Eagle has a great web clipper that makes it easy to add a YouTube video link to my library and watch the video directly from within Eagle.
I do enjoy watching YouTube videos directly in Eagle. Everything works much faster than in a browser. And organizing videos is much more convenient here than in regular folders or playlists, because all Eagle features are also available for YouTube links (Folders, Tags, Smart Folders, etc.).
A nice bonus was that when I sorted out my videos, it turned out that I had many duplicates on my PC which I didn't know about. Eagle automatically reports about adding duplicates to the database. This allowed me to free up some extra space on my PC.
Integrate Eagle App with Other Softwares
Another wonderful addition for me was the ability to integrate Eagle with other programs, namely Obsidian and Zotero.
Obsidian — note-taking app
I use Obsidian, a note-taking app, to write summaries for the video tutorials I watch in Eagle. Summaries help me structure my thoughts and briefly convey the main points of the video. This turns out especially useful when I need to quickly recall the contents of a particular video without losing time on re-watching the entire video.
I have a whole lot of such summaries, which I sort in Obsidian according to their topic and relation to a particular course. And for each summary, I assign a link to the source video. This is where Eagle's ability to generate internal links to a folder or a specific file within its base turned out to be very handy.
Also I use Eagle's links to a particular image or to one of my favorite artists gallery to place them in my summaries for an instantaneous access to the library.
Image from Tony Atlas, Link from Eagle to Obsidian app
The advantage of using such links is also that if I move my Eagle library to a different directory, or to another PC, or even to a cloud storage, the links will still work and open through my notes in Obsidian. Doing the same with regular folders on my PC would break all the links and I would have to replace them.
Zotero app
Developing as an artist, I study various peoples, their cultures, histories, weapons and costumes. This also means collecting various sorts of educational and visual data, such as articles, books, documents, web-links, etc. I prefer to keep all the visual data in Eagle, but I also want to have all the data related to a specific culture, both educational and visual, in one place. For this I use Zotero — an easy-to-use research tool for gathering and organizing bibliographic data and research materials.
For example, I created a Japanese culture section in Zotero and I want it to contain everything that illustrates or describes Japanese clothes, weapons and armor, including web articles, encyclopedias and art books. But at the same time I want to keep all my art-related PDFs in Eagle. And since encyclopedias and art books are usually in PDF format, I store them in Eagle.
If there was no internal links function in Eagle, I would have to split my data. But with the help of the links, I made it so that PDFs that I store in Eagle are also shown and accessed through Zotero, without creating unnecessary copies. Thus I have all my data shown in Zotero.
Image from Tony Atlas, Link from Eagle to Zotero app
Eagle App's Cloud storage / External device
In future, I plan to transfer my database to an external drive so that the data is always securely stored and at the same time accessible from different computers. And for those who prefer cloud storage, Eagle makes it easy to do as well.
Conclusion
As you can see, with Eagle, I've created an entire ecosystem that can be transferred to anywhere, or stored in the cloud, while remaining incredibly flexible, convenient, and functional. I now have Eagle in auto-run and use it constantly during my day, as it has become an integral part of my work.
While using it, every now and then I caught myself thinking that the developers approached Eagle's design very diligently and thought it through to the smallest detail:
Convenience. Nowhere have I seen such a convenient way to add tags or organize files into folders. Everything is intuitively clear and logical, and most importantly — very fast! There's even a separate folder search line — oh, how I missed it! I've tried using XnView MP, Adobe Bridge and Lightroom before, and there, in my opinion, the level of implementation of tagging and file sorting was not even close to Eagle.
Modern and pleasant interface. Eagle is a very nice program to use. I literally want to come back to it and use it. It has some aesthetics and simplicity about it. From the first seconds of using Eagle, it becomes clear that this is a solid and high-quality product. In comparison, XnView MP looks very old, with outdated interface and awkward buttons, which constantly made my eyes tired and sore.
I have been looking for a software like Eagle for many years and I still don't know any app that is equal to it. It's so pleasant to use and has all the features I've been dreaming of (and more!). My workflow has taken on a new level of speed and organization. I no longer spend time trying to find the right image or deciding which folder to put the saved image in. I just concentrate on my work.
I have always longed to find a single home for all of my images, files and videos. Find a place where I would feel comfortable working with all of it. Now I can confidently say Eagle has become such a home.
Also, this wonderful program helped me organize my other files and personal photos. But that's a different story :)
The article is originally written by Tony Atlas- Eagle — the Best Workspace for an Artist, you can follow him on Twitter, Instagram or ArtStation.