Unleash Your Creativity with 47 Free and Royalty-Free Image Websites
For designers, bloggers, or marketers, we often have to visualize the content with different images because the elements are important to engage customers. Finding free images for social media or commercial use that are high quality, high resolution, and cleared for use can be a challenge.
In this post, we'll share 40+ websites where you can download and use the images without concern. Though they're mostly licensed CC0, there are still some restrictions on each. Remember to check out when downloading. Enjoy!
---
Eagle App - Easily Organize & Browse your Stock Image Assets
Video from Carlos Dordelly (How Eagle app is improving my workflows)
Don't rush! Take a look at Eagle App before you dive in looking for more free stock images! Eagle App is a tool for anyone who works with any kind of digital materials, it lets you create a media and inspiration library, then organize and browse it easily using filters, categories, and even with colors!
It supports over 90+ formats including PSD files, audio, 3d objects, videos, fonts, and more! Eagle has many great UI especially helpful for creative professionals and content creatives to store and grab assets and bring them into Photoshop or GIMP with a quick drag and drop. It also serves designers as a bank for inspiration in and out of stock images.
---
47 websites to collect free images!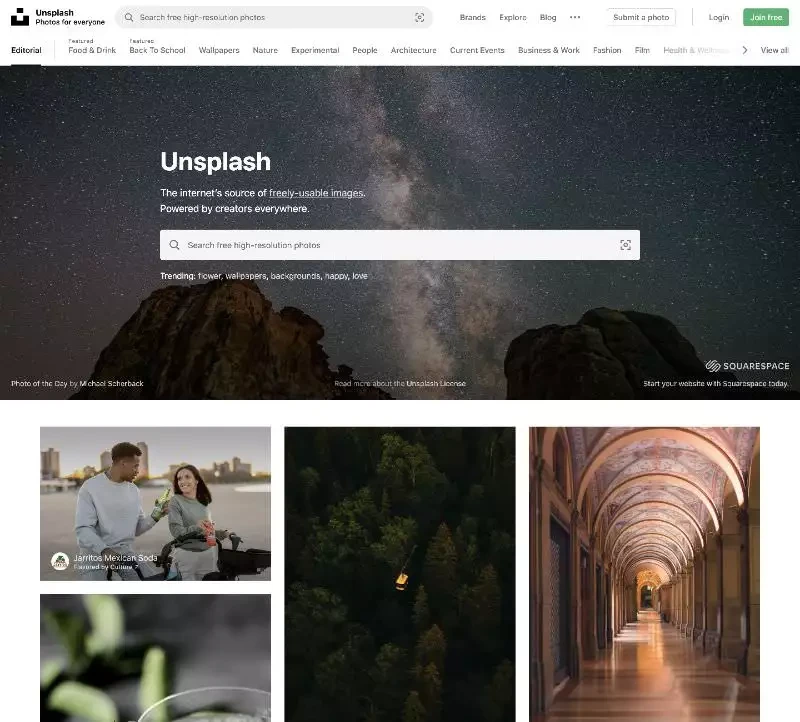 Image from Unsplash
All images on Unsplash are licensed Creative Commons Zero (CC0), which essentially lets you use the images for free, in any way you like, except for using them to create a competing website. Their pictures are high resolution, mostly offered by professional photographers.
---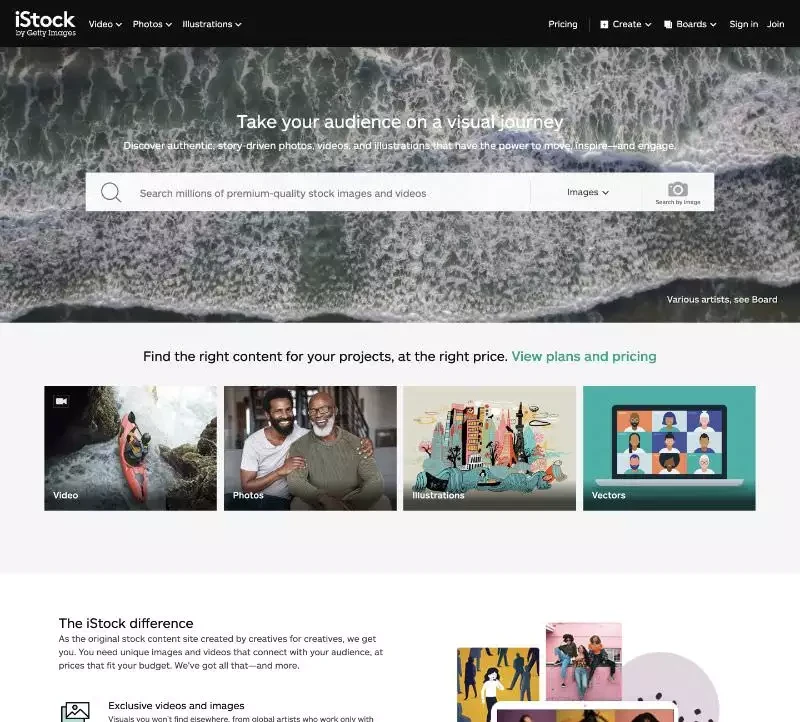 Image from iStock
Most images on iStock are paid-required, but you can get a new batch of free stock files every week when you sign up for a free membership.
Special offers:
---
Image from Shutterstock
Shutterstock is a huge and popular material website. You can get free images weekly by signing up for them. If your budgets are spare, their premium plan is also a good choice that you won't regret.
---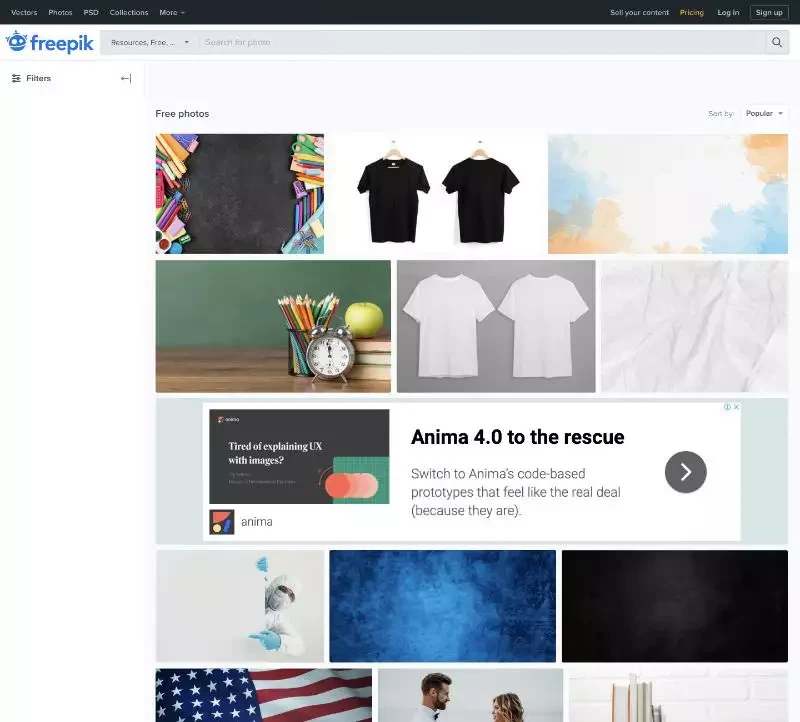 Image from Freepik
Freepik offers the best high-quality content, including illustrations, photos, icons, mockups, and presentation templates. They are free as long as you attribute. You can also consider their premium plan.
---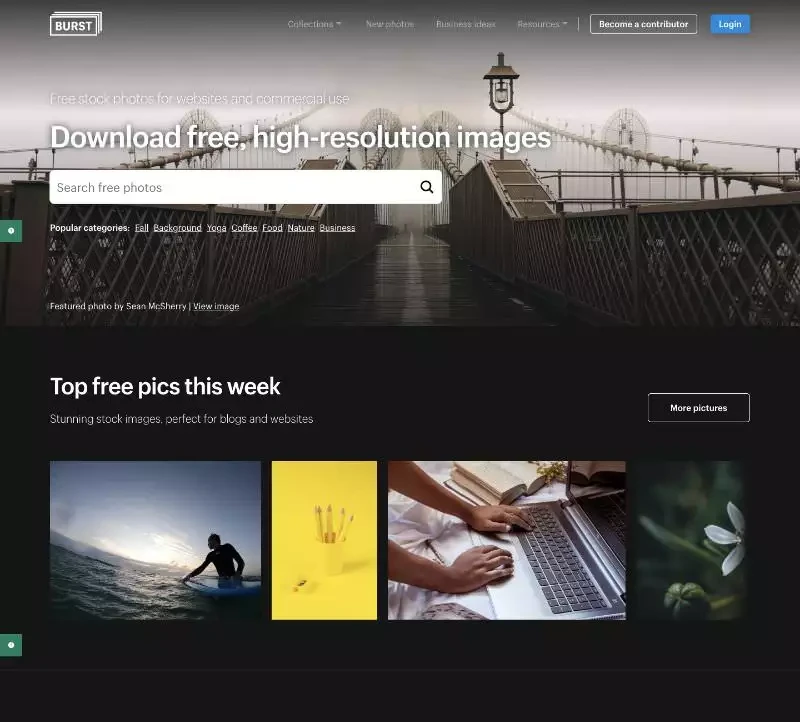 Image from Burst
Burst is a free stock photo site for entrepreneurs, developed by Shopify The images are both free and royalty-free, and they offer high- and low-quality versions for you to download.
---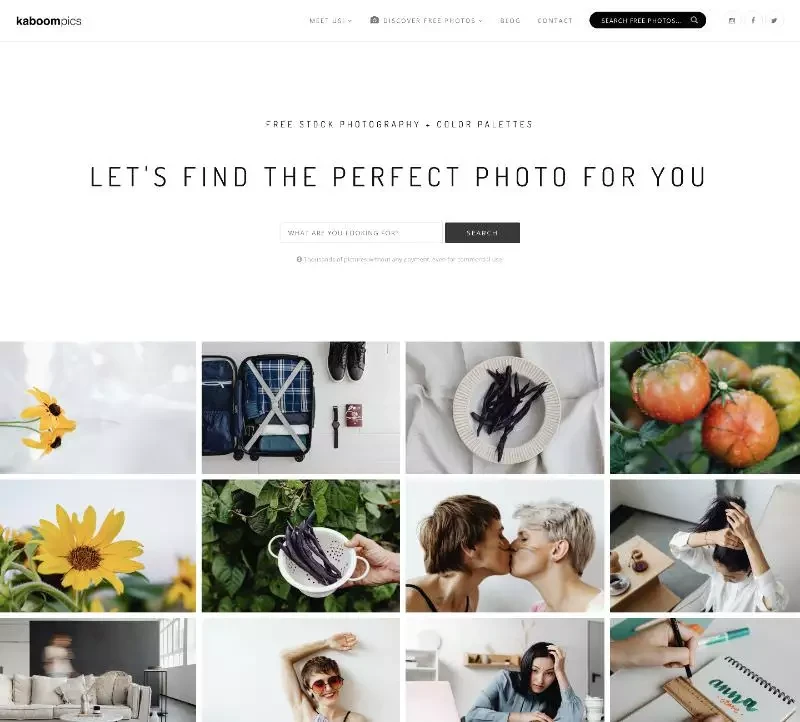 Image from Kaboompics
Kaboompics has its license, which is similar to Creative Commons Zero except that you cannot redistribute its photos. You can search images by color and it also provides a complementary palette of colors in the photo, which are very suitable for designer use.
EAGLE APP - YOUR BEST DESIGN ASSISTANT
Have trouble efficiently collect references? Try out Eagle! With Browser Extension, saving images from right-click disabled websites and collecting design materials with speed are no longer a dream!




---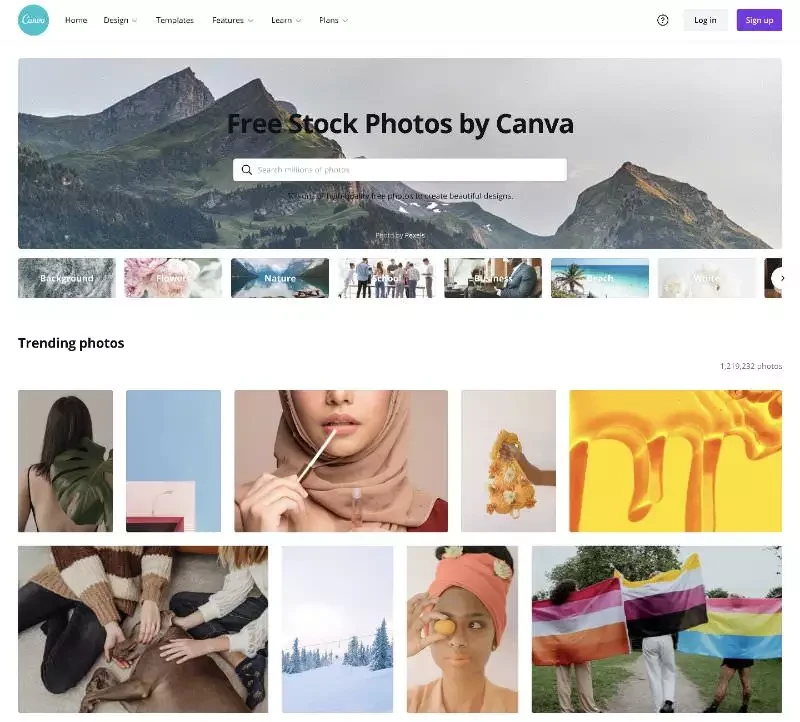 Image from Canva
Canva is a comprehensive online design platform that not only provides powerful graphic design tools, but also offers a vast selection of free stock photos to enhance your designs. You can quickly pick an image and turn it into a custom graphic by using their templates.

---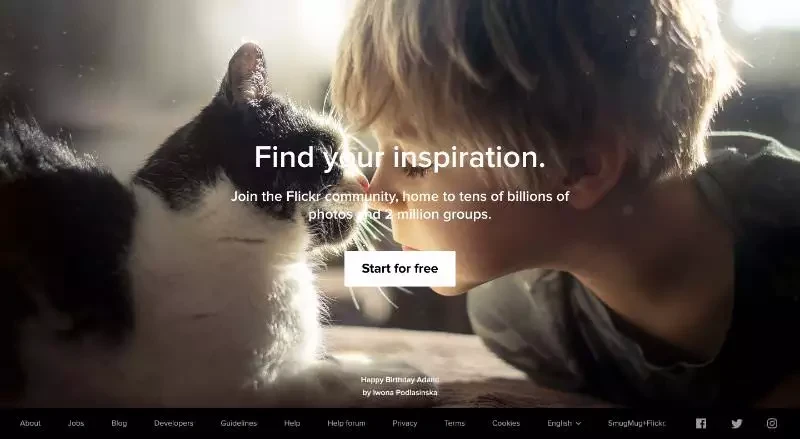 Image from Flickr
Flickr is an image hosting platform where you can find images to be used and modified for commercial purposes. Select "Commercial use & mods allowed" under the "Any license" filter to find those images, and remember to check the license for each image as they vary.
---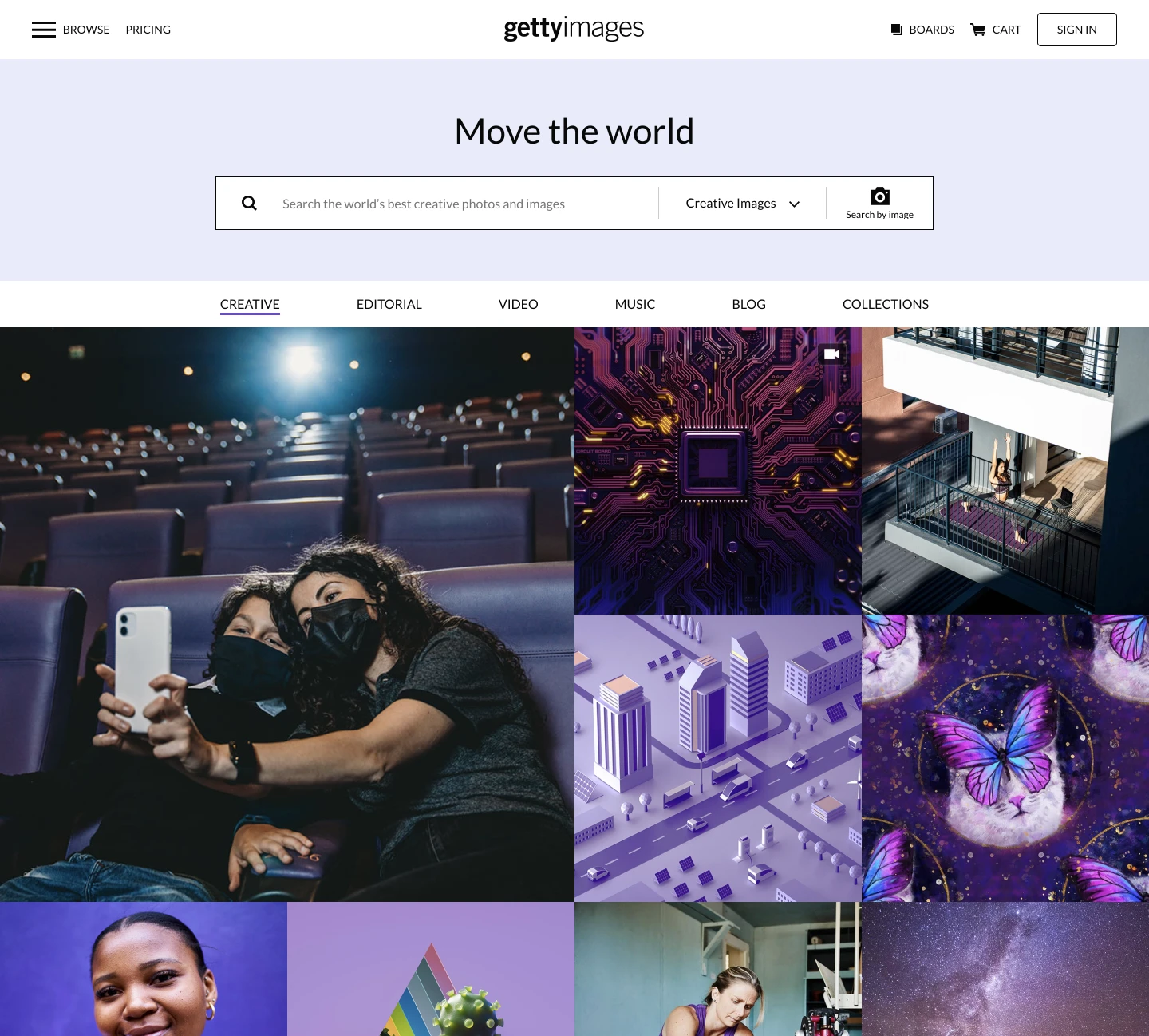 Image from Getty Images
You can use images from Getty Images on your non-commercial websites for free by embedding them. If you need to download the photos, you must pay. Still, for many blogs, embedding is an option worth looking into.
---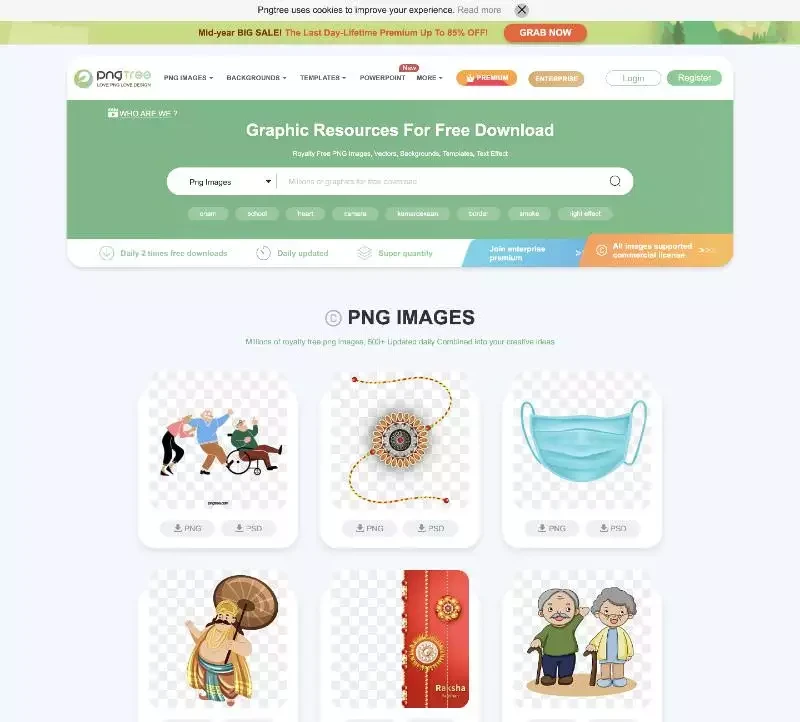 Image from Pngtree
Pngtree offers abundant PNG pictures, templates, frames, and texts. If you're with the free plan, you can download it two times daily and must attribute the owner. Otherwise, you can upgrade to the unlimited premium plan to unlock million of high-quality graphic resources!
---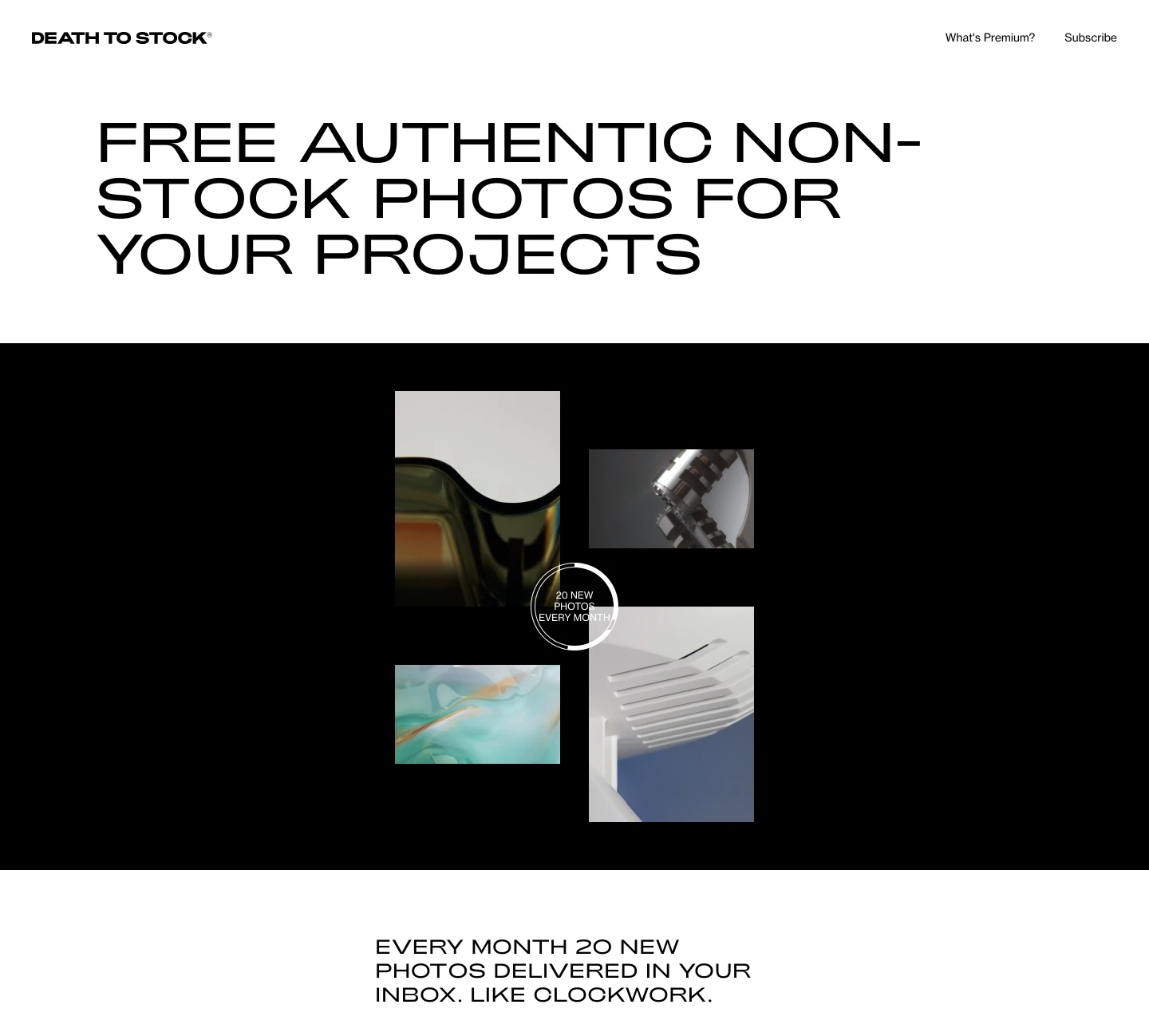 Image from Death to Stock
Out of the free stock image sites mentioned in this post, Death to Stock sets itself apart by not having a traditional gallery of images. It sends you 20 new photos every month when you sign up for its newsletter.
Take control of your photo library with our top 10 photo management software picks. Start organizing your images today

---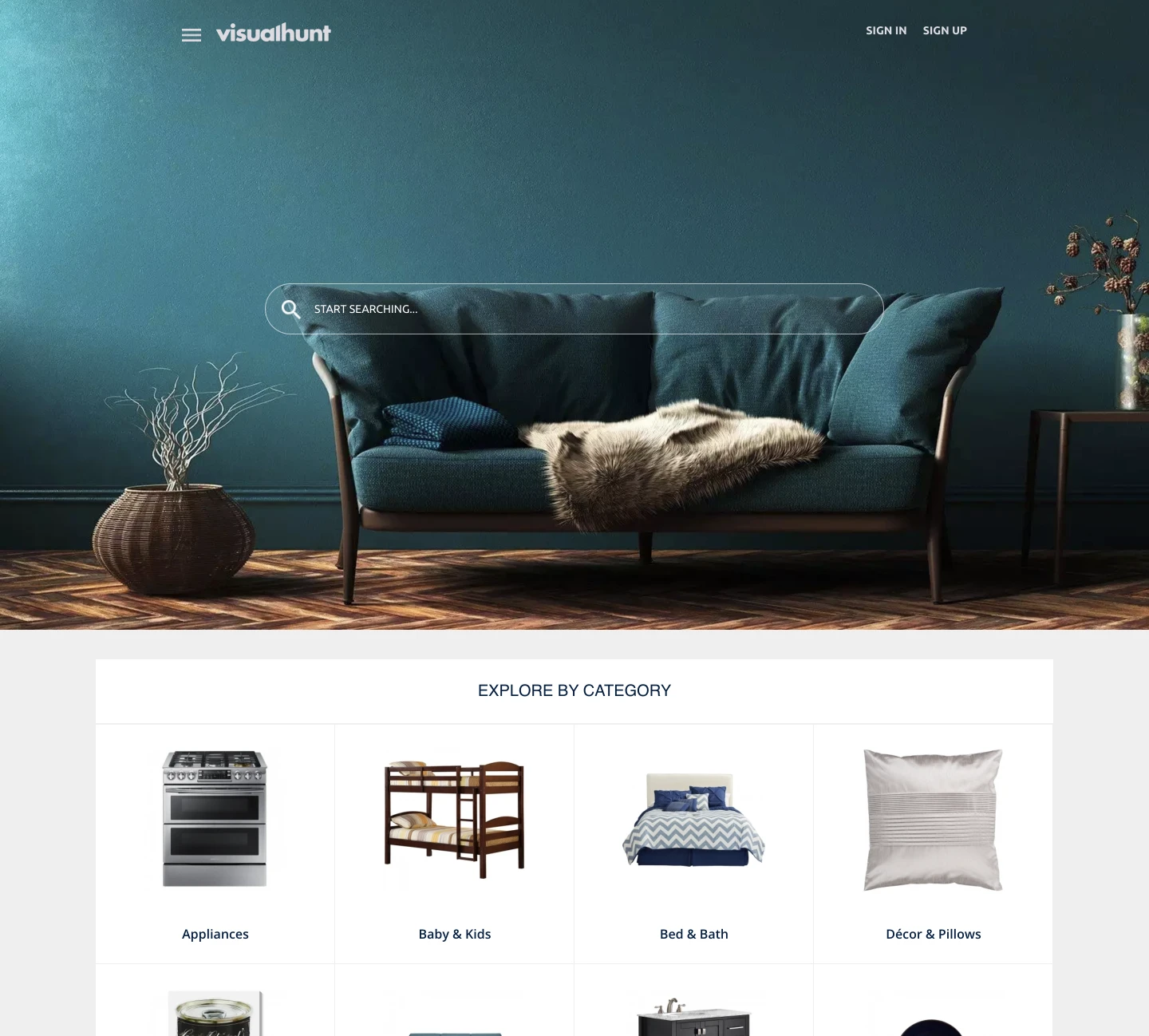 Image from Visual Hunt
There are more than 100 thousand CC0 images on Visual Hunt, no attribution is required. They also offer different dimensions to choose from when downloading.
---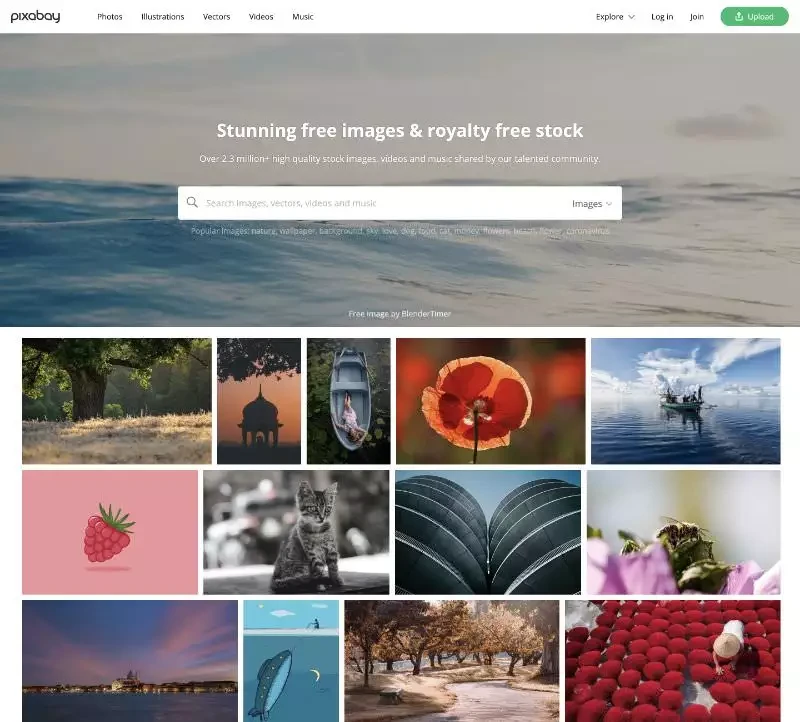 Image from Pixabay
Images on Pixabay are licensed under Creative Commons Zero (CC0). You can use them without asking for permission or giving credit to the artist, though it's always appreciated. Pixabay also provides some video materials, which gives you more options to create your work.
---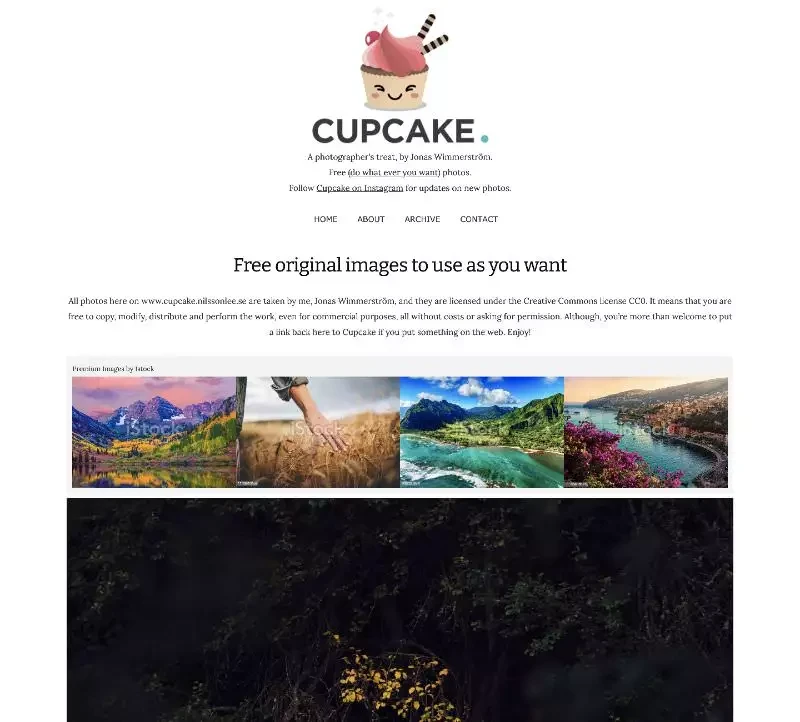 Image from CUPCAKE
All photos on CUPCAKE are taken by Jonas Wimmerström, the site owner, and they are licensed under the Creative Commons license (CC0), meaning that you are free to copy, modify, distribute and perform the work, even for commercial purposes, all without costs or asking for permission.
Related article: 48+ Best Color Tools for Designers to Improve Your Workflow
---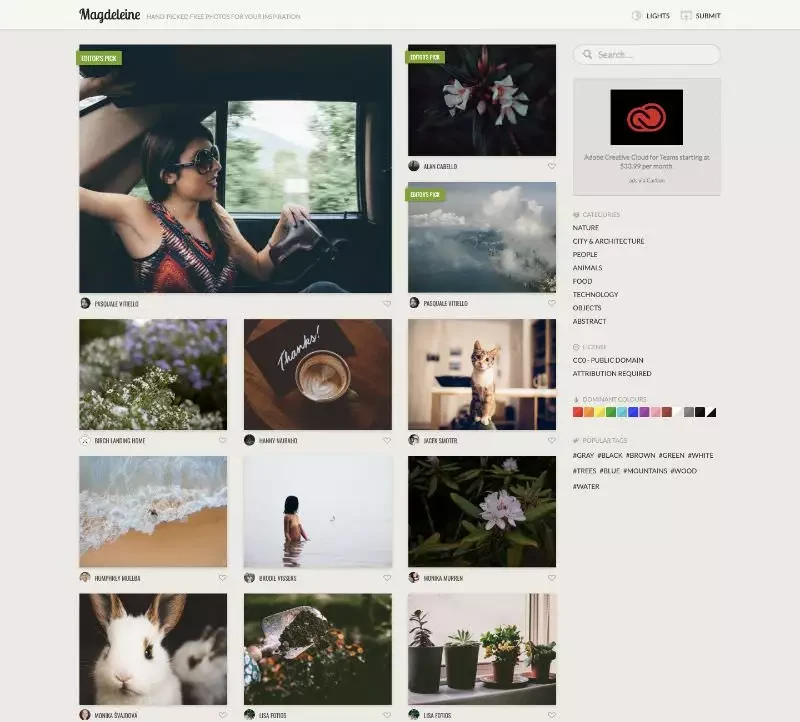 Image from Magdeleine
Magdeleine offers a variety of high-quality free ready for marketing images daily, including nature, architecture, people, and animal categories, and you can even search photos by color!
---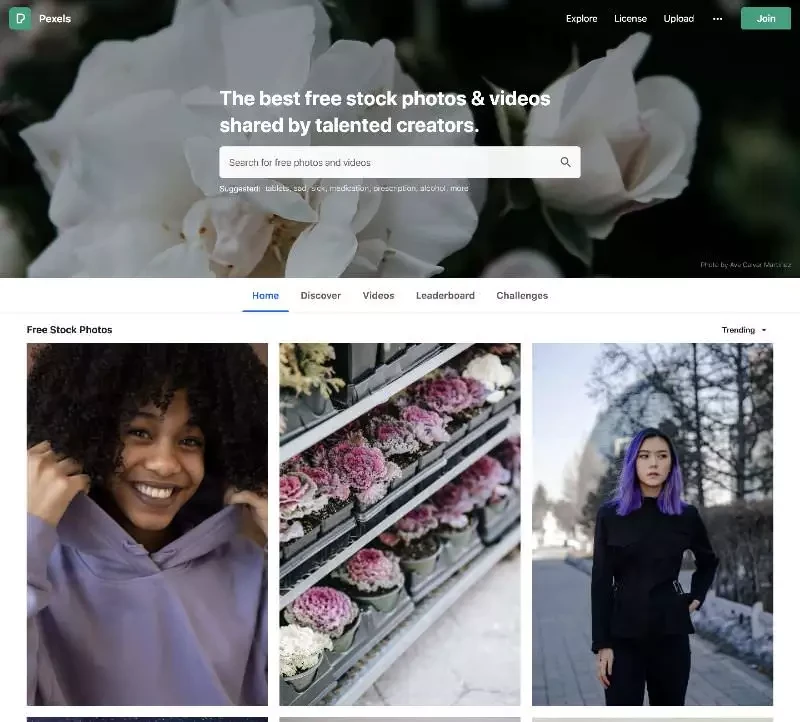 Image from Pexels
Pexels has its license, which means you can use and modify the images for free and for both commercial and personal use without attribution.
---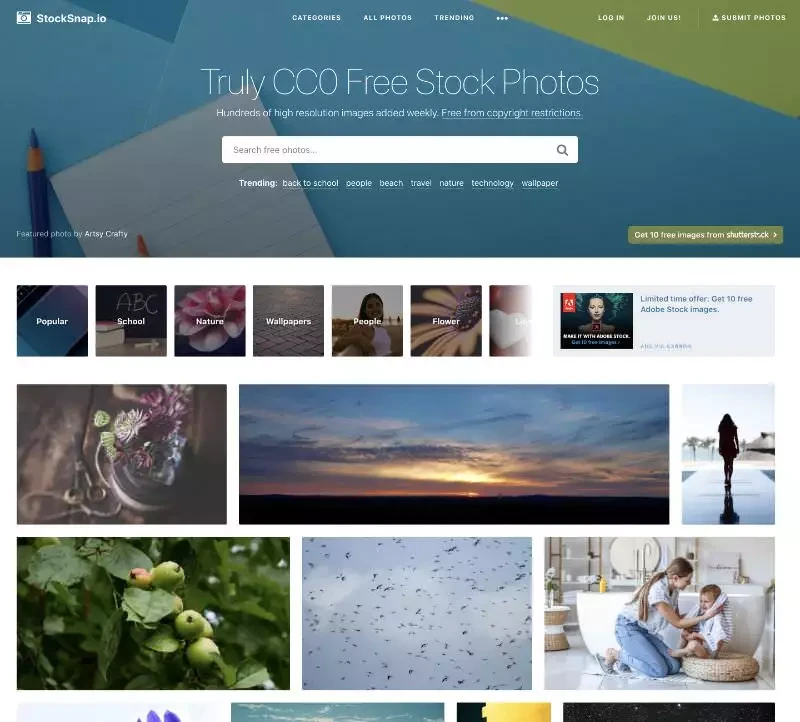 Image from Stocksnap.io
Stocksnap.io uses the Creative Commons Zero (CC0) license so its photos are free to download, edit, and use for both commercial and non-commercial projects.
---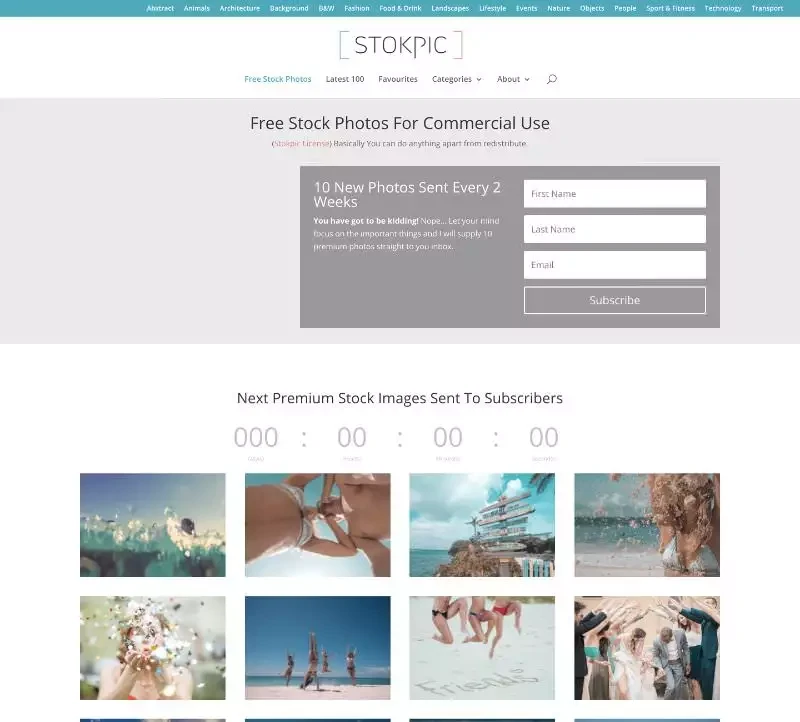 Image from Stokpic
The advantage of Stokpic is its auto-deliver system. If you subscribe to Stokpic, they will send you the latest images, all CC0.
Try out color search in Eagle!




---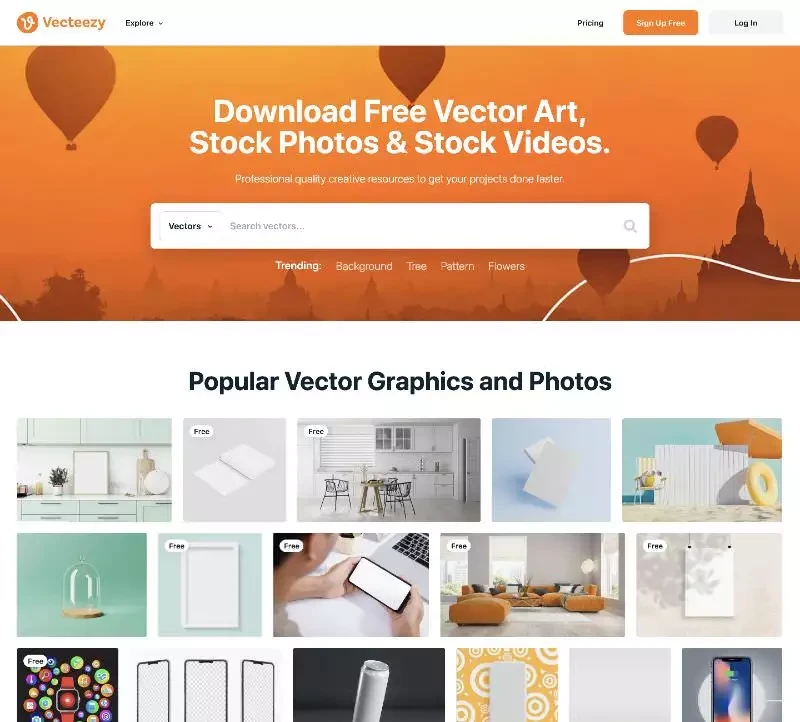 Image from Vecteezy
Vecteezy helps you find amazing free photography, videos & stunning vector illustrations. However, not all the images are CC0, remember to read the restriction before use.
There's also a new Vecteezy Studio plan which offers unlimited graphic design for a flat, affordable fee. Studio clients can request unlimited design jobs with no limit on hours or revisions for as long as they stay subscribed and can cancel anytime with no penalty.
Upgrade your design game with our 299+ Duotone Cartoon Illustrations Set, perfect for adding eye-catching cartoon character illustrations to your projects today!

---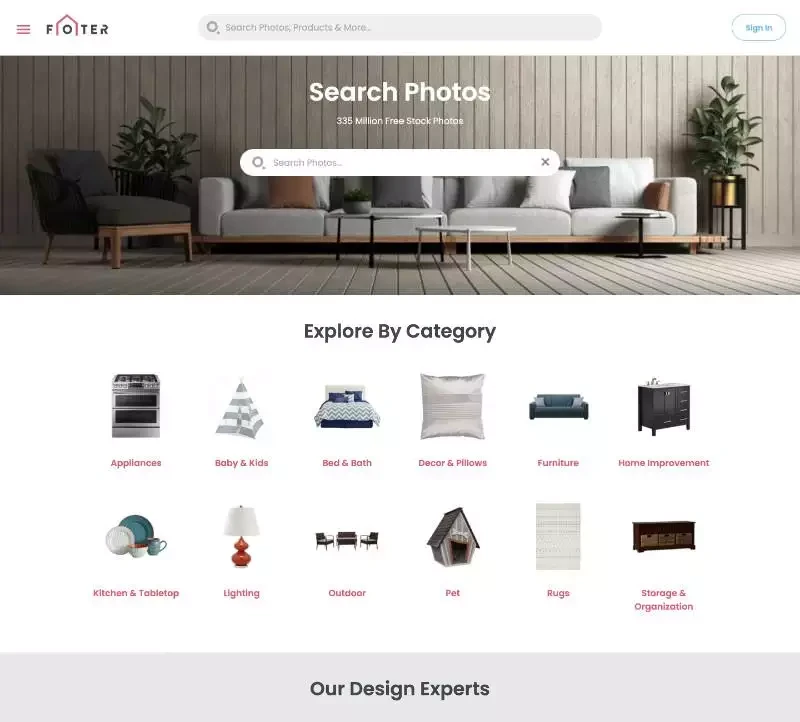 Image from Foter
Foter offers billions of CC0 images, no attribution is required but appreciated. There are multiple sizes to choose from when downloading.
---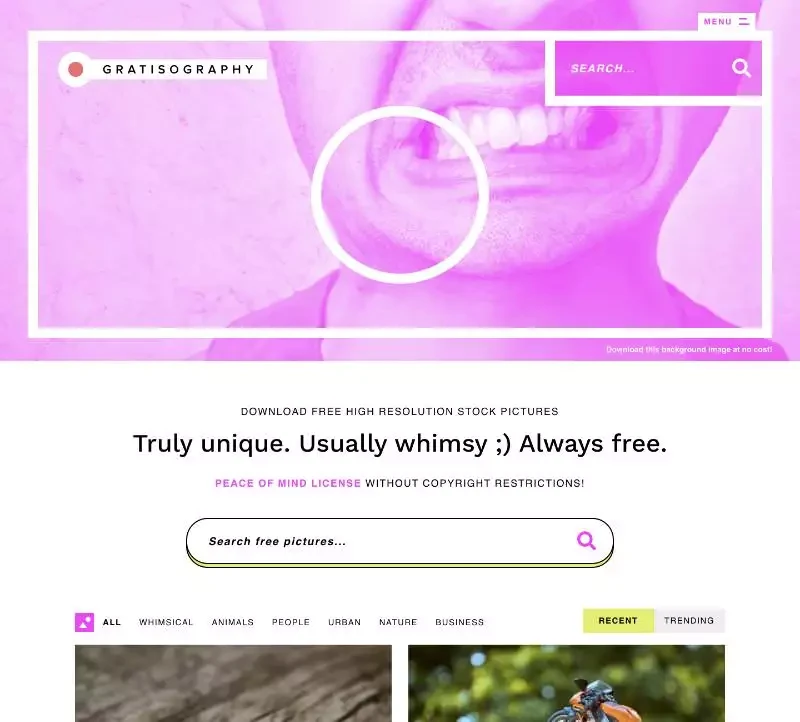 Image from Gratisography
Gratisography also has a free photo license, which lets you do almost anything you can think of. While they have a rather limited number of images now, many are high-quality images, and they update weekly.
---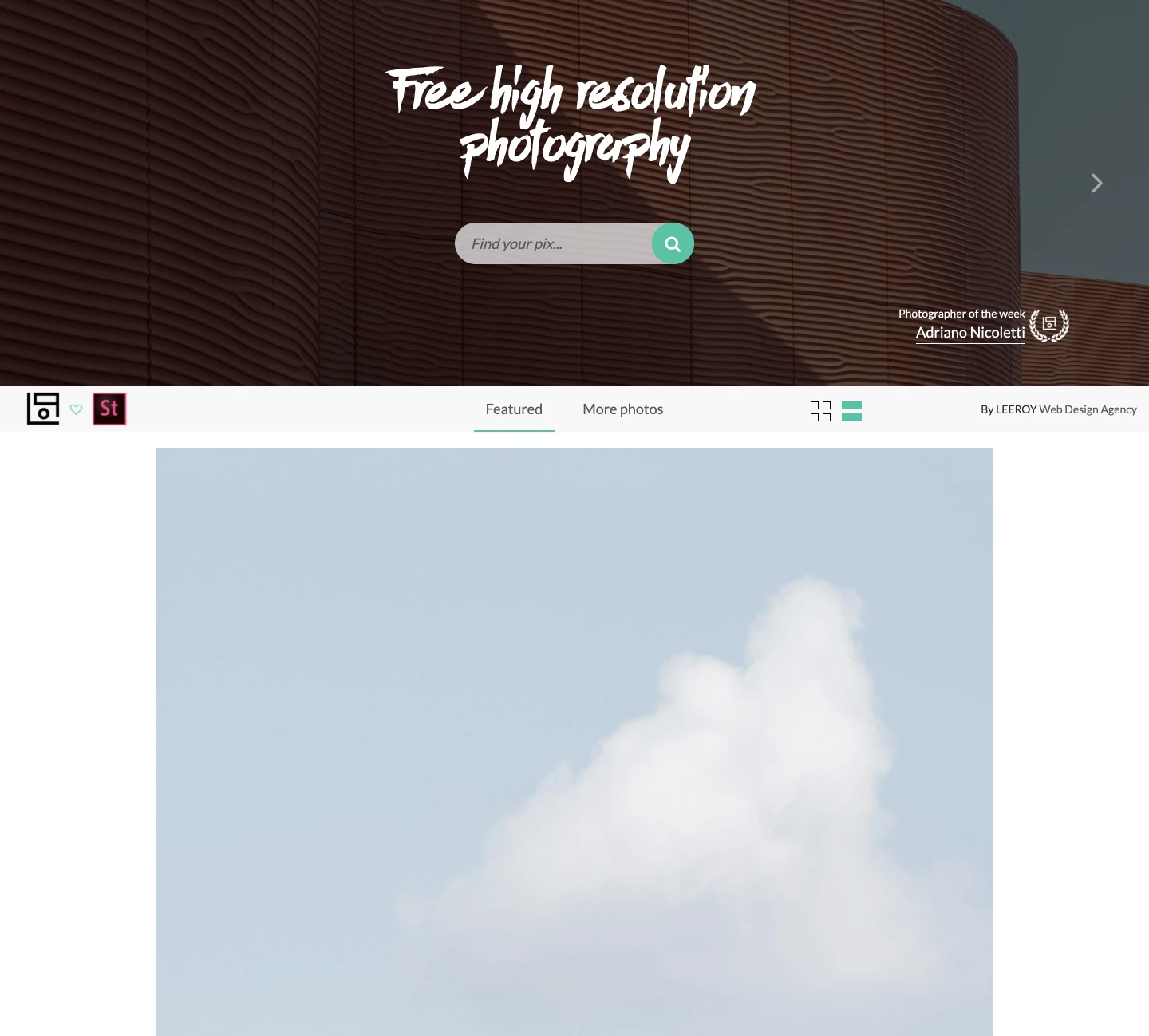 Image from Life of Pix
Life of Pix lists free high-resolution photographs, mainly about the European landscape. If you want to receive a notification when they update, remember to sign up for their newsletter.
---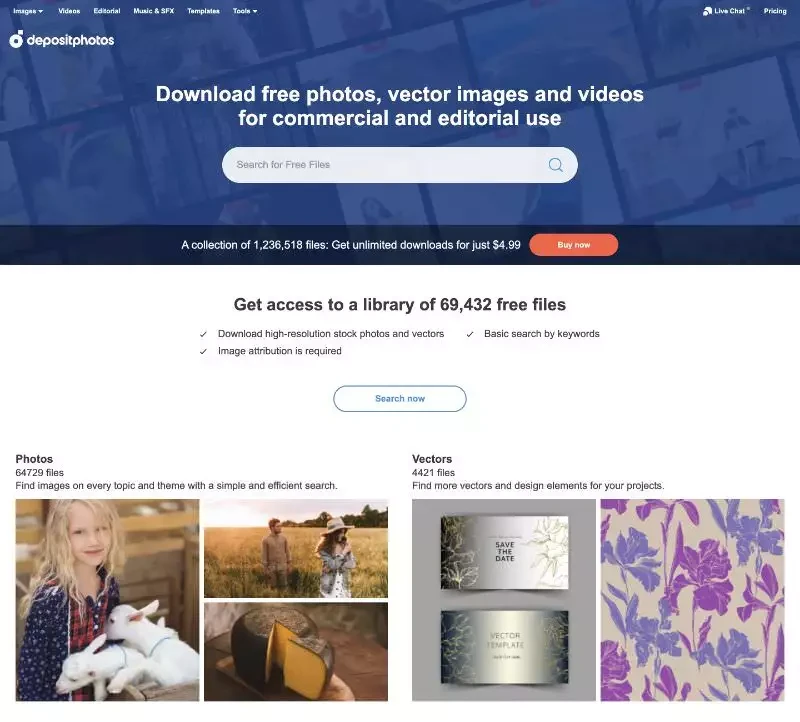 Image from Depositphotos
Depositphotos is a library of 69,432 free files. They offer a sample of free images, vectors, editorial content, and footage. You can also sign up to get the free stock files weekly.
Related article: 4 Tips on How to Find & Organize Inspiration Ideas for Designers
---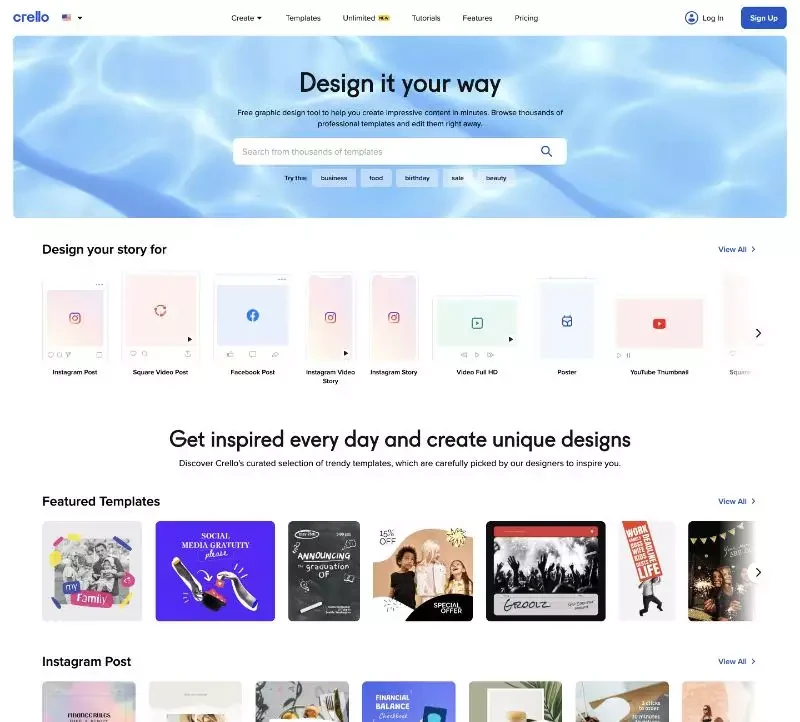 Image from Crello
Similar to Canva, Crello is a free graphic design tool by Depositphotos, which has many free images for you to use, personally or commercially.
---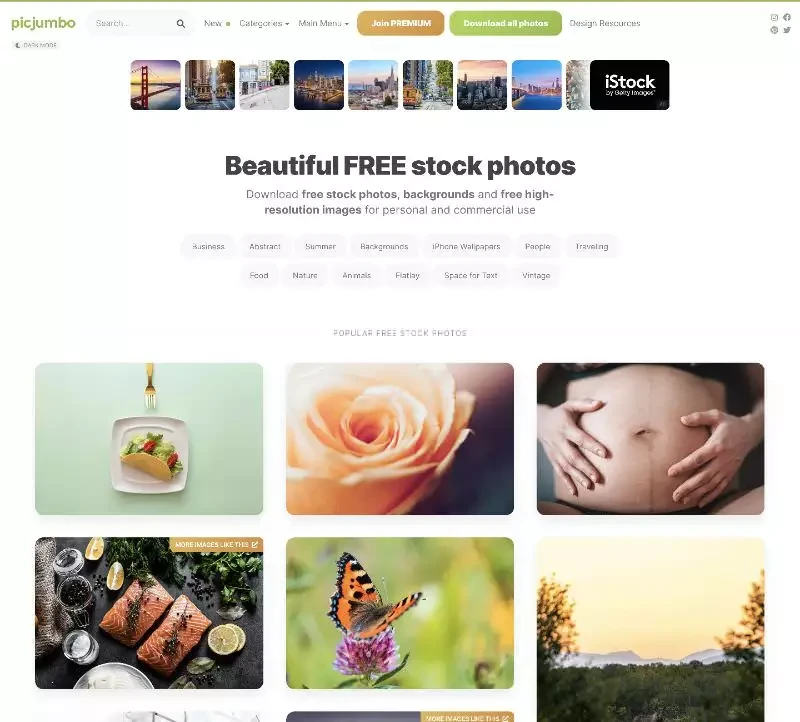 Image from PicJumbo
PicJumbo offers a variety of free images for any kind of use—free of charge with no registration required. You can also get new free images by subscribing to their newsletter. If you have the budget to spare, do check out their amazing premium photo collections.
---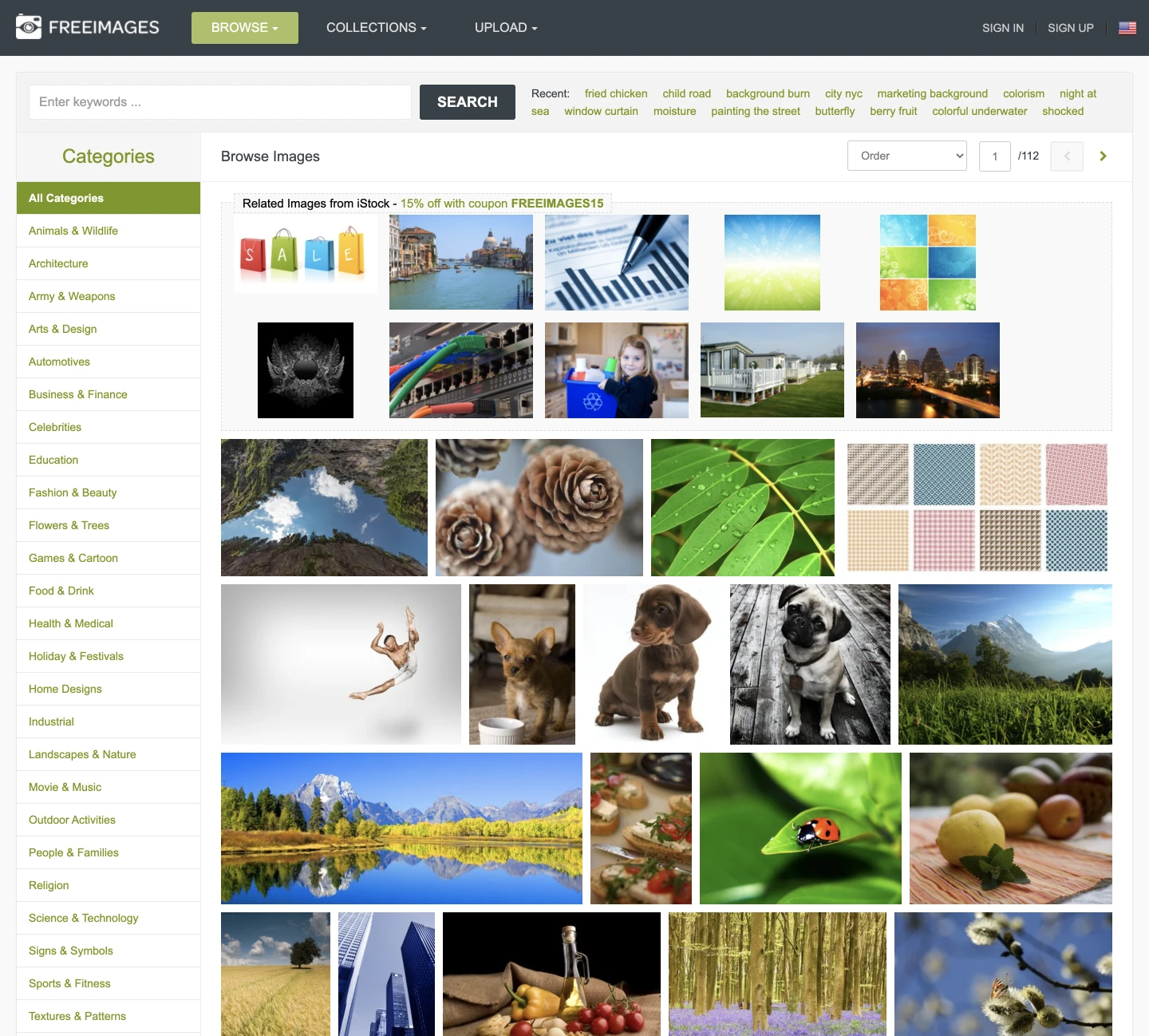 Image from Freeimages
Freeimages provides over 300,000 free stock images under its license. While these free image sites offer a broad range of uses, there are a few instances where usage is restricted. For example, you may not be able to use the images for products or services that promote hate or discrimination. However, for most purposes, the license allows for plenty of creative freedom. Do keep in mind, that you have to sign up to the site to free download images.

Set up a smart folder to ease your burden!




---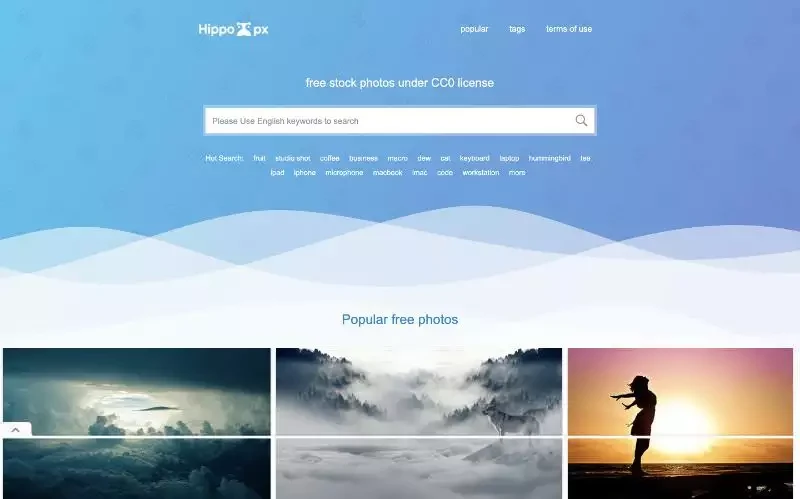 Image from Hippopx
The images provided by Hippopx are free to use for personal and commercial projects, no need to provide attribution, but it's appreciated. They also allow you to download with different resolutions.
---
28. IM Free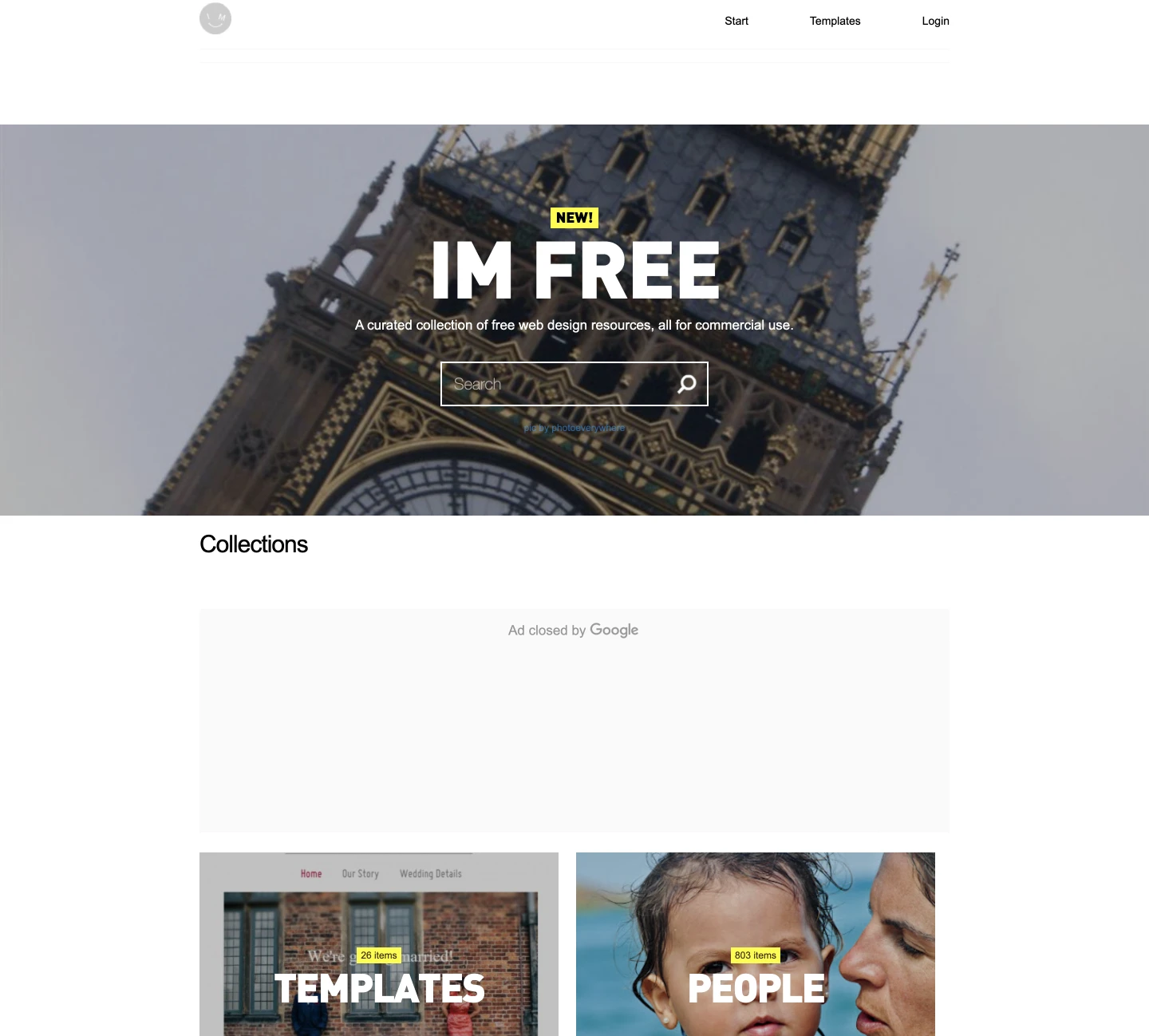 Image from IM Free
IM Free offers a wide variety of non-copyright photos, all licensed under CC0, and conveniently organized into easy-to-understand categories for effortless browsing.
---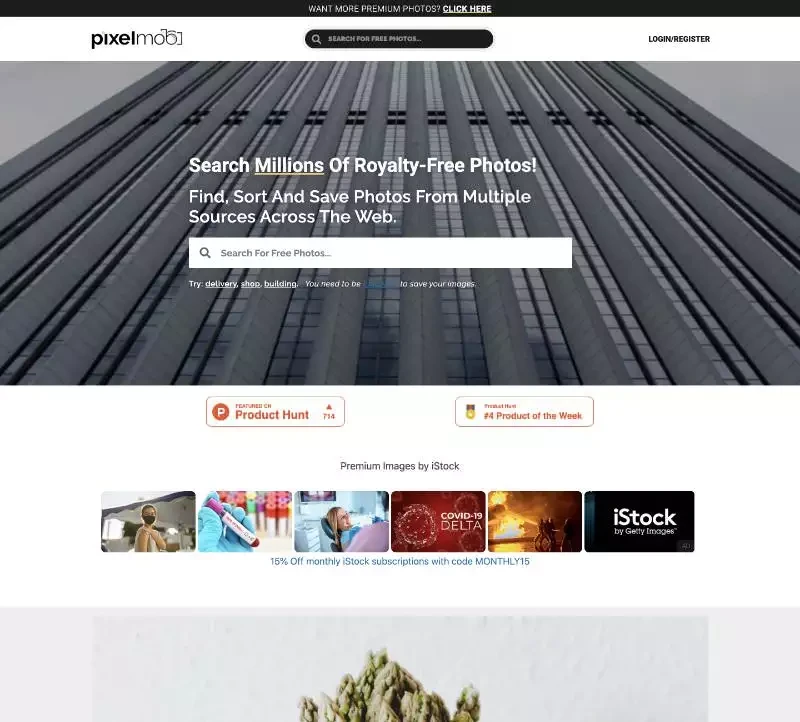 Image from Pixelmob
Pixelmob allows you to search millions of photos from across the web And organize them into 'Favorites'. Think of it A bit like Pinterest, but for finding and favoriting royalty-free images.
---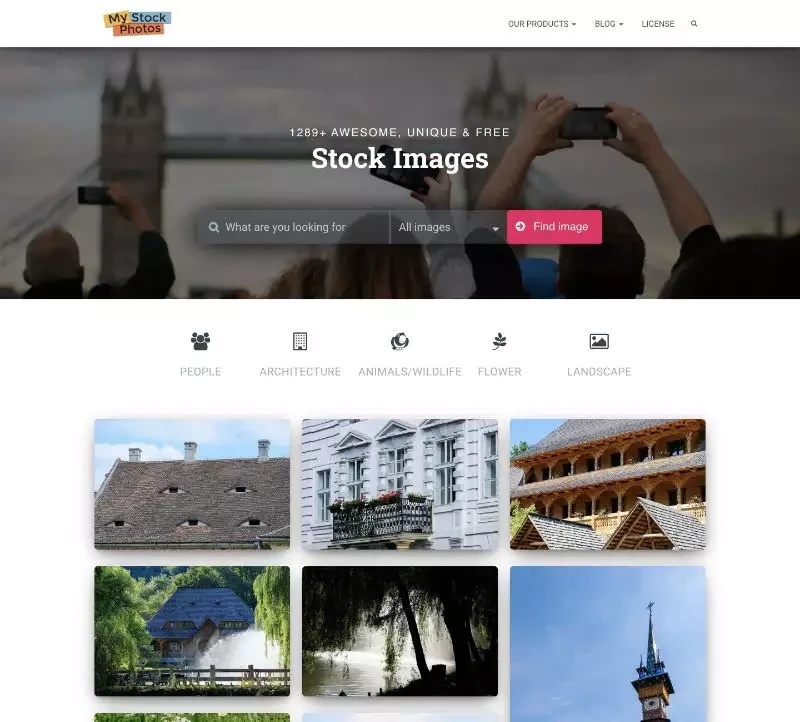 Image from MyStockPhotos
All pictures on MyStockPhotos are licensed under the CC0 license. This means you can do whatever you want with our photos, including commercial purposes. Better, the images are unique and high quality!
---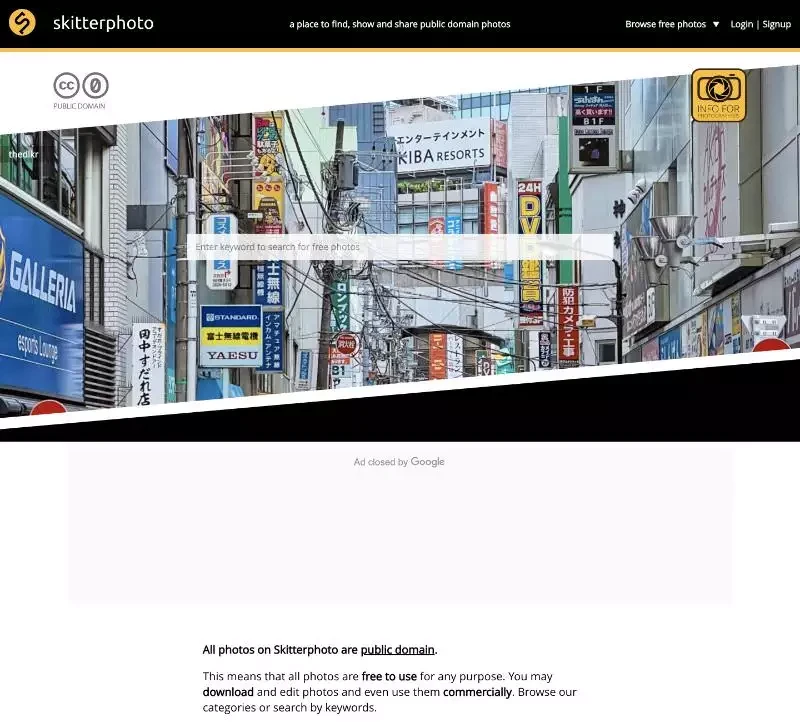 Image from Skitterphoto
All photos on Skitterphoto are public domain, which means that all photos are free to use for any purpose. You may download and edit photos and even use them commercially. If you're a photographer, it's also a good place to promote your work.
---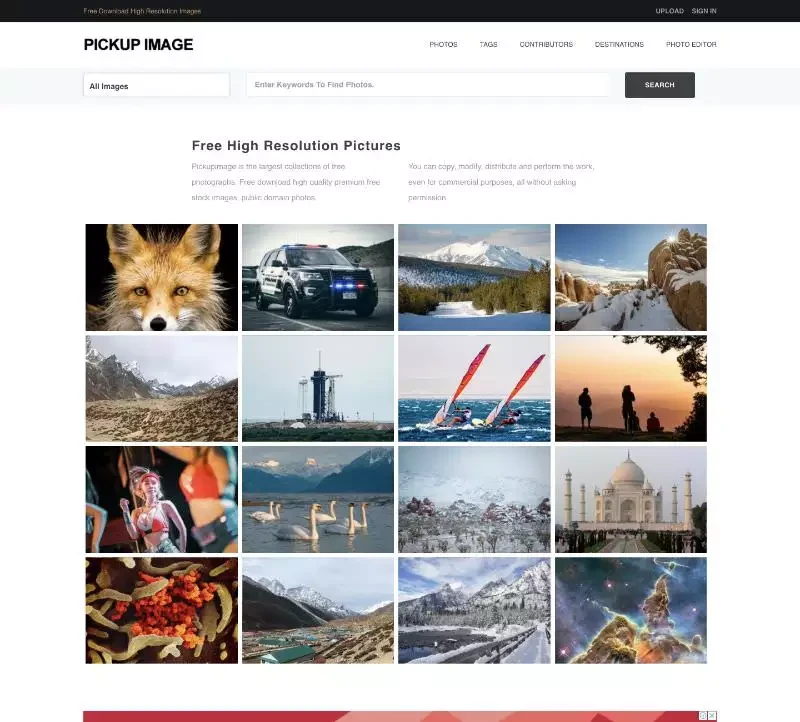 Image from Pickupimage
Pickupimage is a free image website with CC0 licenses. You can copy, modify, distribute and perform the work, even for commercial purposes, all without asking permission. They also offer an online editing system that can crop, and add filters, frames, or background to your photos.
---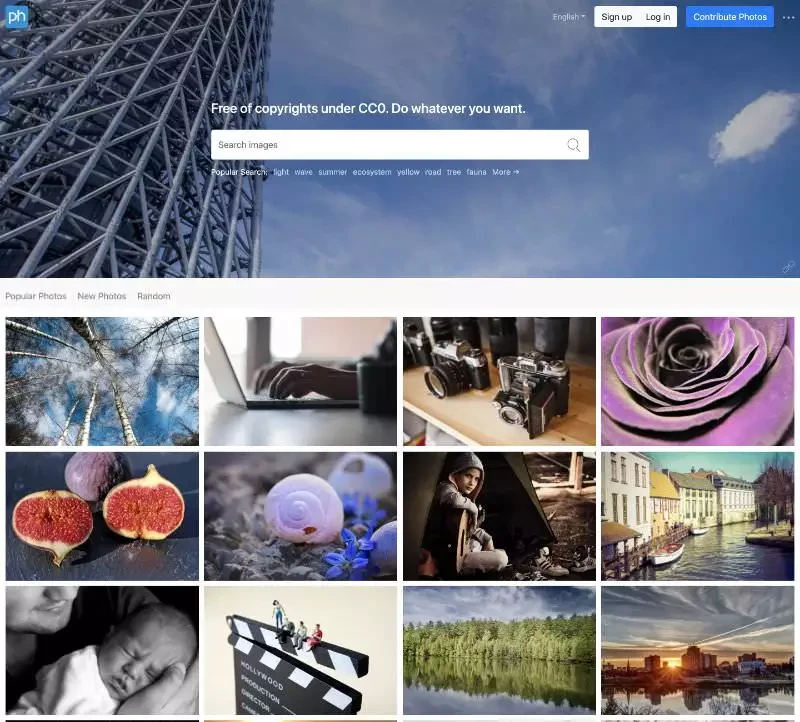 Image from PxHere
PxHere offers lots of free photos, all are Creative Commons Zero. Better, they provide you with multiple common dimensions to download. How convenient!
---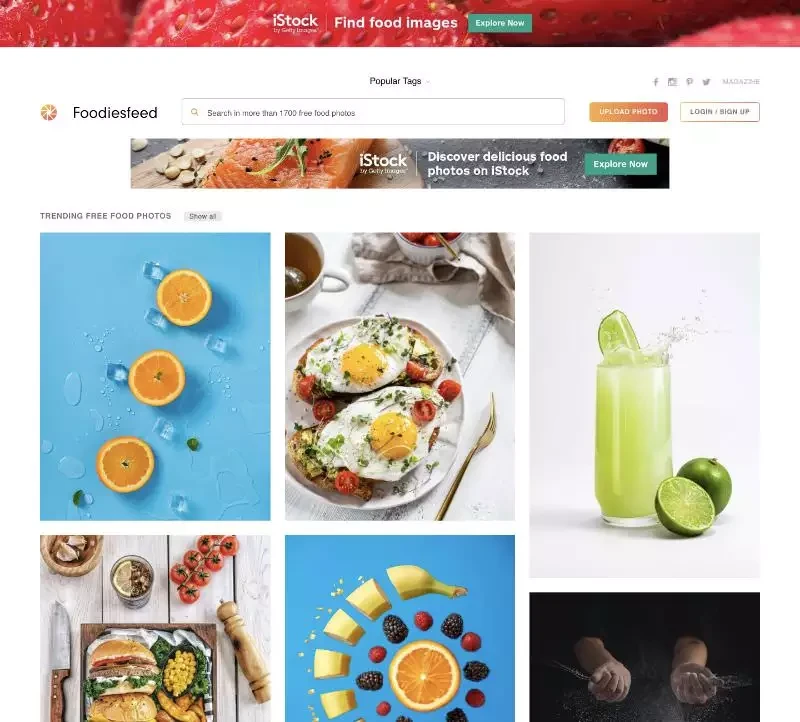 Image from Foodiesfeed
Foodiesfeed is a CC0 image website inclusive of food-related photos. If you're looking for high-resolution food images, you must visit this!
How to use reverse image search to quickly find similar images for your next project?

---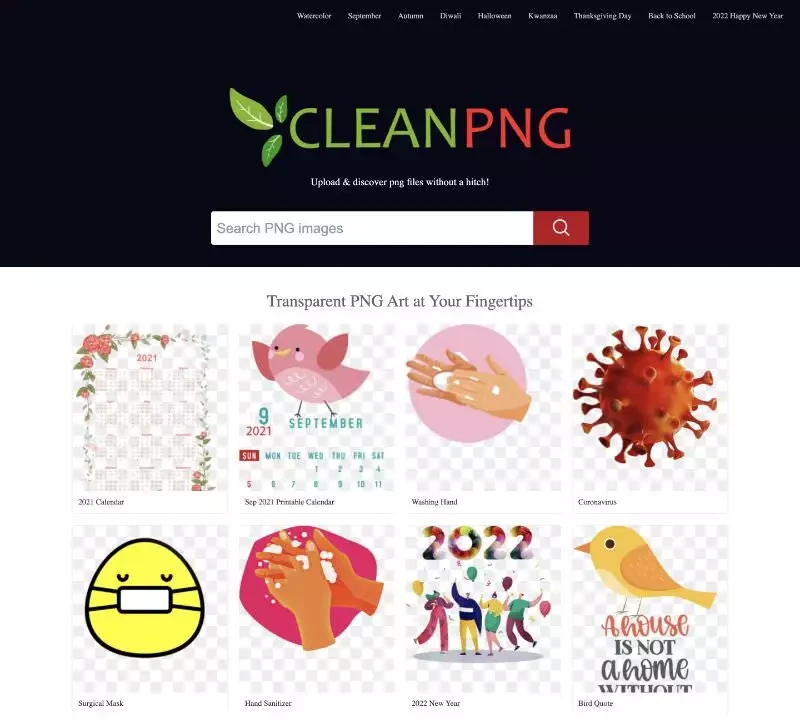 Image from CleanPNG
CleanPNG offers millions of free images with transparent backgrounds and you don't have to sign up to download them. They have multiple festival filters, which help you find any image with ease.
---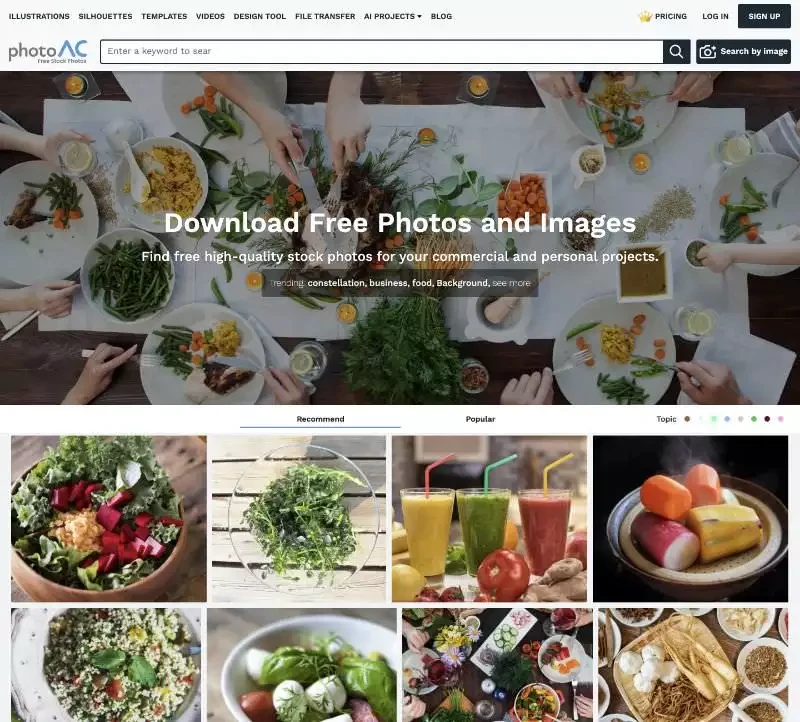 Image from photoAC
photoAC not only offers free images but also millions of vector graphics and templates, all for commercial use. They believe that imagination is the true magic carpet to making quality content.
Ready to take your design skills to the next level? Check out our curated list of the 15 coolest AI graphic design tools available now and experience the future of design today!

---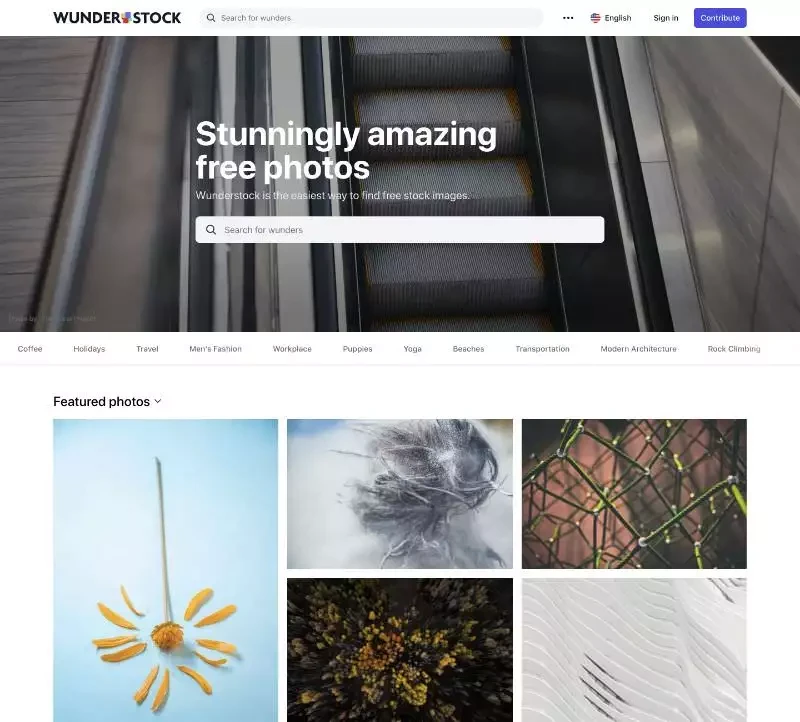 Image from Wunderstock
There are more than 100 thousand images with Creative Commons Zero licenses on Wunderstock. Most of them are free for personal and commercial use, you can even edit and use them without attribution.
---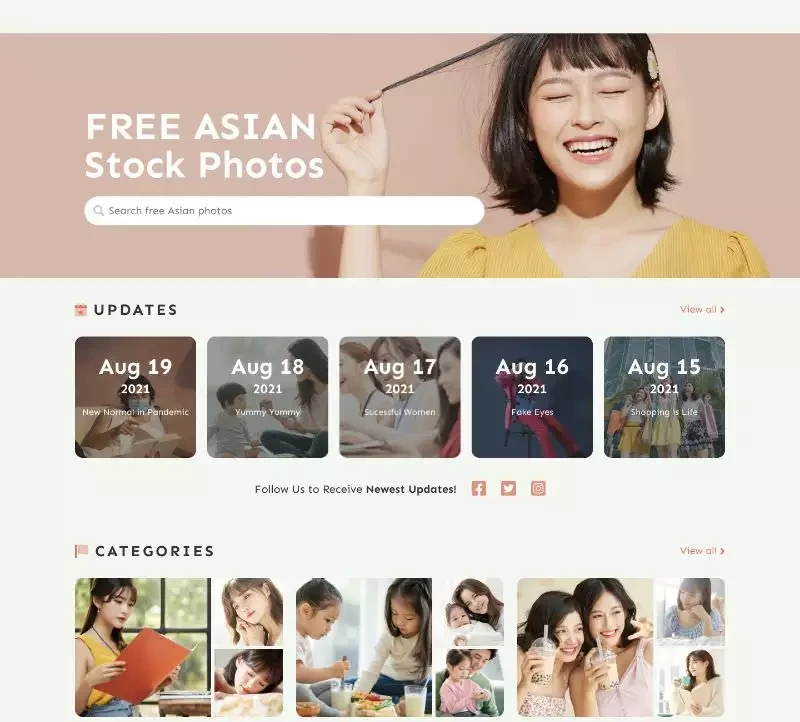 Image from xFrame
xFrame is a free image site dedicated to "high quality, creative Asian people photos" by professional photographers. All free and commercial use allowed.
---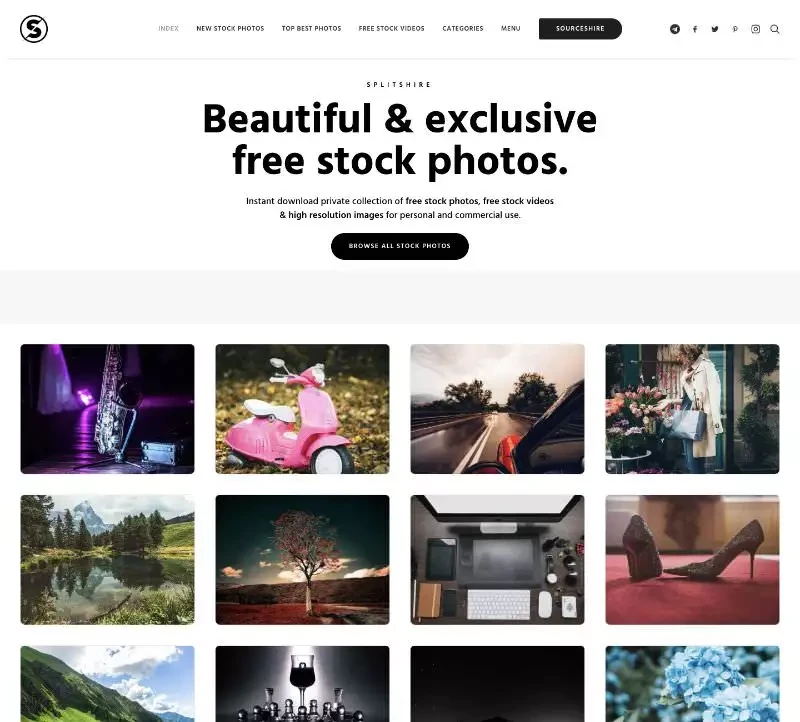 Image from SplitShire
SplitShire offers high-resolution images and videos with Creative Commons licenses. They include a variety of styles and can be downloaded without signing up to SpiltShire.
---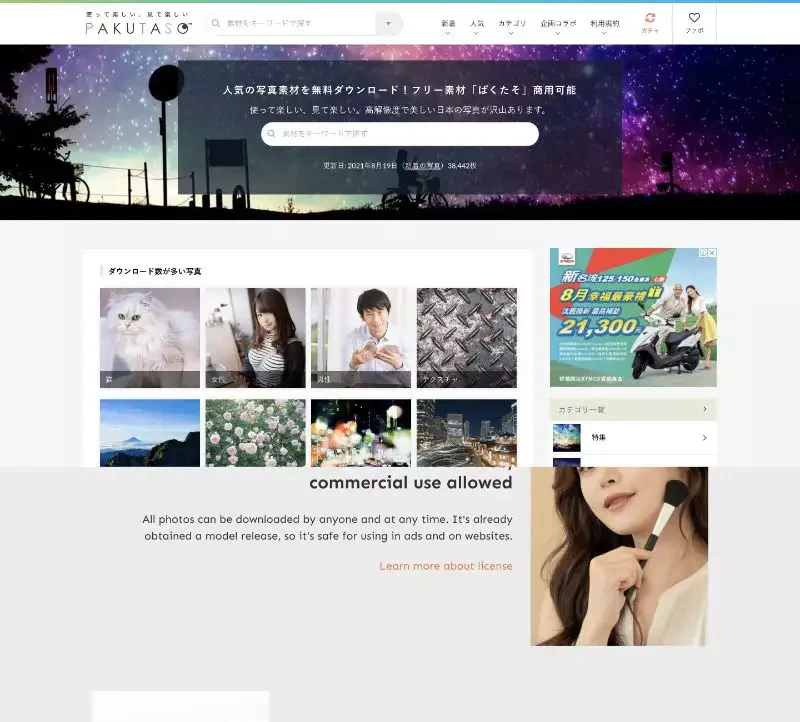 Image from Pakutaso
Pakutaso is a Japanese free image website, that includes Asian or Eastern culture photos. They are high quality and free to use.
Related article: 43 Best Websites Designers Love for Finding Design inspirations
---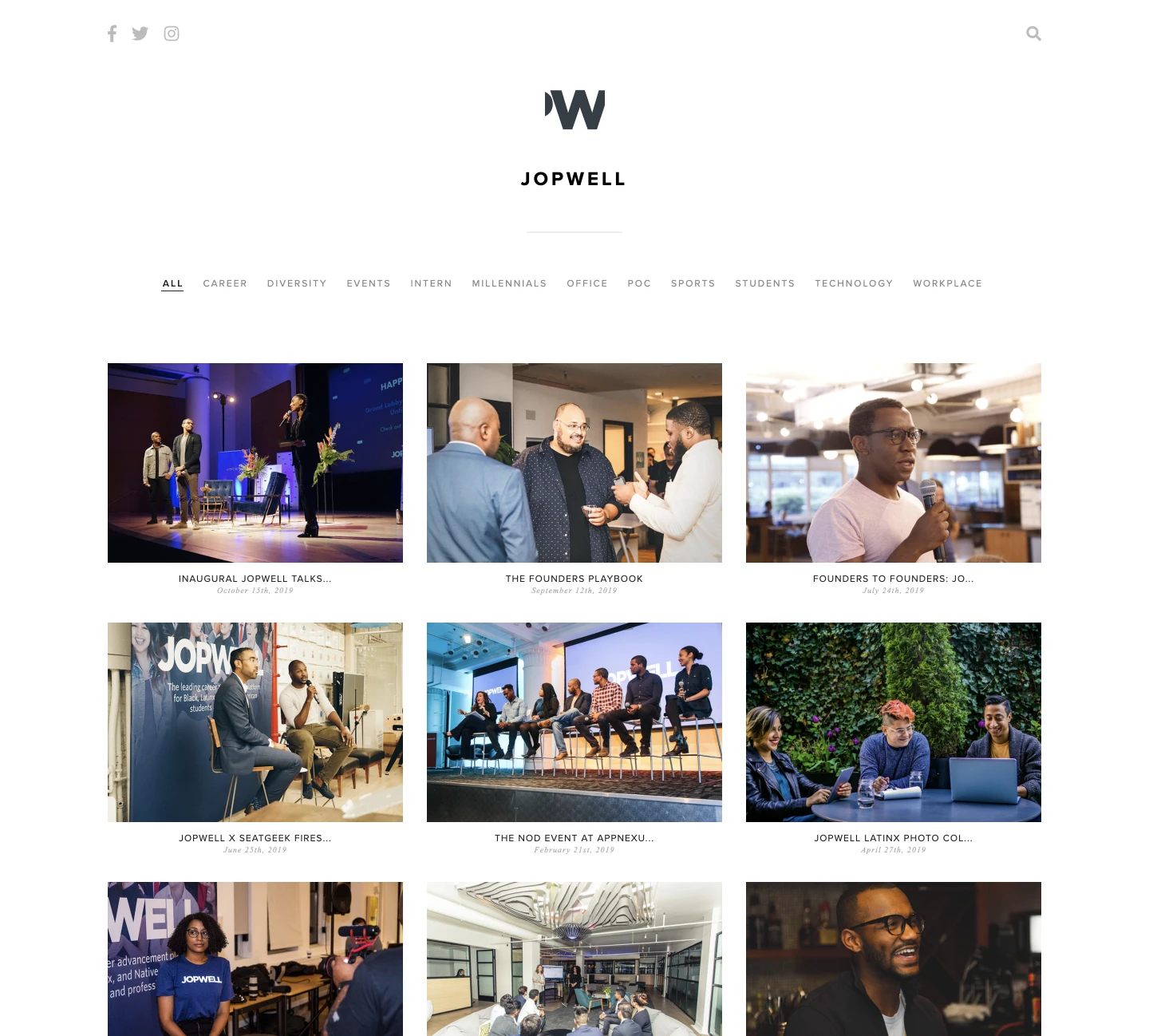 Image from The Jopwell Collection
The Jopwell Collection contains several albums featuring people in the Jopwell community, including workplace, sports, presentation, or technology photos. The images are free to be downloaded and used as long as you visibly attribute Jopwell.
---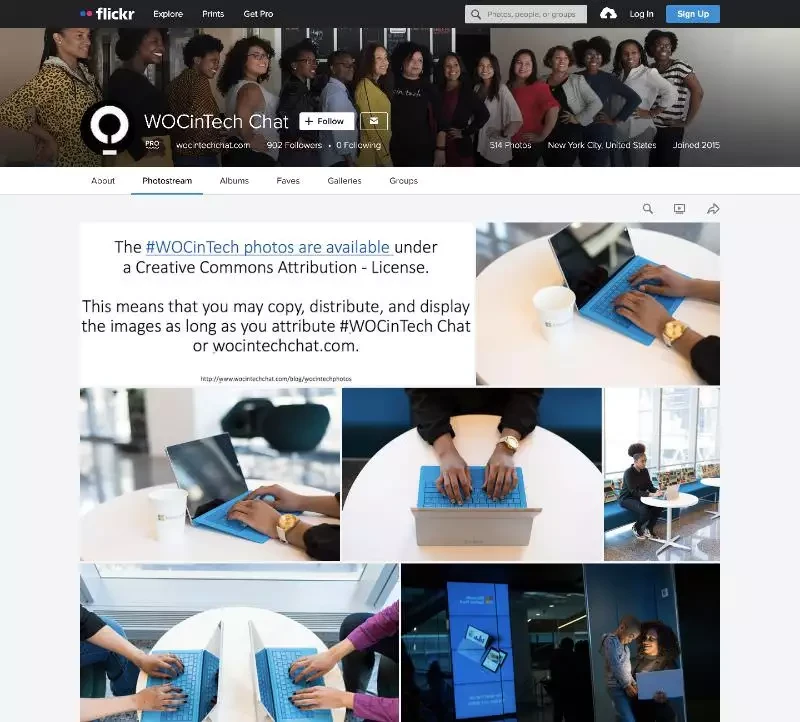 Image from WOCinTech
It's an album of photos of women of color in tech. The images can be used as long as you attribute #WOCinTech Chat or wocintechchat.com. They aren't updating now but remain over 500 images to choose from.
---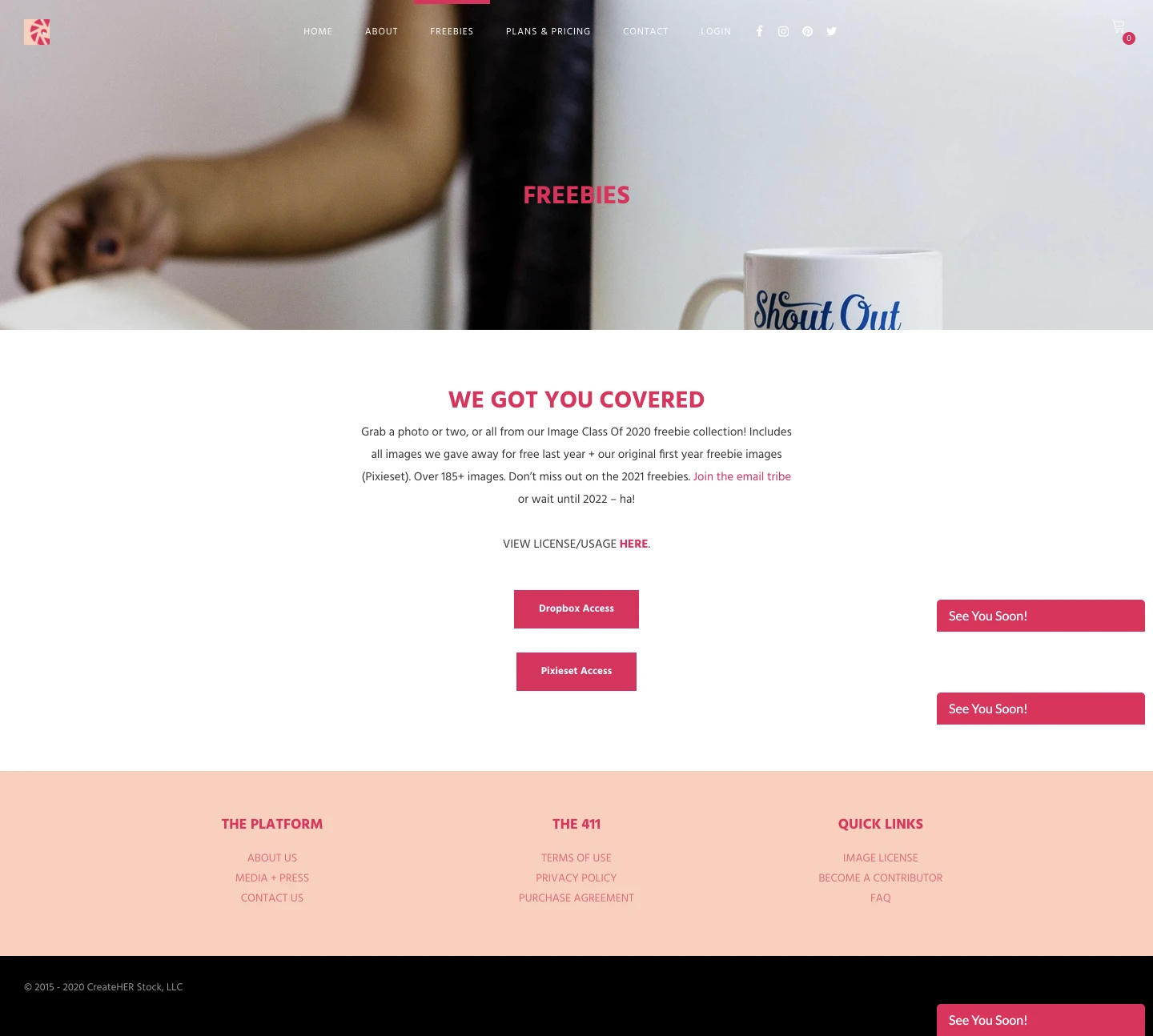 Image from CreateHER Stock
CreateHER Stock's team has manually curated more than 200 high-quality images for female bloggers, creatives, and online influencers of color, they're free under some restrictions. You can also receive new free images every month if you sign up for their newsletter.
---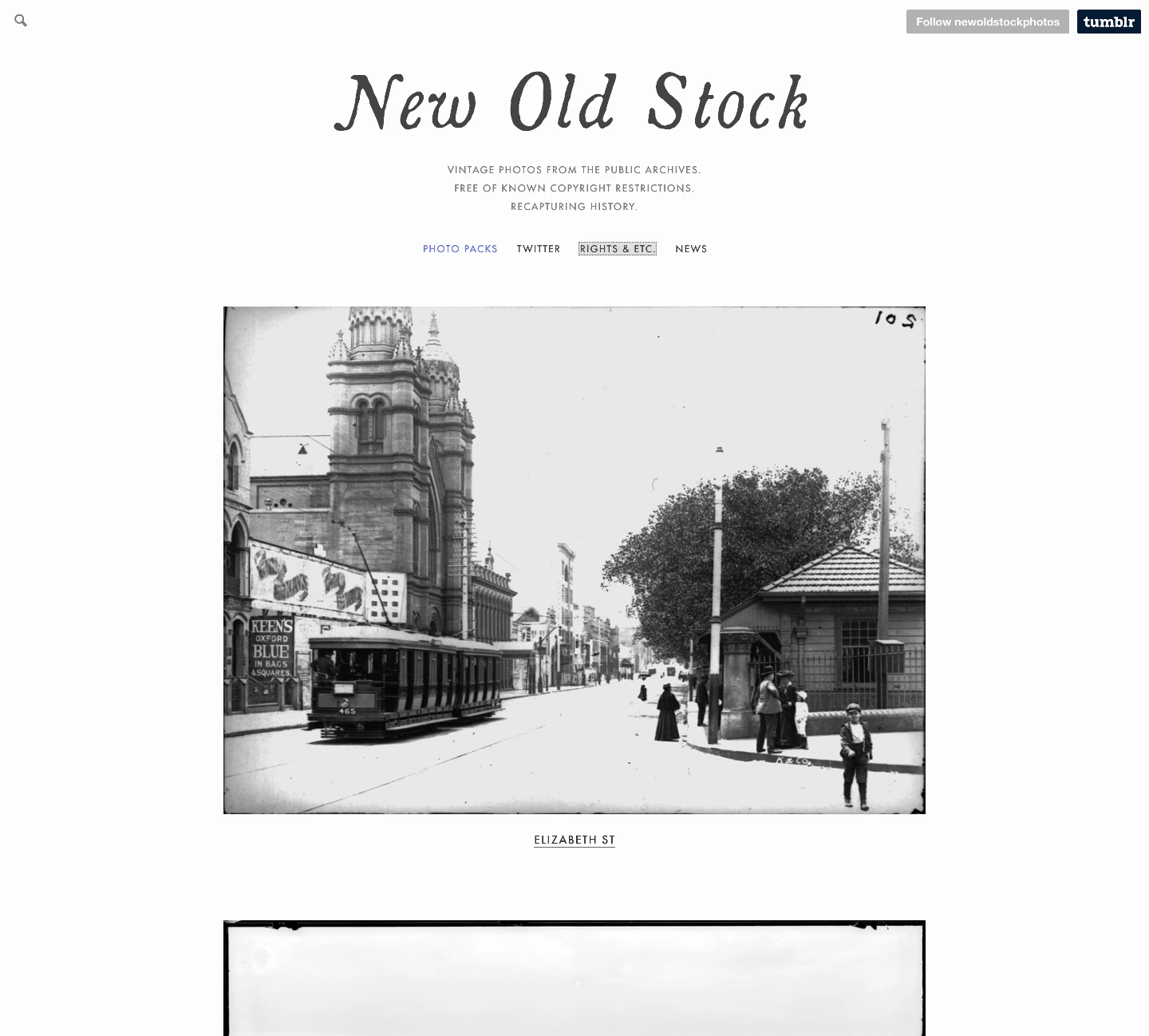 Image from New Old Stock
New Old Stock is a collection of vintage photos from the public archives. Photos on this site are at the very least available for personal and non-commercial use. If you're unsure about whether an image is a copyright free image, be sure to check the original Flickr posting, which is typically free of known copyright restrictions.
Note: It's been a while since their last update.
---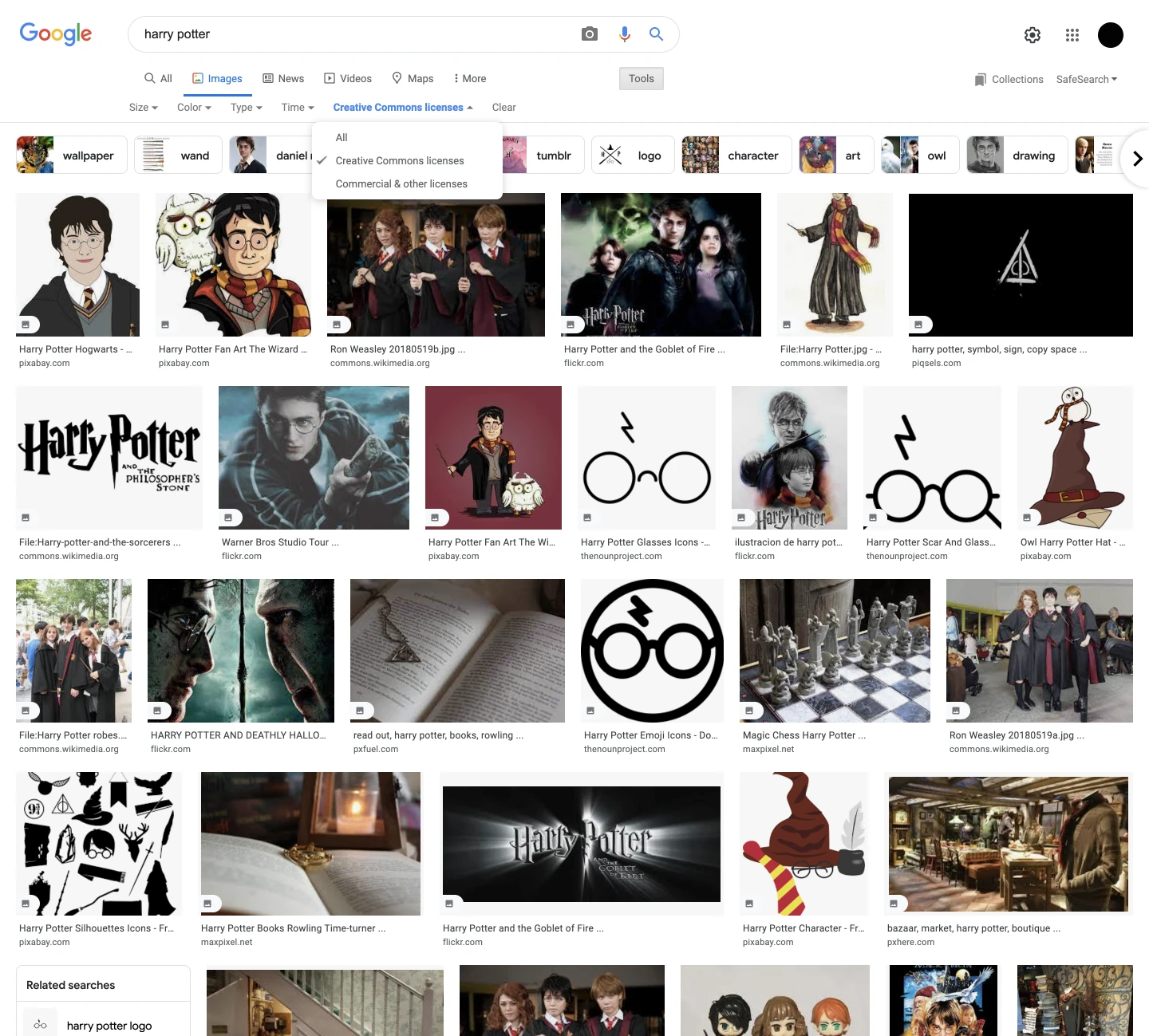 Image from Google
Google Advanced Image Search is a method of finding free-to-use images through Google's own search tools. Just type your search query – take 'harry potter' for example, then click on Tools, then Usage Rights, and select Creative Commons licenses. It's probably a good idea to then double-check that the image you've chosen is genuinely free to use.
---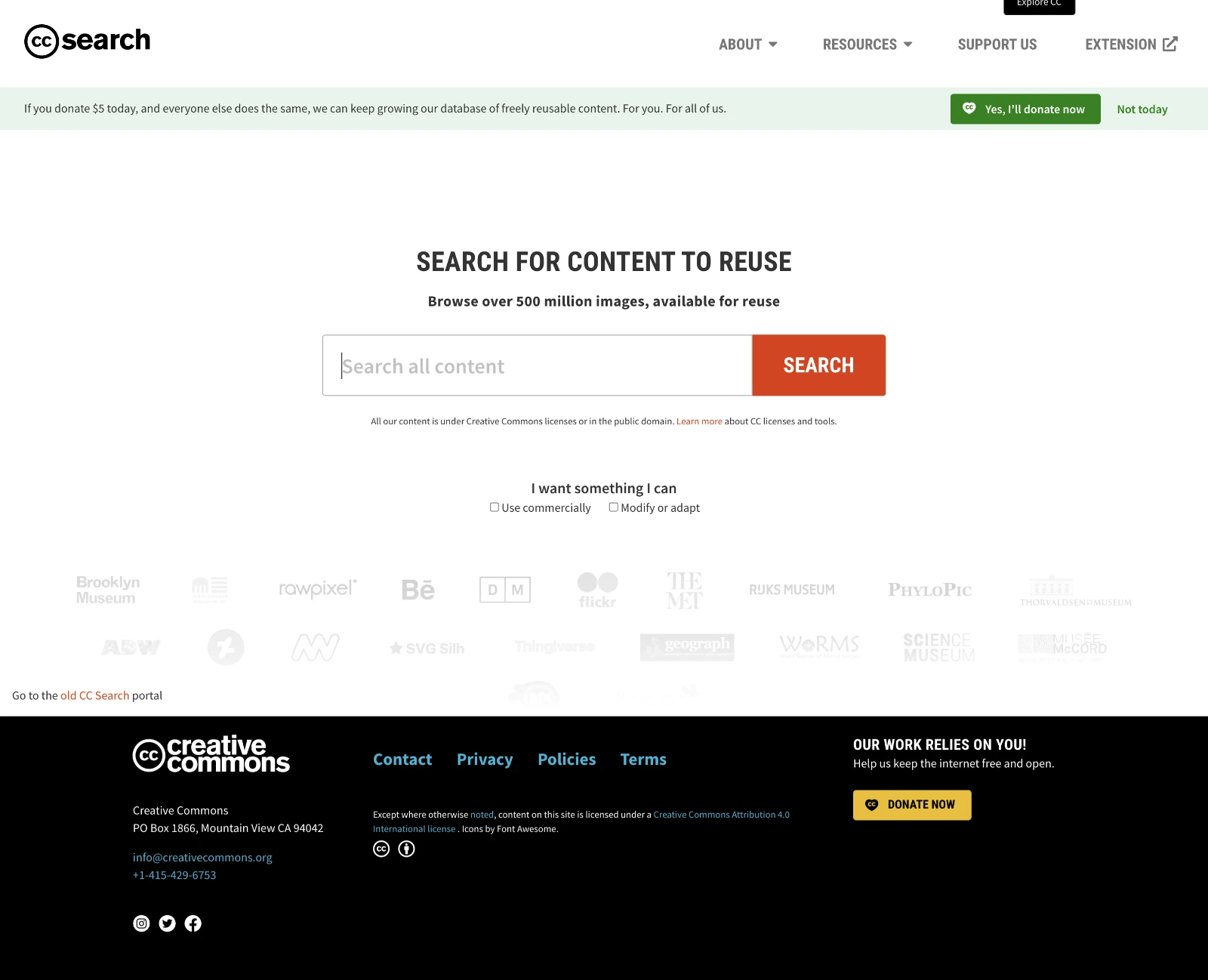 Image from CC Search
A new Creative Commons search tool for creators seeking to discover and reuse free resources with greater ease.
CC Search searches across more than 300 million images from open APIs and the Common Crawl dataset. It goes beyond simple search to aggregate results across multiple public repositories into a single catalog and facilitates reuse through features like machine-generated tags and one-click attribution.
---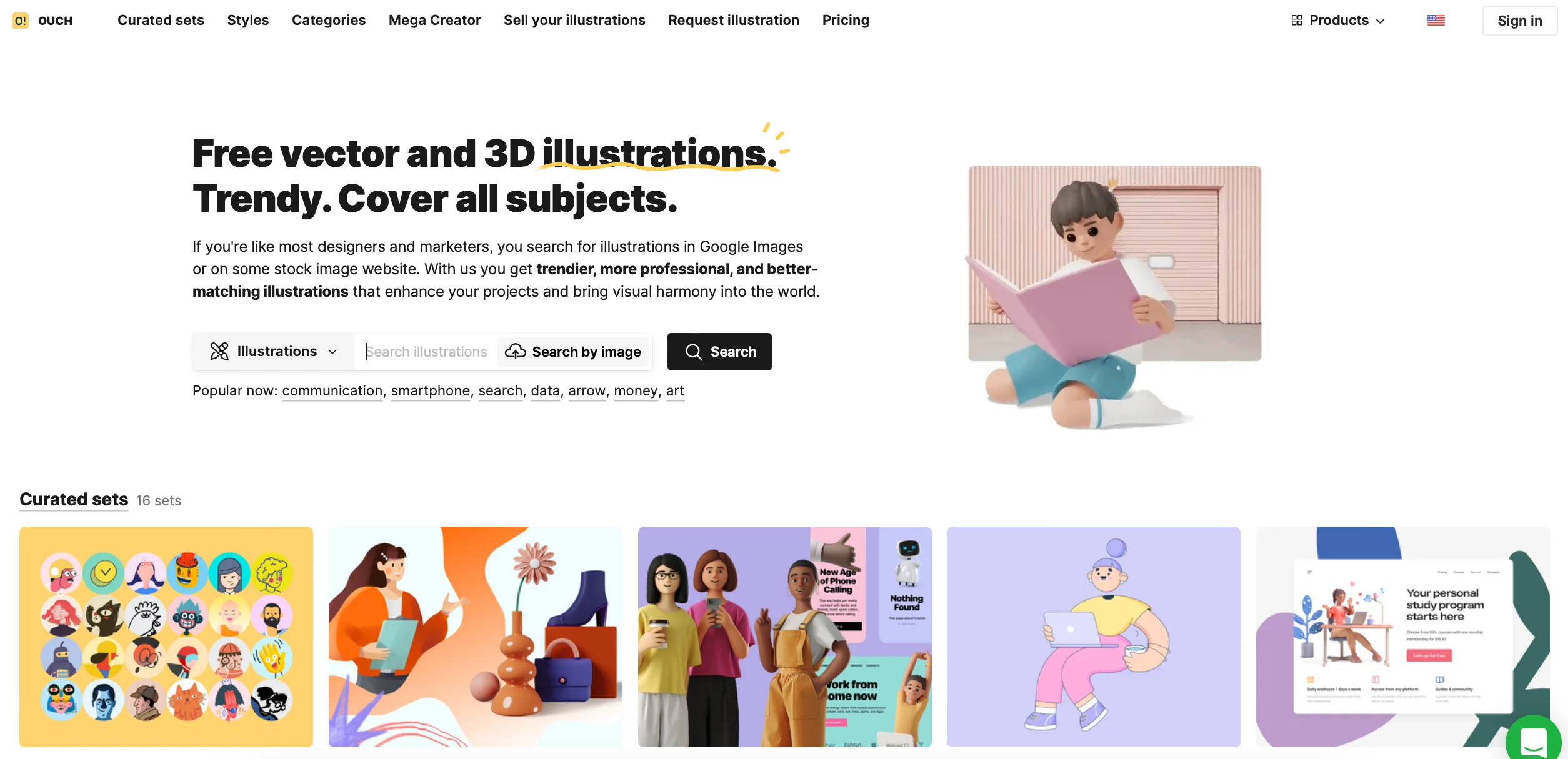 Image from Ouch
Ouch offers a wide range of visual content, including illustrations, clipart, and vector graphics. You can find literally everything you want there, from the microphone or even light bulb clipart images to fairies illustrations. All of them can be used for free unless you place a link back to their website.
Don't let a tight budget hold you back - explore our hand-picked selection of the best free illustration websites featuring 2D, 3D, vintage, and more. Start creating amazing designs now!
---
Bonus Mention: Videvo
If you are also in need of stock footage and music for your creative products, our bonus mention Videvo has got you covered!
Videvo is a great hack that you can screencap any still shot of their videos to use as images. High-quality and royalty-free, don't miss out!

Read more: 40+ Best Free Stock Video Websites for Great Footage
---
FAQs
1. What is Creative Commons?
"Creative Commons licenses give everyone from individual creators to large institutions a standardized way to grant the public permission to use their creative work under copyright law. " There are six different license types, you can see the details here.
Among those, CC0 (aka CC Zero) is the one that allows creators to give up their copyright and put their works into the worldwide public domain. It allows returning users to distribute, remix, adapt, and build upon the material in any medium or format, with no conditions.
2. What is the public domain?
The public domain consists of all the creative work to which no exclusive intellectual property rights apply. Those rights may have expired, been forfeited, expressly waived, or may be inapplicable. That means finding something on the internet does not mean it is in the public domain.
3. What is royalty-free?
Royalty-free material subject to copyright or other intellectual property rights may be used without the need to pay royalties or license fees for each use. They're not necessarily "free", in most cases, you'll have to pay a one-time fee to obtain the rights to use the image.
Related article:

Top 19 Site to Download Free Fonts 2022: Personal & Commercial
---
Now you got piles of images on your computer, next, you should learn to store them logically. Here, I'll recommend Eagle, a powerful files organizer, to lighten your burden! Whether is managing reference images, image tagging or give image annotations, Eagle can do it all, it can also automatically organize your images by names, tags, or even color. Save you time when finding one and efficiently improve your workflow!
Give it a try: https://en.eagle.cool/
Video from Eagle Browser Extension
Lastly, if you are eager to learn more design information and resources, visit and bookmark Eagle blog to become a better creative professional!
If you are still lacking inspiration and incentives to create something new, feel free to dive into Eagle Community to explore stunning assets shared by thousands of designers worldwide. Let Eagle be your best design assistant!