Top 20 Illustrators to follow on Instagram 2023
Nowadays, the rise of social media offers new opportunities for designers, especially on Instagram. It's a great way to share your amazing artworks and get inspired at the same time by other amazing creations out there.
To help you learn more about this mechanism, and what and how they organize their feeds, I'll share a list of some awesome illustrators to follow on Instagram. Enjoy!
Read Also: Where to download free illustrations?
---
Top 20 Illustrators worth following on Instagram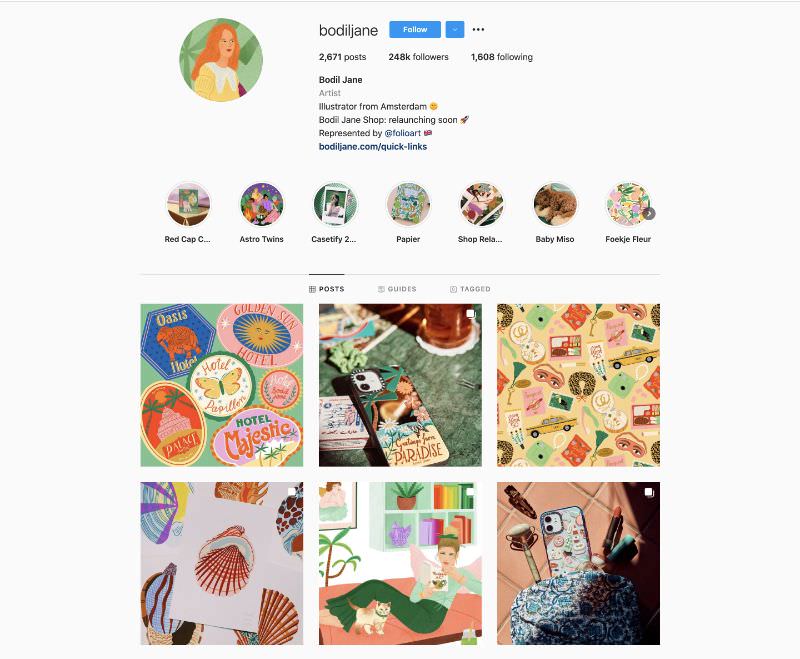 Image from Bodil Jane's Instagram
Bodil Jane is an illustrator from Amsterdam represented by Folio Art Agency. Her style is colorful, feminine, bright, and playful, which are obviously shown in her Instagram feeds, giving us positive inspirations while browsing.
She also takes Instagram as her working journal, making it a great opportunity to reach out to new cases and collaborations. "Instagram is the right social media for illustrators," she says.
---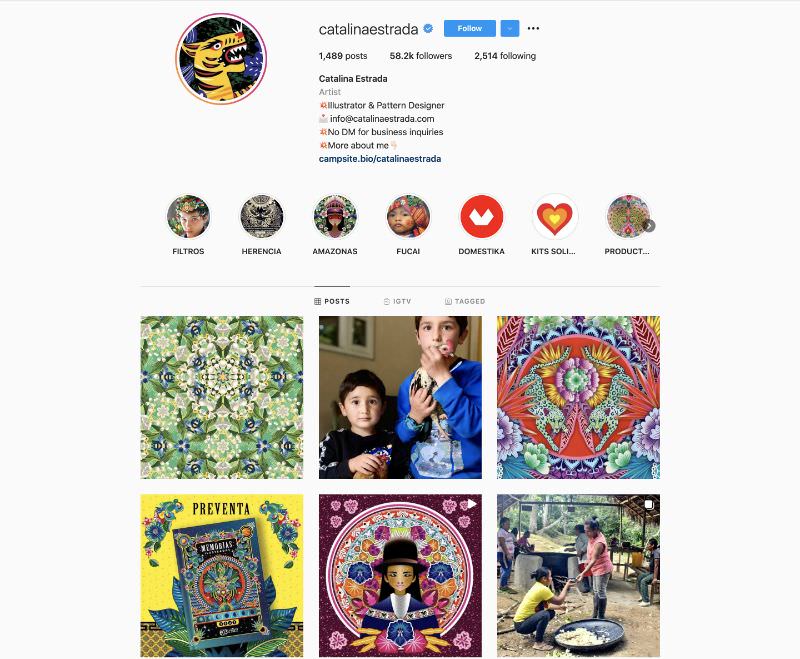 Image from Catalina Estrada's Instagram
Catalina Estrada's mainly working on pattern and illustration design. You can totally be impressed by her nature-inspired, colorful and complex brushwork, which grace everything from book covers, wallpaper and clothing.
---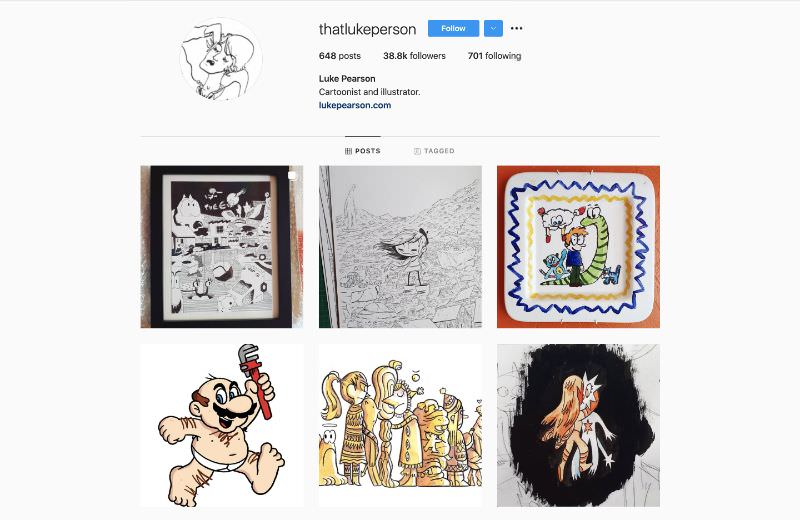 Image from Luke Pearson's Instagram
If you're interested in character design, Luke Pearson's Instagram would definitely catch your eyes. He's an illustrator, cartoonist, and comic book artist from the UK who has produced work for magazines and newspapers, book covers, poster design and development work for animation. The Hilda series of comics are also his renowned creation.
---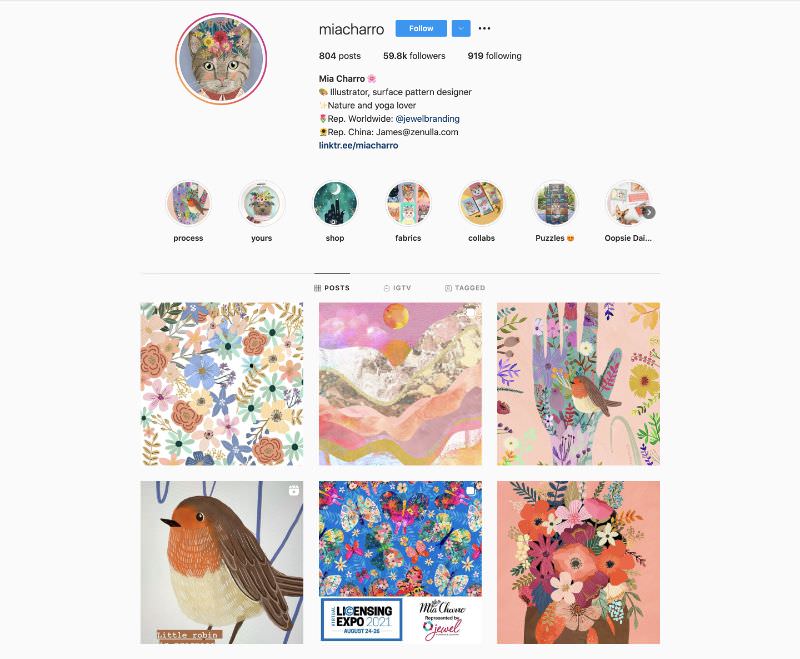 Image from Mia Charro's Instagram
Mia Charro is a Spanish illustrator. Her works are strongly affected by her loves toward nature, fairy tales, magic, and ancient wisdom. You can find her illustrations sold worldwide on art prints, home decor items, tech accessories, apparel, and more.
---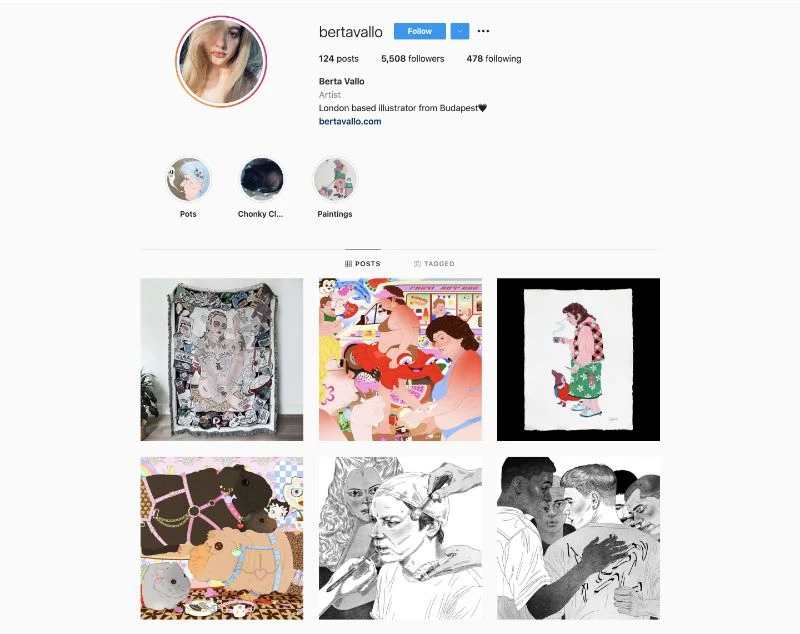 Image from Berta Valló's Instagram
Berta Valló's work often explores themes of identity and female sexuality in relation to consumerist culture. Based in London, she's experienced with commercial, editorial and private commissions with a research based approach and passion for precision. Her works can be seen in several exhibitions. Clients she has worked with include BBC, Vice UK, etc.
---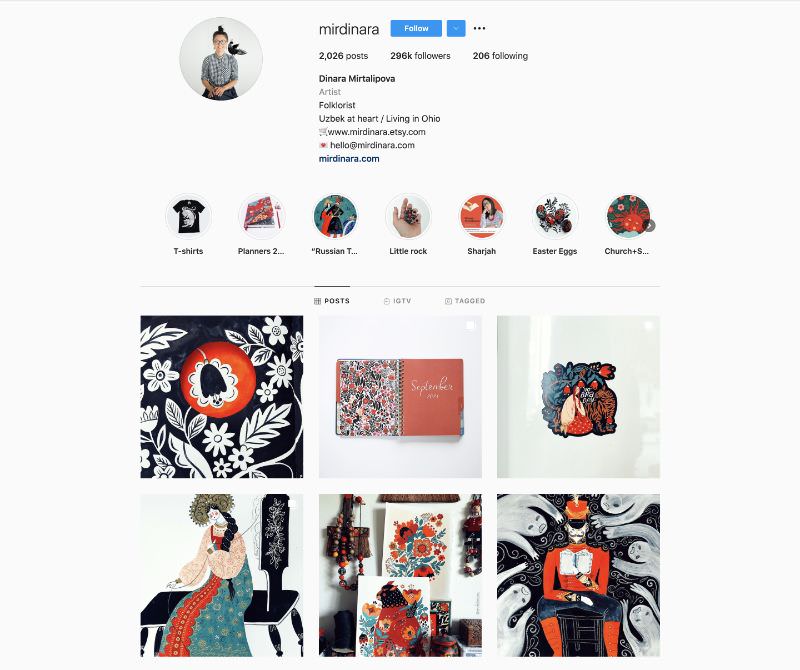 Image from Dinara Mirtalipova's Instagram
Raised in Soviet Uzbek culture, Dinara Mirtalipova inhabited Uzbek/ Russian folklore that still influences her work. She uses a wide range of materials and tools, and she has been working with many great brands, publishing companies and ad agencies.
---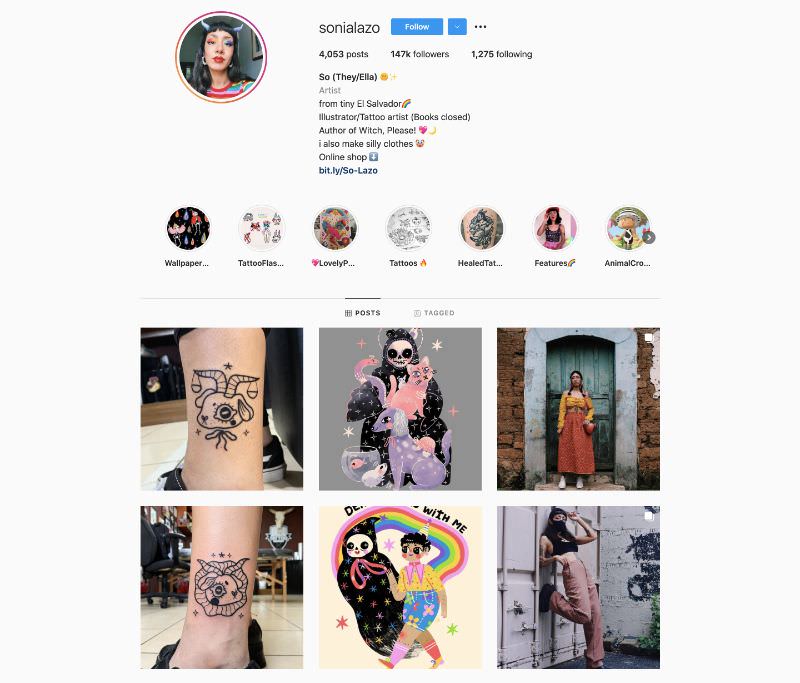 Image from Hélène Baum's Instagram
Sonia Lazo is an illustrator and tattoo artist from tiny El Salvador. Her works is full of high saturation and bright colors, giving us a joyful vibe. Do make sure to check out her shops if you're being impressed!
---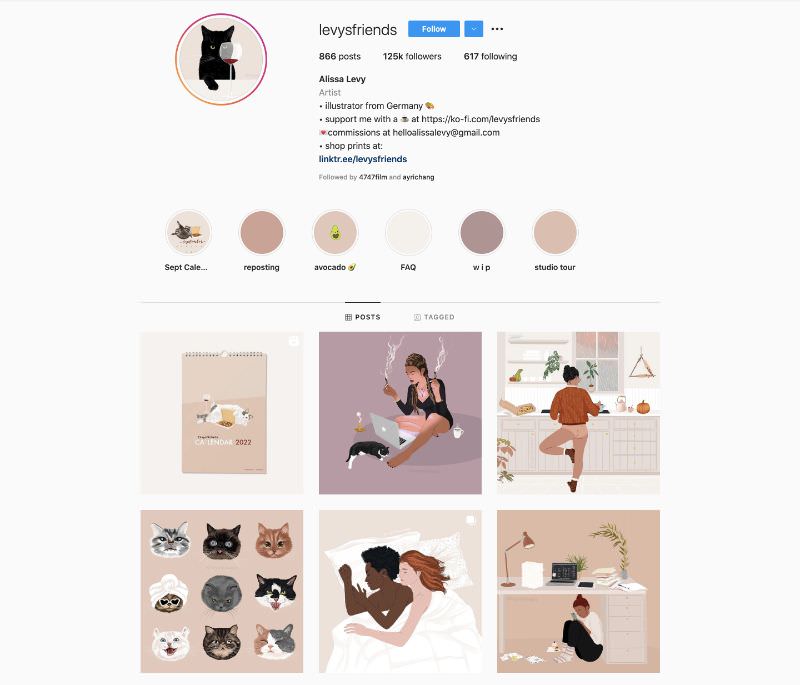 Image from Alissa Levy's Instagram
Alissa Levy's works are cute and warm-colored, capturing the unusual everyday setting fo female characters, plants and animals. She is currently working from her studio in in her hometown Dortmund, where she creates her colorful pieces.
---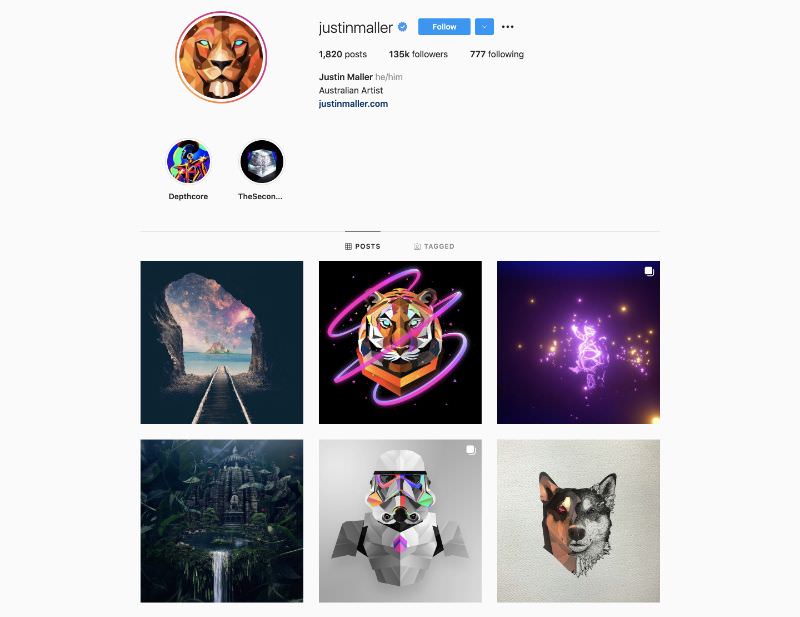 Image from Justin Maller's Instagram
Australian artist Justin Maller has worked for the likes of American Express, Grammys, Dolby and Nike. His creations contain neon colors and some technical elements. This style has had a visible and lasting influence on visual art practice around the world.
---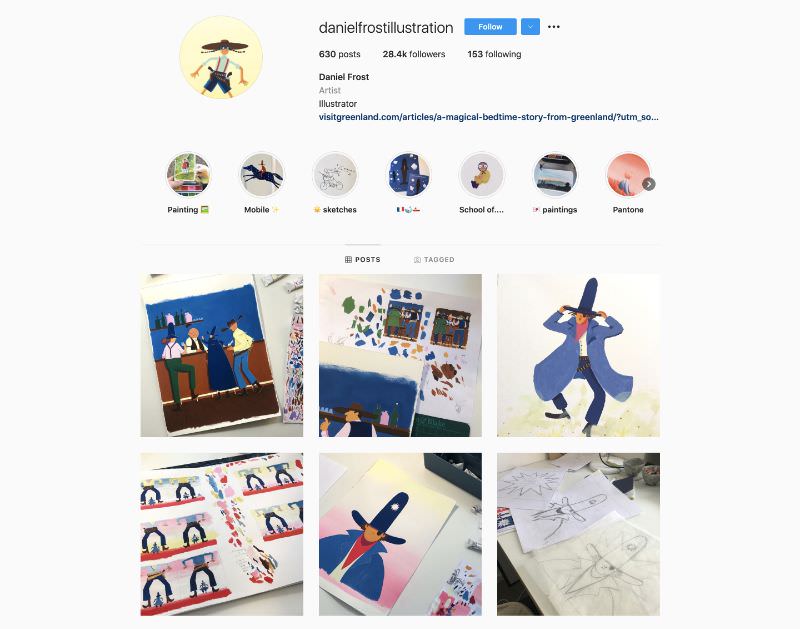 Image from Daniel Frost's Instagram
London artist Daniel Frost depicts everyday life in striking illustrations, created with simple color and composition. His Instagram account acts as an online portfolio of his work, including shots of his latest editorial spreads.
---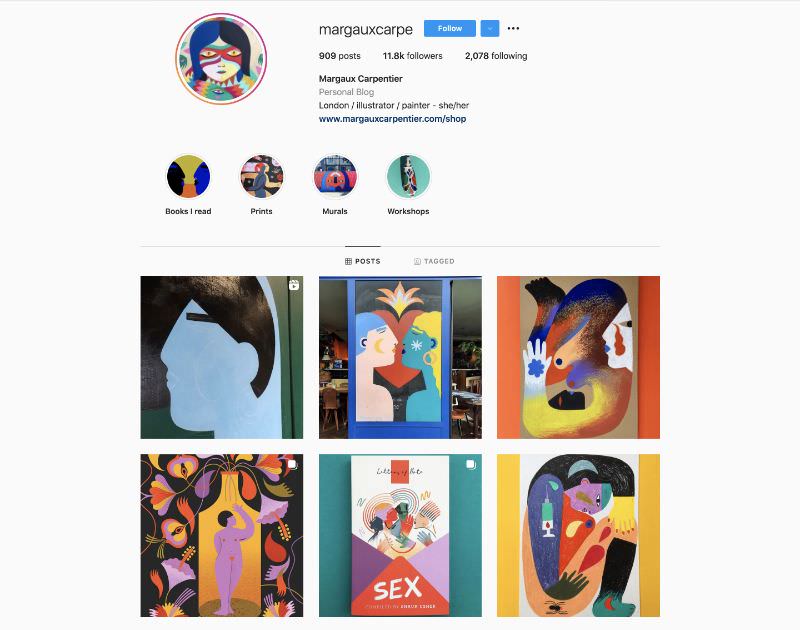 Image from Margaux Carpe's Instagram
Margaux Carpentier is an image maker and story-teller working mainly in London. She creates pictures using a symbolic language, so each piece can be read by all, in many different ways, bold and fun. She works on varied projects, from large murals, installations and paintings to detailed book illustrations, and even toys!
---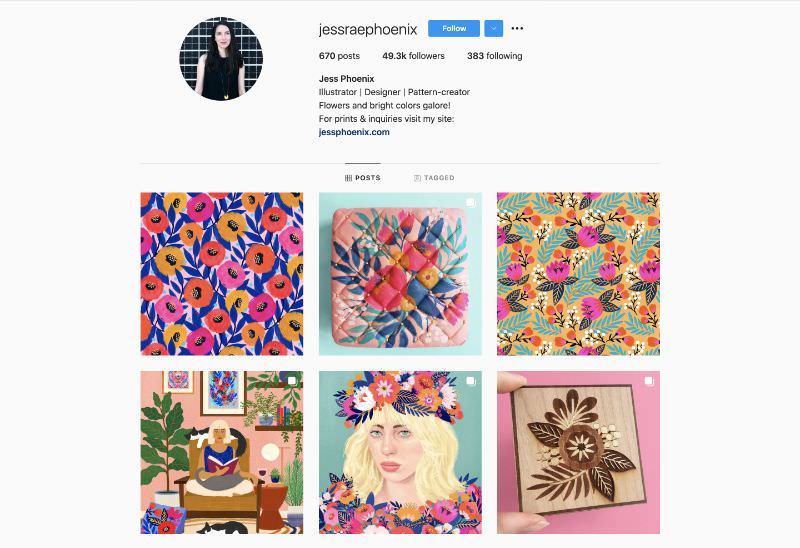 Image from Jess Phoenix's Instagram
Jess Phoenix's design is mainly about flowers and bright colors galore, each of them are both lush and modern, and has been featured on stationary, bool cover, and more.
---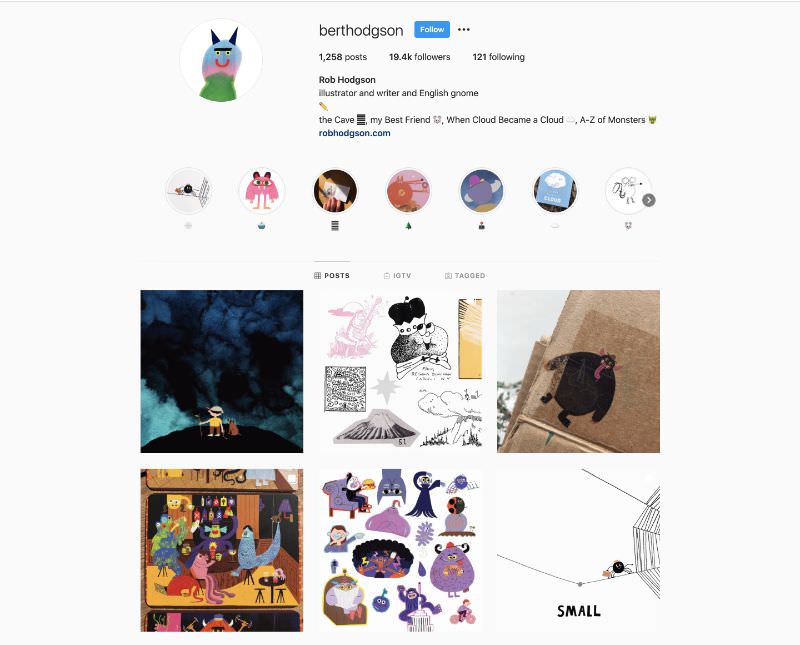 Image from Rob Hodgson's Instagram
Bristol-based illustrator Rob Hodgson approaching his work with a curiosity of techniques. He is equally to be found rummaging around in the trash for unlikely materials, as he is buried in a computer working on new digital processes. His Instagram not only shown his design but also his daily life, and Peggy Sue, his cat.
---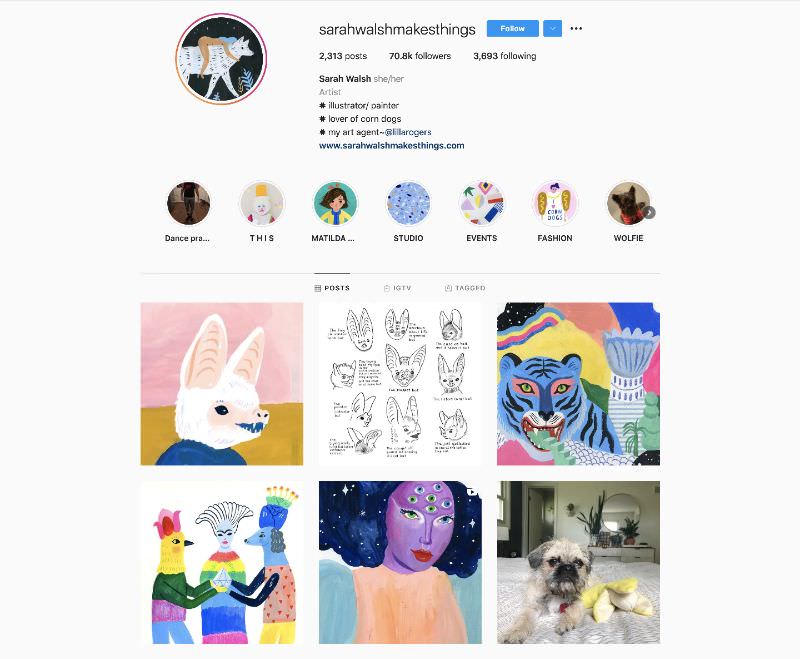 Image from Sarah Walsh's Instagram
Sarah Walsh is a 20-year-experienced artist and designer, with projects ranging from digital and conventional illustration, painting, pattern design, hand lettering, product creation, children's books, character design and more. She collaborates with companies like PBS, Washington Post, The Guardian, Penguin Random House, Simon & Schuster and Blue Q to name a few.
---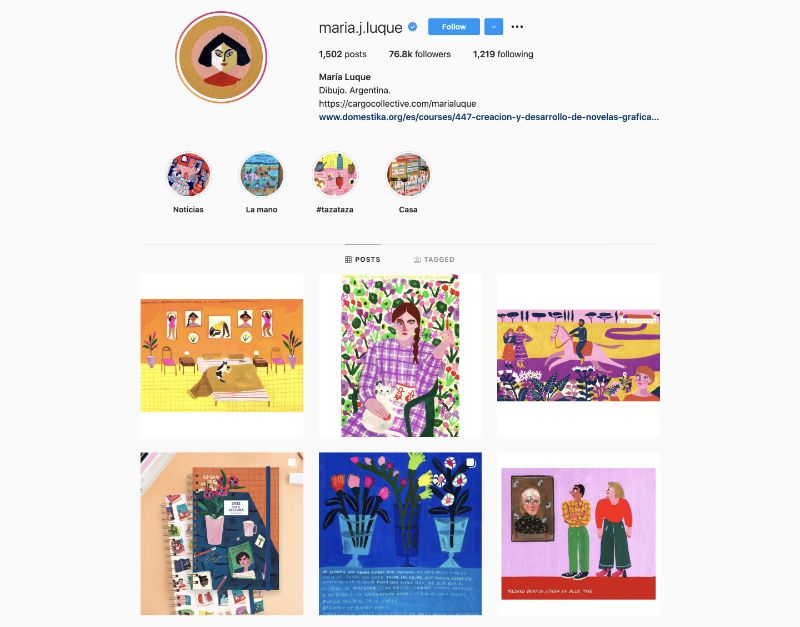 Image from María Luque's Instagram
María Luque is an artist, cartoonist, and illustrator from Argentina. She has published The Painter's Hand, Transparent House and Painters News, for which she has received several international awards. There's an online class taught by Luque, strongly recommended to those interested in graphic novels.
---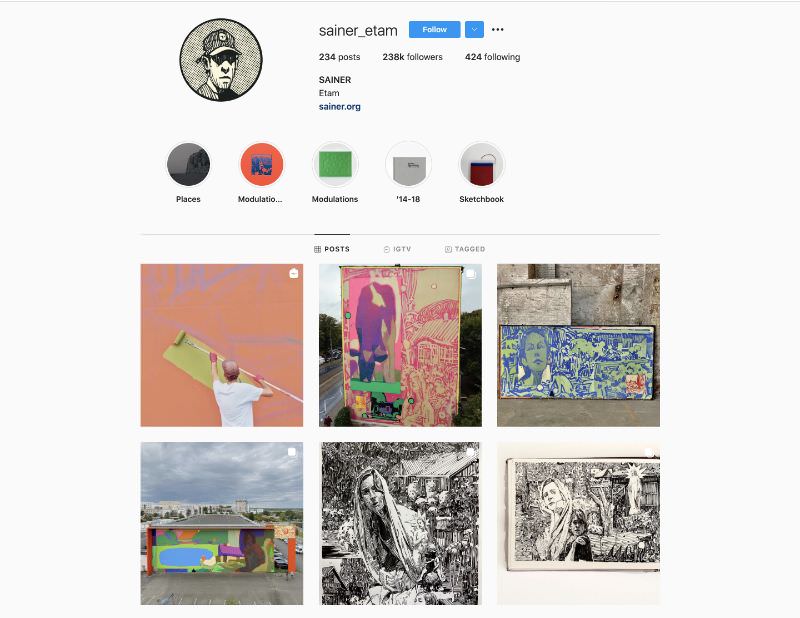 Image from SAINER's Instagram
Polish illustrator, painter, muralist, graphic designer, draftsman, and street artist SAINER creates pieces of work that are often gigantic in size and beautifully intricate. Follow his Instagram account to check out his latest stunning artworks.
---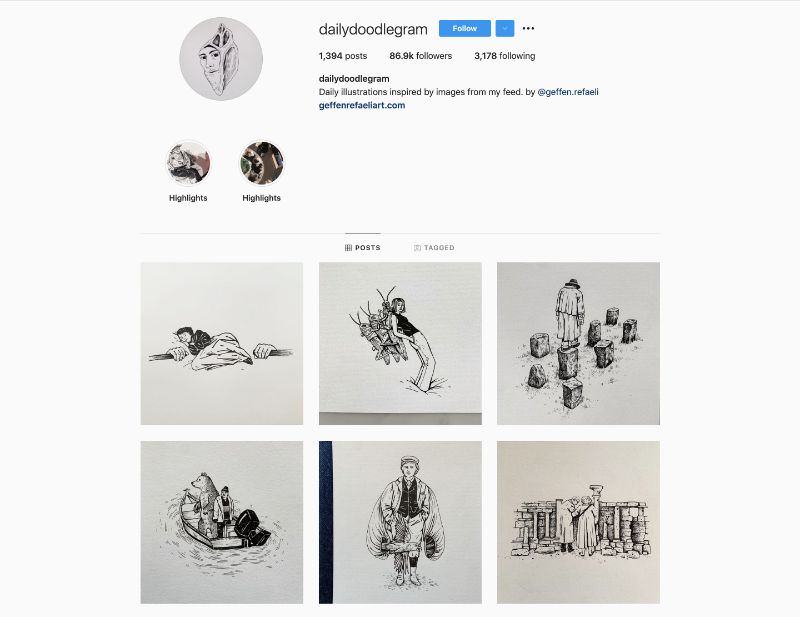 Image from Geffen Refaeli's Instagram
Israeli illustrator Geffen Refaeli first started the DailyDoodleGram project in May 2001 and has uploaded a new illustration each day ever since. His artworks are mostly done with minimalist lines and pencil drawing fix.
---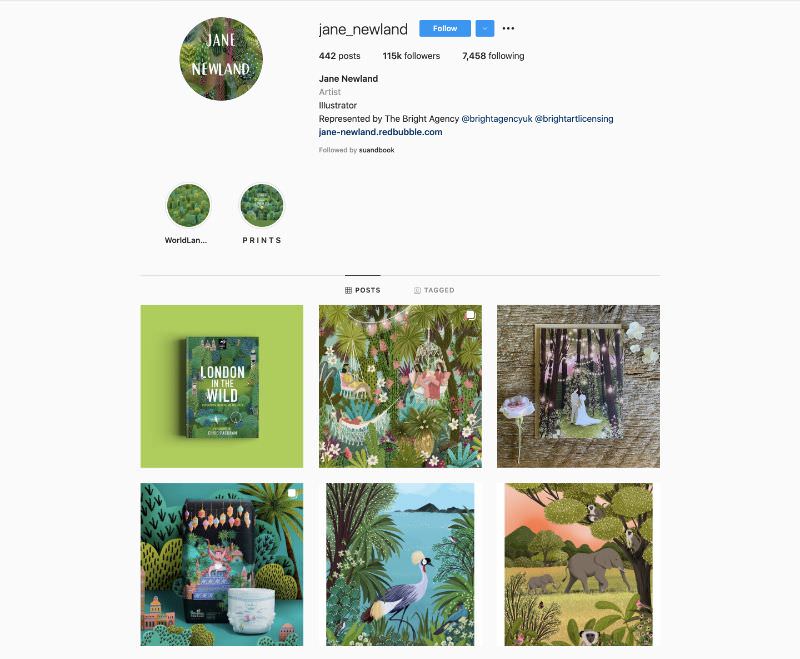 Image from Jane Newland's Instagram
Jane Newland is an illustrator represented by The Bright Agency. Her creation captures nature, wild lives, and landscapes. Really healing and comfortable while browsing.
---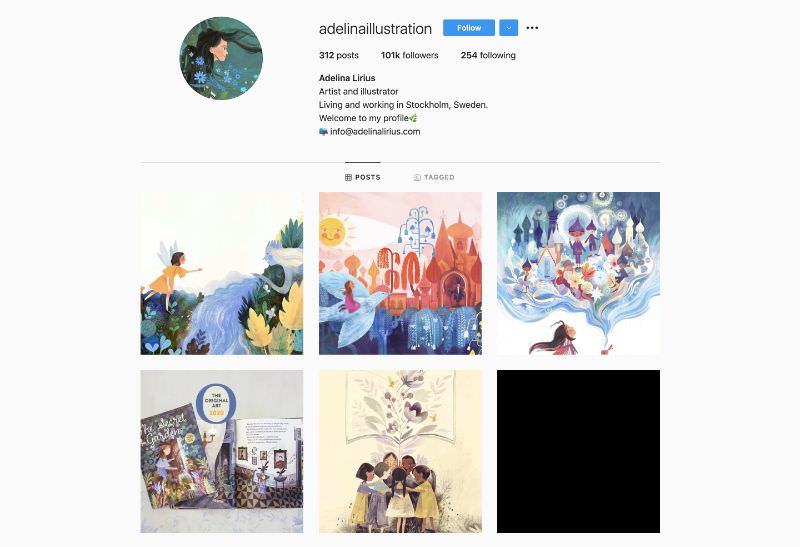 Image from Adelina Lirius's Instagram
Based in Stockholm, illustrator Adelina Lirius owns a more childlike, cool color tone Nordic style. You can find her works in many picture books such as The Fort and The Secret Garden, etc.
---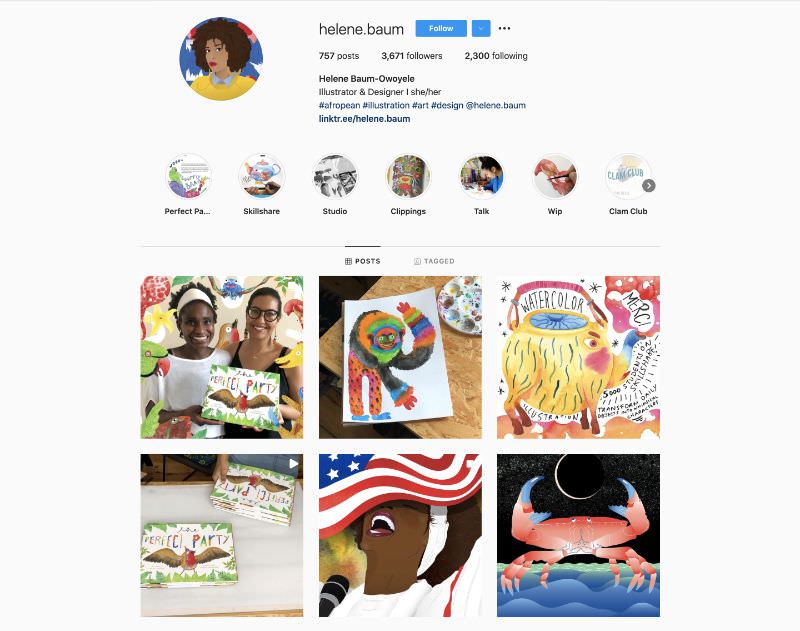 Image from Hélène Baum's Instagram
Hélène Baum creates images by using watercolor and vector drawing. Lots of her works are inspired by mythology, nature, legends, and cultures around the world. Besides Instagram, she organizes a website as well, to show profession and behind-the-scenes in multiple channels.
---
To wrap it up
There are definitely more awesome illustrators who deliver great works that I'm not capable of listing all in these articles. Anyways, if you desire to have your products designed by illustrators or simply want to add spice up some magic to your Instagram homepage, remember to save this article to the reading list, and be inspired!
Looking for places to store your inspiration? Eagle is here to help!
After viewing all these stunning references, here's a practical step to improve your design by using an organizing tool! Eagle is a desktop productivity tool that enables a powerful organizing system for all types of design files.
It can add tags, ratings, annotations, comments, and color-filter to help you quickly find a specific reference image or video asset among thousands without getting lost, Try Eagle!
Video from Rolando Barry (Using Eagle as my Media & Asset Library)
Lastly, if you are eager to learn more design information and resources, visit and bookmark Eagle blog to become a better creative professional!
If you are still lacking inspiration and incentives to create something new, feel free to dive into Eagle Community to explore stunning assets shared by thousands of designers worldwide. Let Eagle be your best design assistant!