10 Online Poster Makers to Create Stunning Designs in Minutes
Get creative with these 10 online poster makers that can help you design stunning posters in just minutes! No graphic design skills are needed. Try them now!
Indeed, quality poster makers have brought ease to everyone's life by making designing easy and simplified. You can design and customize your poster within seconds with these tools without having any expertise in designing.
Without a doubt, the internet is filled with dozens of online poster makers but we compiled the best ones so you can get a quality poster with ease and save your time by finding the right poster maker. Moreover, these online poster makers come with templates for you to choose from, so you don't need to start any design from scratch, you can just customize the ideas and edit according to your needs from a poster. However, if you try to be a little creative around these tools you can also create extraordinary posters and bring in more customers.
If you're looking for online tools to create a logo, get started with the logo maker today!
Eagle App - Collect & Organize Poster References
Video from Eagle (using eagle extension batch save)
Saving and organizing ideas from the internet or any other sources has never been this easy! With the Eagle browser extension you can now just drag and drop ideas from the internet to your Eagle.
Moreover, you can further sort these poster references into smart folders, and categories and add ratings and colors to be easily filtered out when you need them. Eagle saves you the time of downloading ideas to your device and then spending hours organizing them, with Eagle you are now allowed to import ideas from your favorite platforms like Vimeo, YouTube, Pinterest, and many others.
Eagle makes it impossible to lose track of your project files by keeping your media files organized, the easy-to-use interface has brought ease to the life of content creators, designers, and filmmakers.
---
10 Best Online Poster Makers You Should Try
1. Adobe Express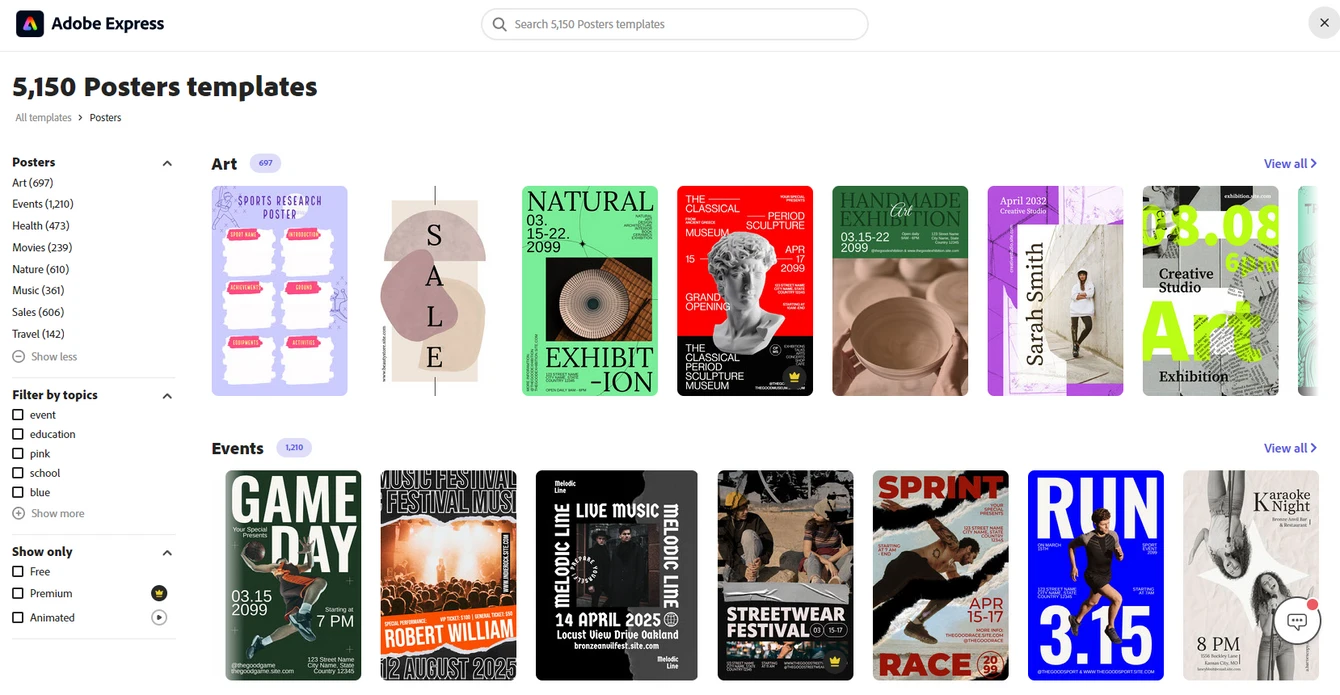 Image from Adobe Express
Previously known as adobe spark, the tool is never out of poster templates so you're not missing anything on this tool. Comes with premium and free templates that can be further customized and changed according to your needs and preferences. Customize your poster with shapes, images, fonts, digital assets, and backgrounds with this online poster maker. This tool is ideal for anyone who has no experience with designing because the interface is very easy to use making it accessible to everyone.
Features:
Easy-to-use online editor
Add animations to your posters like fade, slide, and color shuffle
Export your posters free in high quality
Benefits:
Gives you free 2GB cloud storage
Lets you create and edit posters through mobile and web
Automate your editing process with artificial intelligence
User-friendly interface
Pricing: Free plan with limited features, Monthly $9.99 and Yearly $99.99
Website: https://www.adobe.com/express/create
2. Canva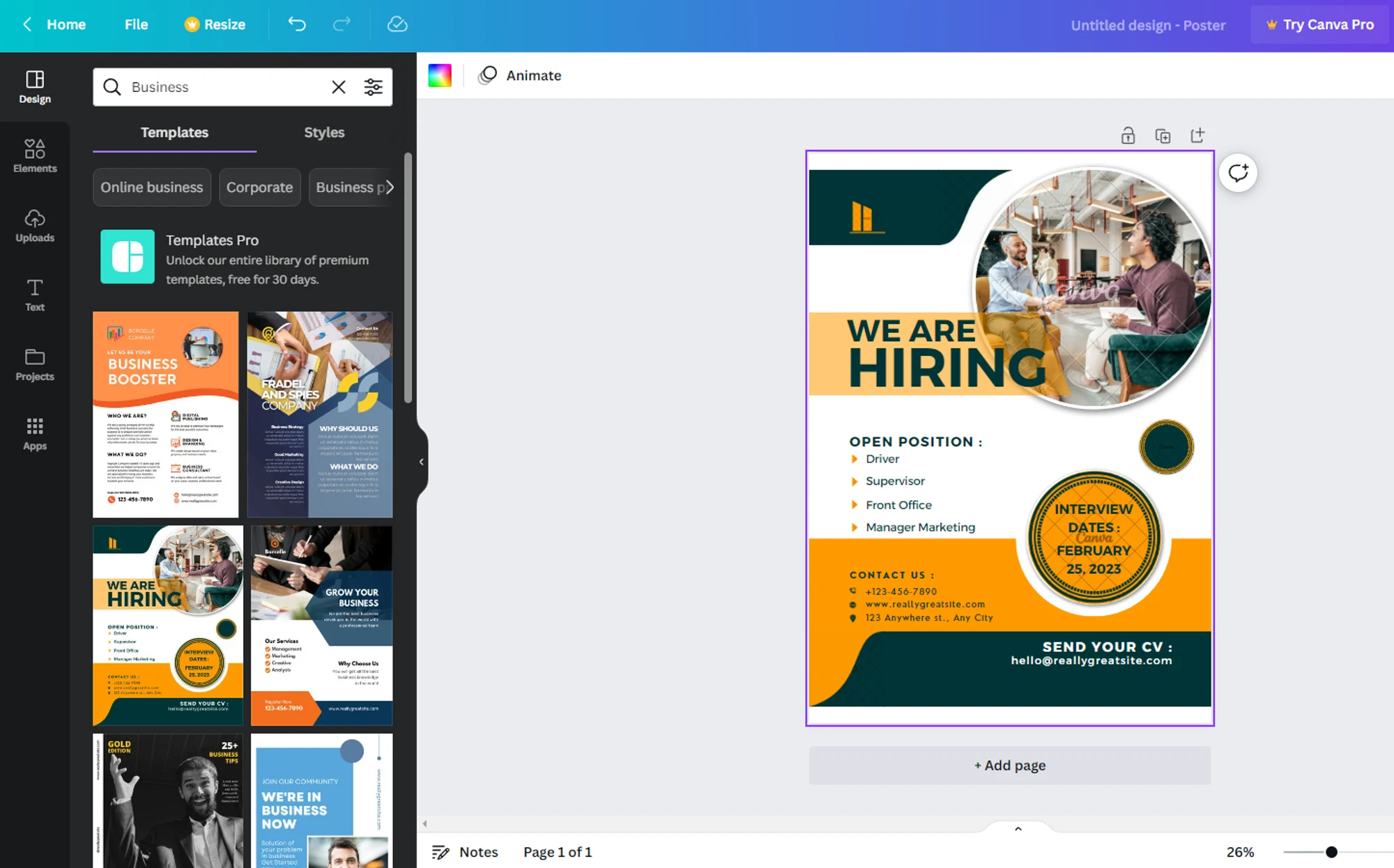 Image from Canva
Canva needs no introduction because almost everyone uses this online tool to create graphic pieces for their projects. But did you know that it is also the best online poster maker you will find on the internet? Yes, you can scroll through hundreds of Canva poster templates and choose the one matching your needs. Moreover, Canva can be used by any individual without any technical or design experience because the purpose of the tool was to bring ease and save energy by designing something from scratch.
Features:
Advanced and easy-to-use editor
Add media to your posters through other platforms like Brandfetch and Pixton
Add animated graphics to your posters
Benefits:
Export in multiple formats
Add your own images and media files
Friendly interface
Pricing: Free plan with limited features, Monthly $6.49 and Yearly $54.99
Website: https://www.canva.com/create/posters/
3. Postermywall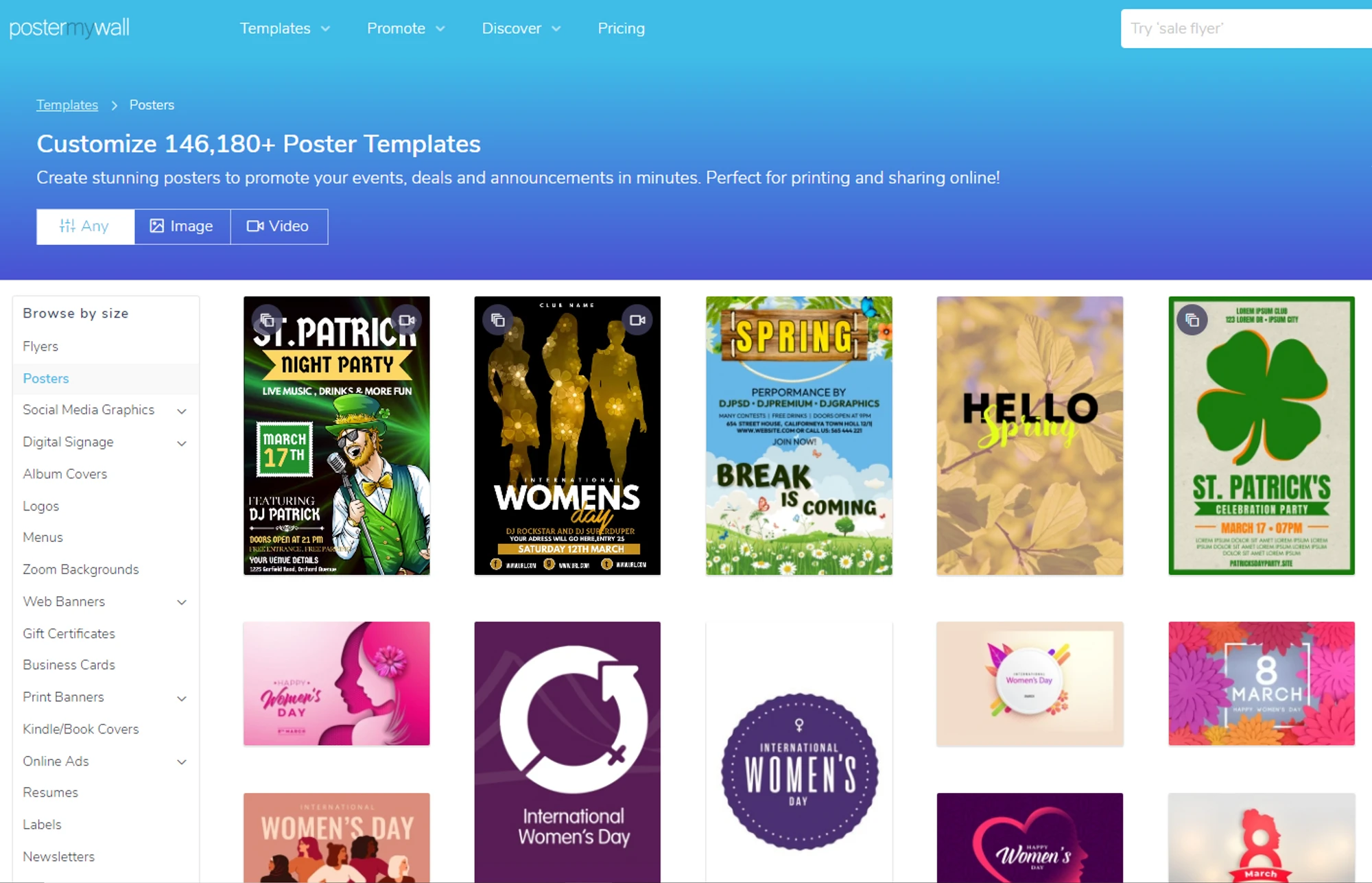 Image from Postermywall
As the name says, the tool is a free poster maker online with unlimited templates. Whether you're looking for event announcer posters, business-related or for other needs, Postermywall has everything you need. Also, these templates are sorted by categories so you can search for the relevant category and get hundreds of ideas to get started with.
Features:
Resize and edit with their online editor
With this tool, you can collaborate on a design with your team
Add audio, videos, and media files to your designs
Benefits:
Edit posters without any complexity
Hundreds of free and premium poster templates
Download posters in multiple formats
Pricing: Free plan with watermarks on designs, Monthly $9.95 and Yearly $99.95
Website: https://www.postermywall.com/index.php/sizes/poster-template
4. Piktochart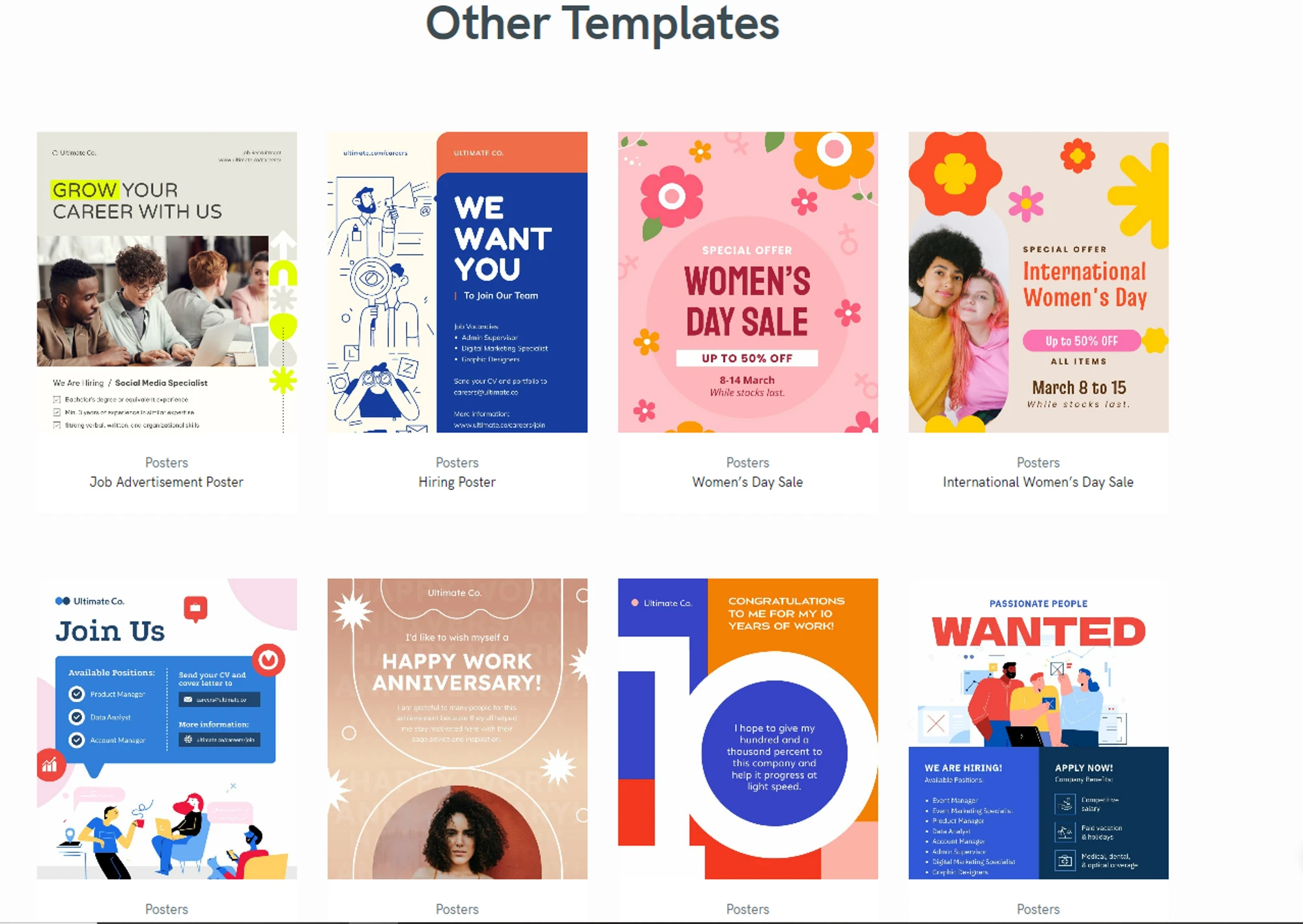 Image from Piktochart
This tool is used by big names like Disney, booking.com, indeed, and many more. Providing you access to hundreds of poster templates from events to job hiring posters they got you covered for all your needs. However, this tool requires you to sign-up before you can edit these templates.
Features:
Advanced editor leaves no need for any third-party editing software
Add timelines, comparisons, illustrations, and much more to your posters
Access to other tools like Maps, tables, and charts
Benefits:
Ease of customization
Save drafts and edit them later
Access to the gallery of stickers, graphics, and shapes
Pricing: Free plan with a daily limit of 2 downloads, Monthly $29.00 and Yearly $168.00
Website: https://piktochart.com/templates/posters/
5. Visme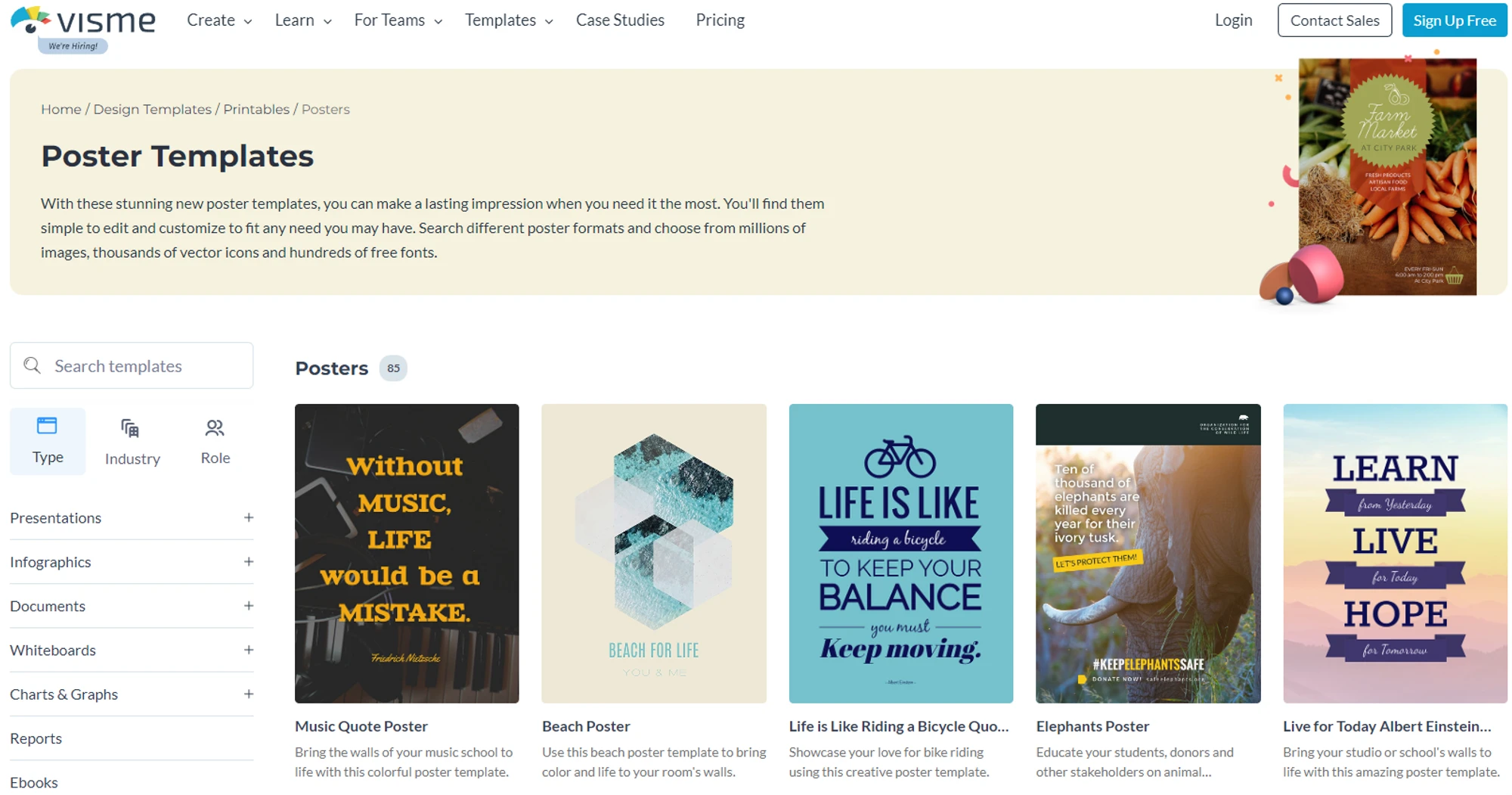 Image from Visme
Take your visual communication to a next level with Visme, explore the library of graphics, and create a stunning and eye-catching poster with ease. Moreover, Visme can be used as a team tool as well, it lets you share designs and collaborate with your colleague, So you can also assign permissions and implement real-time changes to a project.
Features:
Variety of graphics, icons, and charts
Drag and drop interface
Work together with your team on a project
Benefits:
User-friendly and accessible for everyone with little or no experience
Multiple graphic options like 3d animations, illustrations, avatars, and much more
Import data from other apps like YouTube, Google Analytics, Dropbox, and many other
Pricing: Monthly $29.00 and Yearly $147.00
Website: https://www.visme.co/templates/posters/
Explore free graphic design template online for fresh ideas!
6. DesignCap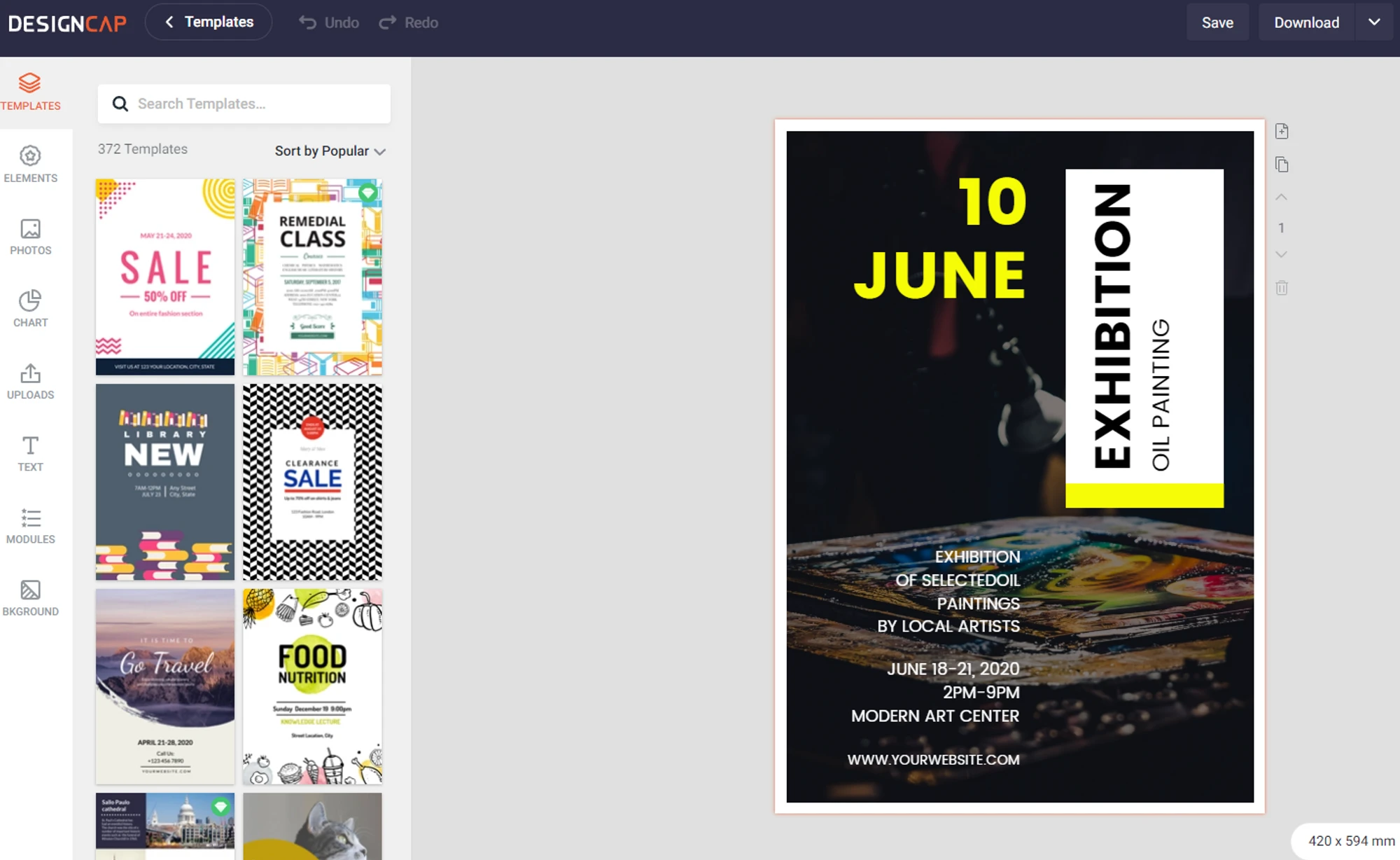 Image from DesignCap
Wanna create a professional-looking poster with minimal effort? DesignCap is the place to do so. The tool has unlimited options to customize your posters and make them eye-catchy by adding icons, charts, and shapes to your posters. Moreover, there is a huge library of posters templates for every category and you can find any specific template for your brand by searching with a keyword.
Features:
Simplified layout and editing options
Import your own graphics, images, and media files in the editor
Download design in high quality
Benefits:
Huge library of templates
Unlimited customization tools to design your poster easily
Multiple graphic and design elements like icons, photos, and shapes
Pricing: Includes free plan with limited features, Premium plans: Monthly $8.99 and Yearly $59.88
Website: https://www.designcap.com/poster/
7. Fotor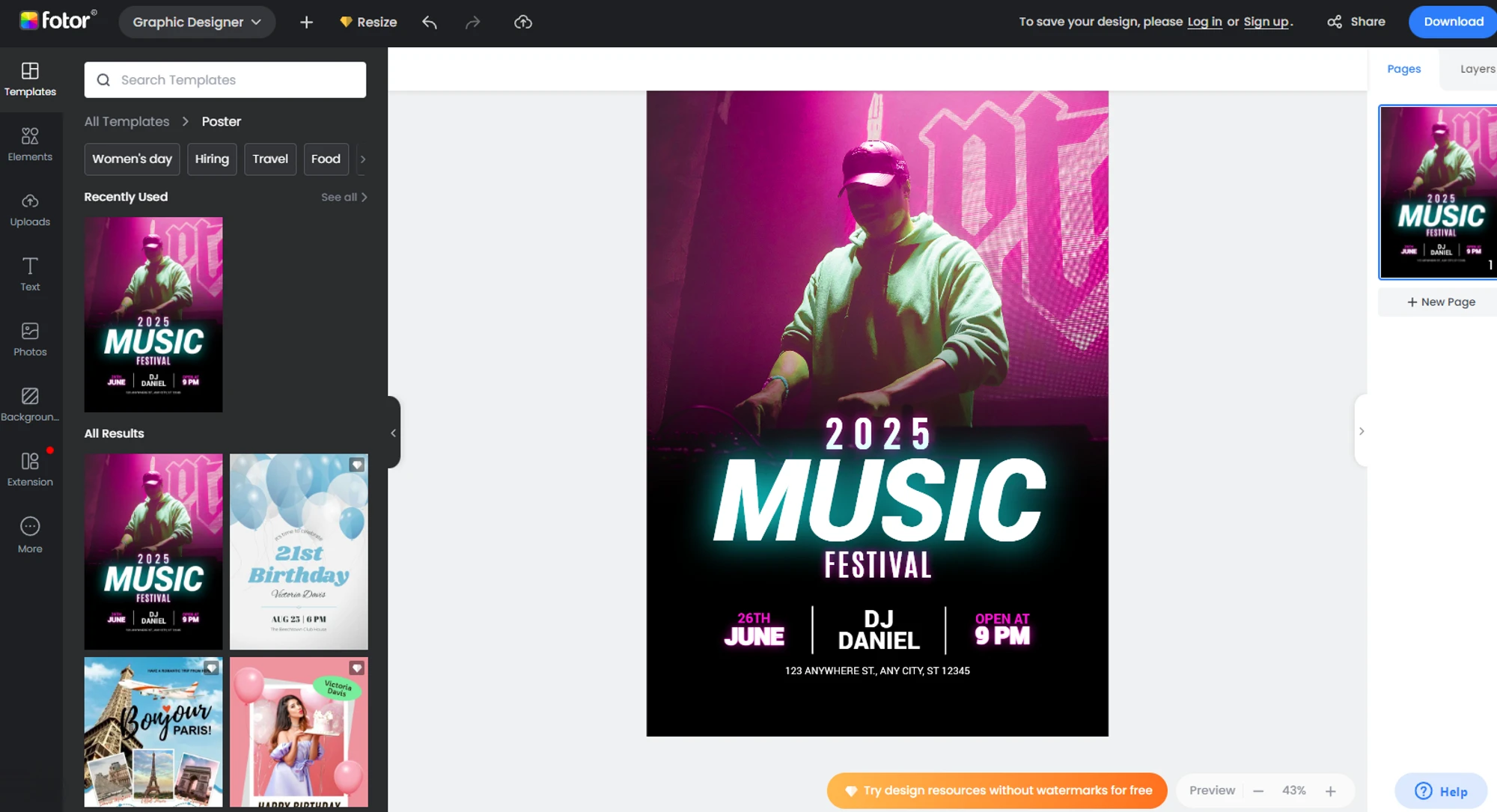 Image from Fotor
Fotor is used for photo editing, but it can also create awesome posters. They have tons of templates that are ready for you to use, Moreover, the easy interface is designed to enable users to create graphics and visual presentations with no technical experience. Fotor has the potential to create stunning and professional posters if you try to be a little creative with this tool.
Features:
Eye-catchy elements and graphics
Simple interface and drag-and-drop editor
Export your files in High quality and multiple formats
Benefits:
Provides cloud storage to save your drafts
The advanced editor leaves no need for any third-party editing software
A variety of templates takes the pain of designing something from scratch
Pricing: Monthly $8.99, Yearly $39.99, and lifetime subscription for $99.99
Website: https://www.fotor.com/features/poster.html
8. VistaCreate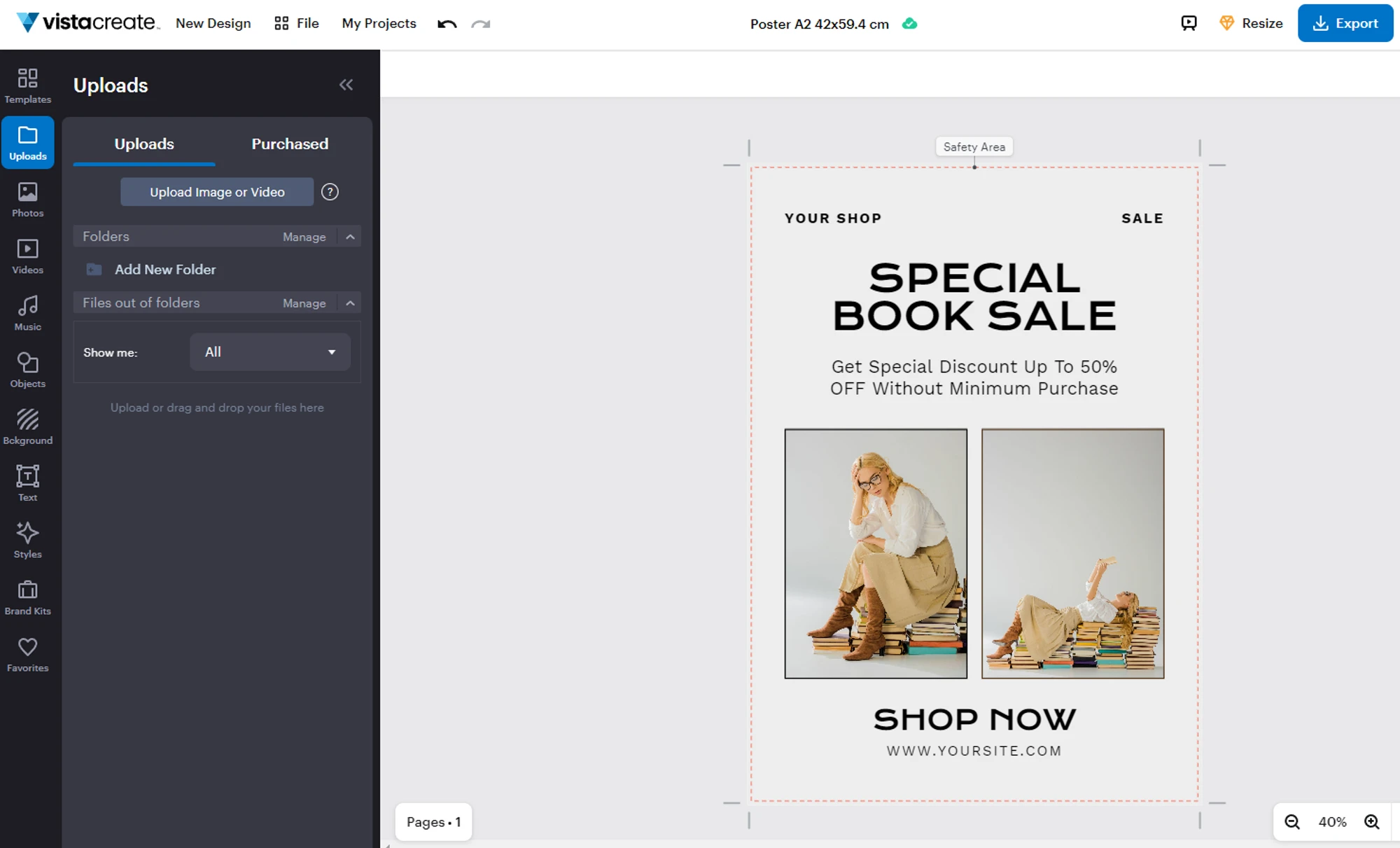 Image from VistaCreate
The ultimate tool for your social media marketing, landing pages, and other visual presentations, Vistacreate has been in the market for years for its premium quality and ease for the designers, but it also is used to create attractive posters too. They've got templates for all kinds of needs, whether you're looking for any event, job-hiring posters, concerts, or marketing posters. Furthermore, these templates are already designed so there's not much to do, you can only edit fonts and you'll have your poster ready.
Features:
Drag and drop editor for basic editing
Hundreds of graphics to make your poster more engaging
AI interface, everything that you're looking for can be found with a single keyword
Benefits:
Create your own brand kits
Unlimited text styles, you can also upload your own fonts
Color grading templates
Pricing: Free plan with limited options, Monthly $13
Website: https://create.vista.com/create/posters/
9. Desygner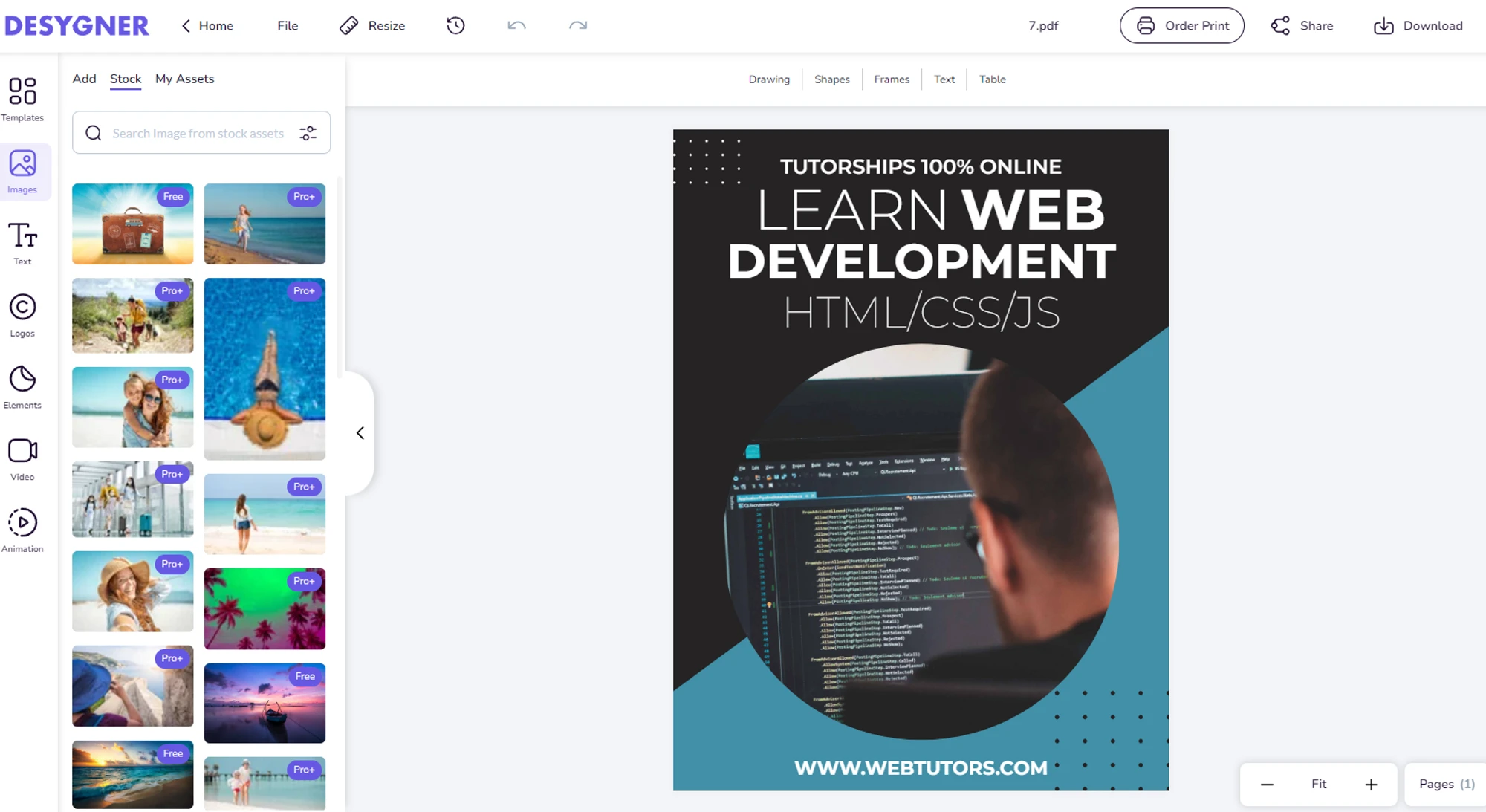 Image from Desygner
This is a free poster maker online which is great for someone who is looking for free poster templates, these templates can be used by just sharing their platform on any of your social media handles like Twitter and Facebook. Moreover, you can edit these free templates on their website which has the most easy-to-use interface and dozens of editing options to optimize your poster.
Features:
Add animations to your posters
Add your own custom assets to the editor
Option to print your poster with multiple dimensions
Benefits:
1000+ free templates
Free text banners, elements, and fonts
Resize or edit your design at anytime
Pricing: Free plan with limited features, Monthly Pro $9.95, Monthly Business $14.95
Website: https://desygner.com/free-templates/poster/
10. DesignWizard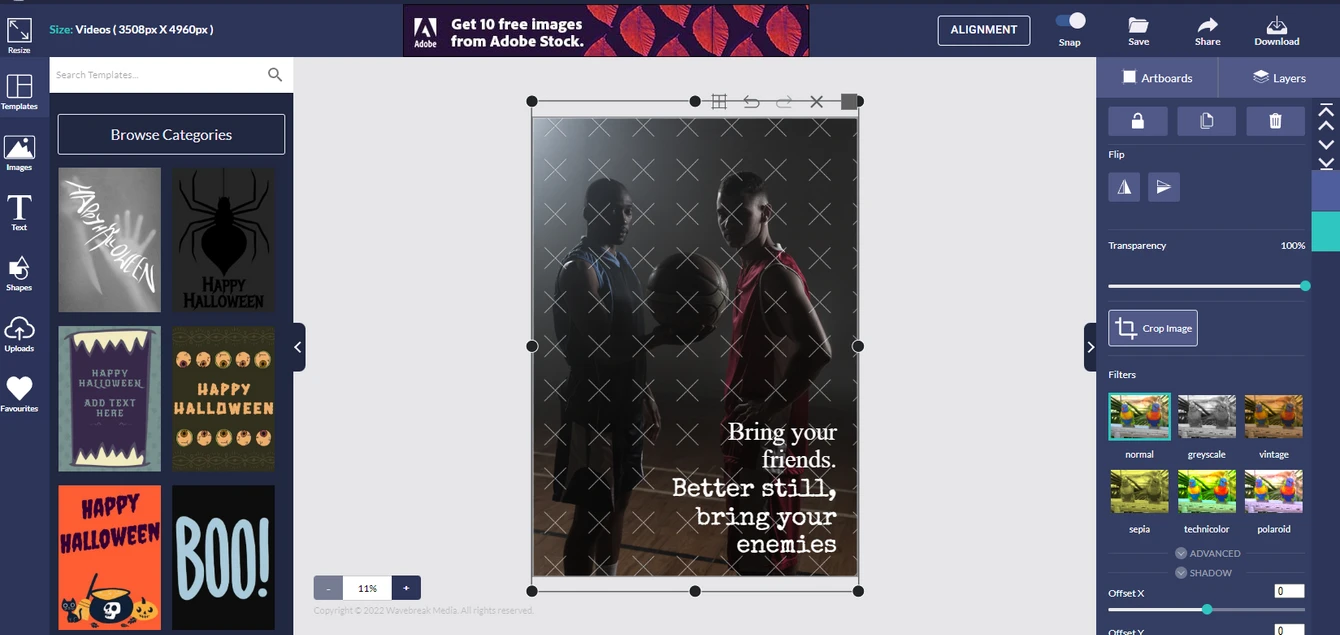 Image from DesignWizard
Not as an advanced poster maker like others, but DesignWizard has also the potential to create engaging posters. Whether you're designing something from scratch or using their templates, they have an easy-to-use interface that allows you to quickly design posters with no complications. The editor comes with so many possibilities and options which can be used to further optimize your posters.
Features:
Photo filters with custom adjustments
Fonts customization
Cloud storage for your designs
Benefits:
Poster templates for multiple categories
Resize the design for any purpose
Simple and easy interface
Pricing: Free plan with limited features, Monthly $9.99 and Yearly $89
Website: https://designwizard.com/template/poster/poster-templates/
---
FAQ
Can I use these online poster makers for commercial purposes?
Basically, you can't use these posters commercially if you're using a free plan from one of these websites. Mostly, these tools offer commercial licenses with their premium plans. However, there is still a possibility if you design something from scratch you might be able to use it commercially yet there might be restrictions on using elements and graphics within the editor. Before proceeding with any online poster makers you should give their terms and conditions a read.
Do I need any graphic design skills to use these online poster makers?
Well, no. You don't need to be familiar with designing, even with no or little technical knowledge you will still be able to create designs from these poster makers. Because they have designed their layout and interface specifically for the purpose of bringing ease and letting users create their designs with no complexity. However, being a little creative with these poster makers you will be able to create unique and eye-catching posters.
Can I print the posters I create with online poster makers?
Without a doubt, Yes. Most of these poster makers come with print options, you're just one click away from quickly printing out your designs.
Are there any free online poster makers available?
Yes, some of these poster makers are free with limited possibilities and editing options like Adobe Spark, Piktochart, and Canva.
Ready to take your creativity to the next level? Try the collection inspiration tool today!
---
Conclusion
Indeed, Designing posters on any third-party software takes a lot of your energy and time, but using these poster-maker tools will minimize your efforts to the least. These web-based editors come with advanced automated solutions like fixed dimensions for certain uses of posters and much more. No doubt, some of them offer a very cheap premium plan which can unlock unlimited possibilities to create stunning and engaging posters for your business or any other need. However, it's still important to consider your needs for a poster before purchasing any of these, because sometimes the free plan also does the equal job.
Video from Eagle (Image list)
Are you someone who finds it hard and painful to organize your media assets? Try Eagle, specifically designed for content creators and designers to fix their organizing needs. With this, you can now create smart folders and sub-folders to categorize your files in a neat format. Artificial intelligence enables you to search for your files by colors, ratings, and comments. Moreover, you can try the Eagle browser extension which stops your computer from getting messy with random files saved in an inappropriate manner. You can drag and drop files from the web to Eagle custom folders.
Make your life easy, Try Eagle now!