15 Graphic Design Templates Sites to Explore Fresh Idea For Your Next Project
Having trouble exploring new ideas for your design project? Design templates come in handy! We collected 15 sites for free graphic design templates, stay inspired!
No doubt, designing something from scratch when you are not much familiar with designing can be troublesome. However, you can still get design templates online from the creators who are helping the community with their designs, these free graphic design templates will let you create your design with ease and will also save a lot of time.
Eagle App - Organize & Save your Graphic Design Ideas
Video from Eagle
Looking for an organizer to save your ideas? Well, look no more. The Eagle app lets you organize and save your graphic design ideas with haste. Save your project files for Photoshop, Illustrator, and much more, Eagle supports every format that your design file has. Moreover, with Eagle advanced filtering you can sort your design files by Rating, tags, comments, colors, and more, so you're just one search away from quickly grabbing the next file your design needs.
Eagle is a must-have assistant for every designer and content creator out there, stop wasting your time by messing up with files in your computer, store them in Eagle, and put your life at ease.
---
Where to find free graphic design templates?
The Internet is a great way to find ideas and templates to assist you with your next project, there are designer communities and websites that offer design templates that you can use in your projects to achieve your goals. However, some of them might only come with non-commercial use, so if you're a content creator and want to use these templates publicly, do consider purchasing the commercial use license or add attributions.
Use these sites to find quality design templates that will complement with your project:
1. PSDgraphics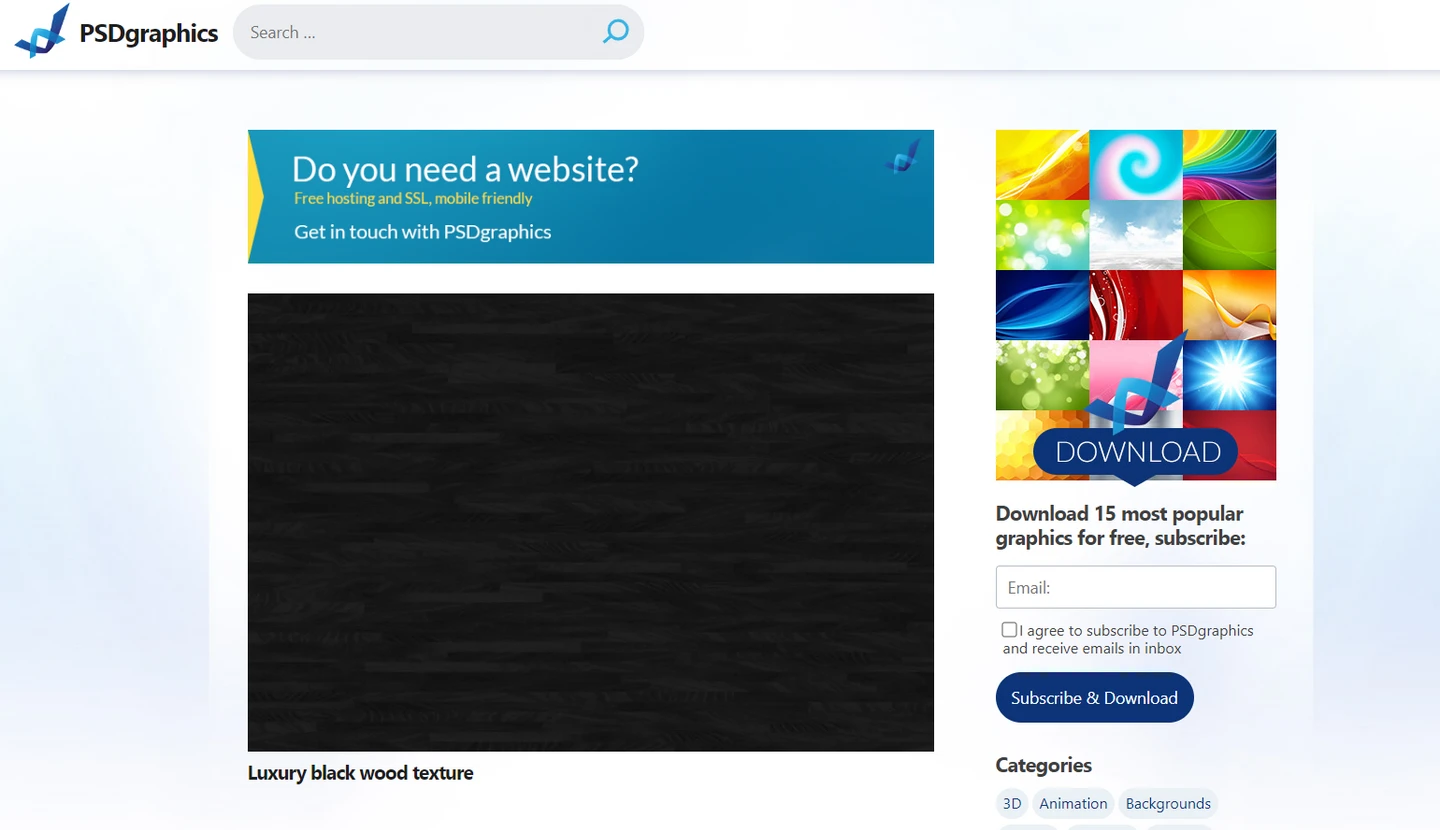 Image from PSDgraphics
PSDgraphics is a simple yet handy service for Photoshop designers out there. This tool comes with hundreds of free templates to choose from. Offers a non-commercial use license to use for your personal presentations and projects. However, if you want to use these designs for commercial use, you can purchase their license for $4.
Usage instructions:
You don't need to sign up on this website to save designs on your device, you can simply search for the type of designs you're looking for and hit download.
Website: https://www.psdgraphics.com/
2. Freepik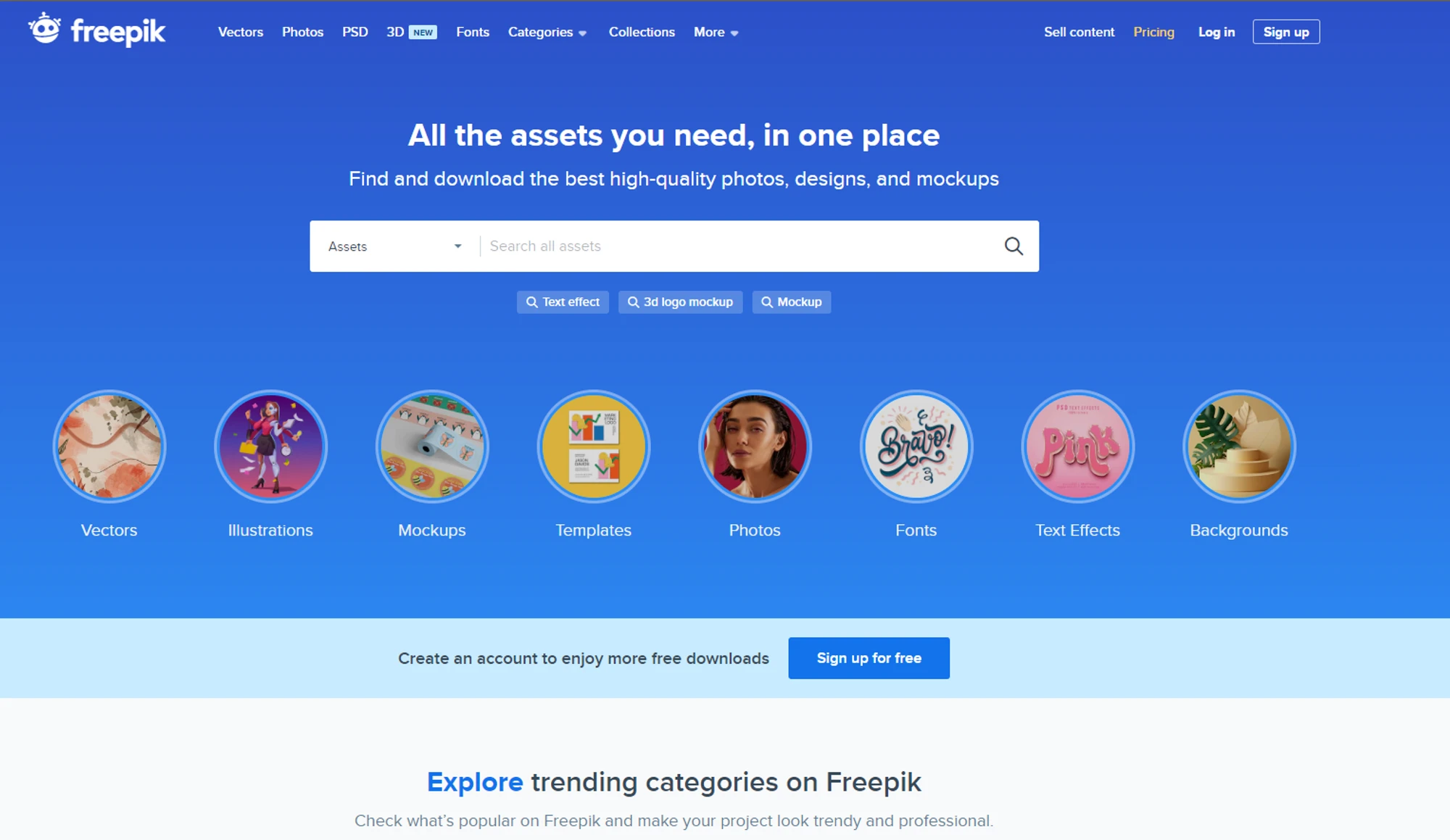 Image from Freepik
Looking for illustrations, mockups, and vectors? Worry not, Freepik has everything. Explore thousands of libraries to find the best design that best fit your project. Freepik is a community that every graphic designer uses, these designs are made to help the community and content creators with their projects. Here you can export files in various formats like PNG, ESP, and PSD.
Usage instructions:
Saving files on freepik is simple, you can just click on the design that you like and download it without signing up.
Freepik offers free designs for everyone, however, if you want to use any of these designs commercially, you will need to add attribution to avoid any copy-right claims. You can also purchase the premium subscription for advanced features for 9EUR/month.
Website: https://www.freepik.com/
3. Vecteezy
Image from Vecteezy
Looking for vectors for your next animation project? Give Vecteezy a try, the site has dozens of free graphics templates published by designers and creatives. Vecteezy also offers videos and photos which can also be put to use.
Usage instructions:
To avoid copyright strikes, do add attributes for the media files you download from this website. You can download vectors and images without creating an account on this website.
Vecteezy free plan only includes a non-commercial license and limited features, you might want to purchase the premium for $4.50/month which unlocks everything.
Website: https://www.vecteezy.com/
To optimize these images for better results , check out the 26 Best Free Image Optimization Tools for Image Compression
4. GraphicBurger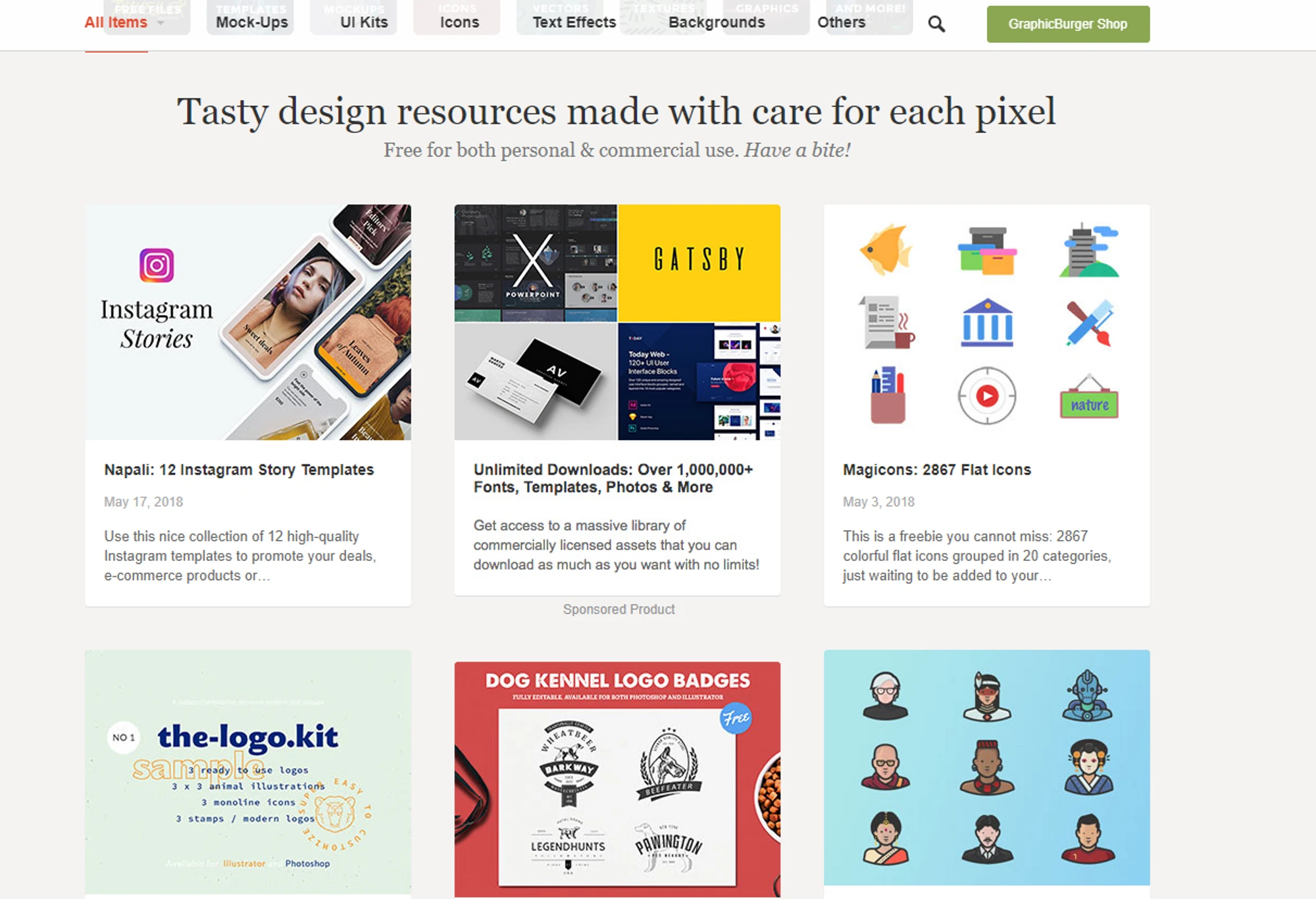 Image from GraphicBurger
Graphicburger is a hub of graphic templates from logo templates to icons, vectors, mock-ups, and much more. Moreover, this website offers libraries of graphics to directly download to your device, which pretty much includes everything that your project requires.
Usage instructions:
You are given free access to most of the content on this website. You can select any library of icons, mock-ups, or backgrounds you like and save them to your device.
Additionally, if you want libraries with more premium features, you can head over to Graphicburger shop and purchase any of their graphics template you want.
Website: https://graphicburger.com/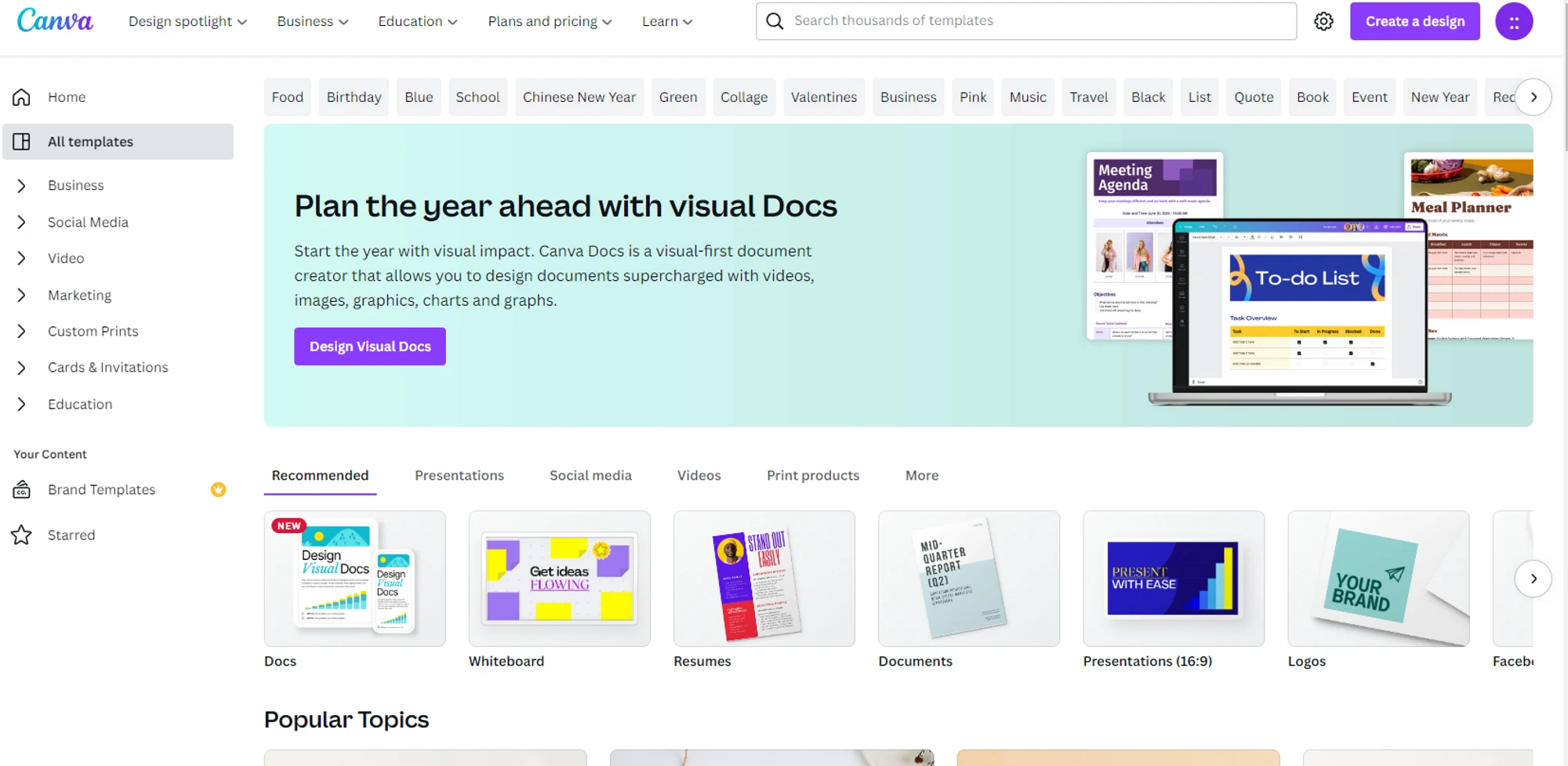 Image from Canva
Canva has been a game-changer for everyone out there. They have expanded vastly throughout the years, from resumes to brochures, thumbnails, logos, and landing pages. Canva has templates for everything you name it. Explore through the library of mixed free and premium graphic templates and choose what complements your project the most.
Usage instructions:
You can select the template you love and start customizing it. After you're done customizing, you can just download the design to your computer.
Canva leaves no need for using any other software to edit or customize the templates, they have their own onsite editor, which almost lets you do everything.
However, you may want to purchase the Canva Pro for $6.29/month, as it offers premium features like downloading files in .SVG(format) and more options are enabled in the online editor.
Website: https://www.canva.com/
6. PNGtree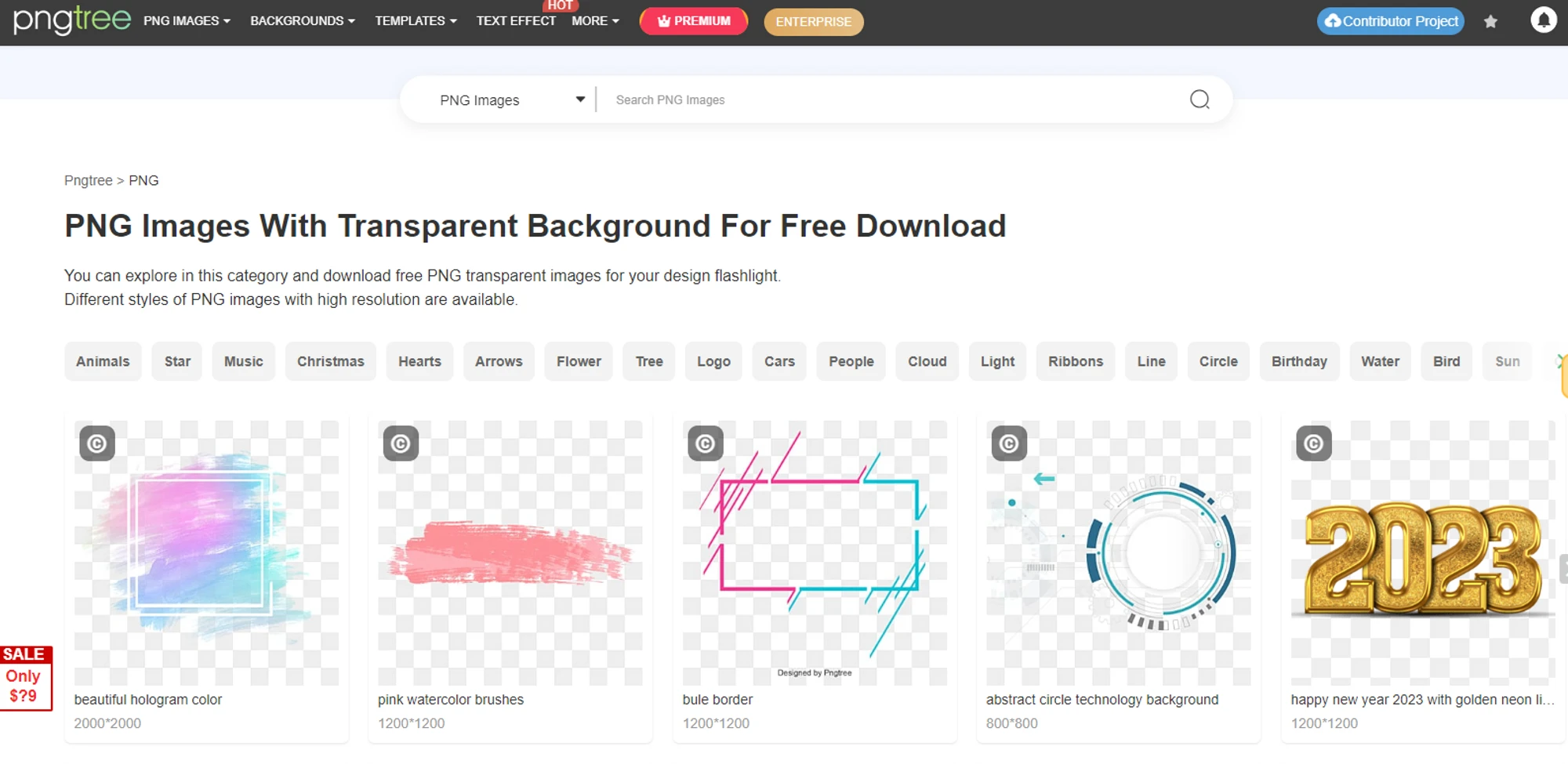 Image from PNGtree
Don't let the name confuse you, it offers more than PNG files. You can find templates and fulfill your needs for the design you're working on. Hundred of categories and libraries make it impossible to miss out on anything.
Usage instructions:
For free plan you need to add attribution. Also, this site lets you download one file per day, you can download files in both .PNG and .SVG format, in case you need more than one template, consider purchasing their premium, which lets you download 30 files a day and access more premium features.
Website: https://pngtree.com/
7. Template.net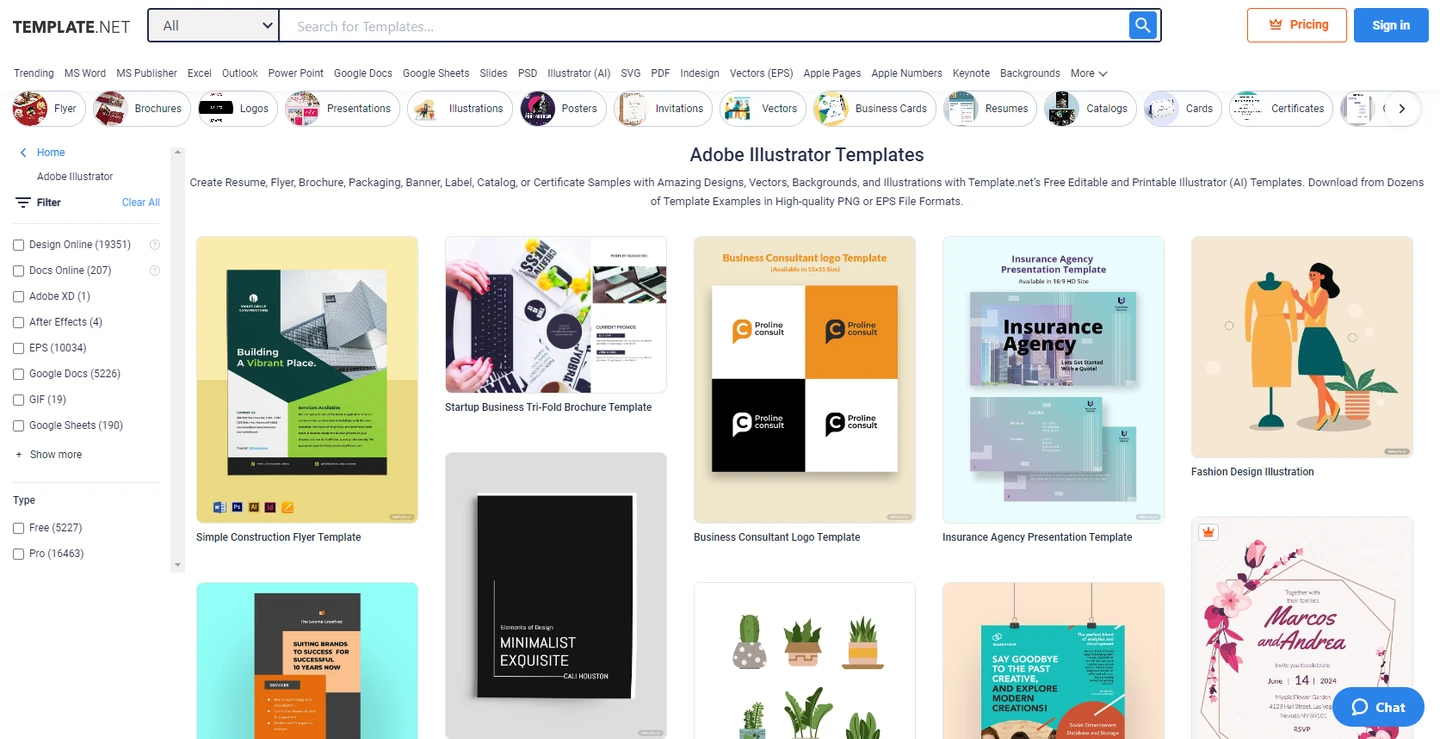 Image from Template.net
Don't know which design will work best for your next project? Visit Template.net now and find the best template for your video project, social media post or office documents. It has a huge library of templates whether you're looking for Photoshop, Illustrator, Excel, or backgrounds you will find everything with no exception.
Usage instructions:
Attribution is required. To use templates from this website, you will need to sign-up using your Google or Facebook account. You can then download templates in any format, for Photoshop, Illustrator, InDesign, and MS Word. Moreover, this site lets you edit your templates on their online editor, which saves the time of importing these templates to your software.
Website: https://www.template.net/
8. Pixeden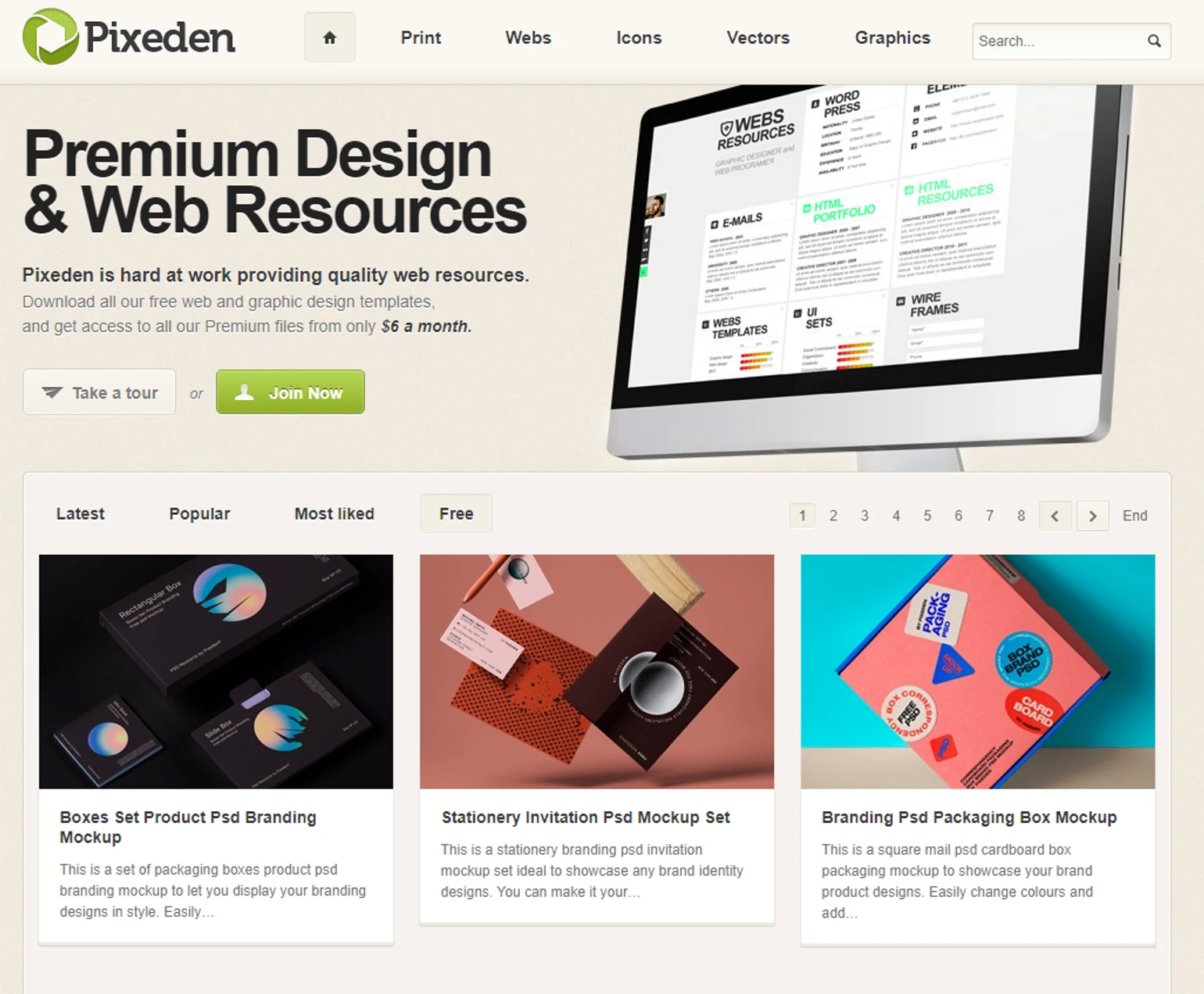 Image from Pixeden
Pixden believes in professional and best-looking templates, that's why most of their templates are not free to use. However, they still have a free graphic template library to explore. You can find mockups for branding, book covers, and envelopes to help you with your project.
Usage instructions:
You can download the templates without going through any account creation process, click on the template you like, and hit download. To access more of their templates, they offer a premium for $6/month.
Website: https://www.pixeden.com/
9. Freevectors.net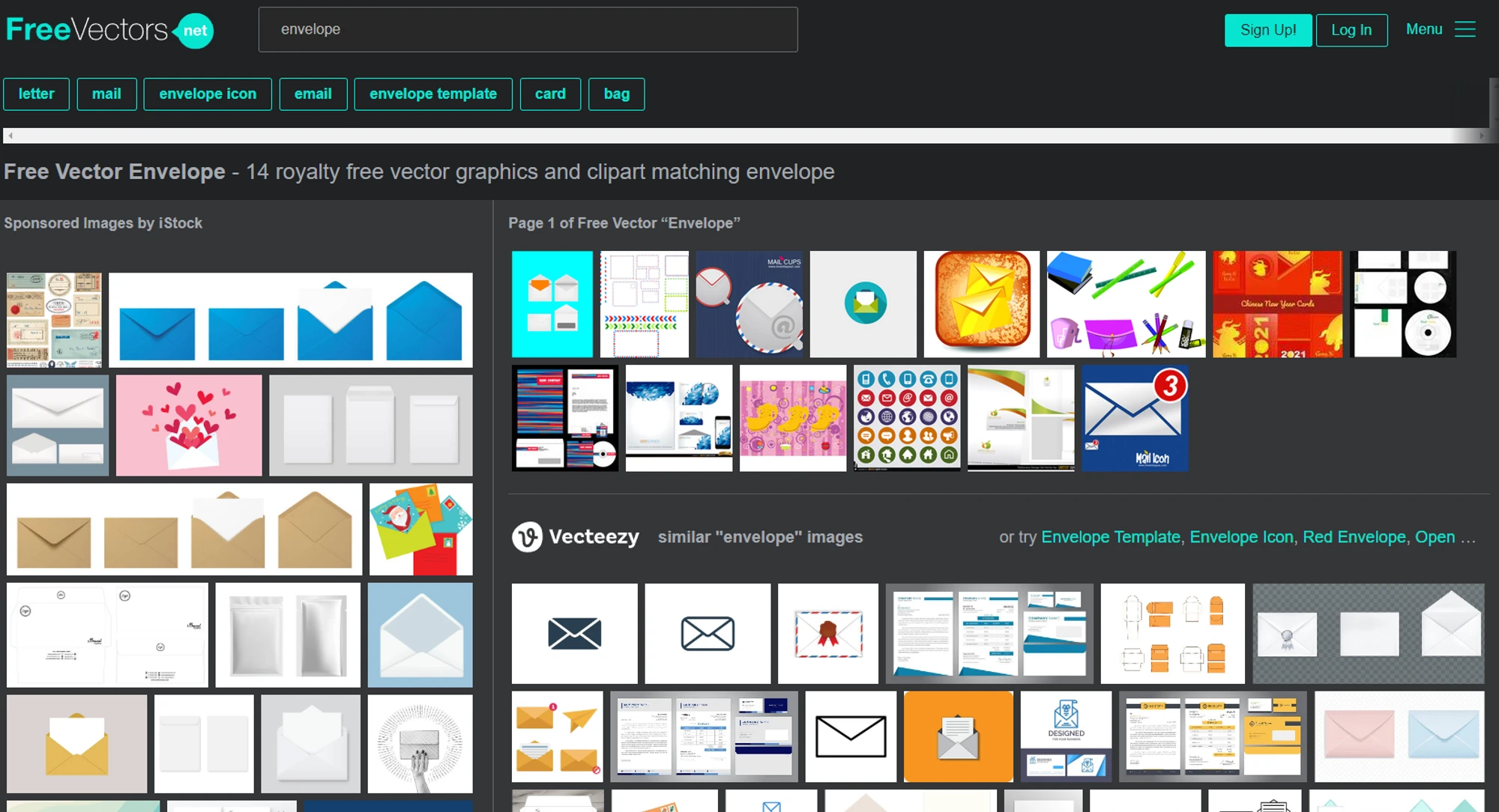 Image from freevectors.net
Freevectors.net is a great site to browse for graphic templates. You can get templates by searching with any specific keyword. Moreover, they provide you with libraries from other websites matching your keyword too.
Usage instructions:
Attribution is required. You can simply search the templates and download them with no need to create an account.
Website: https://www.freevectors.net/
10. 1001Freedownloads.com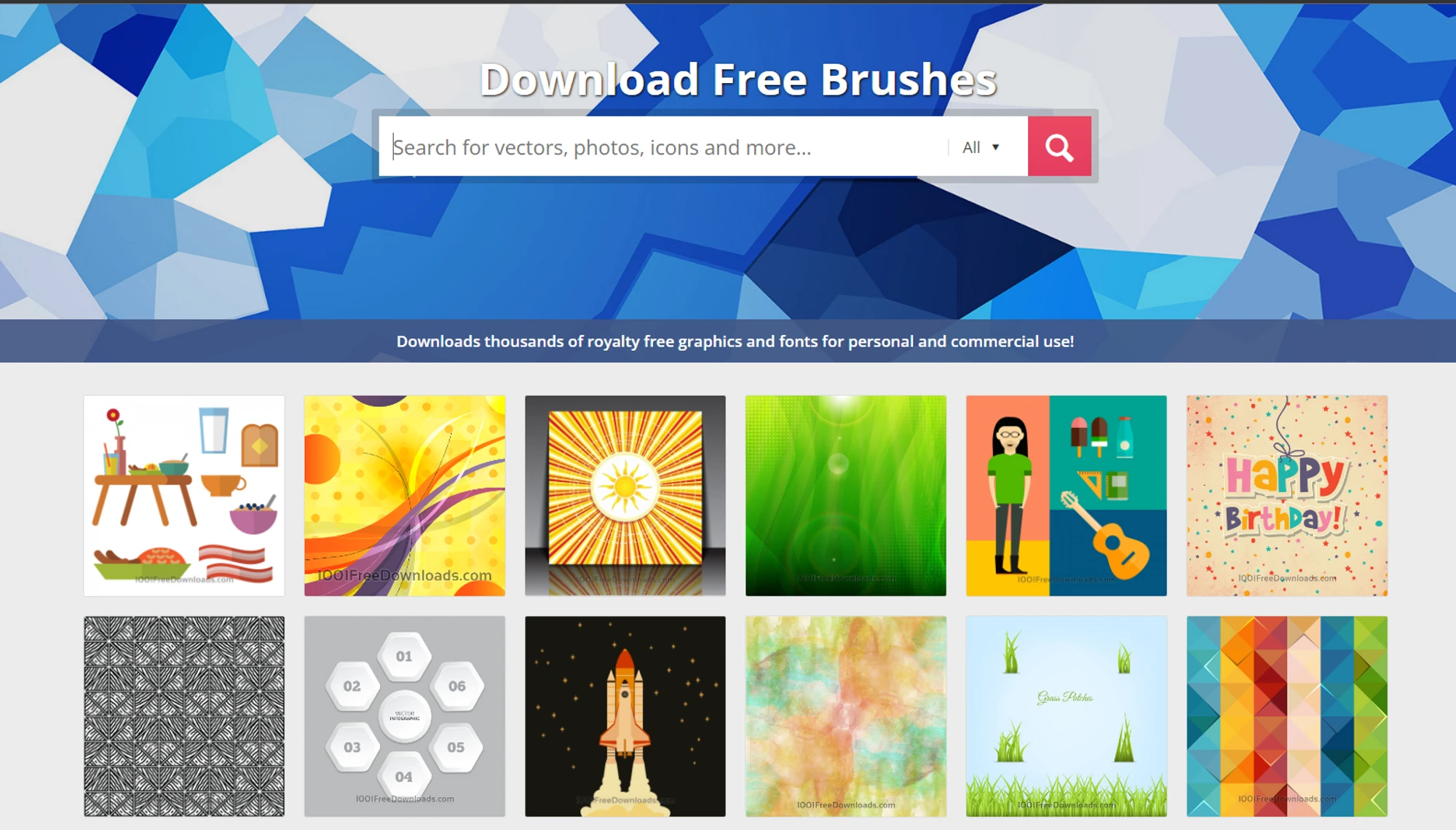 Image from 1001freedownloads
Looking for free random ideas? This site will help you find one. It has dozens of free templates ready to download, from fonts to gradients, vectors, icons, and many more. However, you may not find premium quality designs on this website as it is a free website.
Usage instructions:
Attribution is required. 1001freedownloads can be used without creating an account, click on the design you like and you'll be able to download.
Website: https://www.1001freedownloads.com/
Click here if you're looking for websites that offer high-quality 3D models
11. Blugraphic
Image from bluegraphic
Bluegraphic is a great source to find free premium quality graphics, site backgrounds, and graphics. Bluegraphic ensures you don't miss anything. Also, this site also shows you graphic templates from other websites as well, so it can also be used as a navigator to find graphic designs from the web.
Usage instructions:
You can select the type of graphics you're looking for from the drop-down menu. Once you found what you need, you can click on the design and it will redirect you to the source website.
Website: https://www.blugraphic.com/
12. StockLayouts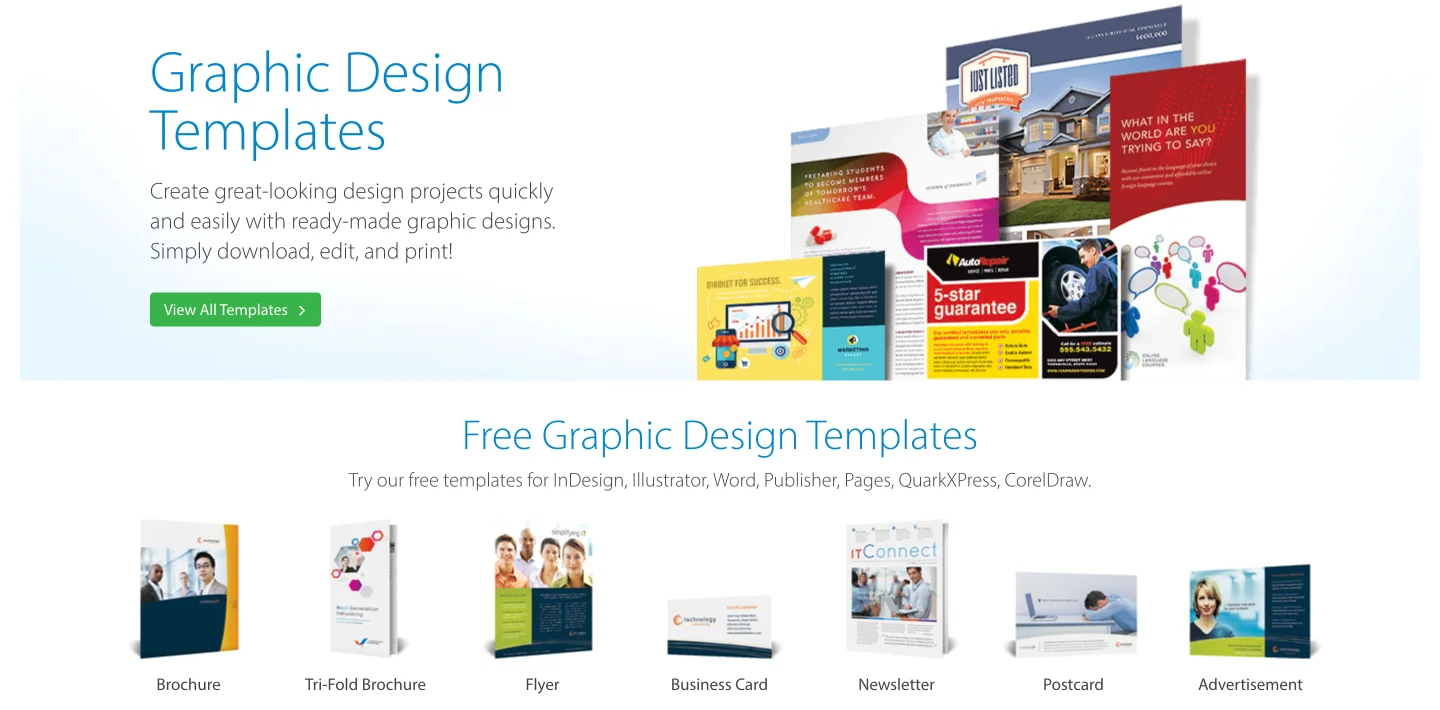 Image from Stocklayouts
StockLayouts offers a variety of professionally designed templates for businesses and individuals alike. Their free sample templates section provides a selection of layouts for brochures, flyers, newsletters, postcards, and more.
Usage instructions:
To access the free sample templates, simply click on the link provided and select the type of template you need. From there, you can browse through the available options and download the ones you like. These templates can be edited using popular design software such as Adobe InDesign, Illustrator, and Microsoft Word.
Website: https://www.stocklayouts.com/Templates/Free-Templates/Free-Sample-Templates.aspx
13. FreePSDFiles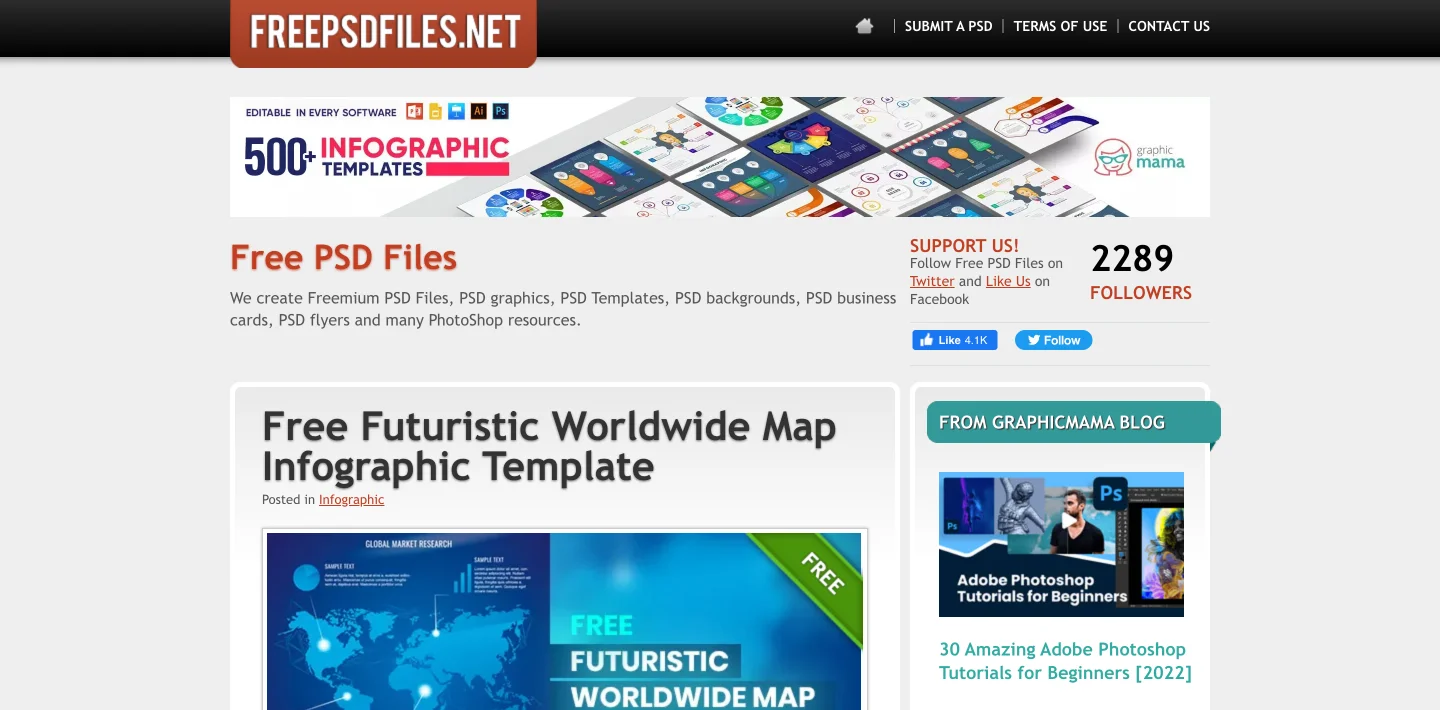 Image from FreePSDFiles
FreePSDFiles is a website that offers a wide range of free PSD (Photoshop) files for designers and creatives. These PSD files include templates for flyers, brochures, business cards, and much more.
Usage instructions:
To find the PSD file you need, you can browse through the different categories listed on the homepage. Once you have found a suitable template, simply click on it to download the PSD file. You can then open the file in Photoshop and customize it according to your needs. However, make sure to check the license of each PSD file before using it for commercial purposes. Some files may require attribution or may not be used for commercial purposes.
Website: https://freepsdfiles.net/
14. Visme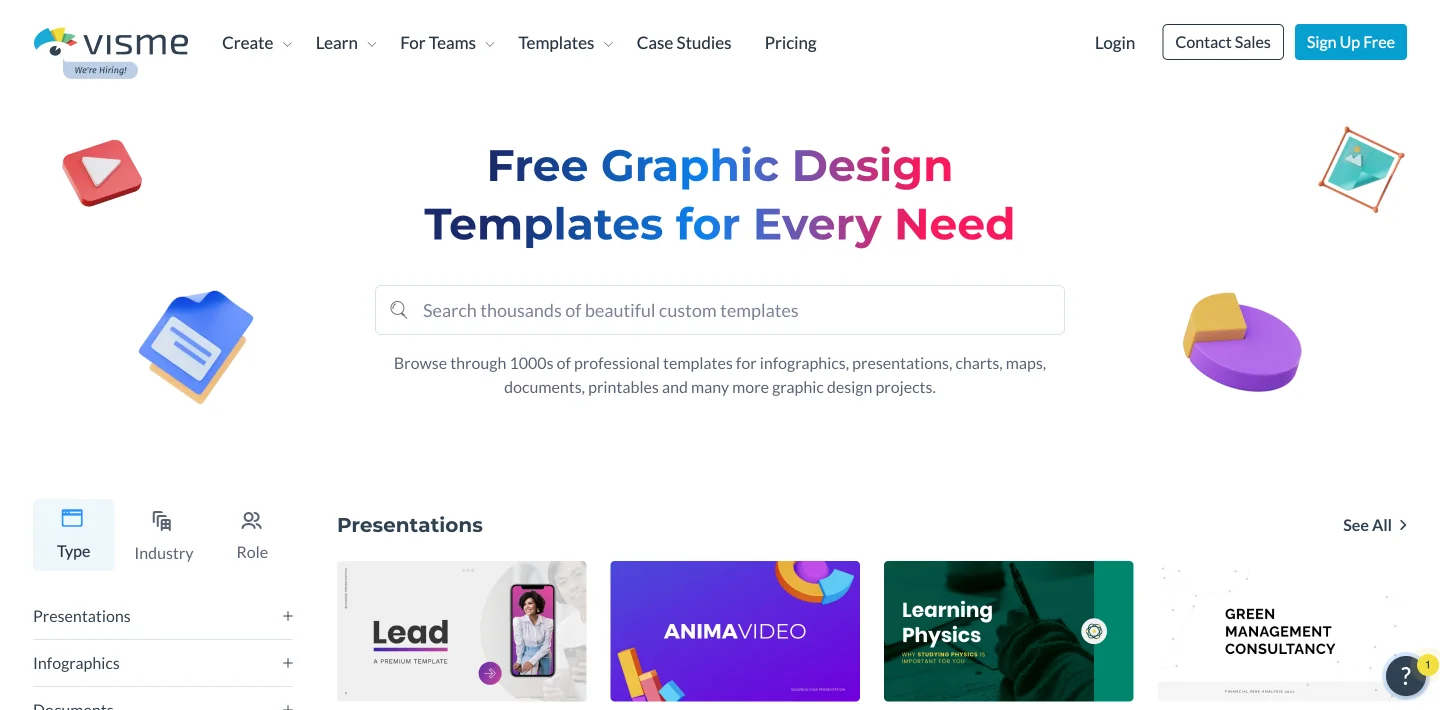 Image from Visme
Visme is an online platform that offers a vast collection of templates for various visual content, such as presentations, infographics, social media graphics, and more. The website has over 1000 customizable templates that you can use for free, and it also provides premium templates that come with advanced features.
Usage instructions:
To find a suitable template, you can browse the categories on the Visme homepage or use the search bar to find a specific design. Once you find a template, you can customize it according to your requirements using Visme's intuitive drag-and-drop editor. You can add your own text, images, and other graphic elements to make the template your own.
Website: https://www.visme.co/templates/
15. Motion Array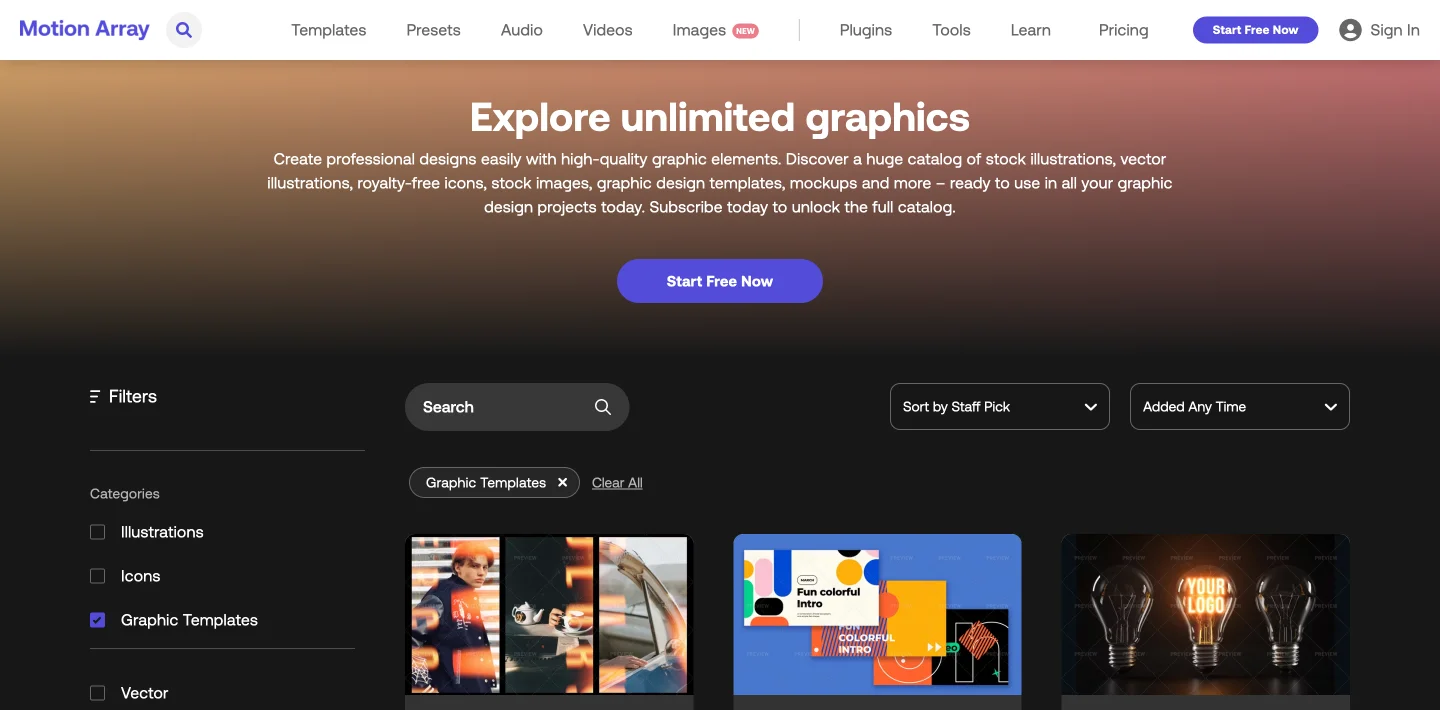 Image from Motion Array
Motion Array offers a wide range of graphic templates for various purposes, including video intros, logo reveals, social media posts, and more. Their templates are designed by professional designers and are easily customizable to fit your specific needs.
Usage instructions:
To browse graphic templates on Motion Array, go to the Graphic Templates category on their website. From there, you can narrow down your search by selecting a subcategory or using the search bar. Once you find a template you like, you can preview it and download it for a fee. Motion Array also offers a subscription service that gives you access to their entire library of templates.
Website: https://motionarray.com/browse/graphics/graphic-templates/
---
FAQ
How do I improve my graphic design skills?
Indeed, working on graphics is complicated for some individuals. However, you can always improve your design skills with the right initiatives. If you're passionate about designing consider following these tips to help you be more creative:
Follow professional designers on your social media and keep yourself inspired and motivated by others' creativity.
Finding your interest is a very important step to always follow when you design, you must first design things of your interest to help you get started. Once you know what to design you can watch tutorials on YouTube to help you along with your design.
You must know what's trending and have knowledge about designing which you can do by watching podcasts and gaining more knowledge of the designing world: 12 Best Graphic Design Podcasts to Power Your Future 2022
Knowing what are the important skills when it comes to designing and how to implement them: Top Skills Every Graphic Designer Needs on Their Resume
Know your needs: You must first identify the tools and software that you will use for any specific kind of design and then master the use of the software. This will help you design with haste and avoid any mistakes.
Where can I find free design assets?
You can find free design assets on designer communities and on websites that offer free design assets. There are hundreds of websites that offer free-to-use design assets, but not every website promises quality. Here are websites that offer premium quality assets to help you get started: 30 Best Websites for free icons download and usage guide 2022
---
Conclusion
No doubt, designers are always looking for cool designs to get inspired by, so these websites not only help you with your designing but you can also be more aware of new designs and ideas. The websites mentioned above provide graphic templates that can be freely used but might require attribution.
Save your inspirations with Eagle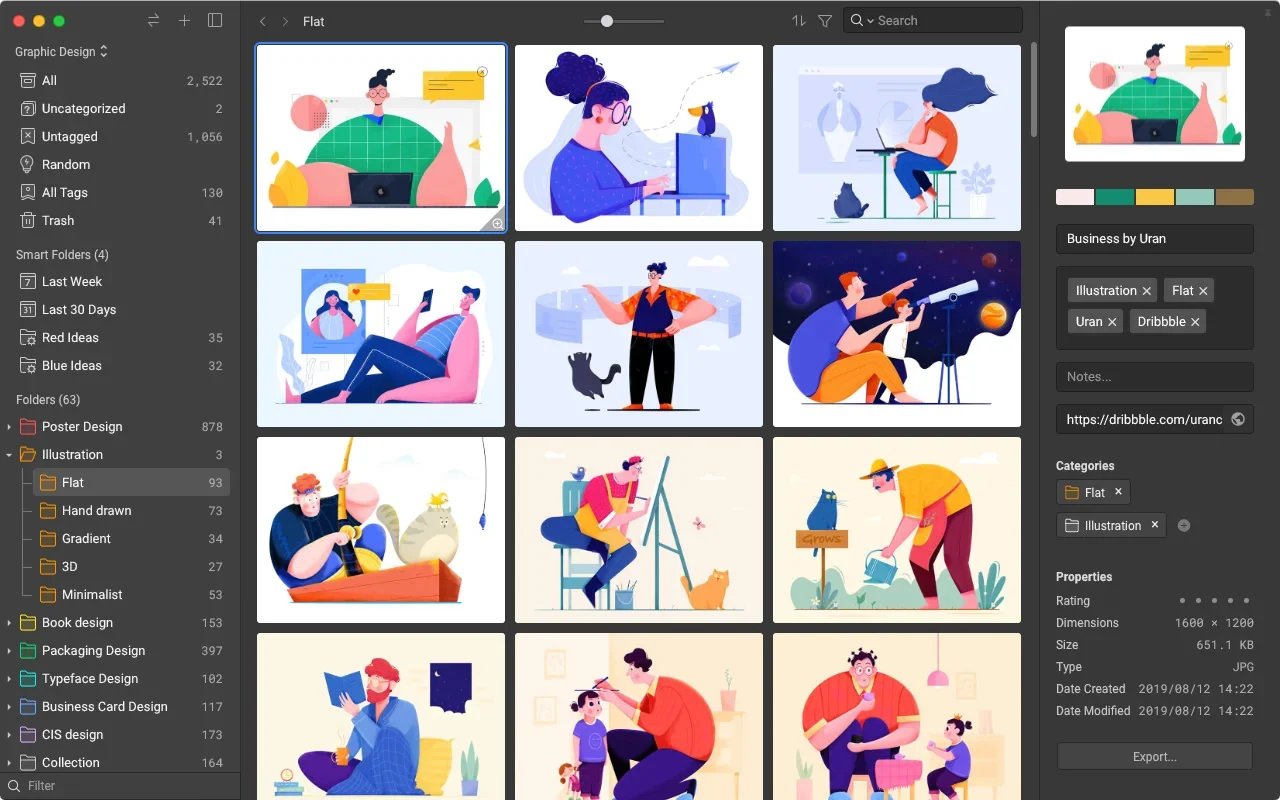 Image from Eagle
Don't know what to design next? Save your ideas and inspirations into Eagle which will help you create your next design without any confusion. Eagle helps you combine your files with ease and enables you to save ideas directly from the internet with Eagle's browser extension. Save the trouble of creating multiple folders in your computer to save the designs, instead store files in Eagle so you always find them easily.