Best 10 Game-Changing AI Image Generators You Must Try
Want to see what you visualize? or do you want to fill up your website with engaging images? Keep reading to help you familiarize yourself with new technology in the AI world.
Fortunately, with advanced AI you can now create graphics and images without any sketch and with minimal effort. Indeed, with the right visuals you can bring in more customers and increase your product knowledge. Moreover, now you don't need to explain your needs to a graphic designer and wait for weeks to get your graphics done, a single prompt will get your tasks done in the blink of an eye.
Ready to save time and effort on your designs? Check out these 10 AI image generators. They'll help you create amazing visuals in no time.
Also, check out these amazing ai graphic design tools!
Eagle App - Organize & Store your Design Ideas
Video from Eagle (interacting with eagle sidebar)
Tired of organizing your project files on your computer? No doubt, using multiple files in a single project sometimes makes your computer a mess which also results in reduced productivity. Eagle is here to minimize your organizing pain and streamline your workflow.
Eagle makes it easy for you to collect design ideas from the web, thanks to the Eagle browser extension you are now allowed to drag and drop images from the internet to your Eagle media library. Eagle is one tool for your software suite, with 99 supported file formats.
Experience Eagle for 30 days free now!
---
Top 10 Game-Changing AI Image Generators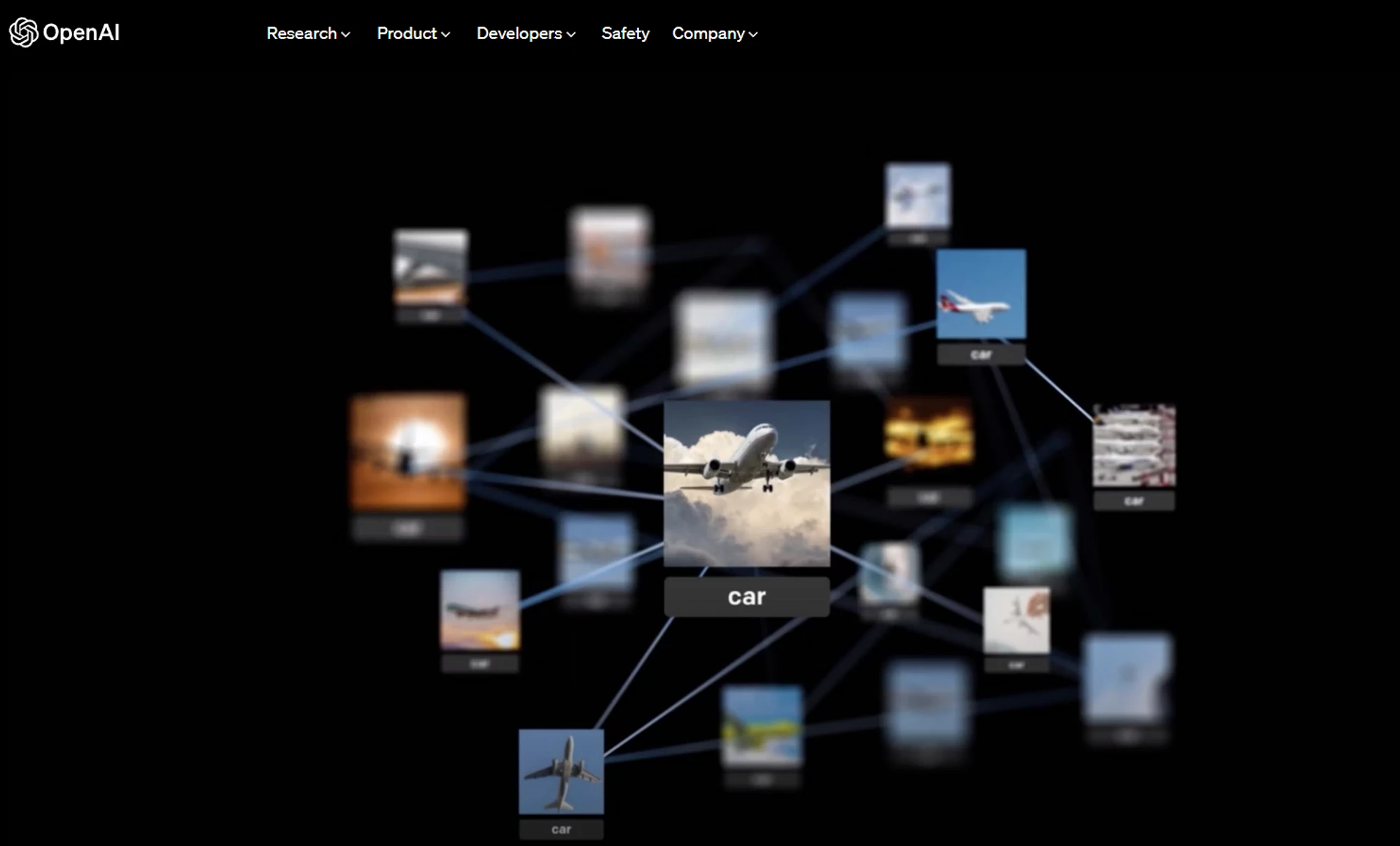 Image from DALL-E
OpenAI keeps surprising us with new innovative technology, and this time they brought us the solution to generate images with their DALL-E service. Truly, this tool has made lives easier for content creators out there with its engaging images. Whatever you have in mind this ai image generator has the potential to bring your ideas to life!
Furthermore, this image generator is programmed to be taught image concepts, attributes, and styles so you can create extraordinary art or graphics by just typing in the right keywords.
Pros:
Flexibility: DALL-E is very creative and has the potential to create appealing images from highly stylized to photorealistic
High Resolution: You can generate images in high resolution up to 512x512 pixels
Versatility: You can create images for any purpose thanks to its versatile image generation, which can help you generate images related to art, advertisement, entertainment, and much more
Cons:
Copyright issues: While DALL-E uses a collection of images to generate that might contain similarities which can cause an infringement of Intellectual Property
Requires brief details: You might have to use as many details as you can on your prompt before you can use it to generate images
Pricing: Credits are used at each prompt request, you can buy credits for:
115 credits for $15
230 credits for $30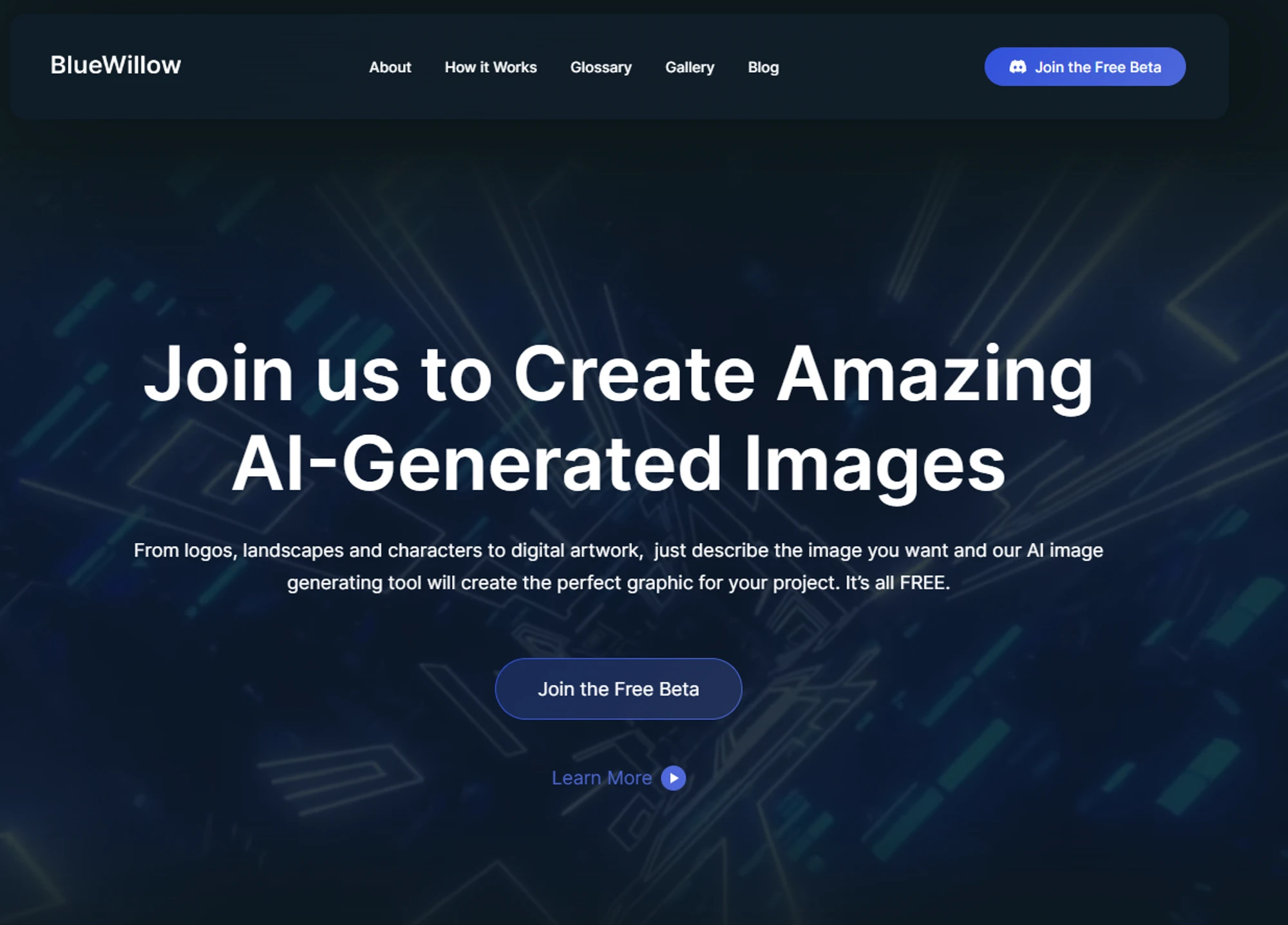 Image from BlueWillow
BlueWillow is very creative and designed to understand every detail of your prompt, so there are no creativity limits with this free ai image generator. Moreover, you can edit your personal and other images with this tool, like changing the background or turning your image to 3d. However, the tool isn't available on the web yet, to use it you will need to have a Discord account, then you can either use the bot on the official server of BlueWillow or invite on your own server with admin privileges. You can generate images with the following command:
/imagine [Type in the details of whatever you want to generate]
Pros:
Free to use
Edit your own images
Flexible enough to create visuals for any needs
Cons:
Often gets very slow and takes some time to generate images due to the high demand
Not available on the web
Pricing: Free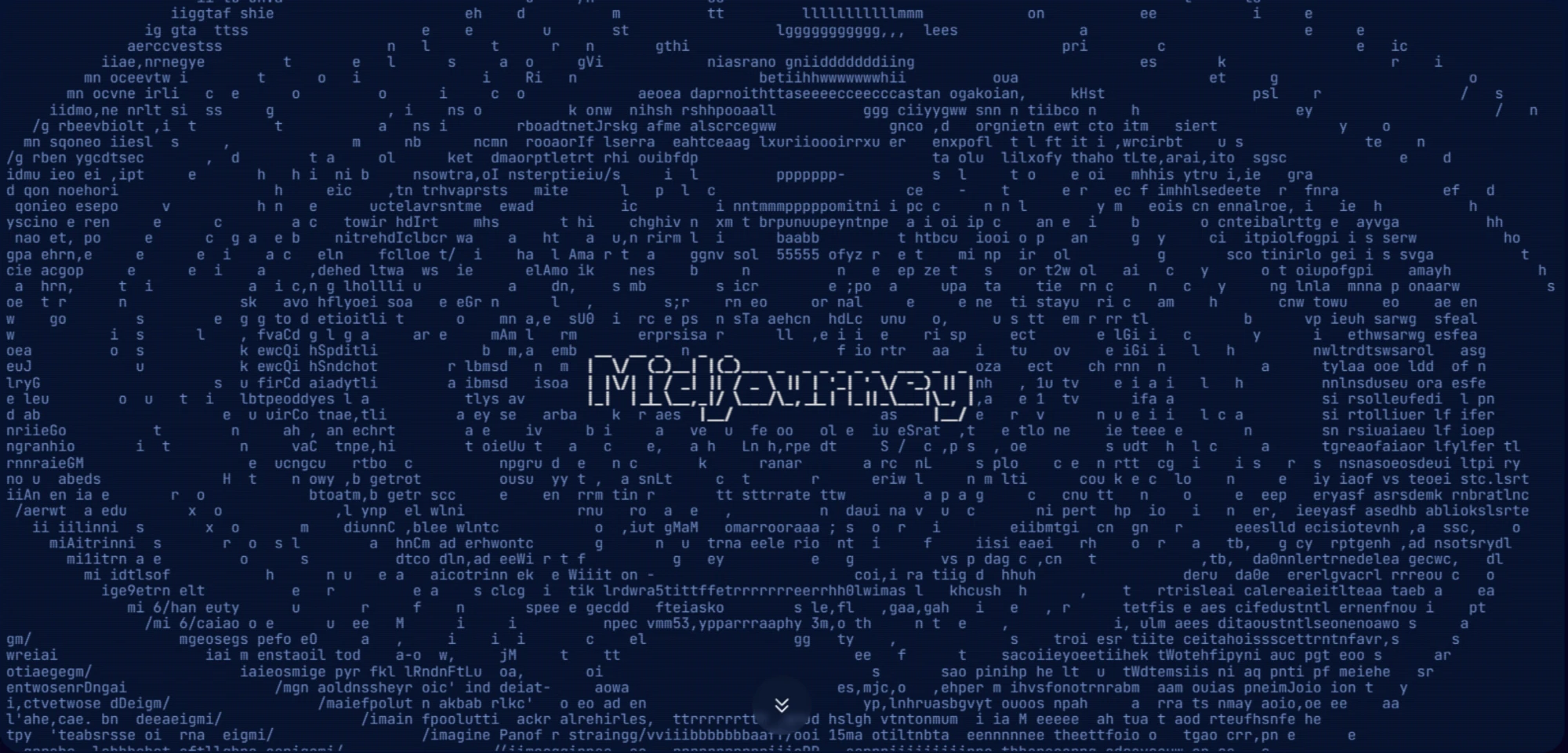 Image from Midjourney
Midjourney has capabilities that go beyond your understanding and thinking, allowing you to create almost anything. With a good prompt, you can fulfill all your needs, whether you're looking for a logo, visuals for your presentations, or content for your website, Midjourney can generate anything. However, it has a huge number of active users which makes the free version almost inaccessible.
Pros:
Can generate close-up images with additional details
Premium quality images that go up to 1024 x 1024
Cons:
You can't edit the generated images
The free version is often unavailable due to high load
Pricing:
Basic plan: $8/month
Standard plan: $24/month
Pro plan: $48/month
Image from Stable Diffusion
Fortunately, this ai text to image generator is an open-source tool, which means users can contribute to extending its capabilities. Furthermore, this tool prioritizes your prompts, following them to create anything, whether they are based on reality or purely imaginative. Also to get an idea of what you can create with this, you can view their prompts library and search AI-generated images by other users with any keyword.
Pros:
Free to use
Can create stable and diverse visuals
Cons:
A lot of ads on the website
Less attention to the details
Pricing: Free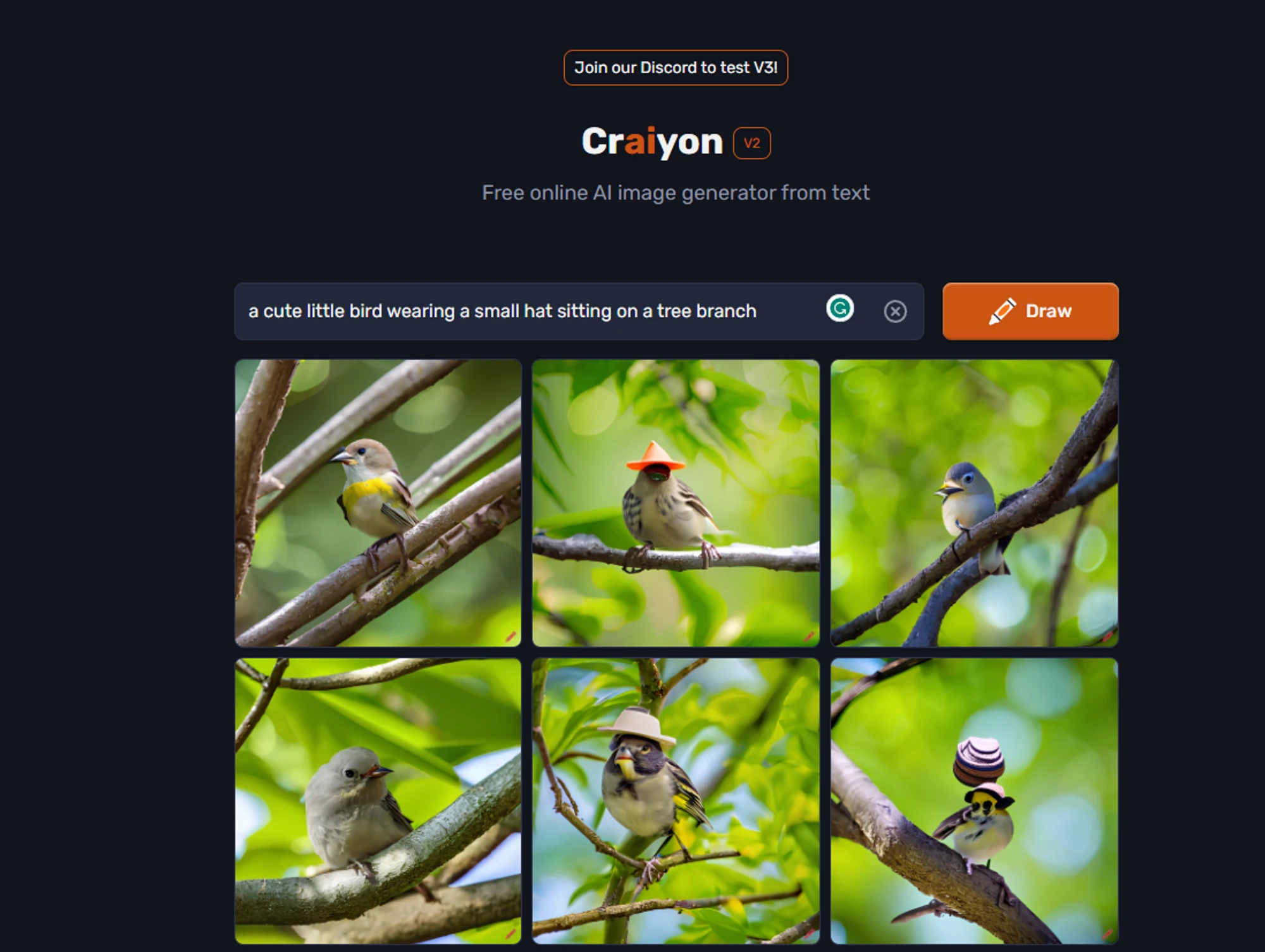 Image from Craiyon
This ai photo generator is made by the same developers as the DALL-E mini, it is also called an alternative version of the DALL-E mini. Also, this ai image uses a feature called "negative words" which can be used to exclude things you don't want in your images. However, you need to use precise keywords in your prompt to generate images that match your requirements.
Pros:
Option to exclude things you don't want
Create unlimited images with a free plan
Cons:
Takes up to 1-2 minutes to generate images
Can come up with unfinished visuals and images
Pricing:
Free
Supporter plan: $6/month
Professional plan: $24/month
Don't let disorganization hold you back! Take control of your media assets with these top 10 photo management software solutions.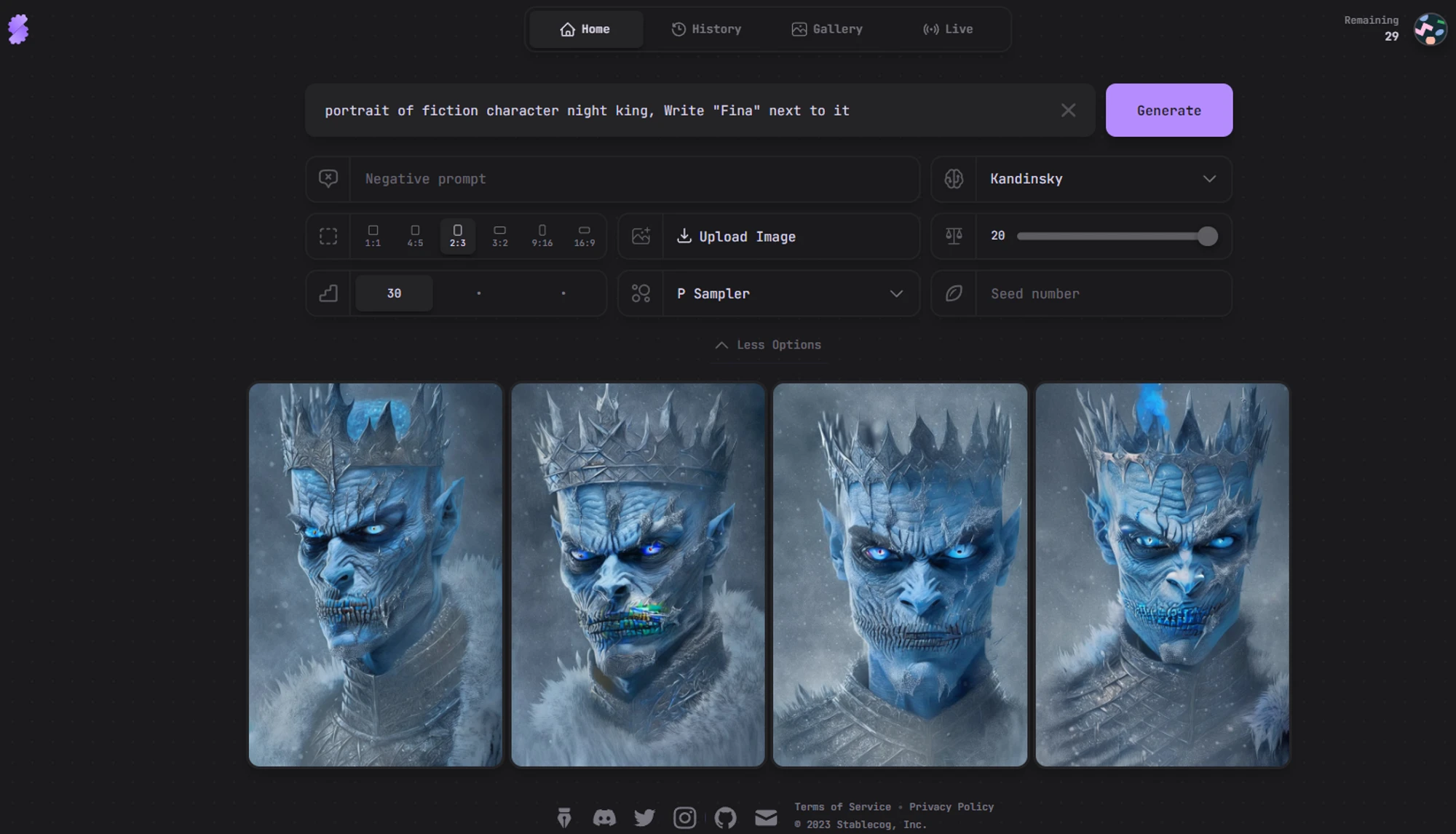 Image from Stablecog
Looking for an ai image generator, that can create visuals with fine details? Stablecog has the potential to generate such images! The AI art generator comes with preference options that you can use for more accurate results. Explore your imaginations from multiple perspectives with over 7 AI models that can bring your ideas to life. Moreover, you can use your own images to save you the effort of writing a detailed prompt.
Pros:
Generate images with multiple models
Use your own images to give the generator a better understanding of what you need
Upscale your images
Cons:
Not very creative when it comes to generating entirely new concepts.
Pricing:
Free 100 images
Starter: $10/month
Pro: $25/month
Ultimate: $50/month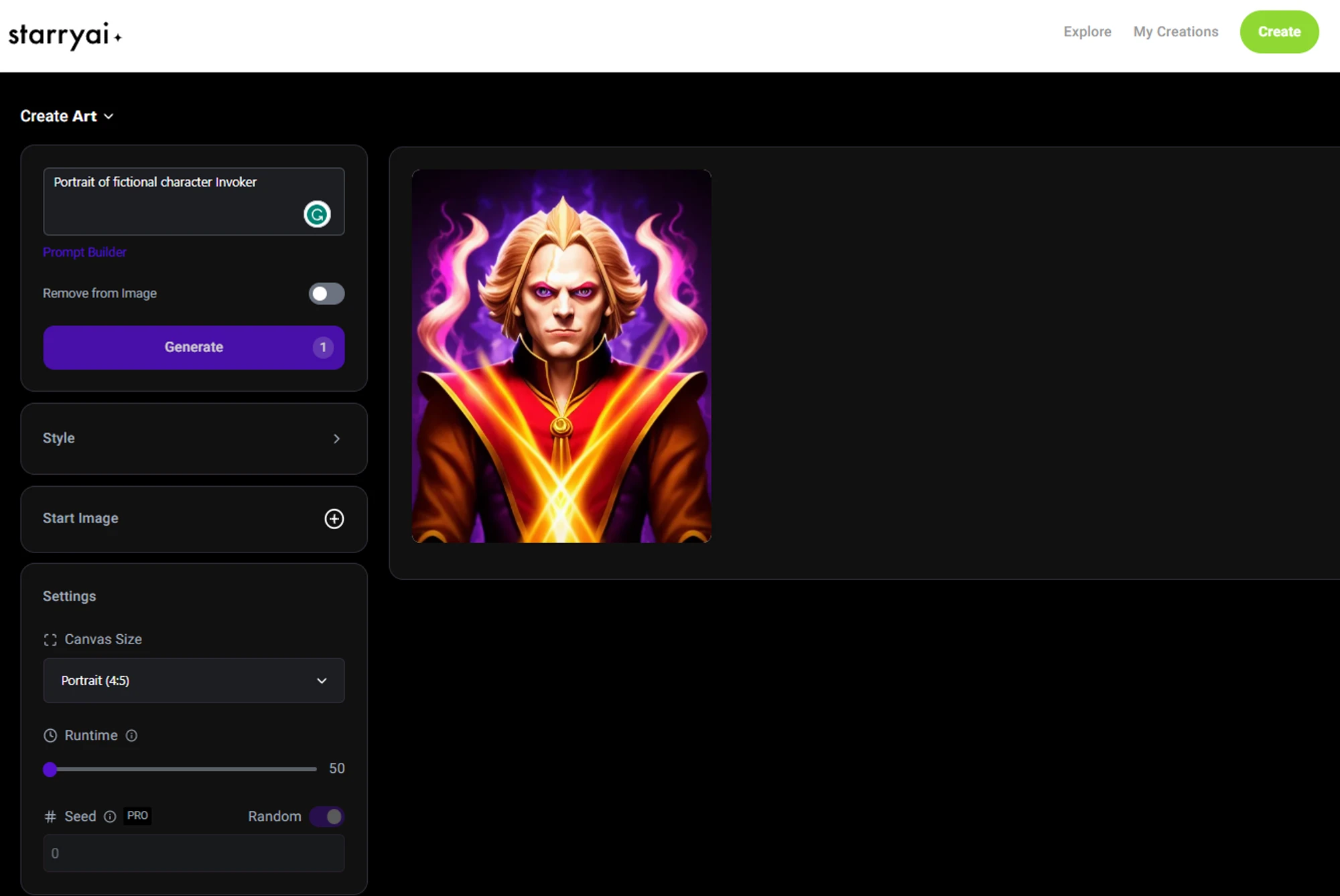 Image from StarryAI
Want to create engaging visuals from scratch in seconds? StarryAI is the tool for that, creating stunning images with multiple styles like portrait, 3D, and anime. Additionally, the images you generate with this tool are free to use commercially. Moreover, this tool is potentially used for creating NFT's as well.
Pros:
Generate images in multiple canvas sizes
Prompt builder to help you write prompts with suggestions
Add exclusions to your art
Cons:
Takes a long to generate images
Doesn't always come up with accurate results
Pricing:
Free 5 daily credits
Starter: $11.99/month
Unlimited pro: $37.99/month
Unlimited pro max: $79.99/month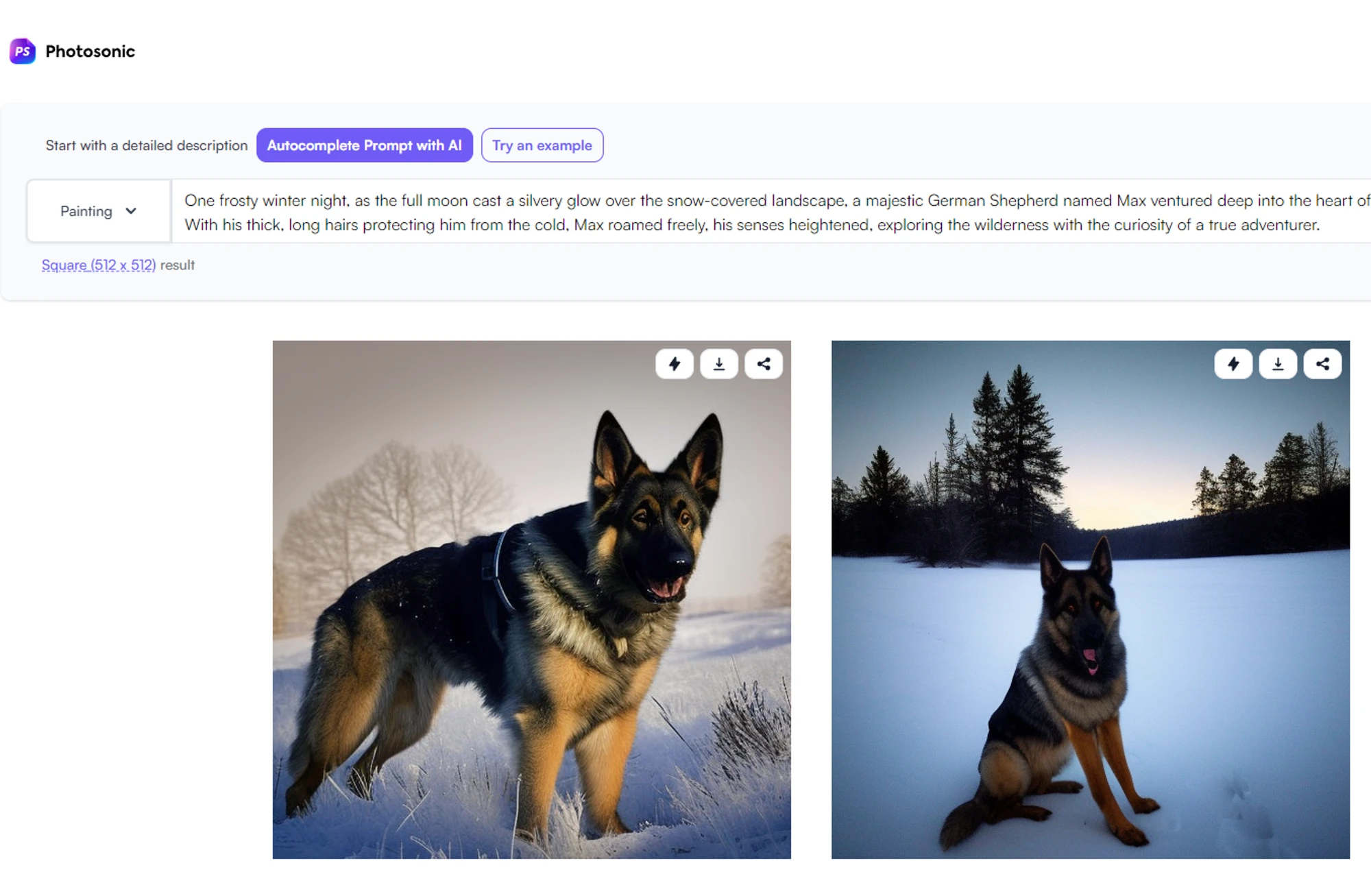 Image from Photosonic
Do you want to create paintings of your thoughts by most professional painters of all time like Vincent van Gogh? Well, Photosonic can help you with that. This ai image generator has multiple styles such as paintings, anime, cartoons, and 3d. The tool allows you to vary the images using the same prompt across different models. Overall, This AI image generator is a powerful and versatile tool that is designed to turn your ideas into stunning works of art in just a few clicks.
Pros:
Auto-complete your prompt by just entering the main keyword of your image
Enhance image quality
Easy to use
Cons:
Limited features
The free plan can let you create only 10 images
Pricing:
Free plan with a limit of 10 images
Basic plan: $10/month
Unlimited plan: $25/month
9. Fotor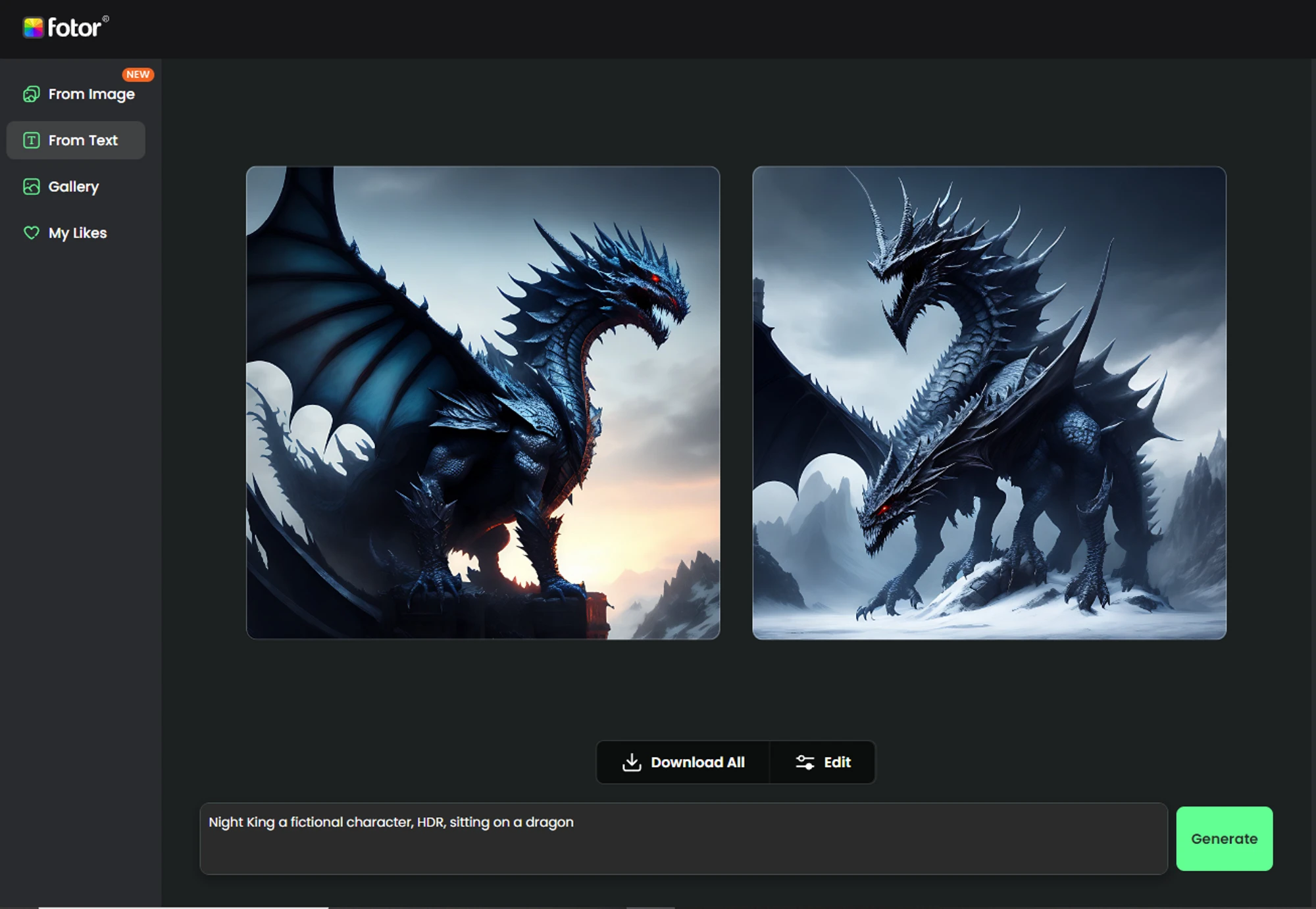 Image from Fotor
Fotor is a famous tool when it comes to photo editing, but they have now released an AI image generator that has exciting features to generate engaging visuals. With Fotor you can use features like extra details and light effects which can be useful for specific prompts. No doubt, the tool is a great solution for businesses that are looking for social media content or marketing visuals. With Fotor you are also allowed to upload your own images and convert them into cartoons or 3d images.
Pros:
Create images with high graphics and details
Multiple models to generate images with
Cons:
Prompt result accuracy isn't always right
A low number of credits in the free plan
Pricing:
Free plan
200 credits for $9.99/month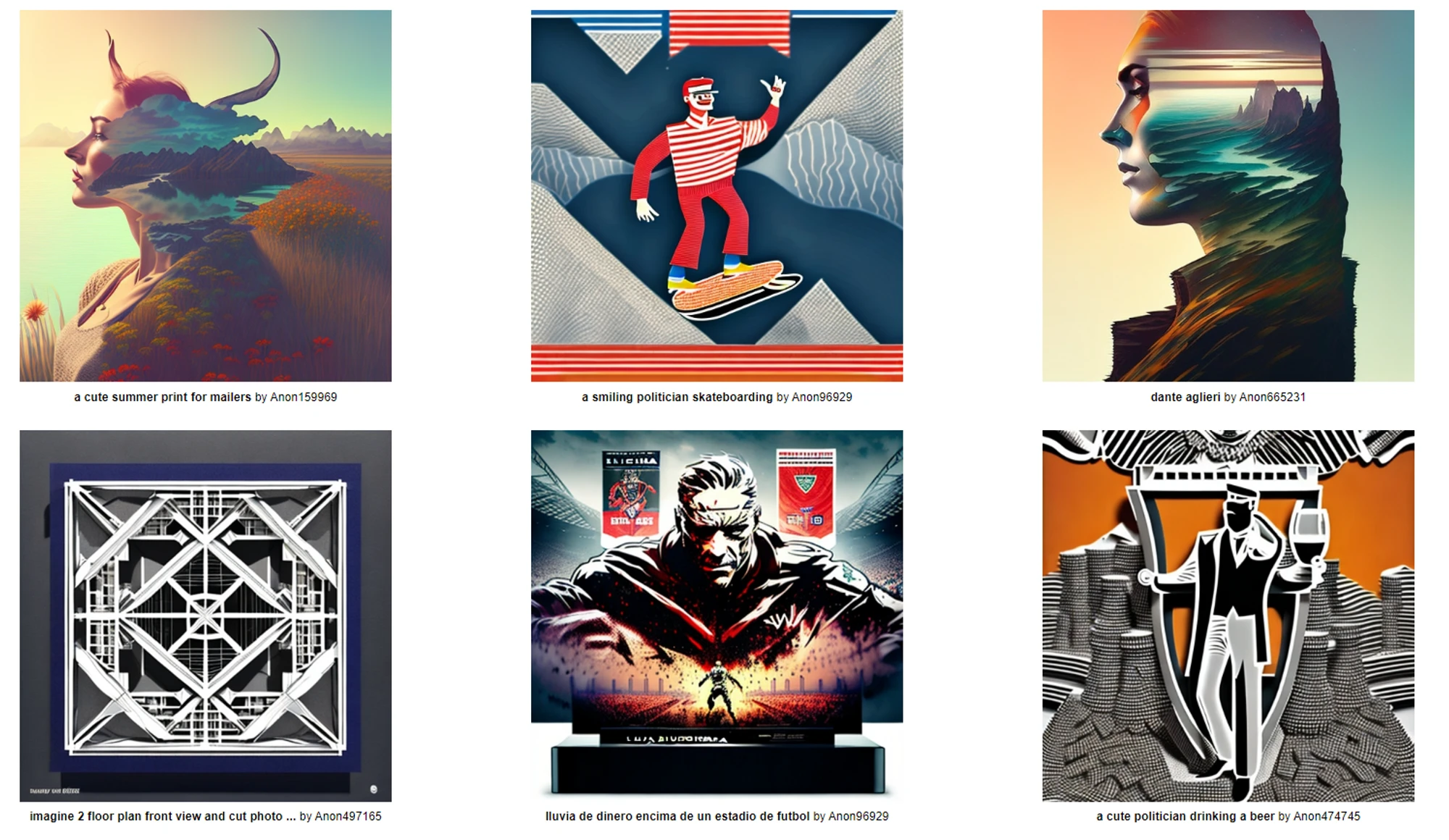 Image from images.ai
Not as advanced as others, but could be a great tool to get started. This ai image generator doesn't require any account or registration process, you can start creating images by just typing your prompt. Also, it has a very straightforward interface making it easy and accessible to a wide range of users. Moreover, it has a lot of recipe options that you can use to brew your prompt, giving your prompt a different look.
Pros:
No account registration is required
Free to use
Cons:
Details aren't as good as others
Prompt understanding is poor
Pricing: Free
---
FAQs
What Are the Benefits of Using AI Image Generator?
Indeed, With AI you are now allowed to do everything in just a matter of seconds, but here's how an AI image generator can be beneficial for you.
Saves you time and effort: Additionally, creating visual assets for your brand or website may require hiring a professional, which can be costly. However, by using an AI image generator, you not only save time and effort but also potentially reduce costs, making it a cost-effective solution for generating visuals with ease.
Better understanding of image concept: Indeed, some of the tools mentioned above have the ability to execute your prompts into visually stunning images that may go beyond the artistic capabilities of a human.
Accessibility: These ai image generators are available to almost everyone, which makes them a solution for everyone who lacks experience in designing or visuals by themselves.
How Does AI Art Generator Works?
AI models use millions of images scraped from the web, and it is trained to follow prompts provided by the users and create art using these images. However, the role of scraped images is to help the model understand the concept of artistic elements, styles, and patterns.
Explore the list of ai tools that are trending right now!
---
Summary - What is The Best AI Image Generator?
No doubt, these ai image generators have the potential to fulfill your needs, however, if you're looking for a specific type of art, the differences in AI models between them may vary. As most people are looking for quality and a realistic approach when it comes to generating images through AI models. If you have similar preferences, Midjourney should be your choice, as it has the potential to create stunning visuals with high details and resolution. However, relying on their free plan isn't recommended as it's currently flooded with a huge number of active users, if you want to create original art with no effort, purchasing one of their premium plan could be a good choice.
Also, you can view the gallery of these image generators where you can see images generated by other users, which gives you an idea of what their AI models are capable of.
Are you overwhelmed with your media assets and can't find a better way to organize them? Well, you can Say goodbye to overwhelm with Eagle App!