17 Best Collaboration Tools for Designers & Marketing Teams
Are you a marketing professional but often feel that you and the designer are always not on the same page? The images produced by the designer are always different from the ones discussed at the beginning? Or are you a designer who often feels that the marketing department's requirements are too abstract, and they always ask for last minutes design changes? I feel you!
While both the design team and marketing team often collaborate and share the same budget together, a good communication workflow is no doubt a must. This can be easy if they sit near each other but, if not, a collaboration tool is often necessary!
Here we are going to teach you a little bit of the communication tips and tools that can make your project process happier and more productive!
---
How to list requirements for your projects?
The more the merrier! The more you list out your requirements, the lesser conflicts and details you will be missing out!
Purpose and Quantity: How many do you need? is it a logo design? product layout or an ad banner? What do you need them for?
Brand: list out the brand you will be needing in this project to help the designer understand the outline.
Design Style: give specific descriptions, if you do have a reference image in mind attach them as well
Size and Format: such as "square", "800 x 1200px", PNG, or if you don't know the size give the designer an idea of where you would like to publish
Content: the content that you would like to put in the images
Elements or Assets: Do you have must-have elements or assets that you want to show on the images?
Attach a reference image: to show the desired and undesired layout and style clearly
---
Collaboration Tools for Graphic Design and Marketing Teams
1. Stormboard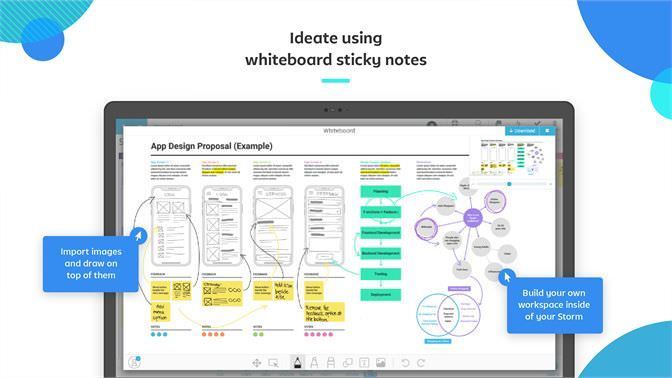 image from Stormboard
You can't always predict when or where you'll get your best ideas! Stormboard helps teams share sticky notes, documents, videos, files, and whiteboards in a virtual space — perfect for both remote teams and those working in the office.
Stormboard is an easy-to-use online meeting, brainstorming, and collaboration platform that helps you generate, organize, and prioritize ideas and then create a plan to turn them into action. Eliminate the hassle of maintaining and transcribing physical whiteboards, navigating busy schedules and meeting rooms, or creating paper waste. Best of all it supports mobile apps so you can discuss and comment on your ideas on the go!
Pricing:
Personal- for individuals or teams of 5: Free
Business- For small-to-medium-sized teams that are looking for more advanced features for their meetings and collaborations: $10 per person
Enterprise- For companies looking for an innovative solution that will transform the way they do business: $16.67 per person
Website: https://stormboard.com/
---
2. UXpin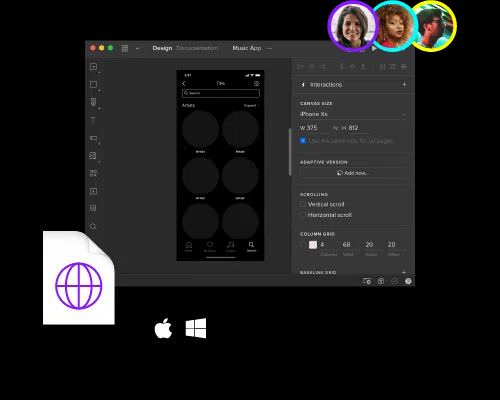 image from UXpin
UXPin is perfect for interactive prototyping, design systems and documentation. Its powerful interaction features, collaboration and feedback loop, and built-in style sheets and design systems have allowed teams to consolidate all our designs within one system instead of the hassle in the past.
UXPin works on any operating system and brings development and designers together, even if they use Mac and Windows separately. While you make the final touches to your components, a writer on your team can start filling out the design with text using UXPin, or you can simply share a link and receive their feedback!
Pricing: Free Trial for 7 days
Basic: 19/monthly per editor
Advanced: $29/monthly per editor
Professional: $69/monthly per editor
Enterprise: custom pricing
Website: https://www.uxpin.com/
---
3. GitMind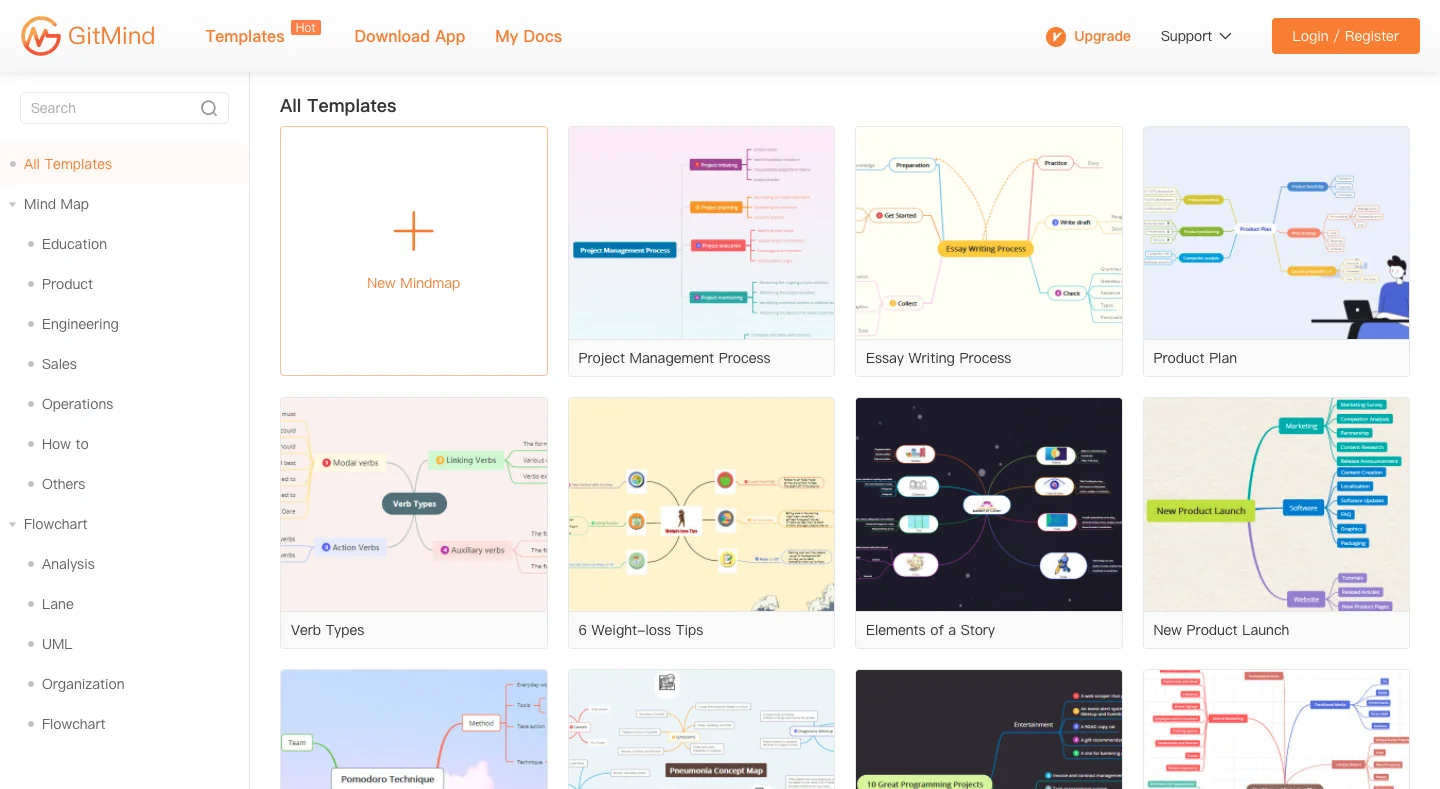 Image from GitMind
GitMind is a free online tool to help you create mind maps. It has stylish templates for organizational charts, to-do-list, flowcharts, UML diagrams, and more. Try now and be inspired!
Pricing:
Free: Up to 10 mind maps
Buy 3 get 3 years: $1.1/monthly
Annual: $4.08/monthly
Monthly: $9/monthly
Website: https://gitmind.com/
---
4. Mockplus Cloud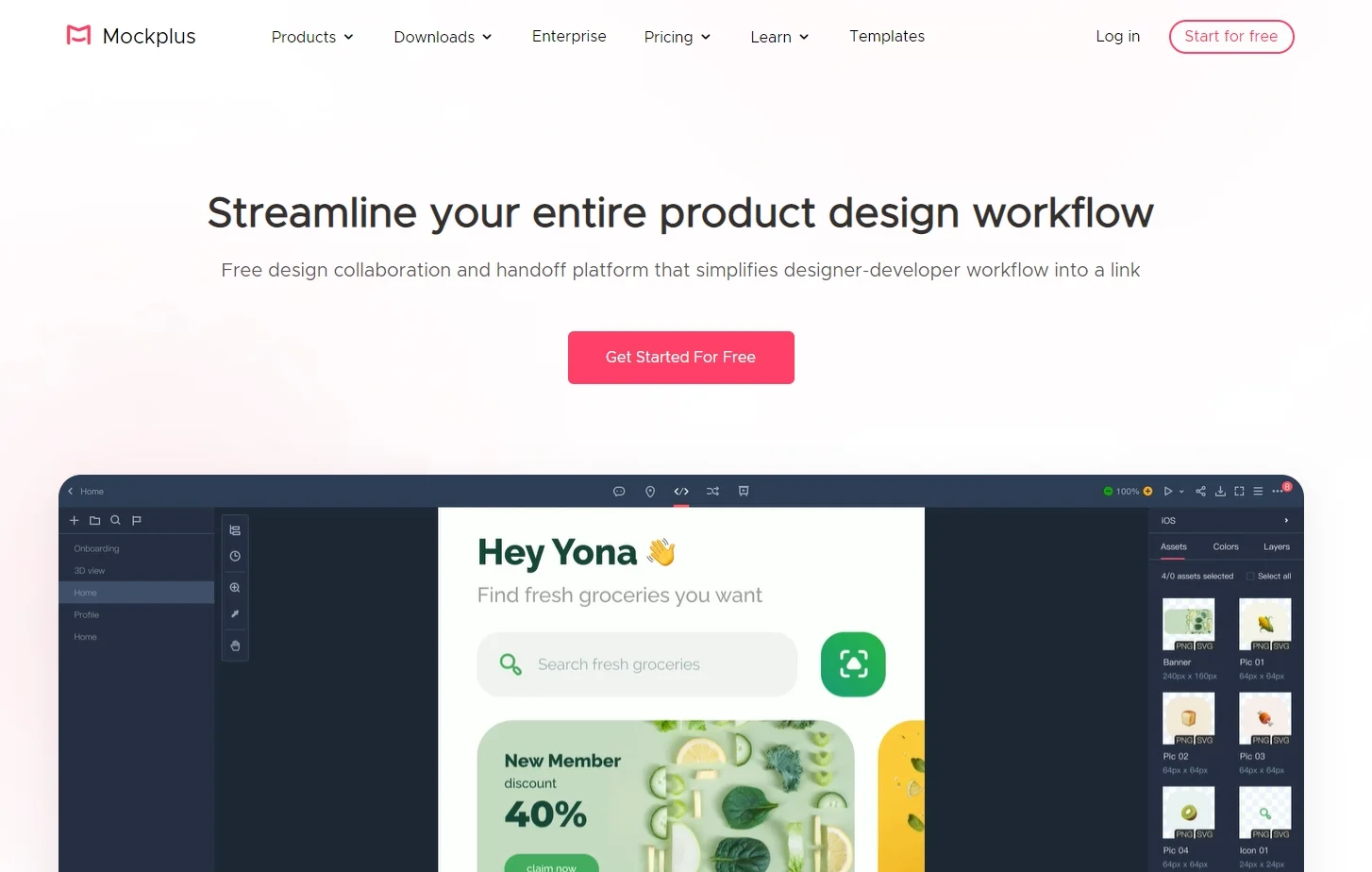 Image from Mockplus
Mockplus Cloud is a collaborative design handoff tool that streamlines your entire product design workflow into a single link. It facilitates smoother transitions from design to development by integrating all your design tools like Figma, Sketch, Photoshop, and more.
The tool also includes code snippets for web, iOS, and Android applications with CSS and other styling so engineers can copy/paste them to start development. Designers and engineers can also communicate via comments to keep collaboration and feedback in one place.
Pricing:
Basic: Free forever (Up to 10 users)
Pro: $5.95/monthly per user
Enterprise: custom pricing
Website: https://www.mockplus.com/cloud
---
5. Notism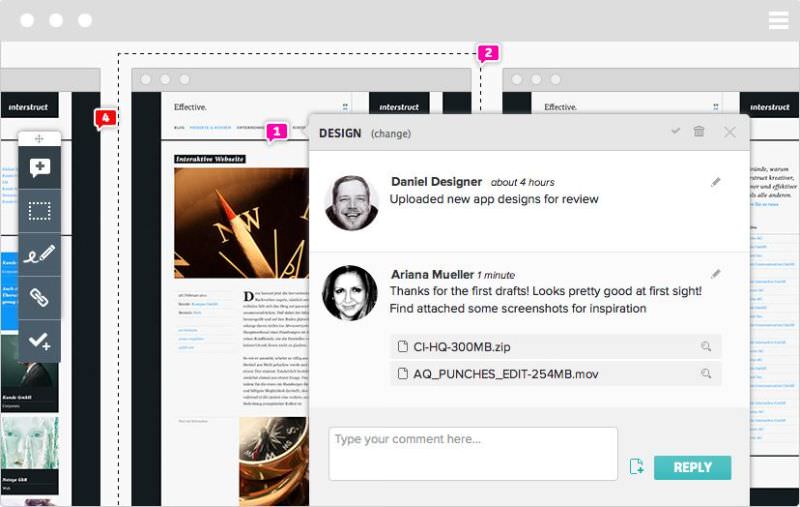 image from Notism
Notism is a workflow app for creative teams to review & sign-off visual content, create prototypes and manage projects. For remote teams, it can be difficult to share and keep track of projects. Notism enables team members to comment within the uploaded work. You can also provide feedback by directly annotating or even annotate on a specific video timeline frame. It's straightforward and has a simple navigation. It's nothing super fancy, but absolutely gets the job done without too many overwhelming bells and whistles.
Pricing: Free trial for 15 days.
Team: $24/ monthly, up to 15 collaborator
Agency: $49/monthly, up to 40 collaborator
Enterprise: $99/ monthly, up to 100 collaborator
Website: https://www.notism.io/
---
6. Canto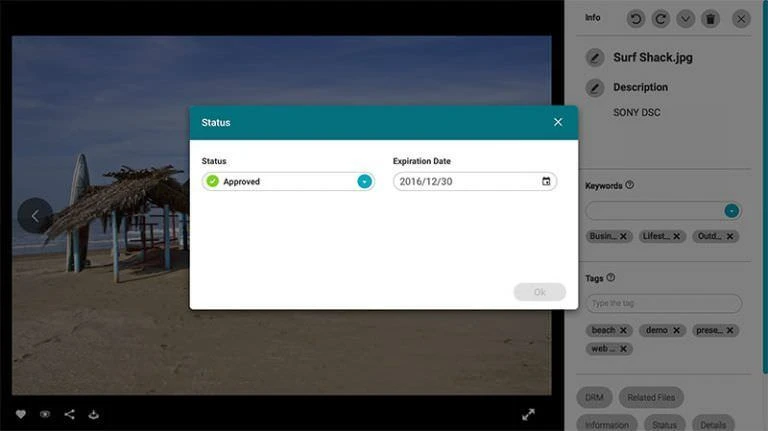 image from Canto
Canto makes team collaboration easy with a simple-to-use visual interface and intuitive features, like automatic file organization, watermarking and copyright license management. Upload, download, store and share assets from a central branded environment. Easily search for your brand assets with the help of custom metadata fields. Ensure brand consistency and secure content with permission-based access and branded portals. It gives your team the power to easily tag, collaborate and report on company-wide digital assets in a visual environment.
Pricing: Free Trial available, Starting at $600/month (estimated)
Website: https://www.canto.com/
---
7. Zeplin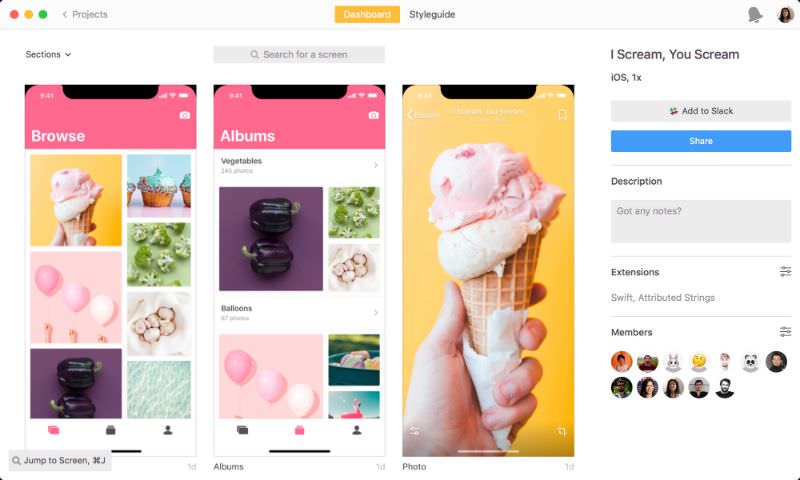 image from Zeplin
Zeplin is a connected space for product teams where they can share designs, generate specs, assets and code snippets. Their design delivery platform connects design multidisciplinary teams, including developers, product managers, copywriters and more, all in one easy-to-use design workspace. Everyone in the team can access up-to-date design resources, get notified of changes. Zeplin allows you to integrate with some popular design applications such as Sketch and Photoshop. You can create style guides to organize components, colors and text styles. Link style guides to multiple projects, enabling engineers or marketing members to reference your design system across all of your projects!
Pricing:
Free for 1 project, up to 6 Project Members
Team: $6/ monthly per seat,
Organization: $12/ monthly per seat
Enterprise: Custom pricing
Website: https://zeplin.io/
---
8. Trello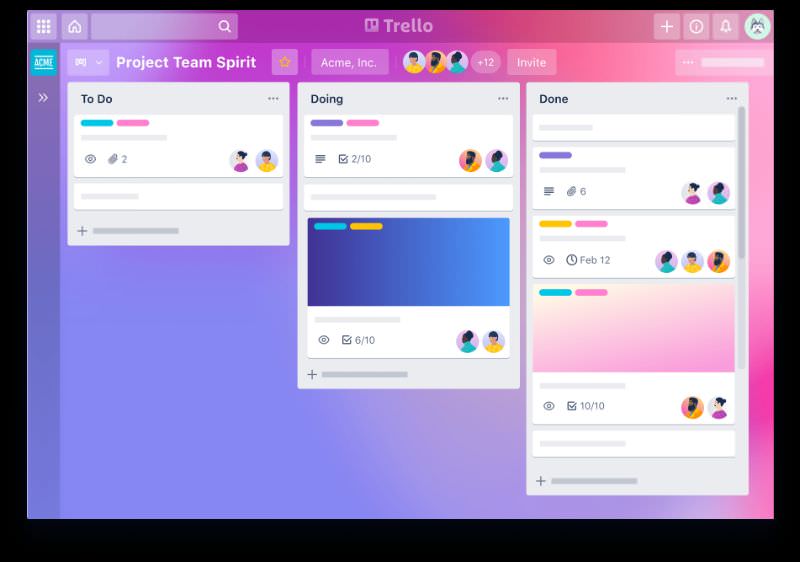 image from Trello
Trello is a visual collaboration tool that creates a shared perspective for your team on any project in a fun, flexible, and rewarding way. For organizations with overlapping responsibilities, Trello helps keep track of what projects you're involved in. From sales and marketing to designer and engineers, teams can design and customize Trello to fit their unique needs and work styles. And with over 100+ integrations with other key tools like Google Drive, Slack, Jira and more, Trello is a living, breathing project hub of cross-team collaboration no matter where your work needs to happen. Best of all is that Trello support any kind of device and up to 21 different languages, if your team are multinational this is a great fit for you!
Pricing:
Free: For individuals and teams looking to be more productive.
Standard $5/ monthly per user: For teams that need to manage more work and scale collaboration.
Premium $10/ monthly per user: For teams that need to track multiple projects and visualize work in a variety of ways. Best for teams up to 100.
Enterprise custom pricing: For companies that need to connect work across teams and enhance org-wide controls, security, and support. Ideal for orgs with 100+ members.
Website: https://trello.com/en
---
9. Mural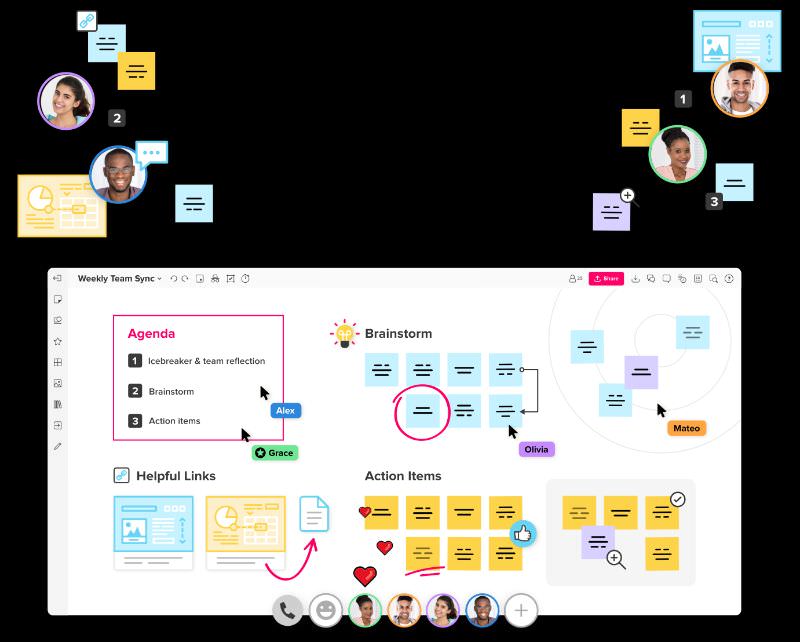 image from Mural
Mural is a great platform for design teams with geographical barriers between them. Mural is more than an online whiteboard, it enables innovation at scale by providing a platform for everything from product strategy and planning to lead immersive workshops using agile and design thinking methodologies.
You can create digital sticky notes, tasks, to-do lists, design mockups, sketches, and more and share it with team members all around the globe. Apart from its awesome collaborative features, Mural provides anonymous voting sessions so people can voice their feedback without fear of retaliation.
Pricing:
Free version available
Team: $9.99/ monthly per member
Business: $17.99/ monthly per member
Enterprise: Custom pricing
Website: https://mural.co/
---
10. Figma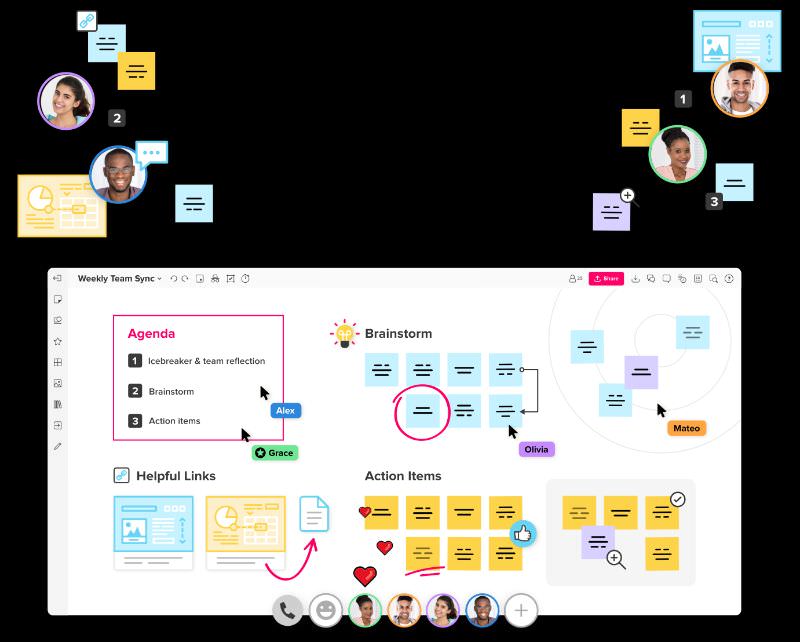 image from Figma
Figma is a cloud-based design tool that allows team members to quickly design, prototype, and gather feedback all in one place. It can store all your design files in one place to avoid confusion regarding versions. You can share your prototype with the marketing team or clients very easily through Figma.
Figma reduces friction between various departments by allowing users to share live prototypes with different teams – Engineers can inspect, export, and copy CSS, iOS, and Android code while marketers edit the copy. It's a great tool to design, prototype, and launch your products from start to finish.
Pricing:
Starter: Free for 1 team project
Professional: $12 per editor/monthly
Organization: $45 per editor/monthly
Website: https://www.figma.com/
---
11. Zipboard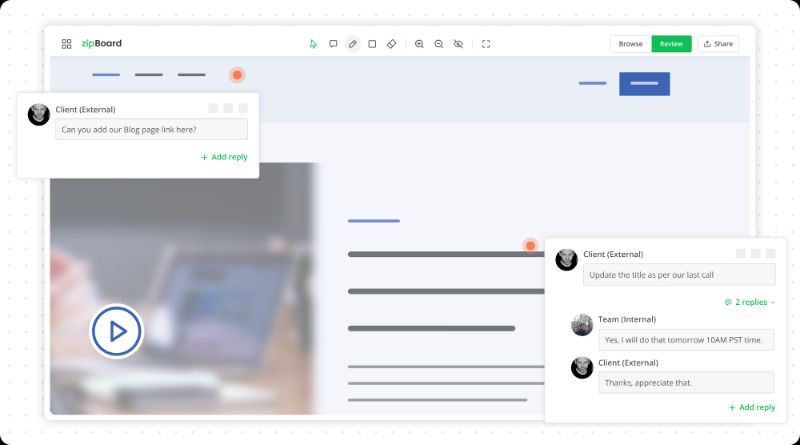 image from zipboard
zipBoard is a simple design feedback tool that can implement simple context-based feedback. Even customers and non-design members of the team can use it smoothly. You can collaborate and markup on web pages, courses, videos, HTML, PDFs and images, all in one project. Bring your client feedback and issue tracking at one place.
You can pinpoint issues by adding comments, and it also allows you to organize issues by assigning, sharing, and prioritizing according to your needs. zipBoard also allows you to collect feedback using screenshots and screen recordings without leaving your product, app, courses, and videos. It also provides JIRA and Slack integration, allowing your team to keep pace with the project.
Pricing: Free 15-day trial for all plans.
Starter: $49 / month
Team: $89 / month
Business: $129 / month
Enterprise: custom pricing
Website: https://zipboard.co/
---
12. InVisionapp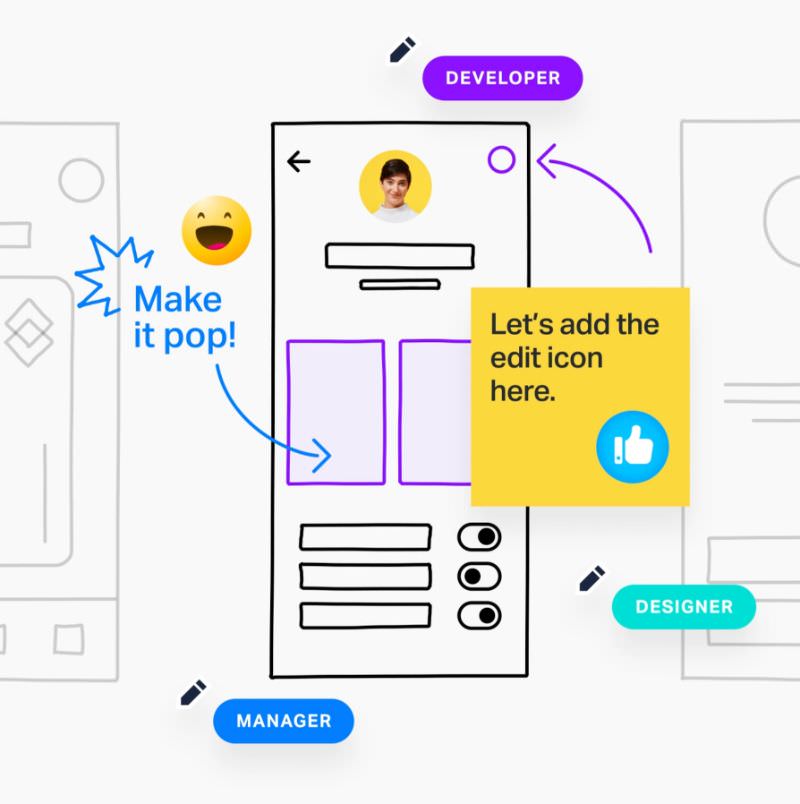 image from InVisionapp
InVision is a great tool for marketing agencies that need a robust tool that is easier for the team and client to use. It's great for showing work, especially for complex projects like building websites. It uses boards to keep work organized across multiple projects and clients. You can integrate with many design tools like Sketch and Adobe, then gather feedback from any device.
It gives the brand a much more sleek and new appearance and helps improve the business prospects. Anything can be tailored to your specific needs. It is easy to comment on, display comments and solves digital Prototypes with the embedded InVision instruments. Inspection is excellent when communicating developers' design requirements.
Pricing:
Free version available
Pro: $7.95/per person
Enterprise: Contact for details
Website: https://www.invisionapp.com/
---
13. Filestage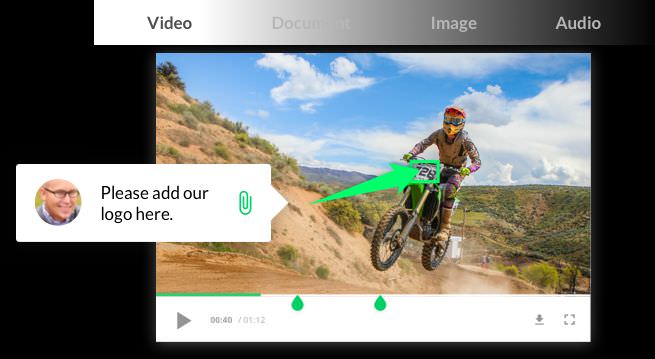 image from Filestage
Filestage is a content review and approval platform, it is simple for project managers and designers to upload and share their designs with just a few clicks. Filestage accepts all different file formats from videos to audio, to graphic design. The whole team can come to one place to review any content that your company needs approval on. Easily set due dates, add people for review, and even add review steps to let final users/clients view before going live.
Filestage also automatically generates a handy to-do list for you based on the feedback, so that you eliminate the risk of overlooking a piece of important feedback. The coolest part is that it allows people to give audio reviews!
Pricing: Free 7-day trial
Essential: $9/seat/month
Advanced: $19/seat/month
Professional: $39/seat/month
Enterprise: Contact for details
Website: https://filestage.io/
---
14. Marvel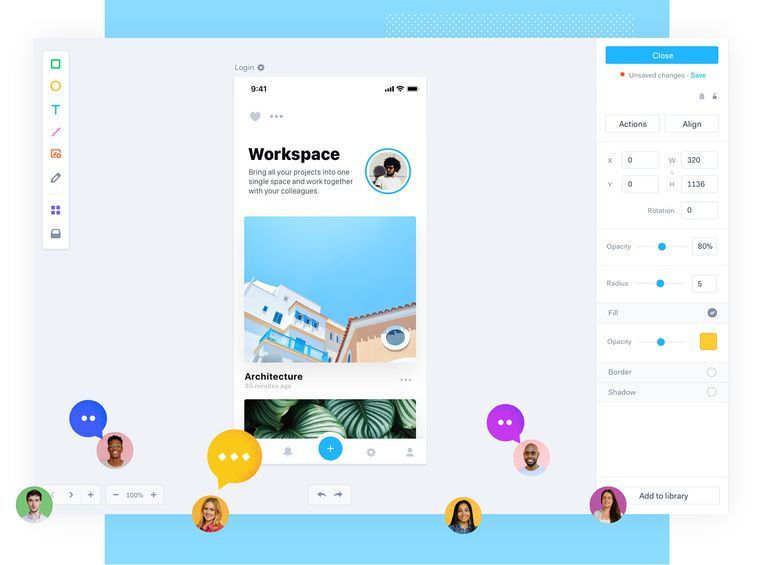 image from Marvel
Marvel is a design collaboration tool built in the cloud. Marvel provides a single place to build wireframes, prototypes, and design specs in one place. It is an intuitive and easy-to-use application that allows you to share and collaborate. Users can even sync their designs from Sketch and Photoshop or build mockups directly within Marvel's design tool with the help of millions of assets, stock photos, and icons. You can even build your screen flows and right away test with real users.
The inspector is also a very handful feature when handing over to engineers not needing to specify pixel-perfect UIs on user stories anymore. The UI is extremely user-friendly and feels intuitive even for a newcomer.
Pricing:
Free for one user
Pro: $16/ monthly for 1 user
Team: $48 / monthly for 3 users
Enterprise: Contact for details
Website:https://marvelapp.com/
---
15. Proofhub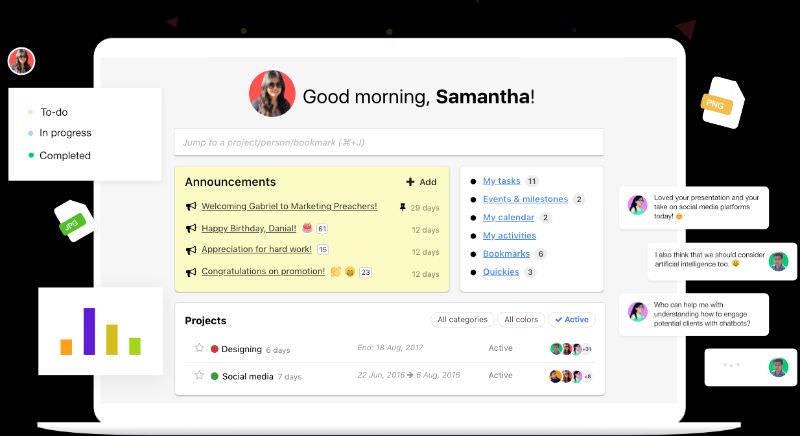 image from Proofhub
ProofHub is a project management and collaboration tool that helps design teams work together effectively. Design teams can communicate important information, provide feedback, collaborate on designs, share files, allocate tasks, and stay on the same page regarding task progress at one central place. It gives the manager a clear view of which item his team member is currently working on.
ProofHub is simple to use with almost no learning curve. Also, it serves an all-in-one purpose such that there remains no need to juggle various apps for communication, task management, proofing, or reporting purposes. It supports 9 different languages great for multinational team members!
Pricing: 14-day free trial
Essential: $50/monthly, 40 projects, Unlimited users, 15GB storage
Ultimate Control: $99/monthly, Unlimited projects, Unlimited users, 100GB storage
Website:https://www.proofhub.com/
---
16. Notion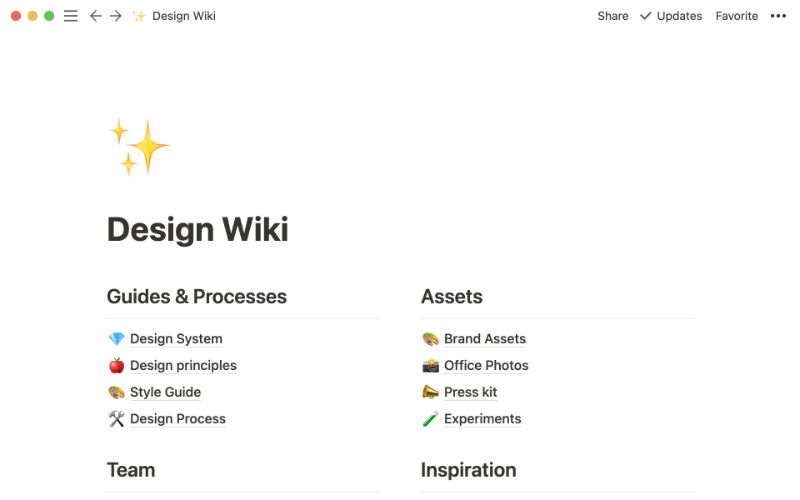 image from Notion
Still jumping back and forth between different places to store your files and different channel for team communication? Notion is an intuitive place to house all your marketing and design assets, specs, and projects, and connect them all in one place. So your team can focus on producing the results!
Whether you're a designer fielding requests from stakeholders or an agency juggling clients, Notion lets you create custom workflows for every project. So you can execute your particular brainstorming or research method, and change it up anytime. You can also find different file templates shared by the Notion community to always get yourself new file organization ideas!
Pricing:
Personal: Free
Personal Pro: $5 per month
Team: $10 per member per month
Enterprise: Contact for details
Website: https://www.notion.so/
---
17. FigJam by Figma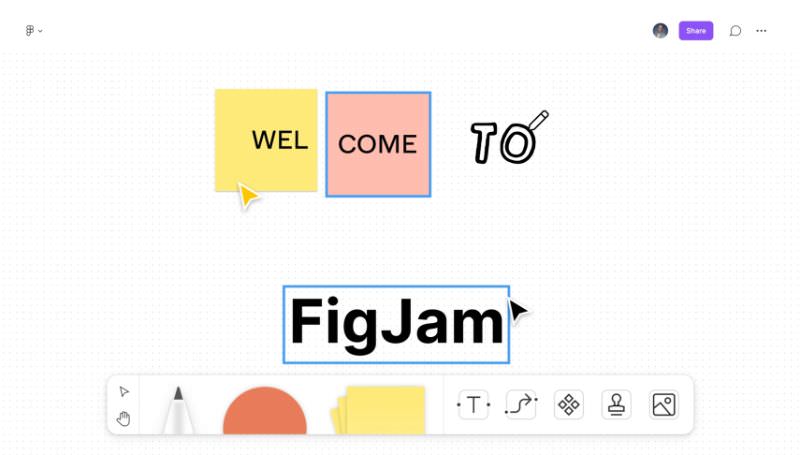 image from Figma
Before teams walk right into designs and prototypes, they're often thinking through user problems, exploring ideas, and building consensus. FigJam is a new tool made by Figma in 2021, FigJam offers an online whiteboard for teams to collaborate, brainstorm, map out flows, and more. It is easy to learn and fun to use, so anyone can participate and share their ideas.
It offers a lot of new and cute ways for your team to interact with each other such as stamps, emotes, and virtual high-fives! You can perform jam sessions with the team while reviewing the design in Figma, without the need to switch tools.
Pricing:
FigJam Professional: $3 per editor/month billed annually (or $5 month-to-month)
FigJam Organization: $5 per editor/month billed annually
Website: https://www.figma.com/figjam/
---
Conclusion
As more and more creative teams switch to remote work, ensuring that all team members are always communicating well has become an important task. Whether your team needs a digital whiteboard to exchange ideas, or a project management tool that can track all tasks from start to finish, say goodbye to the messy process and start simplifying your workflow using these design collaboration tools it can help you reduce the unnecessary hassle and lead to a successful work done!
Lastly, if you are eager to learn more design information and resources, visit and bookmark Eagle blog to become a better creative professional!
If you are still lacking inspiration and incentives to create something new, feel free to dive into Eagle Community to explore stunning assets shared by thousands of designers worldwide. Let Eagle be your best design assistant!